T
ESTIMONIES OF FIRST BAPTIST HAMMOND SOUL WINNERS
(Friday Church News Notes, April 20, 2018, www.wayoflife.org, fbns@wayoflife.org, 866-295-4143) - Hyles-Anderson Baptist College and First Baptist Church of Hammond, Indiana, have had the greatest responsibility for spreading the weird heresy of Quick Prayerism throughout the world. This occurred under the leadership of Jack Hyles. The Sword of the Lord published Hyles' books on Quick Prayerism soul winning beginning in 1962 (
Let's Go Soul Winning
and
Let's Build an Evangelistic Church
). Quick Prayerism is an evangelistic methodology that is quick to get people to pray a sinner's prayer after a shallow gospel presentation that, typically, is devoid of any hint of the necessity of repentance. It is quick to pronounce those people saved and give them...
Read More
B
ible critics have been proven wrong a thousand times, and in most cases this hasn't humbled them or changed their opinion toward Scripture. This reminds us of what Abraham said in Luke 16:31.

"And he said unto him, If they hear not Moses and the prophets, neither will they be persuaded, though one rose from the dead."

Christian apologetics is a spiritual battle rather than an intellectual one.
Following are a few...
Read More
A
s I have often said, I first learned about Lancaster Baptist Church's (Lancaster, California) use of contemporary music by its influence overseas, including the Philippines, Singapore, and Australia.

Robert Bakss, pastor of Lighthouse Baptist Church in Rockhampton, Australia, illustrates what is happening with a lot of churches that are associated with and have been influenced by Lancaster Baptist.
Lighthouse is one of the largest and most influential independent Baptist churches in Australia, with a Bible College, Christian School, magazine, and prominent presence on the web.
Bakss has looked up to and learned from Paul Chappell for years, and Chappell has spoken at conferences hosted at Bakss's church. This year...
Read More
T
he following study of popular worship singer Matt Maher further illustrates the fact that contemporary praise music is a key element in building the end-time, one-world "church." It describes the very dangerous spiritual world to which many fundamental Baptist churches are building bridges.

Many are deceived by the fact that contemporary praise musicians sing about the Lord and even the cross in such a seemingly sincere manner. They ask, "Can it be wrong to sing Maher's 'Lord, I Need You'?"
I would answer by asking this: Can a man who prays to Mary as...
Read More
M
EGACHURCH PASTOR SAYS HE SAW JESUS
(Friday Church News Notes, April 13, 2018, www.wayoflife.org, fbns@wayoflife.org, 866-295-4143) - Stovall Weems, pastor of Celebration Church in Jacksonville, Florida, claims that he saw Jesus on "Good Friday," March 30. He told his church, "I heard His voice ... the cadence of His voice. I can sense His mood. I can sense His presence like...
Read More
S
addleback Church recommends a wide range of books on contemplative mysticism at its web site.
Spiritual Disciplines Handbook
by Adele Calhoun, for example, has been listed under the "Spiritual Growth" section for at least the past two years. Rick Warren, senior pastor at Saddleback, pretends that contemplative prayer is merely getting alone in a quiet place to meditate on God's Word, but it goes far beyond that. Warren says that contemplative prayer is nothing like yoga, but as a former member of a Hindu meditation society, I can testify that practices such as centering prayer are definitely yoga-like.

Adele Calhoun recommends Roman Catholic monastic practices which were, in turn, borrowed from paganism, as we have documented in our book
Contemplative Mysticism
. Calhoun lists Roman Catholics as "spiritual tutors," including M. Basil Pennington, Henri Nouwen, Peter Kreeft, William Meninger,...
Read More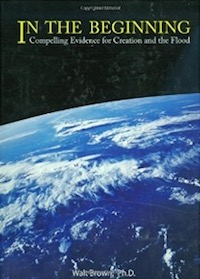 The following is from
In the Beginning: Compelling Evidence for Creation and the Flood
by Dr. Walt Brown (pages 19, 78).

I
f sexual reproduction in plants, animals, and humans is a result of evolutionary sequences, an unbelievable series of chance events must have occurred at each stage:

1. The amazingly complex, radically different, yet complementary reproductive systems of the male and female must have completely and independently evolved at each stage at about the same time and place. Just a slight incompleteness in only one of the two would make both reproductive systems useless, and the organism would become extinct.

2. The physical, chemical, intellectual, and emotional systems of the male and female would also need to be compatible.

3. The millions of complex...
Read More
Publisher of Bible Study Materials