Publisher of Bible Study Materials
The Spirit of Fear
The following is from the soon-to-be published
Way of Life Commentary Series
, The Pastoral Epistles:

"F
or God
hath not given us the spirit of fear; but of power, and of love, and of a sound mind" (2 Timothy 1:7).

First, we see that there are fears
.

- Timothy had them and needed to be exhorted about them. Paul had them (2 Co. 7:5). There is the fear of man (Pr. 29:25). Ezekiel was warned not to fear the face of man (Eze. 3:9). The devil tries to cripple and hinder God's work by imparting fear to
..
Read More
Conspiracies, Conspiracies, Conspiracies
A
lot of people
are drawn to conspiratorial type thinking, and there has never been a more effective breeding ground and broadcast forum for conspiracies and quackery and hoaxes than social media. It is a pandemic. It is has produced paranoia and drives people to do nutty things.
On March 31, an engineer in California derailed a train in an attempt to crash into the
USNS Mercy
hospital ship because he believed it is part of some type of government
..
Read More
The Spanish Flu Epidemic of 1918 and Church Services
T
he Spanish flu epidemic
of 1918 killed 50 to 100 million worldwide and 670,000 in America.
It was the last year of World War I, and the war had created economic hardship. Gasoline and sugar were rationed. There was a shortage of doctors and nurses because so many were in Europe to assist the soldiers. Large bond drives across
..
Read More
K
ENNETH COPELAND DECLARES AMERICA HEALED
(Friday Church News Notes, April 3, www.wayoflife.org fbns@wayoflife.org, 866-295-4143) - Pentecostal preacher Kenneth Copeland has exercised his prophetic "Word-Faith" powers to take authority over Covid-19 and to declare America healed. He said, "Standing in the Office of the Prophet of God, I execute judgement on you, COVID 19. ... I demand a vaccination to come immediately. I call you done. I call you gone. ... It is finished. It is over. And the United States of America is healed and well again, sayeth the mighty Spirit of peace who is
..
Read More
A Christ-Owned Church
W
e read
in Revelation Chapter One:

I was in the Spirit on the Lord's day, and heard behind me a great voice, as of a trumpet,

Saying, I am Alpha and Omega, the first and the last: and, What thou seest, write in a book, and send it unto the seven churches which are in Asia; unto Ephesus, and unto Smyrna, and unto
..
Read More
A Pastor's Statement to His People About Assembling at This Time
The following is a statement that our friend Bobby Mitchell of Mid-Coast Baptist Church, Brunswick, Maine, sent to his people. When he sent it to me, I replied, "I think your statement is good biblical exegesis and application. It's a hard call, and I was thinking tonight that it is probably one of those matters in which each pastor and assembly will have to make their own decision before the Lord and pay whatever consequences there are," Brother Cloud.
..
Read More
How God Took Care of My Grandparents in the Depression
M
y maternal
grandmother, Julia Pollock, told me stories of how the Lord took care of them during the terrible economic depression of the 1930s when it was so difficult for my grandfather to get jobs. They had six children to feed, plus Monroe's parents lived with them for some years.
One of Julia's favorite verses was Psalm 37:25, "I have
..
Read More
Bill Gates and "Bodies in the Corner"
N
o one is making light of the coronavirus epidemic that I know of. It is a major problem.
Death is no light matter. In fact, it is far more serious than most people think. If the Bible is true, death is a matter of eternal heaven or eternal hell. If people understood how truly serious death is, they would not be so frantically focused on trying to live a few years longer before physical death, they would be focused, rather, on finding salvation from
eternal death
.
Yes, the coronavirus is serious, but there has to be a proper perspective, which is not found in the panic-driven media or in the voices of a lot of men and women who should know better. They say we can't live with
..
Read More
America's Hospital Super Ships Mobilized for Covid-19 Relief
I
n any great
natural disaster, America is typically the first to provide help. When the great Russian novelist Aleksandr Solzhenitsyn visited America, he said, "The United States has long shown itself to be the most magnanimous, the most generous country in the world. Wherever there is a flood, an earthquake, a fire, a natural disaster, an epidemic, who is the first to help? The United States. Who helps the most and unselfishly? The United States."
In 2011, Australian Prime Minister Julia Gillard said in an address to the U.S. Congress: "There is a reason the world always looked to America. Your city on a hill cannot be hidden. Your brave and free people have made you the masters of recovery and
..
Read More
God's Promises to the Redeemed
F
or the redeemed
of the Lord, there is always good news in holy Scripture. Following is a small collection of God's "exceeding great and precious promises" (2 Peter. 1:4).
"
But ask now the beasts, and they shall teach thee; and the fowls of the air, and they shall tell thee: Or speak to the earth, and it shall teach thee: and the fishes of the sea shall declare unto thee. Who knoweth not in all these that the hand of the LORD hath wrought this?
IN WHOSE HAND IS THE SOUL OF EVERY LIVING THING, AND THE BREATH OF ALL MANKIND" (Job 12:7-10).
"
The LORD
is
my shepherd; I shall not want. He maketh me to lie down in green pastures: he leadeth me beside the still waters. ... Yea, though I walk through the valley of the shadow of death, I will fear no evil: for thou
art
with me; thy rod and
..
Read More
C
ORONAVIRUS CRISIS HELPING US HAVE A STRONGER CHURCH FOR THE 21ST CENTURY
(Friday Church News Notes, March 27, 2020, www.wayoflife.org fbns@wayoflife.org, 866-295-4143) - The title of one of our new books is
21 Steps to a Stronger Church for the 21st Century
. This is not mere theory or "armchair theology." This is what we are building by God's grace. We are church planters, have been since the early 1980s. Our goal is to see 100 sound churches established for the glory of God and the enlightenment of this dark world. We want Biblical churches, not American churches or Nepali churches or Australian churches or Spanish churches or Filipino churches. As a heavenly, pilgrim people, we intend to test the cultures of this present world by Scripture and conform them to Scripture. We want churches founded solidly on the New Testament, not after the pattern of the church fathers
..
Read More
Covid-19 and Prayer
"Call unto me, and I will answer thee, and shew thee great and mighty things, which thou knowest not" (Jeremiah 33:3).
"For the eyes of the LORD run to and fro throughout the whole earth, to shew himself strong in the behalf of
them
whose heart
is
perfect toward him" (2 Chronicles 16:9).
"And call upon me in the day of trouble: I will deliver thee, and thou shalt glorify me" (Psalm 50:15).
"
Because he hath
..
Read More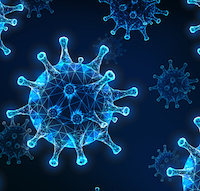 Coronavirus Good and Odd News
A
s the COVID-19 crisis
continues and economic problems mount, there is still plenty of good news.
COVID-19 is still a small thing compared to influenza, which has infected 36 to 51 million, hospitalized about one-half million and killed 22,000 and 55,000
in America alone
since October ("Influenza Preliminary In-Season 2019-2020," Centers for Disease Control). In 2018, there were 80,000 flu deaths in America, which was about 450 deaths per day. Worldwide, influenza kills
..
Read More
What Time Is It for God's People Today?
W
e are living
in uncertain, perilous times. There are pestilences, earthquakes, heaps of false teachers, abounding apostasy, fervor for a one world government and economy, global corporations and organizations that hate God's laws and contribute massive amounts of money to anti-God causes, atheism, wars and rumors of wars, terrorism, modern Israel, preparations for the Third Temple. Are we seeing a fulfillment of prophecy? Absolutely, we are; but it is not the day of the Lord. It is the stage being set for the day of the Lord.
God's people are pilgrim people. We aren't in darkness. We have the mind of Christ in Scripture (1 Co. 2:9-16), the mind of the Christ in whom are hid all treasures of wisdom and knowledge (Col. 2:3)! We must not follow the world's thinking or share the world's
..
Read More
C
OVID-19 GOOD NEWS
(Friday Church News Notes, March 20, 2020, www.wayoflife.org fbns@wayoflife.org, 866-295-4143) - The COVID-19 panic-demic continues, with about 7,000 fatalities globally and 85 in America. There is plenty of good news in the midst of the COVID-19 panic-demic.
* COVID-19 is still a small thing compared to influenza, which has infected 36 to 51 million, hospitalized about one-half million and killed 22,000 and 55,000
in America alone
since October ("Influenza Preliminary In-Season 2019-2020," Centers for Disease Control).
* The Wuhan district of China, ground zero for COVID-19, is
..
Read More
ABSS
How to Study the Bible
for Yourself