Publisher of Bible Study Materials
Publisher of Bible Study Materials
B
OOK
- B
ible Course available.
The History and Heritage of Fundamentalism and Fundamental Baptists
by David W. Cloud

2020 edition, 609 pgs
Formats: Softcover, eBook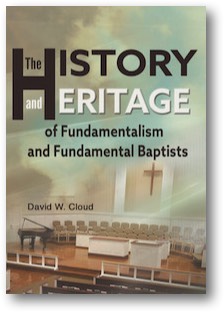 T
he chief purpose of this book is to understand the past so that we can properly evaluate the present and be stronger for the future. It has been said that those who do not learn from the mistakes of the past are destined to repeat them. God has given His people the right and responsibility to "prove all things; hold fast that which is good" (1 Th. 5:21), and that is what we want to do. We aren't critical-minded; we are biblical provers. Our chief goal is not to find things that are wrong, but to find things that are good to which we can hold fast for the glory of God.
Course materials available.
Can be used for Self study, Church Bible Classes, Sunday School, etc.
Course Download consists of:

- Syllabus - Review Questions
- Tests - Answer Keys - Grading Sheet

This book contains an extensive history of Fundamentalism in general and of fundamental Baptists in particular. It is packed with fascinating biographical sketches.

The book is not only for education in church history, it is an extensive Bible course on the gospel, the church, biblical inspiration, Bible prophecy, holiness, prayer, Bible study, preaching, hymnology, Christian unity, Christian education, defense of the faith, biblical separation, evangelism, child training, the life of faith, theological liberalism, ecumenism, New Evangelicalism, and many other things.

Also see the free supplement PDF:
The Revivalist/Evangelist Movement
Click Here for Details of Each Section

The Main Sections In Detail Are:



Interdenominational Fundamentalism

- The Bible conference movement, the Bible prophecy movement, the Bible study movement, hymn singing, Fanny Crosby, Philip Bliss, D.L. Moody, Ira Sankey, R.A. Torrey, Harry Ironside, Wheaton College, fundamentalist Presbyterians, Westminster Seminary, Carl McIntire, Bible Presbyterian Church, America Council of Christian Churches, Free Presbyterians, Ian Paisley, Youth For Christ, Old Fashioned Revival Hour, The Fundamentals, Independent Fundamental Churches of America (IFCA), Keswick, Plymouth Brethren, Grace Brethren, Fundamental Evangelistic Association, Ohio Bible Fellowship, Dallas Theological Seminary, Bob Jones University, Bob Jones Sr., William and John Ashbrook, Carleton Helgerson, C.I. Scofield, M.H. Reynolds Sr.



The Metropolitan Tabernacle of London, England

, which was one of the first Baptist separatist churches. We look at this prominent church under the ministry of Charles Spurgeon, as well as after Spurgeon up to the 21st century.



Fundamental Baptists of the North

- American Baptist Convention liberalism, Fundamentalist Fellowship, W.B. Riley, John Straton, Baptist Bible Union, Conservative Baptist Fellowship, Minnesota Baptist Convention, Richard Clearwaters, B. Myron Cedarholm, Pillsbury Baptist Bible College, Maranatha Baptist Bible College, Fundamental Baptist Fellowship, G. Archer and Arno Weniger, Chester Tulga, Union of Regular Baptist Churches, T.T. Shields, Wilson Ewin, Fellowship of Evangelical Baptist Churches of Canada, General Association of Regular Baptist Churches (GARBC), Robert Ketcham, Ernest Pickering, Oliver W. Van Osdel, David Otis Fuller.



Fundamental Baptists of the South

- J. Frank Norris, Louis Entzminger, World Baptist Fellowship, Baptist Bible Fellowship International, Baptist Bible College, G.B. Vick, John R. Rice, Sword of the Lord, Southwide Baptist Fellowship, Lee Roberson, Highland Park Baptist Church and Tennessee Temple, Mark Cambron, Bruce Lackey, Jack Hyles.



Where Are Fundamental Baptists Today?

Here we examine the widespread weakening among fundamental Baptist churches, as well as giving examples of churches that are standing.



The Final Section Is "New Testament Churches in the Last Days,"

which is a study of Scriptures dealing with the last hours of the church age and the promises of God for churches in these times. In light of the promises of God's Word, we

can

have strong New Testament churches today, in the last hours of the age, in the midst of end-time apostasy. In fact, we are convinced that we can have better churches than have existed in our lifetime, or even the lifetimes of our parents and grandparents, if we will take the Word of God seriously and make it, truly, our sole and final authority, and throw away our dependence on tradition. Building on the good heritage that we have been given, we can have churches that are better than the old denominational churches before liberalism, better than the old non-denominational fundamentalist churches, better than the typical fundamental Baptist churches. They won't be larger, but they will be better. We can have less wood, hay, and stubble, and more gold, silver, and precious stones. 600 pages
Sample Pages
(26 sample pages including Table of Contents)

Book: Softcover, 609 pages, 5.5 x 8.5 in.
eBook: PDF, mobi (Kindle), and ePub formats.
or call... 1-866-295-4143 (toll free: USA & Canada) all other Int'l calls: 1-519-652-2619
If you live in Canada -
For your order to be charged in Canadian funds and to ship within Canada, please place your order by phone. Call toll free 1-866-295-4143.
Note that all cart orders process in US dollars and ship from the USA.

_________

CART TERMS
(if you use the cart)
- Prices shown are US Funds
- Items ship from Port Huron, MI. USA.
- Cart accepts Visa, Master Card, Discover, AmEx, PayPal.
- Shipping is real time USPS lookup base on weight.
- International customers: Call or use cart.
- No refunds. Defective material will be replaced.


SHIPPING

- Orders typically ship in 3-4 days.
- Your order will typically arrive in 2-3 weeks.


DOWNLOADS
- Customer is responsible for backups.
- We cannot guarantee file replacement.