Publisher of Bible Study Materials
Publisher of Bible Study Materials
Way of Life Encyclopedia of the Bible and Christianity
by David W. Cloud,
7th Edition, May 2020, 718 pgs

Formats: Hardcover, eBook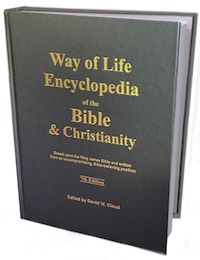 T
his lovely hard cover Bible Encyclopedia (7th edition - 718 pages) contains a massive amount of information. There are over 5,580 main entries, 6,234 cross references, and over 31,102 verse references.

Over 40 years of research have gone into this one-of-a-kind reference tool. It is the only Bible encyclopedia/dictionary that is written by a Fundamental Baptist and based strictly upon the King James Bible. It is a complete dictionary of biblical terminology and also features many other areas of research not often covered in Bible reference volumes.

Subjects include Bible versions, Denominations, Cults, Christian Movements, Typology, the Church, Social Issues and Practical Christian Living, Bible Prophecy, and Old English Terminology. The Christian will be helped and fortified in his faith through this Bible Encyclopedia.

This work does not correct the Authorized Version of the Bible, nor does it undermine the fundamental Baptist's doctrines and practices as many study tools do. Many preachers have told us that apart from Strong's Concordance, the Way of Life Bible Encyclopedia is their favorite study tool.

A missionary told us that if he could save only one study book out of his library, it would be our Encyclopedia. An evangelist in South Dakota wrote: "If I were going to the mission field and could carry only three books, they would be the Strong's concordance, a hymnal, and the Way of Life Bible Encyclopedia." Missionary author Jack Moorman says: "The encyclopedia is excellent. The entries show a "distilled spirituality."


Sample PDF
-
eBook PDF Sample
Why You Need the Way of Life Encyclopedia
PDF eBook Set - Information

Set includes two pdf files.
The regular pdf is book size (8.5x11) and it is a pdf representation of the printed book. The second pdf is an "eBook edition." It has a smaller page size and single column.

Search & Jump to Main Headings:
The eBook PDF file has dots (periods) on the main entries for better searching. For example, a search for
.baptist
(note dot at beginning) will take you directly to the first
.Baptist
main entry instead of returning all occurrences of baptist.
Questions?
contact: support@wayoflife.org

Book:
Hardcover, 7th edition, 718 pages, 8.5 x 11 page size.
Case of 8:
Hardcover books
available.
PDF eBook Set:
Book and eBook PDF's
(see just above for info)
Hardcover Book

7th edition

718 pages, 8.5x11
PDF eBooks
7th edition
2 PDF set
Case of 8

Hardcover Book
$190.00
(No coupon or quantity discounts)
or call... 1-866-295-4143 (toll free: USA & Canada) all other Int'l calls: 1-519-652-2619
If you live in Canada -
For your order to be charged in Canadian funds and to ship within Canada, please place your order by phone. Call toll free 1-866-295-4143.
Note that all cart orders process in US dollars and ship from the USA.

_________

CART TERMS
(if you use the cart)
- Prices shown are US Funds
- Items ship from Port Huron, MI. USA.
- Cart accepts Visa, Master Card, Discover, AmEx, PayPal.
- Shipping is real time USPS lookup base on weight.
- International customers: Call or use cart.
- No refunds. Defective material will be replaced.


SHIPPING

- Orders typically ship in 3-4 days.
- Your order will typically arrive in 2-3 weeks.


DOWNLOADS
- Customer is responsible for backups.
- We cannot guarantee file replacement.