Publisher of Bible Study Materials
Publisher of Bible Study Materials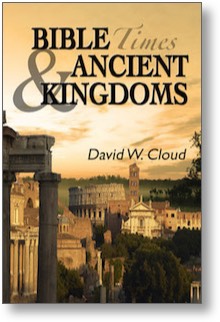 Currently Unavailable - New Edition coming.


Bible Times & Ancient Kingdoms

by David W. Cloud
Bible Times and Ancient Kingdoms
is a training course on Bible geography, Bible culture, Bible history, and Bible archaeology, which has a two-fold objective: to present apologetic evidence for the Bible and to give background material to help the student better understand the setting of Bible history.

It is a package consisting of a book and a series of PowerPoint presentations which are a graphical edition of the book. The PowerPoints are packed with high quality color photos, drawings, historic recreations, and video clips.


Bible Times & Ancient Kingdoms
covers the fascinating historical world of the Bible from Genesis to the New Testament, dealing with the Table of the Nations in Genesis 10, the Tower of Babel, Ur of the Chaldees, Egypt, Baal worship, the Philistines, the Canaanites, David's palace, Solomon and the Queen of Sheba, Edom, the Nabateans, and the Spice Route, Ahab and Jezebel, the fall of the northern kingdom of Israel, the Assyrian Empire, Hezekiah and his times, Nebuchadnezzar and his Babylon, the Medo-Persian Empire, the Greek Empire, Herod the Great and his temple, The Roman Empire and Her Rule over Israel, Christ's ministry on the Sea of Galilee, From Jericho to Jerusalem, Christ's Passion Week, and Rome's Destruction of Jerusalem.

Many of the archaeological discoveries from the past 200 years, which we relate in the course, are so fascinating and improbable that they read like a novel. It is easy to see God's hand in this field, in spite of its prevailing skepticism.

The course also deals with Bible culture, such as weights and measures, plant and animal life, Caesar's coin, the widow's mite, ancient scrolls and seals, phylacteries, synagogues, false messiahs, judgment in the gate, ancient shipping and commerce, cosmetics, fine linen, the fig, pomegranate, olive, sycomore, cedar, oak, carob, myrtle, terebinth, tamarisk, juniper, acacia, mustard seed, idolatry, camel, coney, Syrian bear, Asiatic lion, wild ass, wild goat (ibex), partridge, divination, tombs, the operation of ancient lamps, ancient war methods, ancient fishing techniques, millstones, pottery wheels, wine presses, olive presses.

The course is packed with important but little-known facts that illuminate Bible history and culture. The preparation for the book is extensive, the culmination of 47 years of Bible study, teaching, and research trips. In this context the author built a large personal library and collected information from major archaeological museums and locations in North America, England, Europe, Greece, Turkey, Jordan, and Israel. We guarantee that the student who completes the course will read the Bible with new eyes and fresh enthusiasm.

"David Cloud's
Bible Times and Ancient Kingdoms
is a masterful work and will help the Bible students connect the dots between Bible texts and Biblical culture, geography, and background" (Bill Hardecker,
Baptist Bible Study Bulletin, 2019
). "Our Sunday School class has been studying
Bible Times and Ancient Kingdoms
. What a Great Blessing. We all LOVED IT!"

Book or eBook and 26 PowerPoint presentations packed with 5,500 high quality color photos, drawings, historic recreations, and video clips. The 2020 edition has a major new study on the Greek Empire, major expansions of the studies on the Roman Empire, ancient Egypt, new studies on Bible animals, and Bible trees, plus other expansions and improvements. There is also new information and editing throughout the book.
Table of Contents and Sample Pages
Book/Presentations
:
Softcover book, 584 pages, 5.5x8.5 in., 5500+ Powerpoint/Keynote slides (download)

Information on obtaining the slide downloads will be found in the front of the book.

eBook/Download:
PDF, mobi (Kindle), or ePub formats w/ presentations

Select eBook format in cart.
See front of book nohow to obtain the slide downloads.

Currently Unavailable -
New Edition is coming.
For support contact: support@wayoflife.org
or call... 1-866-295-4143 (toll free: USA & Canada) all other Int'l calls: 1-519-652-2619
If you live in Canada -
For your order to be charged in Canadian funds and to ship within Canada, please place your order by phone. Call toll free 1-866-295-4143.
Note that all cart orders process in US dollars and ship from the USA.

_________

CART TERMS
(if you use the cart)
- Prices shown are US Funds
- Items ship from Port Huron, MI. USA.
- Cart accepts Visa, Master Card, Discover, AmEx, PayPal.
- Shipping is real time USPS lookup base on weight.
- International customers: Call or use cart.
- No refunds. Defective material will be replaced.


SHIPPING

- Orders typically ship in 3-4 days.
- Your order will typically arrive in 2-3 weeks.


DOWNLOADS
- Customer is responsible for backups.
- We cannot guarantee file replacement.