Publisher of Bible Study Materials
Publisher of Bible Study Materials
Why Do You Need the Way of Life Encyclopedia?
David Cloud, Way of Life Literature, P.O. Box 610368, Port Huron, MI 48061
866-295-4143,
fbns@wayoflife.org
T
he
Way of Life Encyclopedia of the Bible & Christianity
is unique. It is based upon the King James Bible and is written from a fundamentalist Baptist doctrinal persuasion. The studies are thorough, practical, devotional, and designed to be used by preachers, teachers, and homeschoolers, as well as to offer a Bible-institute level education to the average Christian.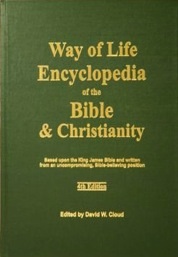 1. YOU NEED IT TO FIND THE MEANING OF THE WORDS IN THE BIBLE
.
If you don't understand the meaning of the words of the Bible, you don't understand the Bible. It is necessary to take the time to look up every word you don't understand. See, for example, Charity, Glory, Grace, Hope, Joy, Justify, Mystery, Propitiation, Sanctify.


2. YOU NEED IT TO STUDY OUT-OF-USE WORDS AND DIFFICULT PHRASES FROM THE KING JAMES BIBLE.

(Examples are Abusers of Themselves with Mankind, Besom, Blood Guiltiness, Conversation, God Speed, Helpmeet, Itching Ears, Nephew, Set Them At One, Superfluity of Naughtiness, Taken with the Manner.)


3. YOU NEED IT TO DO TOPICAL STUDIES, TO STUDY DOCTRINE.

There is an extensive system of topical cross references. The student can study the full range of a Bible topic by following the suggested cross references from entry to entry. For example, consider the cross references listed after the entry on
SIN
-- Adam, Carnal, Concupiscence, Fall, Fault, Filthiness, Flesh, Froward, Gospel, Grace, Heart, Impenitence, Impudent, Iniquity, Jesting, Natural Man, Old Man, Perverse, Presumptuous, Pride, Rebellion, Repentance, Stiffhearted, Stubborn, Transgression, Trespass, Unclean, Ungodly, Superfluity of Naughtiness, Unrighteous, Vile, Winketh, World.


4. YOU NEED IT TO STUDY EXTRA-BIBLICAL CHRISTIAN TERMS
.
There are many words that we hear at church and in Christian circles that are not Bible words and are not in most Bible dictionaries but they can be found in the Way of Life Encyclopedia. (Examples are Apostate, Catechism, Christmas, Denomination, Faith Promise, Rapture.)


5. YOU NEED IT TO STUDY VARIOUS ISSUES RELATING TO MORALITY AND PRACTICAL CHRISTIAN LIVING
.
(Examples are Adultery, Capital Punishment, Child Training, Cremation, Dancing, Divorce, Employment, Home, Homosexuality, Modesty, Pacifism, Polygamy, Wine.)


6. YOU NEED IT TO STUDY OLD TESTAMENT TYPES OF CHRIST
.
(Examples are Ark, Day of Atonement, Boaz, Brass Serpent, Cain, Candlestick, Coat, High Priest, Joseph, Melchizedek , Offerings, Passover, Tabernacle.)


7. YOU NEED IT TO FIND THE MEANING OF BIBLE CUSTOMS
.
(Examples are Agriculture, Calendar, Military, Money, Music, Weights and Measures.)


8. YOU NEED IT TO STUDY BIBLE PROPHECY.

The Encyclopedia contains the equivalent of an entire Bible Institute course on prophecy. (Examples are Allegorical, Antichrist, Covenant, Daniel, Day of the Lord, Dispensationalism, Double Fulfillment, Gog, Great Tribulation, Kingdom of God, Judgment, Revelation, Second Coming, Seventy Weeks.)


9. YOU NEED IT TO STUDY PROPER NAMES IN THE BIBLE
.
(Examples are Aaron, Benjamin, Cain, Gamaliel, Joshua, Lot, Mesopatamia.)


10. YOU NEED IT TO DO RESEARCH INTO THE CHRISTIAN DENOMINATIONS AND MOVEMENTS
.
The history, doctrinal position, and present status of major denominations and movements are included. (Examples are Anglican, Assemblies of God, Brethren, Pentecostal-Charismatic Movement, Eastern Orthodoxy, Episcopal, Evangelical, Fundamentalism, Lutheran, Mennonite, Methodist, Presbyterian, and World Council of Churches.)


11. YOU NEED IT TO DO RESEARCH INTO CULTS AND FALSE GROUPS AND TO EXAMINE PROMINENT FALSE DOCTRINES
.
(Examples are Adam, Annihilation, Christ's Deity, Christian Science, Daniel, Eternal Security, Inspiration, Jehovah's Witnesses, Jonah, Modernism, Mormonism, Moses, Neo-orthodoxy, Red Sea, Roman Catholic Church, Sabbath, Seventh-day Adventism, Soul Sleep, Tongues Speaking, Unitarian.)


12. YOU NEED IT TO STUDY CHURCH POLITY
.
The Encyclopedia is a practical manual for church leaders and missionaries. (See, for example, the studies on Apostle, Baptism, Church Discipline, Deacon, Evangelism, Footwashing, Lord's Supper, Ordination, and Pastor.)


13. YOU NEED IT TO STUDY CHURCH HISTORY
.
Many entries relating to church history are included. (Examples are Catabaptist, Inquisition, Manichean, Paulicians, Pedobaptism, Protestant, and Roman Catholic Church.)


14. YOU NEED IT TO DO RESEARCH INTO THE SUBJECT OF BIBLE VERSIONS
.
This Encyclopedia is a virtual handbook on Bible Versions. (See, for example, Apocrypha, Bible Versions, Erasmus, Masoretic Text, Preservation of Scripture, Received Text.)


15. YOU NEED IT FOR PREACHING AND TEACHING.

The doctrinal material in this Encyclopedia is presented in a practical manner with outlines that can be used for teaching and preaching. They can be used in the pulpit, Sunday Schools, Bible Colleges and Institutes, home schools, prisons and jails, nursing homes, etc. (Consider the outline, for example, for ANGELS: I. Do Angels Exist? II. What is the Origin of Angels? III. Divisions of Angels into Good and Evil. IV. What Are Angels Like? V. How Many Angels Are There? VI. What Do Angels Do? VII. What Can Christians Learn from Angels? VIII. The Angels Associated with the Seven Churches in Revelation 2-3.

copyright 2013, Way of Life Literature

- Receive these reports by email
- "About" David Cloud
- www.wayoflife.org

______________________


Sharing Policy: Much of our material is available for free, such as the hundreds of articles at the Way of Life web site. Other items we sell to help fund our expensive literature and foreign church planting ministries. Way of Life's content falls into two categories: sharable and non-sharable. Things that we encourage you to share include the audio sermons, O Timothy magazine, FBIS articles, and the free eVideos and free eBooks. You are welcome to make copies of these at your own expense and share them with friends and family, but they cannot be posted to web sites. You are also welcome to use excerpts from the articles in your writings, in sermons, in church bulletins, etc. All we ask is that you give proper credit. Things we do not want copied and distributed freely are items like the Fundamental Baptist Digital Library, print editions of our books, electronic editions of the books that we sell, the videos that we sell, etc. The items have taken years to produce at enormous expense in time and money, and we use the income from sales to help fund the ministry. We trust that your Christian honesty will preserve the integrity of this policy. "For the scripture saith, Thou shalt not muzzle the ox that treadeth out the corn. And, The labourer is worthy of his reward" (1 Timothy 5:18).
Goal:Distributed by Way of Life Literature Inc., the Fundamental Baptist Information Service is an e-mail posting for Bible-believing Christians. Established in 1974, Way of Life Literature is a fundamental Baptist preaching and publishing ministry based in Bethel Baptist Church, London, Ontario, of which Wilbert Unger is the founding Pastor. Brother Cloud lives in South Asia where he has been a church planting missionary since 1979. Our primary goal with the FBIS is to provide material to assist preachers in the edification and protection of the churches.

Offering: We take up a quarterly offering to fund this ministry, and those who use the materials are expected to participate (Galatians 6:6) if they can. We do not solicit funds from those who do not agree with our preaching and who are not helped by these publications. We seek offerings only from those who are helped. OFFERINGS can be mailed or made online with with Visa, Mastercard, Discover, or Paypal. For information see: www.wayoflife.org/about/makeanoffering.html.