Publisher of Bible Study Materials
An Unshakeable Faith
A Christian Apologetics Course
by David W. Cloud

Book and Slide Presentations
Also available as eDownload Package

The content and the slide presentations make this course great for
Sunday Schools, Youth Groups, Bible Institutes, and Home Schooling.

Description

Contents

Endorsements

Purchase
Tab 1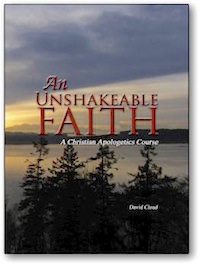 The course is built upon nearly 40 years of serious Bible study and apologetics writing. Research was done in the author's 6,000-volume library plus in major museums and other locations in America, England, Europe, Australia, Asia, and the Middle East.

The package consists of a 357-page apologetics course entitled AN UNSHAKEABLE FAITH (available in both print and eBook editions) plus a series of 27 PowerPoint/Keynote presentations. (Keynote is the Apple version of PowerPoint.)

The professional PowerPoint presentations consisting of 3,579 slides deal with archaeology, evolution/creation science, and the prophecies pertaining to Israel's history. These fascinating photos and video clips were taken at great expense in museums and research sites in roughly 15 countries.

The majority of the photos in the PowerPoint slides were taken on location with a Nikon D700 prosumer digital Single Lens Reflect (SLR) camera.

The material is extensive, and the teacher can decide whether to use all of it or to select only some portion of it for his particular class and situation.

After each section there are review questions and summaries as teaching aids and to help the students focus on the most important points. Selections can be made from the review questions for sectional and final tests.

There is also a summary of the entire course, which emphasizes the major points that the students should master so well that they can use them effectively in apologetic and evangelistic situations.

There is a major section "Soul Winning and Apologetics."

The course can be used for private study as well as in a classroom setting.

It has been reviewed by pastors, youth pastors, and scientists.



How Can the Course Be Used?

The course can be used for private study.

It can be used in practically any Bible-teaching setting, such as teen and adult Sunday Schools, Youth Groups, Bible Institutes, and Home Schooling.

The course is extensive and has a lot of depth, but this does not mean that it must be used as a whole or that it is limited to a "seminary" setting. It can be adapted to any age group from teen and older and can be divided into segments for any length of study, from one month to a year.

The course can also be used as a reference manual. Practically any question that arises in the context of evolution, creation science, archaeology, Christ's resurrection, etc., can be answered from this book.
Tab 2
Contents of the Course

• The Bible Critics Were Wrong
• Introduction
• The Bible
The Bible's Nature
The Bible's Proof
The Dead Sea Scrolls
The Bible's Difficulties
• Jesus Christ
Historical Evidence for Jesus
Evidence for Jesus' Resurrection
• Israel in Prophecy
• Archaeology
Introduction to Archaeology
Important Old Testament Dates
Archaeological Treasures Confirming the Bible
Ancient Writing, Hammurabi's Law, Ur of the Chaldees, Egypt, Babylon
Assyria, Hezekiah and His Times, Medo-Persia, Israel, Lukes Writings
• Evolution
Introduction to Evolution
History of Evolution
Darwin Skeptics, Natural Selection, Mutations, Billions of Years,
Ape Men, The Fossil Record, The Peppered Moth, The Embryo Chart
Vestigial Organs, Homology, Bird Evolution, The Horse Series
Whale Evolution, The Miller Experiment
• Icons of Creation
Monarch Butterfly, The Trilobite
• Predictions
• Summary of Evidence against Evolution
• Suggested Material
• Noah's Ark and the Worldwide Flood
• Soul Winning and Apologetics
The Reason, The Authority, The Power, The Attitude, The Technique
Dealing with Atheist and Agnostic Skeptics, Conclusion
• Miscellaneous Questions Answered
• Summary



Titles of the PowerPoint/Keynote Presentations

Israel in Prophecy (100 slides)

Archaeology
1 Introduction and Writing (99 slides)
2 Ur of the Chaldees (162 slides)
3 Egypt (73 slides)
4 Babylon (225 slides)
5 Assyria (170 slides)
6 Hezekiah and his Times (98 slides)
7 Medo-Persia (76 slides)
8 Israel (112 slides)
9 Luke's Writings (Luke and Acts) (37 slides)
10 The Roman Empire (114 slides)

Evolution and Science
1 History of Evolution (245 slides)
2 Darwin Skeptics Today (28)
3 Natural Selection (188)
4 Mutations (156)
5 Billions of Years (113)
6 Ape Men (218)
7 Fossil Record (175)
8 Peppered Moth (43)
9 Embryo (67)
10 Vestigial Organs (88)
11 Homology (43)
12 The Bird (210)
13 Horse (51)
14 Whale (64)
15 The Miller Experiment (75)
16 Icons of Creation (153)

Tab 3
ENDORSEMENTS
"This is an excellent resource for every Bible Student and the slide presentations are excellent! The material is pertinent to the young and the mature in the faith and is effective for equipping all Christians. The course content is neither too shallow nor too deep and is engaging and absorbing. I went through some of the slide presentations with my twelve year old son and sixteen year old daughter, and they found them fascinating. I believe that the format would be easily teachable." -- Shem Dharampaul, M.D., radiologist


"The material and the layout are tremendous. I like the way it flows and how it leads you from the truth of the Bible all the way to the foolishness of evolution. It gives the teacher a definite direction to pursue. The course is not too shallow or deep and can be taught easily, and the powerpoint presentations enforce the teaching. It is so vital that every Christian know this type of thing. I have seen young people leaving in droves, because they don't have any real Biblical knowledge to stand on. A course like this gives the scriptural base they can build on and hopefully make it through this life untarnished and unshaken." -- Pastor Kent Black


"I believe you have hit the right level for introducing this material to young people. You have done your usual thorough job in research. Outstanding pics, diagrams, reasoned arguments. It's a wonderful compilation of relevant quotes. As a nonscientist, you have done a wonderful job synthesizing the relevant arguments and translating them for an apologetics presentation. Great job overall and on the photography for the butterfly/trilobite presentation [in the Icons of Creation powerpoint.] The section on birdsong is worth the price of the course all by itself! I hope that many iBaptists order your course. There is a woeful lack of education on this subject in the IFB churches." -- David Stone, Ph.D. physics


"The entire set up is excellent!! The PowerPoints are an excellent compliment and I believe will be effective in adding the visual aspect that so many are accustomed to today. I would use and recommend the course without reservation. I respect and frankly admire the time and energy it took to produce an endeavor like this." -- Pastor Dave Gilbert
Tab 4