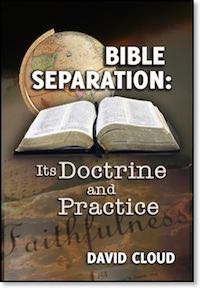 Bible Separation: Its Doctrine and Practice

by David W. Cloud

This is an extensive, practical study on Bible separation, both ecclesiastical (separation from doctrinal error and compromise) and moral (separation from the world).

Separation is not the gospel and it is not the Great Commission: it is a wall of spiritual protection; but without it we will eventually give up the gospel and turn aside from the Great Commission. Separation is based on and is a reflection of God's holy character.

The book examines the major New Testament passages on the subject of separation and exposes such errors as "soft separatism," "in non-essentials unity," "preaching wherever I am invited," and "cultural liberalism." It deals with the necessity of issuing plain warnings, separation and the Internet, dangers in Christian bookstores and on Christian radio, the corrupting power of error and the danger of dabbling with it, true Christian unity, Romans 14, and "secondary separation,"

The chapter titles are Separation from the World, Being a Friend of Sinners, 2 Timothy 2:15-26, Other Key Passages on Ecclesiastical Separation, Soft Separatism.
Book: Softcover, 105 pages, 5.5x8.5 in.
eBook: PDF, mobi (Kindle), and ePub formats. Select eBook format in cart.
or call... 1-866-295-4143 (toll free: USA & Canada) all other int'l calls: 1-519-652-2619
Publisher of Bible Study Materials