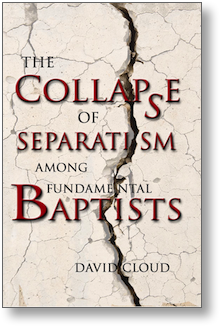 The Collapse of Separatism Among Fundamental Baptists

by David W. Cloud


Previously Titled: Biblical Separatism and Its Collapse

This book documents the widespread collapse of biblical separatism over the past two decades among fundamental Baptist groups, such as General Association of Regular Baptists (GARBC), Baptist Bible Fellowship International (BBFI), and Southwide Baptist Fellowship. There is a focus on prominent churches such as Highland Park Baptist Church of Chattanooga, Tennessee, and Thomas Road Baptist Church of Lynchburg, Virginia.

The book further documents the explosion of apostasy within the Southern Baptist Convention and evangelicalism in general over the past half century. At the very time when many fundamental Baptist churches are tearing down the walls of separation and entering the broader evangelicalism and adopting a contemporary philosophy, those waters have become exceedingly treacherous. We describe ancient and end-time heresies such as cultural liberalism, the downgrade in biblical inspiration, the downgrade in hell, the redefinition of the atonement, the acceptance of homosexual Christians, self-esteemism, and contemplative mysticism.

We document the fact that one of the paths from fundamental Baptist to New Evangelicalism and the contemporary philosophy is a "soft separatism" that is ineffectual to protect the churches.

This is followed by a study on biblical separatism and some examples of individuals who have rejected separatism and entered the evangelical waters only to become spiritually shipwreck.

We pray that many preachers will join us in the determination not to allow the collapse of biblical separation on our watches.

Book: Softcover, 168 pages, 5.5x8.5 in.
eBook: Free!
or call... 1-866-295-4143 (toll free: USA & Canada) all other Int'l calls: 1-519-652-2619
Publisher of Bible Study Materials
Publisher of Bible Study Materials