Publisher of Bible Study Materials
Publisher of Bible Study Materials
Free eB
OOK
- Softcover book available
.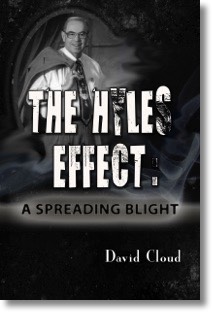 The Hyles Effect- A Spreading Blight
December 2020 edition
Previously named: "The Two Jacks"
T
his book
documents the life and ministry of Jack Hyles, who pastored First Baptist Church of Hammond, Indiana, for 42 years, and Jack Schaap, who took over the pastorate of the church when his father-in-law died in 2001. But the book is not merely about two men. It is a warning about a cultic model of ministry that has spread very far. Hyles set the pattern for errors that are still rampant. And the book is a positive call to build biblical churches.

A major motivation in writing this report is to challenge young preachers not to be man followers and man pleasers, to walk in the fear of God rather than the fear of man, to be serious Bible students and Bereans, to be passionate for Christ and Truth, and to reject pragmatism: whether it be contemporary church growth pragmatism or emerging pragmatism or IFB pragmatism.

The book is a warning about Quick Prayerism, promotionalism, numbers-ism, the abuse of pastoral authority, blind loyalty to man, cover-up and deception and rampant immorality, the neglect of church discipline, and unrepentant heresy.

Chapter titles include the following: A Personal Testimony, It's Not Enough to Criticize, A Word about Robert Sumner, Jack Hyles, Jack Schaap, and Shooting the Wounded and Other Silly Arguments.
$9.99 Softcover Book, 159 pgs