Publisher of Bible Study Materials
Publisher of Bible Study Materials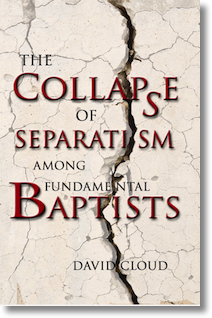 The Collapse of Separatism among Fundamental Baptists
This book is about the collapse of biblical separation within the fundamental Baptist movement, the causes of this collapse, and how to avoid it at the local church level.

We document the collapse within the GARBC, ABWE, Thomas Road Baptist Church and Liberty Baptist College, BBFI, Southwide Baptist Fellowship, Tennessee Temple, Calvary Baptist Seminary, Cedarville University, plus other churches. We document the spiritually-treacherous waters of evangelicalism today and warn about "conservative" evangelicals who act as bridge builders between "fundamentalists" and evangelicalism, such as Ed Stetzer and John Piper.

We warn about the soft separatism that is practiced by many professing fundamentalist preachers and that is ineffectual to protect the churches. We document 21 examples of the heresies and fables that are found in evangelicalism today, including the smorgasbord of modern Bible versions, process salvation, ecumenism and affiliation with Rome, cultural liberalism, Christian homosexuality, the downgrade of hell, theistic evolution, charismaticism, contemplative mysticism, self-esteemism, and The Shack and other false gods and goddesses.
Softcover Edition available:
$11.49 Softcover Book, 168 pgs
---

Download Help Kindle Help eBook Info/Help

Please Read: After downloading you must add the mobi or epub file to the
library of your eReader (device) or reading app (tablet). Mobi files do not automatically
install onto the Kindle or Kindle app. You must "install it." See the Kindle help file above.
Because there are so many different devices and apps available for ebooks
it is up to you to know how use these files for your particular situation.