Publisher of Bible Study Materials
Publisher of Bible Study Materials
B
OOK
- B
ible Course available.
Woman and Her Service to God
by David W. Cloud - July, 2022 edition, 214 pgs

Formats: Softcover, eBook
This course seeks to:
- educate women in their service for Christ in this present needy world
- encourage them in God's love
- exhort them to be busy serving the Lord.

A major theme is that God loves women and that women should love God. Godly women have a large and important role in the work of God and should not be despised by the churches.

The course deals with the woman in creation, the woman in the fall, the woman in redemption, the woman who loves God (a study of Deuteronomy 6:5), the woman formed in the womb, women saints in the Old Testament, the woman in Christ's service, the older woman and the younger, the woman as wife, and the virtuous woman.

There are expository studies on Genesis 2-3; Psalm 139; Proverbs 31; Ephesians 5; Titus 2:3-5; and 1 Peter 3:1-7. There are studies on Eve, Hannah, Ruth, Jochebed, Deborah, Mary the mother of Jesus, Mary sister of Martha, Mary Magdalene, Lydia, Phebe, Priscilla, and Philip's daughters.

The course is not only for women, but it is also for men. Two major sections of the course (the expositions on Ephesians 5 and 1 Peter 3) are a study on the husband-wife relationship.

Review Questions as well as complete course materials are available by separate download. See below.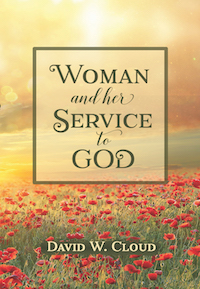 Course materials are available for this title.
Course consists of:

- Textbook - Syllabus
- Review Questions - Tests, Answer Keys
- Grading Sheet
Learn More:
Review the course Syllabus by clicking the link at left. Read the
FAQ
.
Book: Softcover, July 2022 edition, 214 pages, 5.5 x 8.5 in.
eBook: PDF, duplicates printed book, left/right hand pages
or call... 1-866-295-4143 (toll free: USA & Canada) all other Int'l calls: 1-519-652-2619
If you live in Canada -
For your order to be charged in Canadian funds and to ship within Canada, please place your order by phone. Call toll free 1-866-295-4143.
Note that all cart orders process in US dollars and ship from the USA.

_________

CART TERMS
(if you use the cart)
- Prices shown are US Funds
- Items ship from Port Huron, MI. USA.
- Cart accepts Visa, Master Card, Discover, AmEx, PayPal.
- Shipping is real time USPS lookup base on weight.
- International customers: Call or use cart.
- No refunds. Defective material will be replaced.


SHIPPING

- Orders typically ship in 3-4 days.
- Your order will typically arrive in 2-3 weeks.


DOWNLOADS
- Customer is responsible for backups.
- We cannot guarantee file replacement.