The Biblical Preaching Ministry
David Cloud, Way of Life Literature, P.O. Box 610368, Port Huron, MI 48061
866-295-4143,
fbns@wayoflife.org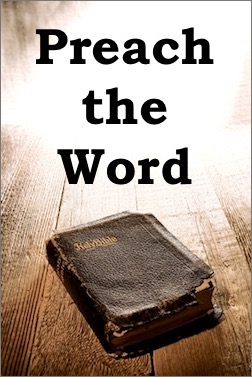 "I
charge
thee
therefore before God
, and the Lord Jesus Christ, who shall judge the quick and the dead at his appearing and his kingdom; Preach the word; be instant in season, out of season; reprove, rebuke, exhort with all longsuffering and doctrine. For the time will come when they will not endure sound doctrine; but after their own lusts shall they heap to themselves teachers, having itching ears; And they shall turn away
their
ears from the truth, and shall be turned unto fables" (2 Timothy 4:1-4).


In this passage we see the major characteristics of a sound preaching and teaching ministry. Few things are more needed in Bible-believing churches today. A sound preaching/teaching ministry is a major part of producing disciples of Jesus Christ and disciplining the church. It is a major part of building godly homes and raising up youth who know and serve Christ.

This key passage reminds us that there are many necessary elements to a sound preaching/teaching ministry.

Biblical preaching is
CONSCIOUS OF GOD'S SOLEMN CHARGE
. The preacher must be conscious of the fact that he will give account to God (2 Tim. 4:1). The call to preach is a solemn obligation that is laid upon him. Paul impressed Timothy in the most imposing manner possible of the seriousness of his calling. This is the main thing that will keep a preacher straight in his ministry and that will give him the courage to preach the hard things of the Scriptures as well as the "positive" things, to preach the things the people like to hear and the things they don't like to hear.

Biblical preaching is
CONSCIOUS OF DIVINE AUTHORITY
. The preacher is the spokesman of Jesus Christ. He must not preach his own message; He must preach God's message. He is not proclaiming his own judgments; he is proclaiming the judgments of God, and as he does this he has God's authority. He is to preach as the "oracles of God" (1 Pet. 4:11). He is to preach with "all authority" (Titus 2:15). The preacher is not to make
suggestions
or to share
opinions
; he is not to preach with apology and hesitation and uncertainty. If a man is not convinced of his call to preach and if he is not convinced of the divine authority of his message, he should not preach. "My brethren, be not many masters, knowing that we shall receive the greater condemnation" (James 3:1). The preacher must not fear the face of man, or God will confound him (Jer. 1:17; Ezek. 2:6-8). 2 Timothy 4 is saying that a preacher can know the truth for certain and can therefore preach with conviction and authority. Timothy was instructed to study so that he could rightly divide the Word of God (2 Tim. 2:15); he would not have been so instructed if it were impossible to know for sure how to interpret the Scriptures properly. Christ promised that a man
can
know the truth if he continues in God's Word (Jn. 8:31-32). John said that the believer has the Holy Spirit as his teacher and that he can know all things (1 John 2:20, 27). The preacher must get God's message and preach it with authority. Speaking with authority means we must teach the people to respect God's Word and God's messenger. See Neh. 8:2-8. They must be taught to sit quietly and listen carefully, to not talk with their friends, to teach the children to be quiet, to turn off cell phones, etc.


Biblical preaching is
TO
PREACH THE WORD OF GOD
. The preacher is not to preach his opinions or extra-biblical traditions or extra-biblical prophecies; he is to preach the Bible. That Book and that Book alone is the God-called preacher's Textbook.

Biblical preaching is
TO PREACH ALL OF GOD'S WORD
(2 Tim. 4:2). Timothy was instructed to "preach the word." Paul did not designate which part of it, because he was referring to the whole Bible. The preacher has no authority to pick and choose what he will preach and what he will not preach. Billy Graham once said that he is only responsible to preach the gospel, but that is not true. Every preacher is responsible to "preach the word," and those who narrow their message for the sake of a broader tent and a wider ministry will give account to God.

Biblical preaching is "
INSTANT
" (2 Tim. 4:2). The preaching must be active, aggressive, confrontational, stalwart, unyielding. The Greek word "epistemi" is elsewhere translated "assault" (Acts 17:5), "come unto" (Acts 12:7), "stand by" (Acts 22:20). It means "stand up to it" (
Robertson's Word Pictures
). It is used for the Jewish leaders' confrontation with Jesus ("came upon him," Lk. 20:1) and the arrest of the disciples ("came upon them," Acts 4:1; 6:12). It is used for Saul's consent of Stephen's martyrdom ("standing by," Acts 22:20). Likewise, the preacher confronts the people with God's Word. He stands by and supports God's Word before his hearers.

Biblical preaching is to preach "
IN SEASON AND OUT OF SEASON
" (2 Tim. 4:2).

This refers to preaching when the preaching is popular as well as when it is unpopular.

It refers to preaching when people have gathered for the express purpose of hearing the Word of God and preaching when people are not so gathered. Paul preached in church meetings and he also preached in the marketplaces.

It refers to preaching when the preaching is legal and preaching when it is illegal, when it is safe and when it is dangerous, in times of peace and in times of persecution. We see this example in the ministry of the apostles (Acts 4:19; 5:29). Paul preached when he was free, and he preached when he was bound.

It refers to preaching to every sort of men, to the poor, who are often more responsive to God's Word, but also to the wealthy, who commonly do not receive God's Word as readily. The Bible commands us to preach the gospel to
every
creature (Mk. 16:15), to do good to
all
men (Gal. 6:10), and to sow our seed on
all
waters (Ecc. 11:1, 6).

It refers to preaching when there is obvious fruit and preaching when nothing appears to be happening. It was admonitions such as these that kept Adoniram Judson preaching for six years before he saw his first Burmese convert and ten years before he had 18 converts.

It refers to preaching in times of encouragement and preaching in times of discouragement. "It is easy for the preacher to let the attitude of the congregation control him and to allow himself to become discouraged, but he must strengthen himself in the Lord and lift the congregation up" (Bruce Lackey).

Biblical preaching is
TO REPROVE
(2 Tim. 4:2). This is from the Greek word "elegcho," which means "to confute, admonish." It is also translated "convict," "convince," "tell a fault." It means to show people their false ways and to convince them of the right way of God's Word. This is a difficult task, because human nature does not like to be told that it is wrong. The natural response to reproof is to become offended and to want to lash out at the reprover. This implies a responsibility on the part of the preacher to make judgments based on God's Word about the condition of the people to whom he is preaching. Today the popular cry is "judge not," but those words in Matthew 7:1 are taken out of context and made to mean that it is not God's will to judge sin and doctrine. In Matthew 7:1-5 Christ was warning against hypocrisy; He was not saying that the believer can not judge anything. Elsewhere in the New Testament we are told that the believer
is
to judge sin and doctrine. In 2 Tim. 4:2, the preacher is commanded to judge things that are wrong and to reprove and rebuke them. In so doing, he is not exercising his own judgment so much as he is exercising God's judgment.

Biblical preaching is
TO REBUKE
. This is from the Greek word "epitimao," which means "to tax upon, to censure, to forbid." It is also translated "charge" (Lk. 9:21). It means to tell people that that they are wrong; to rebuke them for being in the wrong; to charge them before God that they are wrong and that they are obligated to turn from their error. It is to call people to repentance from sin and error. This requires plain speaking so that the people know exactly what you are rebuking. In contrast, most preaching today is too soft, too far removed from 2 Timothy 4:2. This requires courage that can only come from God. The fear of God must outweigh the fear of man. The love of God and man must outweigh the love of self.

Rebuking is a difficult ministry, and it is one that too many preachers avoid, but every preacher is obligated to do it and will give account to God if he shuns it.

This is a ministry that is contrary to the prevailing philosophy of the hour, which is that we should focus on the positive. It is contrary to humanistic psychology, which seeks to build self-esteem and avoids anything degrading to self-esteem. It is contrary to New Evangelicalism, which avoids the negatives. It is contrary to the relativistic, judge not principle of secular society.

To be effective, rebuke has to be plain and forthright. All of the preachers in the Bible were plain spoken. They condemned sin plainly; they rebuked error unhesitatingly. Consider Jesus' message to the Pharisees in Matthew 23:13-33. Consider Paul's description of false teachers; in 1 and 2 Timothy alone he named the names of false teachers and compromisers 10 times (1 Tim. 1:20; 2 Tim. 1:15; 2:17; 3:8; 4:10, 14). Consider Peter's description of the false teachers (2 Peter 2). Consider James's rebuke of worldliness (Jam. 4:4). Consider Enoch's sermon in Jude 14-16.

But the preaching in "Bible-believing churches" is getting softer and more neglected with each passing decade in the typical Independent Baptist church. This happened to Southern Baptists and evangelicals 70 years ago, and it is happening to Independent Baptists today. It is increasingly rare to hear rebuke of worldly music, lukewarmness, worldly dating with its moral temptations, public school education which is a yoking together with unbelievers, immodest dress, worldly entertainment, unfaithfulness to the services and to prayer meetings and other godly responsibilities, etc. At the very time when the pop culture is getting ever more filthy, preachers are toning down their warnings. And even when some rebuke is still made, it is often done in vague generalities or in an apologetic tone so that its effect is greatly diminished. Or the preacher will include a joke or a lighthearted comment at just the right time to soften the blow, so to speak, so that the people won't get upset. When we look at Scripture, we never find jokes or lighthearted comments in the midst of reproof and rebuke.

In the 1990s I was invited to preach at a Baptist Bible Fellowship state meeting. I didn't want to go, but the host pastor urged me to accept the invitation, because he wanted to "let the flag of separation fly." He knew my ministry and wanted to sound out some corrections. Knowing the compromise of the BBFI by that time, I expected that my messages wouldn't be well received, and I wasn't wrong. I preached against contemporary music and some other things, and I preached on the characteristics of Southern Baptist preaching, which is the type of preaching I had grown up with and which had almost zero spiritual power. The characteristics are things like avoiding controversial issues, speaking in generalities, and dealing plainly only with those sins of which the congregation was not generally guilty, such as abortion and homosexuality. The BBF preachers didn't express anything to me personally one way or the other, about my messages as I recall, although they bought almost none of my books and materials, but the host pastor said that he had never seen preachers so upset at a series of messages. The other preacher at the conference was received well, because though he is a skilled Bible preacher, he avoided rebuking the very things that his preacher friends at the conference were guilty of. The things he did preach on were things that the crowd could "amen." A great many preachers are geniuses at this type of thing, and though they can sound very bold and forthright and very much the spiritual warrior, they know how to be bold without being very offensive to that particular congregation.

Though not popular, plain rebuke is necessary, because we are sinners, even after we are saved, and there are fierce enemies that perpetually seek to turn us from truth and righteousness.

To warn people of things that are wrong and to call them to turn from such things is an act of Christian love. Christ said, "As many as I love, I rebuke and chasten" (Rev. 3:19). The Bible says that parents that don't discipline their children don't love them (Prov. 13:24), and the same is true for church leaders.

When a preacher seeks to fulfill this obligation in the love of Christ, he is often labeled unloving and Pharisaical, but that is a slander. It is to misunderstand the nature of biblical preaching and the importance of correction. For a preacher to reprove and rebuke in love is God-like rather than Satan-like.

The rebuke will take different forms depending on the character and condition of the people. At times it will be mild; at other times it must be sharp (Titus 1:13). The same is true for child discipline. The discipline has to fit the character and actions of the child or the message has to fit the character and actions of the church.

Biblical preaching is
TO EXHORT
. This is from the Greek word "parakaleo," which means "to call near, to invite, to implore or console." It is also translated "beseech," "comfort," "intreat." It means to plead with and encourage and invite people to come to the truth, to call them to the truth. The preacher must therefore reprove and rebuke plainly and also call sweetly. Sound preaching is a Spirit-led mixture of these elements and is not composed of only one or the other.

A biblical exhorter and reprover will not turn a blind eye to sin, unfaithfulness, and lukewarmness. (members not faithful to services, men not attending prayer meetings, men not helping with church set up, teens loving the world, lack of studiousness).

That the preaching is to be with reproof, rebuke, exhortation means the preaching must be very
PRACTICAL
. It must get down into the daily lives of the people. The preacher must learn to apply God's Word to every part of the people's lives. He must not preach and teach in generalities. He must ask himself before God, "What does this teaching mean for my people's marriages, child training, jobs, schooling, friends, entertainment," and he must apply it to these things. A major part of the preaching I have heard has been vague and not properly applied. It might be good teaching as far as that goes, but it lacks the practical, life-changing power that it should have because it is not carefully applied to the people's daily living situation.

Biblical preaching is to preach
WITH LONGSUFFERING
. The preacher must be patient toward the people like God is. The preacher is to have a patient and persevering spirit when he is opposed and when his preaching is not immediately heeded. "If thou do not see the effect of thy labours presently, yet do not therefore give up the cause; be not weary of speaking to them. While God shows to them all long-suffering, let ministers exhort with all long-suffering" (Matthew Henry).

Preaching with longsuffering is a matter of preaching with compassion for the people. We are to care for Christ's sheep (1 Pet. 5:2). We are to speak the truth in love (Eph. 4:25).

This does not mean that the preacher is to be endlessly patient, for Christ Himself is not endlessly patient. In His messages to the seven churches in Revelation 2-3, Christ called the churches to repentance and warned some of them of dire consequences if they did not repent. The preacher must be wise enough to know when it is time to be patient and when it is time to rebuke and discipline. Only the Spirit of God can give this wisdom, and He gives it in answer to prayer.

Biblical preaching is to preach
WITH DOCTRINE
. The preacher must be a teacher. Preaching must not be composed merely of exhortation and reproof. It must be full of sound doctrine. It must build the people up in the faith. It must educate them so that they become effectual Bible students. They must be taught to rightly interpret the Scriptures. They must be shown the
why
of obedience as well as the
way
of obedience. They must be given a solid foundation for obedience, which is the doctrine of God's Word. We see the example of this in the New Testament Epistles such as Ephesus. The first three chapters consist of doctrine, while the last three chapters consist more of exhortation and reproof. Preaching with doctrine is an essential aspect of sound preaching. This flows from the preacher's study life. The preacher who is a serious student, not only of the Bible but of life in general, will have a rich preaching and teaching ministry. He is ever learning new things that enrich his ministry, making it more effectual, more interesting. Preaching with doctrine requires expository preaching so that the Lord's people understand the Bible as a whole and how that each book fits into the whole.

Biblical preaching
PROTECTS FROM APOSTASY
(2 Tim. 4:2-4). These verses dealing with apostasy are connected with the previous verses about preaching. It is biblical preaching, with its doctrine, exhortation, reproof, and rebuke, that can protect the church from end-time apostasy. No matter how dark the time, God has given the churches everything they need to stand. Biblical preaching is rejected by apostates as judgmentalism and Phariseeism, but biblical preaching can stem the tide of apostasy in the lives of those who receive it.

copyright 2013, Way of Life Literature

- Receive these reports by email
- "About" David Cloud
- www.wayoflife.org

______________________


Sharing Policy: Much of our material is available for free, such as the hundreds of articles at the Way of Life web site. Other items we sell to help fund our expensive literature and foreign church planting ministries. Way of Life's content falls into two categories: sharable and non-sharable. Things that we encourage you to share include the audio sermons, O Timothy magazine, FBIS articles, and the free eVideos and free eBooks. You are welcome to make copies of these at your own expense and share them with friends and family, but they cannot be posted to web sites. You are also welcome to use excerpts from the articles in your writings, in sermons, in church bulletins, etc. All we ask is that you give proper credit. Things we do not want copied and distributed freely are items like the Fundamental Baptist Digital Library, print editions of our books, electronic editions of the books that we sell, the videos that we sell, etc. The items have taken years to produce at enormous expense in time and money, and we use the income from sales to help fund the ministry. We trust that your Christian honesty will preserve the integrity of this policy. "For the scripture saith, Thou shalt not muzzle the ox that treadeth out the corn. And, The labourer is worthy of his reward" (1 Timothy 5:18).
Goal:Distributed by Way of Life Literature Inc., the Fundamental Baptist Information Service is an e-mail posting for Bible-believing Christians. Established in 1974, Way of Life Literature is a fundamental Baptist preaching and publishing ministry based in Bethel Baptist Church, London, Ontario, of which Wilbert Unger is the founding Pastor. Brother Cloud lives in South Asia where he has been a church planting missionary since 1979. Our primary goal with the FBIS is to provide material to assist preachers in the edification and protection of the churches.

Offering: We take up a quarterly offering to fund this ministry, and those who use the materials are expected to participate (Galatians 6:6) if they can. We do not solicit funds from those who do not agree with our preaching and who are not helped by these publications. We seek offerings only from those who are helped. OFFERINGS can be mailed or made online with with Visa, Mastercard, Discover, or Paypal. For information see: www.wayoflife.org/about/makeanoffering.html.
Publisher of Bible Study Materials