Mastering the English Bible
Complete Set - Eleven (11) Textbooks
by David W. Cloud,
2023, 8.5x11
Formats: Coil Bound Softcover, eBook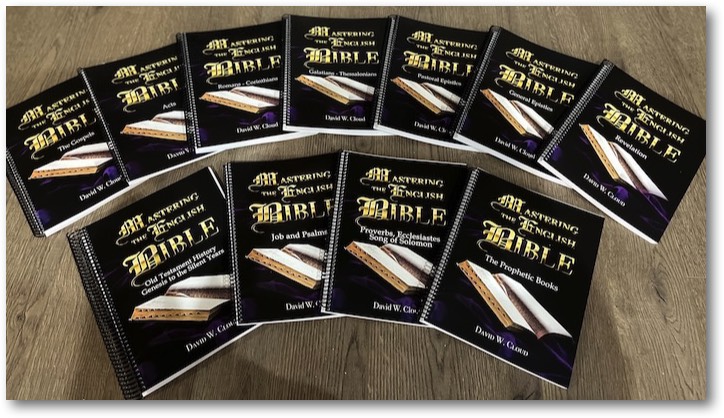 Complete set available to ship now!

Full set of Mastering the English Bible (11 Textbooks)
Unlinked books are not available individually yet and are not listed on website.
The Softcover set and eBook set are both exempt from site wide sales and coupons.
Set of Eleven Books
Coil Bound Softcover
Set of Eleven eBooks
PDF eBooks
Publisher of Bible Study Materials
Publisher of Bible Study Materials
If you live in Canada -
For your order to be charged in Canadian funds and to ship within Canada, please place your order by phone. Call toll free 1-866-295-4143.
Note that all cart orders process in US dollars and ship from the USA.

_________

CART TERMS
(if you use the cart)
- Prices shown are US Funds
- Items ship from Port Huron, MI. USA.
- Cart accepts Visa, Master Card, Discover, AmEx, PayPal.
- Shipping is real time USPS lookup base on weight.
- International customers: Call or use cart.
- No refunds. Defective material will be replaced.


SHIPPING

- Orders typically ship in 3-4 days.
- Your order will typically arrive in 2-3 weeks.


DOWNLOADS
- Customer is responsible for backups.
- We cannot guarantee file replacement.