The Bible and the Symphony Orchestra
David Cloud, Way of Life Literature, P.O. Box 610368, Port Huron, MI 48061
866-295-4143,
fbns@wayoflife.org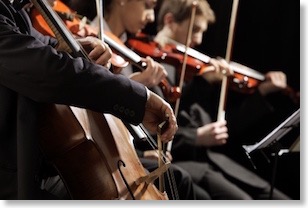 T
he Protestant Reformation of the 16th to the 18th centuries coincides with the era of Western classical music and the symphony orchestra. This is the very time that the influence of the Bible spread widely.


The following characteristics of the traditional symphony orchestra and early Western classical music are principles that represent a biblical worldview:

Beauty (God is a God of beauty as seen throughout His creation) (Ex. 28:40; 2 Ch. 3:6; Psa. 27:4; 50:2; 96:6; Isa. 33:17)
Unity (Psa. 133:1; Jn. 17:23; Acts 2:1)
Order, harmony (1 Cor. 14:33, 40)
Excellence (skill) (1 Ch. 15:21; Psa. 33:3)
Clarity, distinctness (1 Cor. 14:7-8)
Creativity (Prov. 8:12)
Simplicity intertwined with complexity (we see this characteristic throughout God's creation) (Psa. 19:1)

During this era, old musical instruments were improved and new instruments were invented, including the following:

Violin (16th century)
Cello (16th century)
Recorder (16th century)
Dulcian (precursor of the bassoon) (16th century)
French horn (16th century)
Harpsichord (16th century)
Clavichord (16th century)
Clarinet (17th century)
Oboe (17th century)
Piccolo (18th century)
Bassoon (18th century)
English horn (18th century)
Piano (18th century)
Saxophone (19th century)

Many of the famous classical composers were Christians (of some sort), and the most important classical music of the 16th to the 19th centuries was deeply influenced by Christianity and the Bible, which was read widely in most Western nations of that time.

Consider three examples:


GEORGE FREDERIC HANDEL
(1685-1759) was a Lutheran who wrote music for the glory of God. Even as a little boy George was interested in music, but his father wanted him to study law and refused to allow him to take music lessons. He obtained a little clavichord and hid it in a room at the top of the house and practiced when the family was asleep. Obviously he had the help of someone who was sympathetic to his musical interests, About age ten, on a trip with his father to visit an older brother who was valet to the Duke Johann Adolf I, George surprised everyone by playing the organ (Philip Bone,
The Guitar and Mandolin
, 1914). The duke convinced the father to allow George to take music lessons.

After becoming proficient on the organ, oboe, violin, and harpsichord, he wrote his first composition at age 12 and his first opera at age 18.

He never married and lived a very private life, but he had many friends and had a good sense of humor. Once when some friends wanted to console him about the fact that only a few people attended a performance, he replied, "Never mind, the music will sound the better," referring to the acoustics of the empty concert hall.

When his mother died, he wrote to a brother-in-law, "It pleased the Almighty, to whose great Holy Will I submit myself with Christian submission" (Patrick Cavanaugh,
The Spiritual Lives of Great Composers
).

He read the Bible frequently and loved to set the words of Scripture to song. In 1741, at age 64, Handel wrote the music for the world famous
Messiah
. It begins with Isaiah's Messianic prophecies and covers Christ's birth, death, resurrection, glorification, ending with judgment day. Handel wrote the 260 pages of music (one-quarter of a million musical notes) to this amazing piece in a mere 24 days, after which he exclaimed with tears, "I did think I did see all heaven before me, and the great God Himself!" The
Messiah
has 53 songs and the full performance lasts over two hours! Sir Newman Flower remarked, "Considering the immensity of the work and the short time involved, it will remain, perhaps forever, the greatest feat in the whole history of music composition."

The
Messiah
is one of the most performed chorale works in Western music. In the 2014-2015 holiday season, 13 of American's top 22 orchestras performed the
Messiah
a total of 38 times.

The words for the
Messiah
were written by Charles Jennings, who wanted to counter the teaching of Deism, which was popular in his day and taught that the Creator is an "absentee God" who does not intervene in human affairs (Richard Luckett,
Handel's Messiah: A Celebration
, 1992).

At a performance of the Messiah in 1743, King George II was in attendance. When the "Hallelujah Chorus" began, the king stood up to honor Jesus Christ. This began a tradition that has lasted more than 200 years.

Handel conducted more than 30 performances of the Messiah, and many of these were charitable benefits that raised thousands of British pounds for hospitals, the poor, debtors, etc. The first performance in 1742 raised 400 pounds and freed 142 people from debtor's prison. One biographer observed, "Messiah has fed the hungry, clothed the naked, fostered the orphan ... more than any other single musical production in this or any country." This spirit of charity, which has permeated Western culture, comes directly from the influence of the Bible.


JOHANN SEBASTIAN BACH
(1685-1750) was a Lutheran who wrote hundreds of chorales and cantatas for church services. Two of these are "Jesus, All My Gladness" and "Christ Lay in the Bonds of Death."

He was "profoundly religious and saw everything as a work for God." He said, "Music's only purpose should be the glory of God and the recreation of the human spirit." Bach was born in Germany to a pious Lutheran family of musicians. When his parents died when he was 10, his newly married older brother took him in and provided for his education. He played the harpsichord, organ, and violin, and had an excellent voice.

He was considered the greatest keyboardist of his day. Oftentimes he would compose music on the spot to the amazement of his listeners.

Bach had 20 children. His first wife died after they had been married about 13 years. They had seven children. His second marriage, to a woman 16 years his junior, produced 13 more children. His first child was born when he was 23, and his last child was born when he was 57. Only 10 of the children survived to adulthood, and some of these became famous musicians and composers.

His 1727 oratorio
St. Matthew Passion
sets to music (small orchestra and chorale) the words of Matthew 26-27 pertaining to the death and resurrection of Jesus Christ. It has been called "the greatest piece of music ever composed." He lived a simple life and did not seek fame and fortune. His final choral was "Before Thy Throne I Come Herewith."

Bach's music is popular in Japan in the 21st century, and many Japanese claim to have been drawn to "Christianity" through his music. There are hundreds of Bach societies in Japan. The Bach Collegium Japan, headed by Masaaki Suzuki, a Reformed Christian, hosts performances of
St. Matthew Passion
at Easter. Though tickets cost more than $600, the performances are sold out and audience members crowd around Suzuki afterwards to ask "about the Christian concept of hope and death" ("Bach in Japan,"
Christianity Today
, July 1, 2007).


LUDWIG VAN BEETHOVEN
(1770-1827) is considered by many to be the world's greatest composer, (though Beethoven himself said that Handel was the greatest).

Though he never expressed personal faith in Christ as Lord and Saviour, he was also not a deist or pantheist as is commonly taught, for he believed that God is a personal Father God who was concerned about him and close to him. He referred to God as the Almighty, the Eternal, and the Infinite. He read the Bible often and was deeply influenced by it, owning both a Latin and a French Bible.

He said, "It was not a fortuitous meeting of chordal atoms that made the world. If order and beauty are reflected in the constitution of the universe, then there is a God."

When facing an operation, he said, "The Almighty will give me strength to endure my lot, however severe and terrible, with resignation to His will."

In 1810, after going deaf, he wrote, "I have no friend. I must live by myself. I know, however, that God is nearer to me than others. I go without fear to Him, I have constantly recognized and understood Him" (Philip Kruseman,
Beethoven's Own Words
, p. 53).

He also, wrote, "Nothing higher exists than to approach God more than other people, and from that to extend His glory among humanity."

In his diary in 1815, Beethoven wrote that he wanted to write music to the glory of God as Bach did (Martha Brundage,
Beethoven's Faith as Reflected in the Missa Solemnis
, April 2011).

Though nominally a Roman Catholic, his main teacher was a Protestant (Christian Gottlob Neefe) and he believed in freedom of religion and freedom of politics, which were concepts foreign to the Catholic Church of that day.

After he became deaf in 1801 at age 31, he continued writing beautiful music. "It is astonishing to study the complexities and beauty of his late works and to realize that, except in his imagination, he never heard them performed" ("Ludwig van Beethoven,"
The Forerunner
, Apr. 7, 2008).

Beethoven's famous 9th Symphony was written during this time.


- Receive these reports by email
- www.wayoflife.org

______________________


Sharing Policy: Much of our material is available for free, such as the hundreds of articles at the Way of Life web site. Other items we sell to help fund our expensive literature and foreign church planting ministries. Way of Life's content falls into two categories: sharable and non-sharable. Things that we encourage you to share include the audio sermons, O Timothy magazine, FBIS articles, and the free eVideos and free eBooks. You are welcome to make copies of these at your own expense and share them with friends and family. You may also post parts of reports and/or entire reports to websites, blogs, etc as long as you give proper credit (citation). A link to the original report is very much appreciated as the reports are frequently updated and/or expanded. Things we do not want copied and distributed are "Store" items like the Fundamental Baptist Digital Library, print editions of our books, electronic editions of the books that we sell, the videos that we sell, etc. The items have taken years to produce at enormous expense in time and money, and we use the income from sales to help fund the ministry. We trust that your Christian honesty will preserve the integrity of this policy. "For the scripture saith, Thou shalt not muzzle the ox that treadeth out the corn. And, The labourer is worthy of his reward" (1 Timothy 5:18). Questions? support@wayoflife.org
Goal:Distributed by Way of Life Literature Inc., the Fundamental Baptist Information Service is an e-mail posting for Bible-believing Christians. Established in 1974, Way of Life Literature is a fundamental Baptist preaching and publishing ministry based in Bethel Baptist Church, London, Ontario, of which Wilbert Unger is the founding Pastor. Brother Cloud lives in South Asia where he has been a church planting missionary since 1979. Our primary goal with the FBIS is to provide material to assist preachers in the edification and protection of the churches.

Offering: Offerings are welcome if you care to make one. If you have been helped and/or blessed by our material offerings can be mailed or made online with with Visa, Mastercard, Discover, or Paypal. For information see: www.wayoflife.org/about/makeanoffering.html.
Publisher of Bible Study Materials
Publisher of Bible Study Materials