David Cloud, Way of Life Literature, P.O. Box 610368, Port Huron, MI 48061
866-295-4143,
fbns@wayoflife.org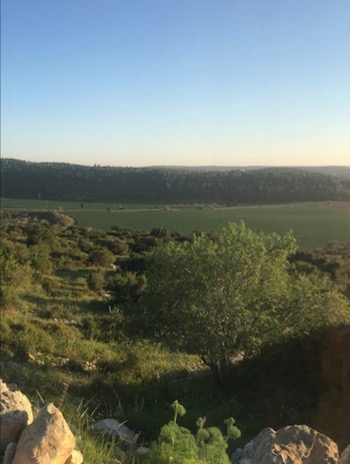 1 Samuel 17


This is one of the most famous Bible stories, and it has thrilled countless Sunday School children; but it is not a children's fairy tale. It is the true story of a young man who was zealous for the living God and who, by faith, overcame a giant warrior with a slingshot. It is not just an interesting children's story; it is a challenge for God's people of every age to win victories over the devil by exercising faith.

The place


The valley of Elah is east of Gath and west of Bethlehem. The Israelis camped on the north hill and the Philistines camped on the south hill. Goliath walked out into the valley to challenge Israel. The brook where David got the five stones was near the north hill, so David picked up the stones as he was walking out into the valley to meet Goliath.

For an illustrated study of this place and event, see
Bible Times and Ancient Kingdoms
, PowerPoint 11 "David and His Palace."


The giant


He was about 9.5 feet high (one cubit was about 18 inches) (1 Sa. 17:4).

He was protected by armor. He had a brass helmet, brass greaves that covered the lower parts of his legs, a brass shield that covered his upper back, a long spear with a 15 pound tip, and a coat of mail (made of brass plates arranged like the scales of a fish) that weighed about 125 pounds. A shield bearer walked before him to protect him from arrows.


The issue at stake (1 Sa. 17:10)


The giant defied the armies of Israel and cursed them in the name of his false gods (1 Sa. 17:43). It was God's name and testimony that was at stake.


The young man


David was not a child. He was old enough to wear Saul's armor (1 Sa. 17:38), though he decided not to use it. David was made a general over the army immediately after this (1 Sa. 18:5). Earlier Saul's men had called David "a mighty valiant man, and a man of war" (1 Sa. 16:18).

David's eldest brother envied him (1 Sa. 17:28). Jesus said that oftentimes a prophet has no honor among his own people (Mark 6:2-6). Abel was hated by his brother Cain because of his love of God and his prophesying. Joseph had the same problem with his brothers (Ge. 37:5-11).

David was wise in the face of his brother's envy and his false accusations (1 Sa. 17:26-30). He did not get angry at him; he did not argue with him; he simply stated his view and continued with his work for the Lord. Sometimes we should answer false accusations, and sometimes we should ignore them. For example, Paul answered the accusations of the false teachers before the church at Corinth (2 Co. 11:5 - 12:13). We must seek wisdom from the Lord for each situation (Pr. 3:5-6).

David was zealous for the name of the Lord and for His glory (1 Sa. 17:31, 45-47). This was his motivation in the battle and this is what gave him the victory. David knew that God would be known and glorified by this event.

David had already fought battles and had proven himself in the Lord's work. He had shown that he knew how to walk by faith (1 Sa. 17:37). Before we can run spiritually, we must learn to walk. There must be spiritual growth (1 Pe. 2:2; 1 Jo. 2:13).

David walked with God in private, and he was exalted to a great public ministry.

David refused to trust the arm of the flesh (1 Sa. 17:38-39). Compare 2 Corinthians 10:4.


The battle


The giant was proud and boastful and trusted in himself and in his false gods, the chief of which was Dagon (1 Sa. 17:42-44). Compare Ps. 135:15-18; Pr. 16:18; Jer. 17:5.

David trusted only in the true and living God and boasted only in God (1 Sa. 17:45-47).


- Receive these reports by email
- www.wayoflife.org

______________________


Sharing Policy: Much of our material is available for free, such as the hundreds of articles at the Way of Life web site. Other items we sell to help fund our expensive literature and foreign church planting ministries. Way of Life's content falls into two categories: sharable and non-sharable. Things that we encourage you to share include the audio sermons, O Timothy magazine, FBIS articles, and the free eVideos and free eBooks. You are welcome to make copies of these at your own expense and share them with friends and family. You may also post parts of reports and/or entire reports to websites, blogs, etc as long as you give proper credit (citation). A link to the original report is very much appreciated as the reports are frequently updated and/or expanded. Things we do not want copied and distributed are "Store" items like the Fundamental Baptist Digital Library, print editions of our books, electronic editions of the books that we sell, the videos that we sell, etc. The items have taken years to produce at enormous expense in time and money, and we use the income from sales to help fund the ministry. We trust that your Christian honesty will preserve the integrity of this policy. "For the scripture saith, Thou shalt not muzzle the ox that treadeth out the corn. And, The labourer is worthy of his reward" (1 Timothy 5:18). Questions? support@wayoflife.org
Goal:Distributed by Way of Life Literature Inc., the Fundamental Baptist Information Service is an e-mail posting for Bible-believing Christians. Established in 1974, Way of Life Literature is a fundamental Baptist preaching and publishing ministry based in Bethel Baptist Church, London, Ontario, of which Wilbert Unger is the founding Pastor. Brother Cloud lives in South Asia where he has been a church planting missionary since 1979. Our primary goal with the FBIS is to provide material to assist preachers in the edification and protection of the churches.

Offering: Offerings are welcome if you care to make one. If you have been helped and/or blessed by our material offerings can be mailed or made online with with Visa, Mastercard, Discover, or Paypal. For information see: www.wayoflife.org/about/makeanoffering.html.
Publisher of Bible Study Materials
Publisher of Bible Study Materials