Church Members Trying to Warn Sleeping Pastors
August 1, 2017 (first published January 9, 2013)
David Cloud, Way of Life Literature, P.O. Box 610368, Port Huron, MI 48061
866-295-4143,
fbns@wayoflife.org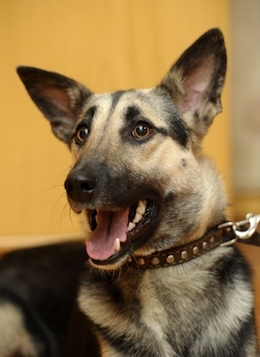 I
don't like barking dogs
, personally, but I do like a good guard dog. We have one of those. He is big and strong and bold enough to get the job done, and we haven't been robbed again since we got him. Therefore I have learned to endure some barking and not always convenient barking! If any danger is around on some dark night, I want that old boy to bark away.


What is far more important and valuable is a good spiritual watch dog. In Isaiah's day, the watchmen were described by God as "dumb dogs, they cannot bark; sleeping, lying down, loving to slumber."

This reminds me of a whole bunch of independent Baptist preachers today who used to be in the battle and who used to be zealous to protect their people from spiritual danger and error, but who are getting old and soft and are in a semi-retirement mode and are letting the young people, often including their own kids and grandkids, provide leadership that they are not ready to provide and to set the tone for the church's programs that they are not equipped to set.

This is one major way that CCM is slipping into churches that are pastored by men who ten years ago would not have allowed this to happen. Oftentimes, there are people in these churches who are deeply concerned. There are members who are standing in spiritual conviction exactly where their pastor was five years ago and are holding to the convictions that their own pastor taught them, but the discouraging thing is that the pastor has changed.

Oh, he won't admit it. NO!!!!! But he has changed. He is becoming a dumb dog about music, a dumb dog about holding high spiritual standards for church workers and other things. He isn't alert and sharp any more. He isn't on top of what is happening. He has allowed himself to be ignorant about contemporary worship music and its dangers and about other spiritual dangers his people are facing. He isn't educated out these things, but he also doesn't want to be educated.

Recently I received the following example of this from a church member who is trying to wake up his sleeping pastor. The church member wrote this to his own pastor. This is happening everywhere. It is a part of the independent Baptist church wars that are raging right now.

"Pastor, our church is moving from the path we have held for the past many years I have known it. I believe it is the harvest of years of not warning and teaching our people about CCM. You have said many times when we have talked on this subject that 'we are not moving,' but we are! Can you not tell the difference between the ensemble and the choir numbers on Sunday morning and the young people's new style of music? It is not the difference between the old and the new but the wrong and the right. The wrong is on the slippery slope that is quickly moving down the proverbial road to apostasy.

"This is a big issue! You must define it, speak against it, teach against it and limit your associations (as you used to do). If you remain quiet and general on the subject it will overtake and sweep us away as it has already done to other 'good' churches.

"The music in our church is on a collision course. We cannot continue having contemporary and traditional music side by side. We must stand no matter the cost or the loss.

"I love my church but I will not be a part of continuing down the slippery slope. I happened to be in the choir room this afternoon as -------- were practicing a song from an iPod thing and it was clearly CCM, horrible sounding music. This is music that would not pass (I hope) your judgment as it was performed on the iPod, but this is what these men listen to and think is alright. This is where they are getting the new music to modify to use in church."

I thank the Lord for men of conviction such as this church member, who is trying to wake up his sleeping pastor. But what can the people do when their own pastors are sleeping? Can the people lead the church? No, that is not God's plan.

If the pastors don't properly feed, lead, and protect, the flock will be weakened and scattered and destroyed. It is a spiritual law. The following verses remind us of the essential and fundamental nature of the pastoral office and of the fact that God's people are likened to sheep who need godly shepherds.


"And when they had ordained them elders in every church, and had prayed with fasting, they commended them to the Lord, on whom they believed" (Acts 14:23).

"And we beseech you, brethren, to know them which labour among you, and are over you in the Lord, and admonish you; And to esteem them very highly in love for their work's sake.
And
be at peace among yourselves" (1 Th. 5:12-13).

"This
is
a true saying, If a man desire the office of a bishop, he desireth a good work. A bishop then must be blameless, the husband of one wife, vigilant, sober, of good behaviour, given to hospitality, apt to teach; Not given to wine, no striker, not greedy of filthy lucre; but patient, not a brawler, not covetous; One that ruleth well his own house, having his children in subjection with all gravity; (For if a man know not how to rule his own house, how shall he take care of the church of God?) Not a novice, lest being lifted up with pride he fall into the condemnation of the devil" (1 Tim. 3:1-6).

"For this cause left I thee in Crete, that thou shouldest set in order the things that are wanting, and ordain elders in every city, as I had appointed thee: If any be blameless, the husband of one wife, having faithful children not accused of riot or unruly. For a bishop must be blameless, as the steward of God; not selfwilled, not soon angry, not given to wine, no striker, not given to filthy lucre; But a lover of hospitality, a lover of good men, sober, just, holy, temperate; Holding fast the faithful word as he hath been taught, that he may be able by sound doctrine both to exhort and to convince the gainsayers" (Titus 1:5-9).

"The elders which are among you I exhort, who am also an elder, and a witness of the sufferings of Christ, and also a partaker of the glory that shall be revealed: Feed the flock of God which is among you, taking the oversight
thereof
, not by constraint, but willingly; not for filthy lucre, but of a ready mind; Neither as being lords over
God's
heritage, but being ensamples to the flock. And when the chief Shepherd shall appear, ye shall receive a crown of glory that fadeth not away" (1 Pet. 5:1-4).

"Remember them which have the rule over you, who have spoken unto you the word of God: whose faith follow, considering the end of
their
conversation" (Heb. 13:7).

"Obey them that have the rule over you, and submit yourselves: for they watch for your souls, as they that must give account, that they may do it with joy, and not with grief: for that
is
unprofitable for you" (Heb. 13:17).


- Receive these reports by email
- www.wayoflife.org

______________________


Sharing Policy: Much of our material is available for free, such as the hundreds of articles at the Way of Life web site. Other items we sell to help fund our expensive literature and foreign church planting ministries. Way of Life's content falls into two categories: sharable and non-sharable. Things that we encourage you to share include the audio sermons, O Timothy magazine, FBIS articles, and the free eVideos and free eBooks. You are welcome to make copies of these at your own expense and share them with friends and family. You may also post parts of reports and/or entire reports to websites, blogs, etc as long as you give proper credit (citation). A link to the original report is very much appreciated as the reports are frequently updated and/or expanded. Things we do not want copied and distributed are "Store" items like the Fundamental Baptist Digital Library, print editions of our books, electronic editions of the books that we sell, the videos that we sell, etc. The items have taken years to produce at enormous expense in time and money, and we use the income from sales to help fund the ministry. We trust that your Christian honesty will preserve the integrity of this policy. "For the scripture saith, Thou shalt not muzzle the ox that treadeth out the corn. And, The labourer is worthy of his reward" (1 Timothy 5:18). Questions? support@wayoflife.org
Goal:Distributed by Way of Life Literature Inc., the Fundamental Baptist Information Service is an e-mail posting for Bible-believing Christians. Established in 1974, Way of Life Literature is a fundamental Baptist preaching and publishing ministry based in Bethel Baptist Church, London, Ontario, of which Wilbert Unger is the founding Pastor. Brother Cloud lives in South Asia where he has been a church planting missionary since 1979. Our primary goal with the FBIS is to provide material to assist preachers in the edification and protection of the churches.

Offering: Offerings are welcome if you care to make one. If you have been helped and/or blessed by our material offerings can be mailed or made online with with Visa, Mastercard, Discover, or Paypal. For information see: www.wayoflife.org/about/makeanoffering.html.
Publisher of Bible Study Materials
Publisher of Bible Study Materials