Christ's Vicarious, Substitutionary Atonement
David Cloud, Way of Life Literature, P.O. Box 610368, Port Huron, MI 48061
866-295-4143,
fbns@wayoflife.org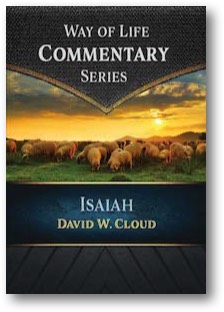 The following is excerpted from the
Way of Life Commentary Series, Isaiah
-


C
hrist's
vicarious, substitutionary atonement is the central event of history and the foundation for God's eternal salvation and the new creation of which Christ is the Head. Christ is the "Lamb slain from the foundation of the world" (Re. 13:8). His atonement is emphasized throughout the New Testament Epistles. It is "vicarious" meaning Christ suffered vicariously for the sinner, suffered in the sinner's place. It is "penal substitutionary atonement." "Penal" refers to punishment required by the law. Christ made the full payment that God's holy law demands. Any other doctrine of atonement is a false gospel.


"Whom God hath set forth
to be
a propitiation through faith in his blood, to declare his righteousness for the remission of sins that are past, through the forbearance of God" (Ro. 3:25).

"Who was delivered for our offences, and was raised again for our justification" (Ro. 4:25).

"For when we were yet without strength, in due time Christ died for the ungodly" (Ro. 5:6).

"But God commendeth his love toward us, in that, while we were yet sinners, Christ died for us" (Ro. 5:8).

"... when we were enemies, we were reconciled to God by the death of his Son" (Ro. 5:10).

"For in that he died, he died unto sin once" (Ro. 6:10).

"He that spared not his own Son, but delivered him up for us all..." (Ro. 8:32).

"Purge out therefore the old leaven, that ye may be a new lump, as ye are unleavened. For even Christ our passover is sacrificed for us" (1 Co. 5:7).

"For I delivered unto you first of all that which I also received, how that Christ died for our sins according to the scriptures" (1 Co. 15:3).

"For he hath made him
to be
sin for us, who knew no sin; that we might be made the righteousness of God in him" (2 Co. 5:21).

"Who gave himself for our sins, that he might deliver us from this present evil world, according to the will of God and our Father" (Ga. 1:4).

"Christ hath redeemed us from the curse of the law, being made a curse for us: for it is written, Cursed
is
every one that hangeth on a tree" (Ga. 3:13).

"God sent forth his Son, made of a woman, made under the law, To redeem them that were under the law" (Ga. 4:4-5).

"In whom we have redemption through his blood, the forgiveness of sins, according to the riches of his grace" (Eph. 1:7).

"And walk in love, as Christ also hath loved us, and hath given himself for us an offering and a sacrifice to God for a sweetsmelling savour" (Eph. 5:2).

"In whom we have redemption through his blood,
even
the forgiveness of sins" (Col. 1:14).

"Who gave himself a ransom for all, to be testified in due time" (1 Ti. 2:6).

"Who gave himself for us, that he might redeem us from all iniquity, and purify unto himself a peculiar people, zealous of good works" (Tit. 2:14).

"Neither by the blood of goats and calves, but by his own blood he entered in once into the holy place, having obtained eternal redemption
for us
" (Heb. 9:12).

"For then must he often have suffered since the foundation of the world: but now once in the end of the world hath he appeared to put away sin by the sacrifice of himself" (Heb. 9:26).

"But this man, after he had offered one sacrifice for sins for ever, sat down on the right hand of God" (Heb. 10:12).

"Who his own self bare our sins in his own body on the tree, that we, being dead to sins, should live unto righteousness: by whose stripes ye were healed. For ye were as sheep going astray; but are now returned unto the Shepherd and Bishop of your souls" (1 Pe. 2:24-25).

"For Christ also hath once suffered for sins, the just for the unjust, that he might bring us to God, being put to death in the flesh, but quickened by the Spirit" (1 Pe. 3:18).

"And he is the propitiation for our sins: and not for ours only, but also for
the sins of
the whole world" (1 Jo. 2:2).

"Herein is love, not that we loved God, but that he loved us, and sent his Son
to be
the propitiation for our sins" (1 Jo. 4:10).

"And they sung a new song, saying, Thou art worthy to take the book, and to open the seals thereof: for thou wast slain, and hast redeemed us to God by thy blood out of every kindred, and tongue, and people, and nation" (Re. 5:9).


- Receive these reports by email
- www.wayoflife.org

______________________


Sharing Policy: Much of our material is available for free, such as the hundreds of articles at the Way of Life web site. Other items we sell to help fund our expensive literature and foreign church planting ministries. Way of Life's content falls into two categories: sharable and non-sharable. Things that we encourage you to share include the audio sermons, O Timothy magazine, FBIS articles, and the free eVideos and free eBooks. You are welcome to make copies of these at your own expense and share them with friends and family. You may also post parts of reports and/or entire reports to websites, blogs, etc as long as you give proper credit (citation). A link to the original report is very much appreciated as the reports are frequently updated and/or expanded. Things we do not want copied and distributed are "Store" items like the Fundamental Baptist Digital Library, print editions of our books, electronic editions of the books that we sell, the videos that we sell, etc. The items have taken years to produce at enormous expense in time and money, and we use the income from sales to help fund the ministry. We trust that your Christian honesty will preserve the integrity of this policy. "For the scripture saith, Thou shalt not muzzle the ox that treadeth out the corn. And, The labourer is worthy of his reward" (1 Timothy 5:18). Questions? support@wayoflife.org
Goal:Distributed by Way of Life Literature Inc., the Fundamental Baptist Information Service is an e-mail posting for Bible-believing Christians. Established in 1974, Way of Life Literature is a fundamental Baptist preaching and publishing ministry based in Bethel Baptist Church, London, Ontario, of which Wilbert Unger is the founding Pastor. Brother Cloud lives in South Asia where he has been a church planting missionary since 1979. Our primary goal with the FBIS is to provide material to assist preachers in the edification and protection of the churches.

Offering: Offerings are welcome if you care to make one. If you have been helped and/or blessed by our material offerings can be mailed or made online with with Visa, Mastercard, Discover, or Paypal. For information see: www.wayoflife.org/about/makeanoffering.html.
Publisher of Bible Study Materials
Publisher of Bible Study Materials