Christ's Return Emphasized in the Epistles
David Cloud, Way of Life Literature, P.O. Box 610368, Port Huron, MI 48061
866-295-4143,
fbns@wayoflife.org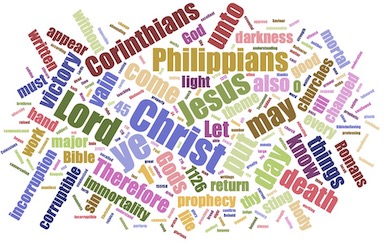 T
he return
of Jesus Christ is emphasized greatly in the New Testament epistles. It is a major theme of the Gospels, as well as the writings of Paul, James, Peter, John, and Jude. Obviously it is God's will that the return of Christ be a major theme of the preaching and teaching in every church, yet I have heard of a great number of so-called Bible-believing churches that rarely touch on this subject and I have communicated with large numbers of professing Christians who know very little about Bible prophecy. Many churches are failing in the essential matter of educating God's people in a prophetic mindset so that they understand the times and respond properly to current events. It is impossible to know and do God's will without a good understanding of Bible prophecy.

_________


Romans 11:26 And so all Israel shall be saved: as it is written, There shall come out of Sion the Deliverer, and shall turn away ungodliness from Jacob.

Romans 13:12 The night is far spent, the day is at hand: let us therefore cast off the works of darkness, and let us put on the armour of light.

1 Corinthians 1:7-8 So that ye come behind in no gift; waiting for the coming of our Lord Jesus Christ: Who shall also confirm you unto the end, that ye may be blameless in the day of our Lord Jesus Christ.

1 Corinthians 4:5 "Therefore judge nothing before the time, until the Lord come, who both will bring to light the hidden things of darkness, and will make manifest the counsels of the hearts: and then shall every man have praise of God."

1 Corinthians 11:26 For as often as ye eat this bread, and drink this cup, ye do show the Lord's death till he come.

1 Corinthians 15:51-58 Behold, I shew you a mystery; We shall not all sleep, but we shall all be changed, In a moment, in the twinkling of an eye, at the last trump: for the trumpet shall sound, and the dead shall be raised incorruptible, and we shall be changed. For this corruptible must put on incorruption, and this mortal must put on immortality. So when this corruptible shall have put on incorruption, and this mortal shall have put on immortality, then shall be brought to pass the saying that is written, Death is swallowed up in victory. O death, where is thy sting? O grave, where is thy victory? The sting of death is sin; and the strength of sin is the law. But thanks be to God, which giveth us the victory through our Lord Jesus Christ. Therefore, my beloved brethren, be ye stedfast, unmoveable, always abounding in the work of the Lord, forasmuch as ye know that your labour is not in vain in the Lord.

Philippians 1:6 Being confident of this very thing, that he which hath begun a good work in you will perform it until the day of Jesus Christ.

Philippians 1:10 That ye may approve things that are excellent; that ye may be sincere and without offence till the day of Christ.

Philippians 2:16 Holding forth the word of life; that I may rejoice in the day of Christ, that I have not run in vain, neither laboured in vain.

Philippians 3:20-21 For our conversation is in heaven; from whence also we look for the Saviour, the Lord Jesus Christ: Who shall change our vile body, that it may be fashioned like unto his glorious body, according to the working whereby he is able even to subdue all things unto himself.

Philippians 4:5 Let your moderation be known unto all men. The Lord is at hand.

Colossians 3:4 When Christ, who is our life, shall appear, then shall ye also appear with him in glory.

1 Thessalonians 1:10 And to wait for his Son from heaven, whom he raised from the dead, even Jesus, which delivered us from the wrath to come.

1 Thessalonians 2:19 For what is our hope, or joy, or crown of rejoicing? Are not even ye in the presence of our Lord Jesus Christ at his coming?

1 Thessalonians 3:13 To the end he may stablish your hearts unblameable in holiness before God, even our Father, at the coming of our Lord Jesus Christ with all his saints.

1 Thessalonians 4:13-18 But I would not have you to be ignorant, brethren, concerning them which are asleep, that ye sorrow not, even as others which have no hope. For if we believe that Jesus died and rose again, even so them also which sleep in Jesus will God bring with him. For this we say unto you by the word of the Lord, that we which are alive and remain unto the coming of the Lord shall not prevent them which are asleep. For the Lord himself shall descend from heaven with a shout, with the voice of the archangel, and with the trump of God: and the dead in Christ shall rise first: Then we which are alive and remain shall be caught up together with them in the clouds, to meet the Lord in the air: and so shall we ever be with the Lord. Wherefore comfort one another with these words.

1 Thessalonians 5:2-3 For yourselves know perfectly that the day of the Lord so cometh as a thief in the night. For when they shall say, Peace and safety; then sudden destruction cometh upon them, as travail upon a woman with child; and they shall not escape.

1 Thessalonians 5:23 And the very God of peace sanctify you wholly; and I pray God your whole spirit and soul and body be preserved blameless unto the coming of our Lord Jesus Christ.

2 Thessalonians 1:7-9 And to you who are troubled rest with us, when the Lord Jesus shall be revealed from heaven with his mighty angels, 8 In flaming fire taking vengeance on them that know not God, and that obey not the gospel of our Lord Jesus Christ: 9 Who shall be punished with everlasting destruction from the presence of the Lord, and from the glory of his power;

2 Thessalonians 2:1 Now we beseech you, brethren, by the coming of our Lord Jesus Christ, and by our gathering together unto him.

2 Thessalonians 2:8 And then shall that Wicked be revealed, whom the Lord shall consume with the spirit of his mouth, and shall destroy with the brightness of his coming.

2 Thessalonians 3:5 And the Lord direct your hearts into the love of God, and into the patient waiting for Christ.

1 Timothy 6:14 That thou keep this commandment without spot, unrebukeable, until the appearing of our Lord Jesus Christ.

2 Timothy 4:1 I charge thee therefore before God, and the Lord Jesus Christ, who shall judge the quick and the dead at his appearing and his kingdom.

2 Timothy 4:8 Henceforth there is laid up for me a crown of righteousness, which the Lord, the righteous judge, shall give me at that day: and not to me only, but unto all them also that love his appearing.

Titus 2:13 Looking for that blessed hope, and the glorious appearing of the great God and our Saviour Jesus Christ.

James 5:7-9 Be patient therefore, brethren, unto the coming of the Lord. Behold, the husbandman waiteth for the precious fruit of the earth, and hath long patience for it, until he receive the early and latter rain. 8 Be ye also patient; stablish your hearts: for the coming of the Lord draweth nigh. 9 Grudge not one against another, brethren, lest ye be condemned: behold, the judge standeth before the door.

Hebrews 9:28 So Christ was once offered to bear the sins of many; and unto them that look for him shall he appear the second time without sin unto salvation.

Hebrews 10:37 For yet, a little while, and he that shall come will come, and will not tarry.

1 Peter 1:7 That the trial of your faith, being much more precious than of gold that perisheth, though it be tried with fire, might be found unto praise and honour and glory at the appearing of Jesus Christ.

1 Peter 4:7 But the end of all things is at hand: be ye therefore sober, and watch unto prayer.

1 Peter 5:4 And when the chief Shepherd shall appear, ye shall receive a crown of glory that fadeth not away.

2 Peter 1:19 We have also a more sure word of prophecy; whereunto ye do well that ye take heed, as unto a light that shineth in a dark place, until the day dawn, and the day star arise in your hearts:

2 Peter 3:10-13 But the day of the Lord will come as a thief in the night; in the which the heavens shall pass away with a great noise, and the elements shall melt with fervent heat, the earth also and the works that are therein shall be burned up. 11 Seeing then that all these things shall be dissolved, what manner of persons ought ye to be in all holy conversation and godliness, 12 Looking for and hasting unto the coming of the day of God, wherein the heavens being on fire shall be dissolved, and the elements shall melt with fervent heat?

1 John 2:28 And now, little children, abide in him; that, when he shall appear, we may have confidence, and not be ashamed before him at his coming.

1 John 3:2 Beloved, now are we the sons of God, and it doth not yet appear what we shall be: but we know that, when he shall appear, we shall be like him; for we shall see him as he is.

Jude 1:14-15 And Enoch also, the seventh from Adam, prophesied of these, saying, Behold, the Lord cometh with ten thousands of his saints, To execute judgment upon all, and to convince all that are ungodly among them of all their ungodly deeds which they have ungodly committed, and of all their hard speeches which ungodly sinners have spoken against him.

Jude 1:21 Keep yourselves in the love of God, looking for the mercy of our Lord Jesus Christ unto eternal life.

Revelation 1:7 Behold, he cometh with clouds; and every eye shall see him, and they also which pierced him: and all kindreds of the earth shall wail because of him. Even so, Amen.

Revelation 3:10 Because thou hast kept the word of my patience, I also will keep thee from the hour of temptation, which shall come upon all the world, to try them that dwell upon the earth.

Revelation 3:11 Behold, I come quickly: hold that fast which thou hast, that no man take thy crown.


- Receive these reports by email
- www.wayoflife.org

______________________


Sharing Policy: Much of our material is available for free, such as the hundreds of articles at the Way of Life web site. Other items we sell to help fund our expensive literature and foreign church planting ministries. Way of Life's content falls into two categories: sharable and non-sharable. Things that we encourage you to share include the audio sermons, O Timothy magazine, FBIS articles, and the free eVideos and free eBooks. You are welcome to make copies of these at your own expense and share them with friends and family. You may also post parts of reports and/or entire reports to websites, blogs, etc as long as you give proper credit (citation). A link to the original report is very much appreciated as the reports are frequently updated and/or expanded. Things we do not want copied and distributed are "Store" items like the Fundamental Baptist Digital Library, print editions of our books, electronic editions of the books that we sell, the videos that we sell, etc. The items have taken years to produce at enormous expense in time and money, and we use the income from sales to help fund the ministry. We trust that your Christian honesty will preserve the integrity of this policy. "For the scripture saith, Thou shalt not muzzle the ox that treadeth out the corn. And, The labourer is worthy of his reward" (1 Timothy 5:18). Questions? support@wayoflife.org
Goal:Distributed by Way of Life Literature Inc., the Fundamental Baptist Information Service is an e-mail posting for Bible-believing Christians. Established in 1974, Way of Life Literature is a fundamental Baptist preaching and publishing ministry based in Bethel Baptist Church, London, Ontario, of which Wilbert Unger is the founding Pastor. Brother Cloud lives in South Asia where he has been a church planting missionary since 1979. Our primary goal with the FBIS is to provide material to assist preachers in the edification and protection of the churches.

Offering: Offerings are welcome if you care to make one. If you have been helped and/or blessed by our material offerings can be mailed or made online with with Visa, Mastercard, Discover, or Paypal. For information see: www.wayoflife.org/about/makeanoffering.html.
Publisher of Bible Study Materials
Publisher of Bible Study Materials