Christian Inventor R.G. LeTourneau
David Cloud, Way of Life Literature, P.O. Box 610368, Port Huron, MI 48061
866-295-4143,
fbns@wayoflife.org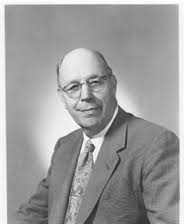 R
obert G. LeTourneau (1888-1969) was business magnate and philanthropist and an inventor who held nearly 300 patents.

Known as "the Dean of earthmoving," LeTourneau is considered "to have been the world's greatest inventor of earthmoving and materials handling equipment." LeTourneau had a natural genius for engineering. Machines designed and built by LeTourneau represented nearly 70% of the earthmoving equipment and engineering vehicles used by the Allied forces during World War II.

He invented the earth mover, electric wheel, tree crusher, log picker, bulldozer, airplane tow, the air crane, the two-wheeled tractor called "Tournapull," and the first mobile offshore oil platform. He developed low-pressure, heavy-duty rubber tires for heavy equipment.

In 1953, LeTourneau sold his entire earthmoving equipment line to the Westinghouse Air Brake Company. Five years later, he developed new equipment based of his electric wheel drive invention called the "wheel hub motor."

LeTourneau was a dedicated Christian and a Bible believer. When he incurred a large debt during the Great Depression, he remained true to his Christian principles.


"The surety company that had backed RG LeTourneau on the construction job that posted the $100,000 loss was going to see to it that RG paid them back every penny owed. So on LeTourneau's next job, the surety company demanded RG work on Sundays or else they would foreclose on his business, his house, everything. Since RG's business partner was God, he gave the problem to God to solve. The owner of the surety company, Mr. Hall, boarded a train to officially shut LeTourneau down, but upon arrival to the job site the next day, something miraculous occurred. The surety man had a change of heart and allowed RG to continue.

"Although the job was completed without working on Sundays, RG was still deep in debt. He was able to buy some time with his creditors by committing to improve his financial reporting. The surety company installed an accountant named Mr. Frost to reign in the books. What Mr. Frost found was worse than he had originally expected.

"Meanwhile, RG had skipped his yearly missions pledge the year before so he was committed to making good with the Lord. He told Mr. Frost that he had pledged $5,000 to his church for missions. Mr. Frost couldn't believe it. RG was so far behind, even thinking of donating to the Lord was out of the question. Mr. Frost didn't realize who RG was partners in business with. Unbelievably, the business managed to stay afloat and the missions commitment was paid in full that year. Then, his business hit a breakthrough" ("RG LeTourneau: Earthmoving Innovator," GiantsforGod.com).


After LeTourneau turned his attention to manufacturing earthmoving equipment and was becoming financially successful, he and his wife Evelyn determined to give 90% of their income to the Lord. LeTourneau was fond of remarking, "It's not how much of my money I give to God, but how much of God's money I keep for myself."

The LeTourneaus had a heart to reach the world with the gospel of Jesus Christ, and they had a special interest in youth people. Evelyn started Sunday Schools and youth camps.

Overcoming his fear of public speaking, LeTourneau traveled widely giving his testimony and challenging his fellow Christians to do more for the Lord.

He founded LeTourneau University, a private Christian institution in Texas, which offers degrees in engineering, aeronautical sciences, and liberal arts.


- Receive these reports by email
- "About" David Cloud
- www.wayoflife.org

______________________


Sharing Policy: Much of our material is available for free, such as the hundreds of articles at the Way of Life web site. Other items we sell to help fund our expensive literature and foreign church planting ministries. Way of Life's content falls into two categories: sharable and non-sharable. Things that we encourage you to share include the audio sermons, O Timothy magazine, FBIS articles, and the free eVideos and free eBooks. You are welcome to make copies of these at your own expense and share them with friends and family, but they cannot be posted to web sites. You are also welcome to use excerpts from the articles in your writings, in sermons, in church bulletins, etc. All we ask is that you give proper credit. Things we do not want copied and distributed freely are items like the Fundamental Baptist Digital Library, print editions of our books, electronic editions of the books that we sell, the videos that we sell, etc. The items have taken years to produce at enormous expense in time and money, and we use the income from sales to help fund the ministry. We trust that your Christian honesty will preserve the integrity of this policy. "For the scripture saith, Thou shalt not muzzle the ox that treadeth out the corn. And, The labourer is worthy of his reward" (1 Timothy 5:18).
Goal:Distributed by Way of Life Literature Inc., the Fundamental Baptist Information Service is an e-mail posting for Bible-believing Christians. Established in 1974, Way of Life Literature is a fundamental Baptist preaching and publishing ministry based in Bethel Baptist Church, London, Ontario, of which Wilbert Unger is the founding Pastor. Brother Cloud lives in South Asia where he has been a church planting missionary since 1979. Our primary goal with the FBIS is to provide material to assist preachers in the edification and protection of the churches.

Offering: We take up a quarterly offering to fund this ministry, and those who use the materials are expected to participate (Galatians 6:6) if they can. We do not solicit funds from those who do not agree with our preaching and who are not helped by these publications. We seek offerings only from those who are helped. OFFERINGS can be mailed or made online with with Visa, Mastercard, Discover, or Paypal. For information see: www.wayoflife.org/about/makeanoffering.html.
Publisher of Bible Study Materials