Black American Conservatives
Enlarged December 13, 2022 (first published July 13, 2020)
David Cloud, Way of Life Literature, P.O. Box 610368, Port Huron, MI 48061
866-295-4143,
fbns@wayoflife.org
F
ollowing are
101 examples of outspoken black American political conservatives. Their number is increasing. When we say "conservatives," we do not necessarily mean Rush Limbaugh conservatives or some other popular brand. We simply mean that they do not accept the "government should do everything for us" philosophy and they reject the Joe Biden "if you don't vote Democrat, you ain't black" thinking.

We don't publish this list because we agree 100% with these men and women. Most of them are not Bible-believing Christians and do not share our biblical worldview. We publish this list because the mainstream media, the entertainment industry, and leftists everywhere are attempting to shut their mouths. If their existence is even acknowledged, it is only to vilify them.

We are glad for their practical, common sense approach to social and political issues as opposed to the leftist agenda and for their courage to speak their minds in the face of severe opposition and slander. They don't speak with one voice, but they are saying a lot of intelligent things. They have real solutions to real problems, and they are among the bravest men and women in America today.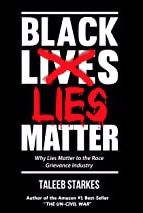 Consider Taleeb Starkes, co-writer and executive producer of the documentary
Mothers of No Tomorrow
, author of
Black Lies Matter: Why Lies Matter to the Race Grievance Industry
(2016). Starkes'
The Top 5 Issues Facing Black Americans
has been viewed more than 11 million times. It's only 5 and a half minutes long, but it is a devastating refutation of liberal social/political philosophy. It cannot be refuted; it can only be ignored or railed upon. The five issues are (1) Unquestioning allegiance to so-called progressive policies; (2) Proliferation of baby mamas (unwed mothers, single mom households); (3) Urban terrorism (black on black violence); (4) Lack of diversity (censorship of conservative black thinking); (5) The victim mentality.

We agree with all of these things, of course, but there is a deeper issue, and that is the spiritual/moral issue.

The fundamental issue for any people is their relationship with God. Consider the hip hop culture. It is a direct affront to God and His holy laws. It destroys morality and stirs up rage. The hip hop culture, empowered by technology, captivates blacks at an ever younger age. The smart phone delivers this culture into the very souls of children and youth like a mainlined drug. This is a more fundamental problem than the welfare state. Most of the black heroes in the fields of entertainment and sports represent the values of this culture. A few exceptions aside, the hip hop culture glorifies sex outside of marriage, the objectification of women, the sexualization of everything, including children, grossly immodest dressing, filthy dancing, shacking up, drinking, drugging, abortion on demand, rebellion against authority, gratuitous violence. Because of the vast influence of the hip hop culture, these things, which were not generally acceptable in black communities 50 years ago, have become normal even among professing Christians.

But when we talk about the hip hop culture, we are still talking about symptoms. Why has the filth of the hip hop culture been so widely accepted?

Because of the churches. The majority of blacks are affiliated with churches, but this hasn't produced the holiness of life that we see in Scripture. I recently asked a black Baptist preacher friend if he knows of any other predominantly black churches that stand against the hip hop culture. He replied, "Not one. If you find one, I'd love to know."

New Testament Christianity is going to stand against every filthy thing in human culture in this fallen world. The apostle Paul said,

"For the grace of God that bringeth salvation hath appeared to all men, Teaching us that, denying ungodliness and worldly lusts, we should live soberly, righteously, and godly, in this present world; Looking for that blessed hope, and the glorious appearing of the great God and our Saviour Jesus Christ; Who gave himself for us, that he might redeem us from all iniquity, and purify unto himself a peculiar people, zealous of good works." (Titus 2:11-14).


So now we come to the
greatest
problem in the black community, and in every community, which is the lack of sound New Testament churches
. Only the true gospel of Jesus Christ can change lives, and it is the job of the New Testament church to preach a sound gospel to every soul, to disciple the believers to live holy lives that are an honor to the name of Christ, and to build solid Christian homes that can raise a godly seed. No other institution can do this. The church alone is "the house of God, which is the church of the living God, the pillar and ground of the truth" (1 Timothy 3:15).

If churches are unregenerate, spiritually-powerless, worldly, unholy, lukewarm, led by biblically unqualified pastors, rife with hypocrisy and heresies, neglecting discipline, then there is no pillar and ground of the truth. Truth, with its attendant righteousness and holiness, falls to the ground.


In our estimation, then, the greatest need of black communities, by far, are God-called preachers building doctrinally-sound, holy New Testament churches as the pillar and ground of the truth. This is also the greatest need in
every
community the world over.

_______________


BLACK AMERICAN CONSERVATIVES

A.A. ALLEN, Ph.D., is the chief operating officer of UrbanCURE, Center for Urban Renewal and Education, one of the goals of which is to "build awareness that a conservative agenda of traditional values, limited government and free markets is of the greatest marginal benefit to low-income Americans." "I am an American patriot, informed by a deep appreciation of the human significance of the advance in human affairs occasioned by the founding of the United States. For the first time in human history, the idea that mankind in general was capable of self-government had been realized. Moreover, the fulfillment of the promises attending that realization have been made manifest in the consistent progress of civilization in the United States, in which the power of the individual and the value of self-agency, informed by the security of religious conviction, have steadily reinforced real material progress and the opportunity for moral progress. For those reasons, it is a matter of prudent judgment that one's political exertions should ever be careful to reinforce and not to undermine the foundations of the hopes invested in the political constitution of this nation. The United States was formed as a lamp unto the world, and whatever undermines the power of the United States to perform that role constitutes an impediment to human happiness. If it is conservative to wish to preserve the "last best hope of man" on earth, then such conservatism is the effect of devotion to liberty. No one could do otherwise, if guided by good sense and a due appreciation of the values of faith, freedom, and responsibility" (A.A. Allen, "19 Black Americans," The Daily Signal, June 22, 2020).

VODDIE BAUCHAM, A NATIVE-BORN AMERICAN WHO IS CURRENTLY DEAN OF THEOLOGY AT AFRICAN CHRISTIAN UNIVERSITY, LUSAKA, ZAMBIA -- "Social justice is about redistributing resources and opportunities. Social justice is not the same as the biblical idea and the biblical concept of justice. You also need to understand that social justice is built on the back of critical theory. Which is all about the idea of, you know, hegemony and power structures. [These are two competing worldviews.] One worldview that says racism is individual. It's an individual heart issue. And that's the world where we deal with the individual heart issue, with the message of the gospel. But then there's another worldview that says, no, no, no, no. Regardless of individual heart issue, this is a structural and institutional issue. ... And what that's doing is it's driving people apart. Because we're having two different conversations, that doesn't make sense to each other. ... Me. Who grew up in drug-infested, gang-infested, Los Angeles, born in 1969. Grew up during the crack era. Grew up during the drug wars with a Buddhist mother. I wasn't raised in Christianity. Never heard the gospel, until I got to university. And so for people to try to marginalize me, because I don't understand. I've been pulled over by the cops. I've been down on the sidewalk. Because I was sitting in the wrong place at the wrong time. I know these kinds of things happen. And yet, I still say, that these ideologies are poisonous. I'm concerned about people. I'm concerned about justice. I'm concerned about souls. And I am not willing to lay down my Bible and have anyone force me to agree with certain things, simply because, if I don't, they will--you know, they will somehow label me and call me names" ("Social Justice Is Not the Same as Biblical Justice," Faithwire, June 18, 2020).

BEVELYN BEATTY, co-founder of At The Well Ministries -- "This Black Lives Matter thing is a cult. They're beyond just trying to shout out Black Lives Matter. They're trying to make people bow. They're trying to make churches bow. Let me tell you something, I will never bow. I will never bow to LGBTQ. I will never bow to Black Lives Matter. I will never bow to Planned Parenthood because they are murderers. ... "Let me tell you what the Democrats want to do; they don't just want blacks to be back in slavery. They want every free man. ... You are seeing so many people divided. You are seeing whites and blacks and conservatives and liberals divided like they have never been divided before. ... I do not look at people's color. I cannot do that. I cannot afford to not enjoy a beautiful relationship with someone based on the color of their skin. ... I don't have time to be on this 'black lives matters' stupidness. I'm telling you right now, stop supporting it. Stop supporting this occult, because they are trying to destroy our country, they are trying to destroy our police force. ... If black lives matters, why don't they say anything about black police officers? ... So you got black people coming against the police screaming 'black lives matters' to black cops, and no one is seeing the discrepancy in that? So you think that when a person puts on a blue uniform ... they're just out to kill black people? You have to be the stupidest person in the world to think that. Are there some injustices? Yes. ... But all of this "police brutality" that goes on, why is it always in Democratic cities? ... They run the city from top to bottom. ... Yet the same people that are running the cities where the murders are happening are the same people telling ya'll, 'We've got to get Trump out of office. We've got to get rid of these Republicans. ...This is why you're supposed to know your history, because if you don't it's bound to repeat itself. In the 1800s when we were finally free, after the abolishment of slavery and black men started to get into office, every single black person that got into office was a Republican. ... Let me tell you what the Democrats want. They don't just want blacks to be back in slavery, they want every free man to be bound to them. They want to run our country. They want to turn it into a communist country. They're going to start with socialism, because it sounds nice, but the next thing they're going to do is turn it into communism. They want to run our country from top to bottom. They don't want us to be free. ... And they are using Black Lives Matter to start to disarm us and divide us, because that is the way it works: divide and conquer" ("Black Lies Matter," YouTube, June 7, 2020). On July 18, Beatty painted over part of the Black Lives Matter "mural" in front of the Trump Tower in New York City to make the statement that "all lives matter," "Jesus matters," "refund the police," "take our country back."

HAROLD A. BLACK, Ph.D., James F. Smith Professor of Finance (Emeritus) at the University of Tennessee, Knoxville. "Those who insist that slavery is the root of all evil in America and that, as a result, blacks are victims, denigrate the strength of black Americans. I long have argued that, contrary to the designation of those who grew up during the Great Depression and fought in World War II as the 'Greatest Generation,' in reality the greatest generation was that of the freed slaves. ... I grew up with parents who, because of their upbringing, neither tolerated excuses nor believed in victimhood. We lived in southwest Atlanta's all-black enclave. As a result, I never had a conversation with a white person until I became the first black male freshman at the University of Georgia in 1966. ... Across the changes in economic status from my former slave great-grandparents to my grandparents to my parents and to me, a retired finance professor with a Ph.D., and my late brother, a former airline pilot with a Ph.D., I cannot find one victim. Nor can I find a victim among any of my other relatives. My father was from a small town in south Georgia. His parents did not finish high school. His mother was a 'domestic' and would not let her four girls do household chores; the three boys did them instead. She said she did not want her girls to have to work in white people's houses, and insisted that all her children go to college. They did. Six of them graduated and the seventh became a businessman. My maternal grandfather was a farmer, working land that had been in the family since 1868. My grandmother had a high school education and served as the one-room schoolmarm for black children in their rural Georgia county. No one among my relatives on either side considered himself or herself a victim. ... So even though slavery was evil, cruel, and harsh, we are a proud people who have prospered despite the odds. We are only hampered when we listen to people who demean us by insisting that racism prevents us from being full participants in society, despite all the evidence to the contrary. Read John Sibley Butler's account of black entrepreneurship and then consider that it was the War on Poverty's resultant destruction of the black family that derailed our progress. Although some may think that the War on Poverty was intended to make blacks wards of the state, and that this is the real victimization, many blacks have not succumbed to it and have continued to send their children to schools, to take their families to church, and to teach self-responsibility. We all know that poverty rates are dramatically higher among single-mother households. More than 65 percent of black children are born out of wedlock. Marriage drops the probability of child poverty by 82 percent. Moreover, there is a significant gap in the incomes of college-educated households and other households regardless of race. Blacks have a proud history of strength and self-reliance. That continues today, despite the caricatures painted by those demanding reparations. I am reminded of a student of mine who was wearing a tee shirt depicting a black person in chains with the words: "I was not asked to be brought here." I asked her, "Aren't you glad you were?" Her answer was, "Oh, my goodness, yes!'" ("The Cult of Victimhood," 1776unites.com).

KEN BLACKWELL, former mayor of Cincinnati, Ohio State Treasurer and Ohio Secretary of State (first black elected to a state office in Ohio), former U.S. Ambassador to the UN Human Rights Commission, author of Resurgent: How Constitutional Conservatism Can Save America (2014) -- "America's founders understood that the right to own firearms--the right to use effectual force to defend oneself, one's family, one's neighborhood, one's nation--was the difference between a mere subject and a free, independent, equal citizen. The United States was designed to enjoy a government of, by, and for the people, as President Lincoln put it. To that end every citizen was entitled, and often required, to own firearms. On the frontier, defending the community was the responsibility of every man. For black communities, however, the threat has rarely come from invading Redcoats or marauding Indians. Few Americans remember today that the first task of the Ku Klux Klan was to disarm the black population in the South. Even fewer know that, in the days before the Civil War, citizen militias repelled white mobs that attacked black neighborhoods in many Northern cities. On at least two occasions, those militias were composed entirely of black gun owners. Few Americans realize that during the freedom struggles of the 1960s, civil rights workers of all races were protected by organized black militias in at least three Southern states. ... Many black political leaders need to rethink their opposition to the Second Amendment. By supporting government infringement of the right to bear arms, they are not only violating the Constitution but also robbing their fellow blacks of the ability to defend themselves, relegating them to second-class citizenship. ... The 1st and 2nd Amendments of our Constitution are the great equalizers. However, we have seen from history that if the 2nd Amendment is compromised, then 1st Amendment rights deteriorate quickly. Freedom for all Americans is dependent on both. And any political party that undermines those rights is making the minority community most vulnerable" (Black, "A Brief History Lesson on Gun Control Laws and Black Americans," Black Community News, Aug. 12, 2019). "Joe Biden has no respect for African American voters who think independently and wants to control our community like the Democrats have been doing for decades. The choice in this election could not be clearer: while President Trump has created opportunity and prosperity within the Black community, Joe Biden promotes and defends the status quo of poverty and marginalization. ... If you're for religious liberty, you're for Donald Trump. If you're for economic prosperity and opportunity, you're for Donald Trump" ("Black Voices for Trump Panel," Townhall, May 25, 2020).

BRIAN BLEDSOE is a Heritage Action Sentinel from Texas, host of TrendChat and contributor to Politichickscom. Heritage Action is a grassroots movement of "local leaders, committed activists and champions for conservative victories. They are the front line of the conservative fight to keep congressmen accountable to the principles that will make life better for all Americans." "After years of living in total indifference to world of politics, repenting and believing in Jesus Christ in 2007 radically changed Brian Bledsoe's outlook on life. In early 2008 Brian came to revelation that the Democratic party, that he had blindly voted for during the past 8 years, did not match with biblical principles. Since then he's been involved politically whether it's volunteering in various conservative organizations like Heritage Action and TEA Party groups to serving as a national delegate at the 2016 Republican Convention." "As a conservative who happens to be Black, I'm typically asked why I am a conservative. So here's why. I'm a conservative because the most innocent among us should be given the chance to live. I'm a conservative because you shouldn't be punished for being successful. I'm a conservative because securing our borders against those who seek to come here illegally should be as commonsensical as securing our residences. I'm a conservative because we need to defend the Second Amendment more than ever from the constant and vicious attack on our right to bear arms. I'm a conservative because speech should be free whether I agree with it or not. I'm a conservative because I stand against the deceptive allure of an all-controlling government by way of socialism, which threatens everything that made this country great. I'm a conservative because we should remain forever vigilant in advocating limited government. Leftists will argue that being conservative goes against what they perceive is in my self-interest. I'm a conservative because the principles of conservatism are the most effective, realistic, and fair for all--regardless of individual outcome" (Brian Bledsoe, "19 Black Americans," The Daily Signal, June 22, 2020).

RYAN SCOTT BOMBERGER, co-founder with his wife, Bethany, of The Radiance Foundation, author of Not Equal: Civil Rights Gone Wrong (2016). Bomberger, the son of a rape victim and an adoptee into a multi-racial family, is a pro-life activist. "His life defies the myth of the 'unwanted' child as he was adopted, loved and has flourished." In his terms, he is a "factivist" who is at war with rampant "factophobia." The following is Bomberger's "Top Ten Reasons I'll Never Support the BlackLivesMatter Movement," June 5, 2020: "The founders of the movement, the BlackLivesMatter Foundation (BLMF), created it to radically shift culture. The far-left Ford Foundation, the world's largest population control organization, vowed in 2016 to raise $100 million for the Movement for Black Lives (MFBL)--a nationwide coalition of BLM groups (including BLMF). MFBL released a shocking manifesto of policy positions that are deeply political and deeply disturbing. Drawing mostly from those positions, here are the top ten reasons why I will never support the #BlackLivesMatter movement. 1 – The premise isn't true. According to the FBI's latest homicide statistics, I'm eleven times more likely to be killed by someone of my own brown complexion than a white person. Also, a comprehensive 2019 study concluded: 'White officers are not more likely to shoot minority civilians than non-White officers.' Every loss of life is tragic, but Washington Post's database on police-involved deaths puts things into context. In 2020, among those killed were 76 black males and 149 white males (whose deaths are don't get reported by national mainstream media). Only nine black individuals were actually unarmed. 2 – There is no goal of forgiveness or reconciliation. None. It's never mentioned on their sites. You can't talk about the sins of the past and expect to move forward if there is no intention of forgiveness. I'm tired of the color-based oppressed/oppressor critical race theory paradigm. It's not Gospel-centered. This should, immediately, be a deal-breaker for Christians. 3 –It's all about Black Power. It's plastered all over the MFBL website. BLMF founders explain their 'herstory': 'It became clear that we needed to continue organizing and building Black power across the country.' I don't promote social colorblindness; I love all of our diverse hues of skin. But I'm so much more than my pigmentation. Martin Luther King promoted 'God's power and human power.' I'm with him. 4 – They heavily promote homosexuality and transgenderism. 'We foster a queer‐affirming network. When we gather, we do so with the intention of freeing ourselves from the tight grip of heteronormative thinking.' I'm not embracing confusion. The Bible is unambiguous about sexuality. Loving every human being is not the same as loving every human doing. 5 – They completely ignore fatherhood. From BLMF: 'We disrupt the Western-prescribed nuclear family structure requirement by supporting each other as extended families and villages that collectively care for one another, especially our children, to the degree that mothers, parents, and children are comfortable.' Well, every 'village' that has fatherless families is a village that suffers higher crime rates, higher drug usage, higher abortion rates, higher drop-out rates, higher poverty rates, and so much more. #DadsMatter. 6 – They demand reparations. Ok. Sooooo, I guess the white half of me will have to pay the black half of me? If progressives want to push reparations, start with the Party of Slavery and Jim Crow--the Democrat Party! Let them ante up. But the #BlackLivesMatter movement bizarrely demands: 'Reparations for…full and free access for all Black people (including undocumented and currently and formerly incarcerated people) to lifetime education…retroactive forgiveness of student loans, and support for lifetime learning programs.' Uhhh, good luck with that. 7 – They want to abolish prisons and police forces. And…cue utter chaos. MFBL asserts: 'We believe that prisons, police and all other institutions that inflict violence on Black people must be abolished…' Defund and remove the police have been rallying cries. That would be anarchy in any community. I advocate some needed police reforms, including more accountability and better community/police relations, but this is just foolishness. 8 – They are anti-capitalism. Oh the irony of this declaration made by a movement that is the result of capitalism: 'We are anti-capitalist. We believe and understand that Black people will never achieve liberation under the current global racialized capitalist system.' The videos that make us aware of police brutality are captured on phones that are a result of capitalism. The best way to elevate people out of material poverty? Capitalism. This system is why the United States is the most charitable nation. 9 – Colin Kaepernick supports it. A 'biracial' adoptee, Kaepernick is now obsessed with his 'blackness.' He idolizes the late murderous Fidel Castro and Che Guevara and worships Malcolm X (just see his social media feeds). Malcolm X was anti-integration, pro-violence and a member of the virulently racist Nation of Islam (who forced him out). Kaepernick makes millions from Nike--a company whose entire Executive Leadership Team is white (isn't this white supremacy???)--that makes its shoes in the most murderous regime in the world. Kaepernick, of course, is completely silent on that. But you know, #SocialJusticeWarrior. 10 –Apparently, not all black lives matter. Pro-abortion BLMF declared: 'We deserve and thus we demand reproductive justice [aka abortion] that gives us autonomy over our bodies and our identities while ensuring that our children and families are supported, safe, and able to thrive.' Aborted children don't thrive. BLM groups announced 'solidarity' with 'reproductive justice' groups back in February 2015 (see the solidarity statement). You cannot simultaneously fight violence while celebrating it."

EENEEN BORELLI, columnist, political commentator, Fellow with Project 21 and FreedomWorks, author of Blacklash: How Obama and the Left Are Driving Americans to the Government Plantation (2013). Her video series Here's the Deal was censored by Facebook in 2019. "After two years and nearly 200 episodes of busting up leftist lies, this is my last episode of Here's the Deal for BlazeTV. My videos once drew millions of views, but thanks to Big Tech's suppression of conservative voices, my videos are hardly seen at all. My show was fact-based: No conspiracy theories, no calls to action, and frankly nothing to be afraid of other than the truth. I have lost this battle to Mark Zuckerberg, but let me be clear: I am down but not out. You cannot silence me" (final episode of Here's the Deal, July 9, 2019).

COREY BROOKS is the founder of the New Beginnings Church in Chicago and CEO of Project H.O.O.D., a community developing organization. In the winter of 2011, he spent 94 days camped out on the top of an abandoned motel in his neighborhood, which was used for prostitution, drug dealing, etc., to raise $450,000 to purchase and raze the building. Subsequently the H.O.O.D. community center was built on the site. "When asked what drives his seemingly endless ambition, Brooks responded with two things: 'I really believe in God and I really do believe that one day I'll have to stand before him and give an account for my time on earth…And then secondly…I want people to see that you can be conservative, and you can be black, and you can be in the hood, and make these principles still work'" ("These Black Conservative Pastors Are Men of Action," The American Conservative, June 16, 2020). The following is from Pastor Brooks' "History of 1776 Offers Hope for All Americans" -- "The beautiful story of America's founding, the most radical experiment in self-government and individual liberty, is becoming lost in an agenda-driven narrative. By now, most Americans are aware of The 1619 Project, a political project of The New York Times aimed at rewriting America's founding. The project weaves together a divisive narrative not only about the foundation of our nation, but also our country's core principles. An unfortunate consequence of this rewrite of our nation's history is that this project excludes the possibility of redemption--at both the national level and the individual level. The primary problem with The 1619 Project is a pervasive one that runs throughout the entire presentation--namely, the over-emphasis on slavery as the defining institution before and during our nation's founding. The writers who participated in the project jettisoned facts in favor of a fictitious recounting of why our Founders formed a new nation. From the 1619 Project's perspective, the overarching motivation behind the founding of the United States of America was the desire to expand slavery. Criticizing The 1619 Project's flawed methodology and conclusions is not to excuse slavery. Slavery is, without a doubt, one of the most complicated and tragic aspects of American history. ... But one need not be an apologist for slavery to find fault with The 1619 Project's myopic view of the founding. 'Our democracy's founding ideals were false when they were written,' reads the headline of The 1619 Project essay. This statement merely reflects the authors' misguided understanding of the power of our founding ideals. The Declaration of Independence, one of the most important political documents ever produced, contains this key passage: 'We hold these truths to be self-evident, that all men are created equal, that they are endowed by their Creator with certain unalienable rights, that among these are life, liberty and the pursuit of happiness. That to secure these rights, governments are instituted among men, deriving their just powers from the consent of the governed.' Is slavery compatible with the ideal that all men are created equal? Of course not. Is slavery compatible with the recognition that we have God-given rights, chief among them life, liberty and the pursuit of happiness? Definitely not. Slavery is the most egregious example where we, as a nation, failed to implement and execute the vision for a government of free individuals. Many of our Founders understood this inconsistency, and fought to abolish slavery from the start. Slavery's existence at our founding is commentary on the frailty of those individuals who participated in slave ownership, not on the hollowness of our founding documents. The overarching theme of our founding documents is the possibility of what the individual can achieve, thanks to his or her freedom. We often call it the American Dream. It is the heart and soul of our nation's mission statement. ... Project H.O.O.D., a program I founded on the south side of Chicago as a ministry of our church, offers a path forward out of poverty that is rooted in the American Dream. Part of our goal through our ministry programs, of course, is to help people find freedom in Jesus Christ. At the same time, we also show them the freedom that comes from participating in the American Dream, the most empowering economic opportunity there is. Through our programs, I have seen many lives changed. And they were changed because the individuals saw themselves as part of--not excluded from--the American Dream. ... Political projects such as The 1619 Project do nothing to help black Americans escape the noxious 'us versus them' mentality, and they rob generations of Americans of the power of the American Dream. I have discovered on the south side of Chicago that the absolute best way to overcome racial disparities in economic and academic outcomes is to teach individuals about the incredible opportunities of being in America--not to fixate on the mistakes of the past. Personal responsibility, an American concept closely linked to individual freedom, is the ticket to a turned-around life" ("History of 1776 Offers Hope for All Americans," 1776unites.com).

JANICE ROGERS BROWN, former U.S. Circuit Judge of the United States Court of Appeals for the District of Columbia Circuit -- "Prior to the 2016 election, America had a cherished tradition of peacefully transferring power. No riots in the streets. No military coups. George Washington himself set the standard. However, we now know elections have consequences only when the correct candidate is elected. ... Dubbing themselves the resistance, apparently with no sense of irony and perhaps unaware they were doing exactly what the White Citizens' Council did when the decision in Brown v. Board of Education was announced, the disappointed in 2017 announced that Trump was 'not their president.' ... Long before the era of civil rights, Abraham Lincoln decried the mobocratic spirit he feared would destroy the republic, that last best hope on earth. ... The common humanity identity of the civil rights era has been superseded by the virulent, common-enemy, identity politics of today's progressives. Political correctness encouraged by good manners has become inciting orthodoxy. Speech codes have morphed into full-scale riots where students at elite schools can threaten and badger administrators and faculty, while claiming physical assaults on unpopular speakers are justifiable self-defense. ... Few people think that our country cannot be improved on. But to present it as riddled with bigotry, hatred, and oppression is at best a partial and at worst a nakedly hostile prism [through] which to view society. It is an analysis expressed not in a manner of a critic hoping to improve, but as an enemy eager to destroy. There are signs of this everywhere we look. ... We have lost several generations [to public school indoctrination]. We have to do what we can. They are doing what they can. They essentially run reeducation camps as part of freshman orientation. So, we have to do likewise and try to find more opportunities where young people can at least be exposed to what conservative ideas really are about" ("Today's Political Mob Has Consequences," The Heritage Foundation's third annual Jay A.parker Reception and Lecture, Feb. 25, 2020).

JOHN SIBLEY BUTLER, Ph.D. Northwestern University, holds the J. Marion West Chair for Constructive Capitalism at the McCombs School of Business at the University of Texas, Austin, author of Immigrant and Minority Entrepreneurship: The Continuous Rebirth of American Communities (2004). He is a contributor to the Woodson Center's 1776 Unites program, which combats the 1619 Project's claim that America's true founding came with the arrival of the first black slaves, rather than with the Declaration of Independence. 1776 Unites explains that "slavery was America's birth defect, but America is not defined by its defect but by the promise of 1776." 1776 Unites champions black Americans who used the free market to build their own prosperity, often facing stiff odds. "I am a product of the black bourgeoisie, and have always worn its history and value on my sleeve. In her book, 'The Bourgeois Virtues: Ethics for an Age of Commerce,' Deirdre McCloskey notes that market economies are good for us, and it was the values of the bourgeoisie that set the stage for economic growth in America. We can thank our forebears for adopting a framework that placed us where we are today. They did this in the face of true racial hostility, when they were not allowed to locate their enterprises in the main section of cities with other merchants. Yet the black bourgeoisie persevered, during and after slavery, because they concentrated on education, enterprises and the maintenance of their value structure. The black bourgeoisie had its origins in free blacks, during the slavery years, with their strategy of building strong communities and private high schools and colleges. They lived in the North and South, although the southern portion blossomed after the Civil War. When I wrote a piece for the Austin American Statesman, 'Celebrating the Black Bourgeoisie,' my email box quickly filled with comments from people who were shocked to learn that members of my group --the black bourgeoisie--are today in their third and fourth generations of college matriculation, have never lived in 'ghettos,' and instead created towns of their own with thriving enterprises" ("Straight Out of the Black Bourgeoisie: Lessons for the 21st Century," 1776unites.com).

HERMAN CAIN, masters degree in computer science from Purdue University, former CEO of Godfather's Pizza, Republican presidential candidate 2012, former chairman of the Federal Reserve Bank of Kansas City, author of They Think You're Stupid: Why Democrats Lost Your Vote and What Republicans Must Do To Keep It -- "Antifa is supposed to stand for anti-fascist. That's not true. Black Lives Matter is a sound bite. It sounds good, but if you go and look on their web site they also want to destroy America. Now I don't know how many other organizations are involved in this whole siege on Seattle, so I'm just naming them the Mob. Here's why. They have designated an area in Seattle named a cop free zone. That is anarchy. These are the same anarchists we have seen in the last two weeks. They want to destroy the United States of America. they want to eliminate law enforcement. They want this nation to become a lawless society. ... They are using the death of George Floyd to try to fundamentally destroy the United States of America. And one bad cop does not define an entire police department. ... Defunding the police, or disabling the police, is insane. I don't care how much lipstick you try to put on this pig, it is still a pig. America is a lawful nation, but you have an element out there, which may be several groups, trying to destroy this nation by making us a lawless nation" (The Herman Cain Show, June 12, 2020).

DANIEL CAMERON, lawyer (graduate of the University of Louisville's Brandeis School of Law), former professional football player with with the Louisville Cardinals, first black Attorney General of Kentucky. Speaking at the Republican National Convention on Aug. 25, 2020, Cameron said, "[Joe Biden] is captive to the radical left, a movement committed to cancel culture and the destruction of public discourse. They believe your skin color must dictate your politics. If you fail to conform while exercising your God-given right to speak and think freely, they will cut you down. ... That's my Republican Party, the Party of Lincoln, that believes America is an indispensable nation ... an Evergreen Tree, standing tall in a turbulent world. And that's why I am voting for Donald Trump for President."

BEN CARSON, renowned neurosurgeon, U.S. Secretary of Housing and Urban Development -- "Well, it's low-income communities where the police are needed the most. Places where there's a lot of criminal activity, obviously you need to police. So, as usual, when people make decisions when they're emotional, and they're angry. They don't think it through, and that's what this [is]. It will go away when people have time to think it through and realize how irrational it is. ... Social programs are important. And they're part of the entire system, but they're not the front line when somebody is committing a crime, that's just silly" ("Dr. Ben Carson Criticizes 'Defund the Police' Movement, Christian Headlines, June 10, 2020). "We need to move away from being offended by everything, of going through history and looking at everything, of renaming everything. I mean, think about the fact that some of our universities, some of our prestigious universities, have a relationship with the slave trade. Should we go and rename those universities? It really gets to a point of being ridiculous after a while. And, you know, we're going to have to grow up as a society. ... We have to stop putting everything into the arena of combat. Let's see if we can find a way to work together because if we don't, we're doomed" (This Week with George Stephanopoulos, June 14, 2020).

DAVID CLARK, retired sheriff of Milwaukee County, Wisconsin -- "The biggest losers in all this will be poor black people in crime-ridden ghettos. The police are the only thing standing between them and violent criminal predators. You'd have to loathe black people to do that to them. ... [It] isn't a serious public policy proposal, it's buffoonery. Police departments are already underfunded. Why not just turn policing into a 9 to 5, Monday through Friday operation? That is all they'll have money for. The first thing we need to do is a self-examination of our black community. Leave white men out of this for now. Look at the cultural dysfunction, the growing underclass, the ineffective parenting, the fatherless homes, the school failure, dropping out of school early, joining gangs, drug and alcohol abuse, teenagers having kids. ... We're going to burn the United States and call for huge policy changes from an anomaly?" (WorldNetDaily, June 8, 2020).

JOE COLLINS III, U.S. Navy veteran, running as the Republican candidate for California's 43rd congressional district, 2020 -- "The reason why I am a Republican is that when I joined the Navy back in 2004, my mentors and my leaders in the military said you pick your party based on the values that align with you, and when you look at the history of the Republican party and you talk about the things that the Republican party has been able to offer, such as the fight to end slavery, or the fight to end big government's intrusion into your life, or the fight to keep your gun rights, and things of this nature, these are the things that resonate with me, especially being a U.S. Navy veteran. The reason I am running against Maxine Waters is that I grew up in south Los Angeles, and coming home after 13 and a half years of service and seeing things considerably worse, especially the homeless pandemic, the lack of quality jobs, and education being among dead last in the country, and the prime issue here is the person who has the most influence, and that is Maxine Waters. So me being a resident of south Los Angeles, I think that we as young people have to step up and start taking leadership roles and start moving aged politicians from office so we can start to move forward productively" ("Navy Vet Takes on Rep. Maxine Waters," Fox and Friends, July 22, 2020).

WARD CONNERLY, former University of California Regent, businessman; founder of the American Civil Rights Institute; inductee into the California Building Industry Hall of Fame; author of Creating Equal: My Fight Against Race Preferences (2000) and Lessons from My Uncle James: Beyond Skin Color to the Content of Our Character (2008)-- "I think that in some quarters, many parts of the country, a white male is really disadvantaged… Because we have developed this notion of women and minorities being so disadvantaged and we have to help them, that we have, in many cases, twisted the thing so that it's no longer a case of equal opportunity. It's a case of putting a fist on the scale" ("Attacking Affirmative Action, PBS, Aug. 29, 2008).

CONSERVATIVE CLERGY OF COLOR was founded in June 2020 by Aubrey Shines, Derek McCoy, M.J. Reid, and Francisco Vega, and had about 500 members in August -- "As pastors and leaders in our communities, we are appalled by the blatant bigotry and bias against conservative and Christian voices in our country today. We are sickened by the dirty trick Google played against two conservative websites over a simple difference of opinion. We have each experienced such shameful censorship in the form of algorithms that limit our outreach. We have each been put into Facebook or Twitter jail because our words displeased the puppet masters who control the narrative in this country. As Christian ministers and conservatives, we have each personally felt the rebuff of the entities who have bought off politicians, 'reporters,' and activists in our country. Mark us, there is a silent war being waged against diversity of opinion in America, and it's now come to the doorsteps of ZeroHedge and the Federalist. What we're seeing today is no different than the methods used by tin pot dictators who suppress dissent and maintain absolute control over their people. One of the greatest things about America is the freedom of speech and thought guaranteed by our Constitution; unfortunately, our country is now under siege by those who would rip this God-given right away from us. We stand against the radical Left thought police. We stand against tech totalitarianism. We stand against corporate America bowing to the demands of 'social justice warriors.' And we call for immediate reform to ensure ALL voices are heard across this great country" (conservativeclergyofcolor.org, June 2020). "[Black Lives Matter] are intentionally trying to divide Black and White Americans," said Mr. Shines, the pastor of Glory to Glory Ministries in Tampa, Florida. "They are polarizing Black and White Americans based on this narrative. It is racist. We have begun to engage the culture, and we are using civility and diplomacy to create havoc with everything we do. The mainstream media are lying nut jobs. They're not being honest with you. Democrats and their foot soldiers on the left insist there is a rot in our country, but the only rot I see is the rot that has festered in the very foundations of the Democratic Party, a party that was built from the ground up on the backs of oppressed Blacks. Black men are out there being slaughtered, but that's not White officers who did that" ("Founder of Conservative Clergy of Color," The Washington Times, Aug. 9, 2020). On September 3, 2020, Conservative Clergy of Color sent a letter to Nike President John Donahoe demanding that his company drop its support for the "anti-Christian" Black Lives Matter and condemning the company's silence in the face of China's oppression of Uighurs. "We the leaders of Conservative Clergy of Color have watched with sadness and frustration as the country we love has been torn apart by violence and looting. This civil terror, perpetrated and lead by the Black Lives Matter movement, has turned American against American and possibly set race relations back decades. Black Lives Matter, a movement run by anti-Christian, self-proclaimed Marxists, hijacked legitimate calls for police reform and turned it to their own ends. This is not a group interested in constructive change; through their vicious campaign to defund police and silence anyone who disagrees with them, they have destroyed livelihoods and gotten innocent children killed. It is antithetical to the nonviolence that Dr. King and the Civil Rights movement stood for. ... [Nike has] willfully ignored real suffering and oppression abroad. At this very moment, millions of ethnic Uighurs are languishing in 'reeducation' camps in western China. They are rounded up for being a minority and forbidden from practicing their faith while being forced to work as slaves in factories. These factories make products for your company that are worn and promoted by dozens of players in various athletic leagues. Yet while this atrocity plays out at the hands of the Communist Chinese government, you have been silent. You have been happy to play into the hands of anarchists at home and ignore slavery abroad. ... We ask you take a hard look at real injustice in the world and to remember that change comes through forgiveness and compassion, not violence."

HORACE COOPER, Project 21 co-chair; author of How Trump Is Making Black America Great Again -- "There is a class of Americans whose entire livelihood is based on the existence of victims. If people got a good education, if people had great jobs, if people controlled their own lives, a whole large number of people couldn't get that new auto, they couldn't go off to Aspen for their ski trip. There is a strong sentiment among the so-called problem-solving class to keep things as they are. We've spent $22 trillion and all we've done is enriched the problem-solving class and we've not done the basic kinds of things that would be good for Americans black, white or brown. ... We had a president, a black man, a man who came from circumstances of struggle, rose up and got to be president. He is an example of what's possible in America. And instead of telling people that, he said, 'America, it's a place where you don't have a chance.' He said, 'You can try all you want, but it's not going to work out for you.' And that has taken hope away" (Tucker Carlson Tonight, June 9, 2020).

ARNOLD CULBREATH is director of ministry engagement at the Douglass Leadership Institute. "We are living in turbulent times. Racial tensions run high, and intensified feelings, conversations, shouts, and pressure reverberate across the land. And in the midst of all this, a wide variety of perspectives abound. Being Black in America is not easy. However, I remain hopeful and work to make America better every day. As a pastor, Army veteran, business owner, and national ministry leader, I strive to model what being a Christian, socially conscientious, Black man in America looks like, while frequently facing racism and exclusion in the process. In spite of the odds, I have labored long and participated in initiatives that help hopeless and hurting people, and programming that moves past rhetoric to get real resources to people in need. Things like after-school feeding programs, grocery giveaways, the First Step Act, opportunity zones, free help to women in crisis pregnancies, and more. These principles need not be defined or confined by polarizing labels such as left or right, conservative or liberal. The question is: Does an initiative strengthen and lift impoverished and disenfranchised people and communities that need it most? If so, collaboration is desperately needed to serve those ravished by a pandemic, shaken by injustices such as the brutal killing of George Floyd and many others at the hands of police, racial upheaval, and socio-economic disparities, and we need it now. In order for this to occur, name-calling and marginalizing of viewpoints must stop. It's much more helpful to stop viewing me and others like me as "Uncle Toms," but as fellow team members. Not as sellouts, but as solutions to the problems. This is our country, and our world, so let's work to make it the absolute best that we can together" (Arnold Culbreath, "Not Sellouts, but Solutions," The Daily Signal, June 22, 2020).

DARRYL DANIELS, Sheriff of Clay County, Florida -- "We and the men and women of the Clay County Sheriff's Department want to weigh in on what we are seeing going on and played out across mainstream media in this country. Look folks, don't fall victim to this conversation that law enforcement is bad, that law enforcement is the enemy of the citizens we are sworn to protect and serve. We swore an oath, and in that oath we swore to support, protect, and defend the constitution of the United States and the government, and we are duly qualified under the state's constitution to hold office. That is for me as sheriff and these men and women as deputy sheriffs, and we end that with 'So help me God.' But God is absent from the media's message or Black Lives Matter or any other group out there that is making themselves a spectacle, disrupting what we know to be our quality of life in this country. In Clay County, we have a great quality of life, we have a great relationship with our community, but [in many places] across this country not so much. I want to take a stand with these men and women who feel the same way that I do. Lawlessness is unacceptable in this country. Lawlessness is unacceptable in Clay County. And if you threaten to come to Clay County and think for one second that we will bend our backs for you, you are sadly mistaken. I know what happens when lawlessness prevails. And in this day and time, God is raising up men and women just like the folks you see standing behind me who will have strong backbones and will stand in the gap between lawlessness and the good citizenry that we are sworn to protect and serve. So you can threaten all you want. You can say, Hey, let's go to Clay County or to some other peaceful country when the problems don't exist, or not so much like [in other places] across this country, where relationships are great and not strained, and where the people support their sheriff and the men and women who wear the uniform, and you will have something waiting on you that you don't want. Yes, we will protect your constitutional rights as long as you remain under the umbrella of peaceful protest or peaceful march, but the second you step out from under the protection of the constitution, we'll be waiting on you, and we'll give you everything you want, all the publicity, all the pain, all the glamor and glory for all that five minutes will give you. Is it a threat? Absolutely not, but somebody has to step in front of the camera and say, 'Enough is enough.' Tearing up Clay County, that's not going to be acceptable. And if we can't handle you, you know what I will do, I'll exercise the power and authority as the sheriff and I'll make special deputies of every lawful gun owner in the county and I'll deputize them for this one purpose: to stand in the gap between lawlessness and civility. That's what we are sworn to do, and that's what we are going to do. You have been warned" (Clay County Sheriff's Office, July 1, 2020)
https://www.youtube.com/watch?v=LWCsKERUF5o

DIAMOND AND SILK (LYNNETTE HARADAWAY AND ROCHELLE RICHARDSON), video bloggers, political activists, authors of Uprising (2020) - "Thousands upon thousands from all across this country will be peacefully protesting, FOR 1 DAY, against Jim Crow Joe [Joe Biden] and the Do Nothing Socialist Democrats. They've been in office for years and it's time for them to remove their knees off of the necks of Americans. Why would Black People say the Republican party is racist when the Republican party was started by Black People?" (@DiamondandSilk, June 17, 2020).

BYRON DONALDS won a seat as a Republican in the U.S. House of Representatives frrom Florida's 19th Congressional District in the 2020 elections. "Raised in inner-city Brooklyn by a single mom, Donalds moved to Florida to attend Florida State University and to start a career in financial services and commercial banking. He won his southwest Florida district running as a pro-Trump conservative who touted his faith and family for getting him on the right path. 'I'm everything the fake news media tells you doesn't exist: a strong Trump-supporting, gun-owning, liberty-loving, pro-life, politically incorrect Black man,' Donalds says in one campaign ad" ("Byron Donalds, new Florida congressman," Fox News, Nov. 16, 2020).

LARRY ELDER, attorney, author, talk radio host - "965 people were shot by cops last year and killed. 4% were white cops shooting unarmed blacks. In Chicago in 2011, 21 people were shot and killed by cops. In 2015 there were seven. In Chicago--which is a third black, a third white, and a third hispanic--70% of the homicides are black on black about 40 per month, about 500 per year, and 75% of them are unsolved. Where are the Black Lives Matter on that? The idea that a racist white cop shooting unarmed black people is a peril is [nonsense], complete and total [nonsense]. ... Half the homicides committed in this country are committed by and against black people. Last year there were 14,000 homicides, not talking about suicides, 96% of them black on black ... Where are the Black Lives Matter people on that? Where is the evidence of a lack of social justice? When a black suspect is killed by a cop, believe me, the media is on it, people are watching, and justice will, for the most part, occur. In Baltimore, where Freddy Grey died in a van, you have a city that is 45% black, the city council is 100% Democrat, the major of the city council is black, the top cop at the time was black, the number two cop was black, the majority of the command staff was black, the mayor is black, the attorney general is black, and yet here we are talking about racism. It's absurd. There was just a study by the University of Washington, and it turns out that cops were more hesitant to pull the trigger against the black suspect than a white suspect, probably of the fear of being accused of racially profiling and the fear that the civil rights establishment is going to come down on him. So, if anything, whites are more likely to be shot by a cop under certain circumstances than a black person. And in the last 30 or 40 years the percentage of black suspects killed by cops declined 75%, but the percentage of whites killed by cops has flatlined. ... Almost every one of these incidences involves someone resisting arrest. Why don't you just do what the police tell you My dad told me that if I get pulled over, have my left hand at 10 o'clock and my right hand at 2 o'clock, say yes sir, say no sir, make sure my paper work is in order, and if I feel that the cop is mistreating me, get a badge number and deal with it later on. If Jesse Jackson and Al Sharpton and Obama and a whole group of them told black people to do that, we'd have a lot fewer of these things to deal with in the first place. ... We have affirmative action, so a black person with an SAT and GPA of x will get into a school faster and easier than a white person with an SAT and GPA of x. And if going to school is a route to the middle class, you can make an argument that blacks have an easier route to the middle class. If we are talking about poverty, the poorer you are, the more accessible loans and grants are for you. The biggest problem that black people have, in my opinion, is that 75% are raised without fathers. That has every other social negative consequence connected to it: crime, not being able to compete economically, being more likely to be arrested. ... [The thing that can be done about it is to] reverse the welfare state. In 1890, 1900, you look at census reports and a black kid, believe it or not, was slightly more likely to be born into a nuclear intact family than a white. Even during slavery, a black kid was more likely to be born under a roof with a biological mother and a biological father than today. What's happened is we have launched this so-called war on poverty in the 60s, when literally Lyndon Johnson sent people knocking on doors apprising women of the availability of welfare, providing there was no man in the house. And we went from 25% of blacks being born out of wedlock in 1965 to 75% right now. And if we look at how much we have spent on welfare, the lines are parallel. A neutron bomb was dropped on this country, and not only just on the black community, but on people in general. At that time, only about 5% of whites were born out of wedlock. Now 25% of whites are born outside of wedlock. ... What we have done, in my opinion, is economically incentivized women to marry the government and we have allowed men to abandon their financial and moral responsibility, and now we have this" (Interview with Dave Rubin, 2015,
https://www.youtube.com/watch?v=phPXTWJhnYM

HARRIS FAULKNER, newscaster, host for Fox News, host of Town Hall America with Harris Faulkner, recipient of six Emmy Awards, author of Breaking News: God Has a Plan (1999), and 9 Rules of Engagement: A Military Brat's Guide to Life and Success (2018). On July 23, 2020, Faulkner challenged Democrat Marie Harf, "Is there a Republican-led city that is having the same type of violence and unrest on it streets the way a Democratic-led trail of cities is right now that we continue to talk about?" Harf could not name one.

DAMANI FELDER, founder of the Right Brothers Youtube Channel -- "The only black lives that matter to you [Democrats] are the ones that fit your agenda. You know it, I know it, and the world knows it, too. Your party is the one that filibustered for months to prevent the passage of the civil rights act of 1964. Your party is the one that had only 23% support for the 13th amendment, which abolished slavery. It had zero percent support for the 14th amendment which granted free slave citizenship, and also zero percent support for the 15th amendment which gave us the right to vote. The policies you have implemented have been the figurative knees on the necks of my people for centuries. And it is because of you and your failed leadership that many of us still can't breathe today. But I've got news for every one of you. If you think that all you have to do is shamelessly pander and knell in support of people like me, if you think you can wear the kinte cloth of the Ashanti, an African tribe known for selling their own people into slavery, if you think you can tear down statues and rename buildings and roads to hide your sordid history from everyone, if you think that's all it takes to win over my people, if you think our skin color will keep us from thinking critically, you've got another thing coming. I'm Damani Felder, and that was absolutely nothing but common sense" (@TheDamaniFelder, June 17, 2020).
https://www.youtube.com/watch?v=8tZkBhB07Cc

JAMES GOLDEN, long-time call screener, producer and engineer for the Rush Limbaugh Show (under the pseudonym "Bo Snerdley"), producer/executive for Premiere Networks, founder of the New Journey PAC, which is aimed at building conservative support among black Americans. The mission statement says, "For 80 years, the Democratic Party has taken the black vote for granted. Under the leadership of President Trump, Black-Americans enjoyed the lowest unemployment rate ever recorded. The Trump approach has produced an economy that works for all Americans, yet Democrats are promising more of the same--votes for crumbs. It is simply not enough to stand on the sidelines and hope for the best, ... Frankly, we founded this destination out of frustration. We are fed up with the racial narratives that the left uses to paint conservatives as bigots and racists, simply because we have a different view of public policy and politics." Of the National Football kneelers and "white privilege," James Golden says, "I got triggered by this football thing because when to me I look back on the history of this country, it was for so many years, it was athletes who went through incredible pain to play, and were never rewarded in a monetary sense like these guys, were the epitomes of class. ... My father fought in World War 2 and the Korean War and he loved this country at a time when we had Jim Crow that still prevented him from getting the kind of jobs that he deserved based on his amazing intellect. He never complained. He just kept going and kept achieving. And he kept achieving anyway because to him, I'm just going to be the best that I'm going to be regardless of all these external factors. And so these were men. That generation of men is what's missing. Now we have these guys that want to sit and take a knee for this, ooo, notice me, notice me, ooo, I'm fighting because we're oppressed. Who is oppressing you and your multi-million dollar luxury high-rise whatever or where – how are you being oppressed? And if you're doing this for other people, then shouldn't you do it in a way, shouldn't you protest in a way that is persuasive, that brings people together or brings people to your point of view instead of alienating them? If you want to focus on the inequities in the justice system, which is a worthy cause, if you want to focus on the violence that black kids and black people face, worthy cause. I would add to that the violence in the womb that black people face. If you want to focus on areas of, let's say, discrimination in hiring or opportunity, educational opportunity, because you're stuck in a blue city where they've segregated you into these failing government schools for the last 50 years because they wanted your kids to grow up dumb and uneducated so that they can't compete with their liberal kids, okay, if you want to protest against that. If you want to protest against the living conditions in some of these blue cities, I get that. ... If your kid comes home talking about white privilege and you don't laugh as your first reaction — you need to tell this kid, stop, you're walking down crazy road right now. Let's come back off of it. Some people have the privilege of being born to good, decent, moral parents who pass along a moral code to be a good, decent, giving human being. Whether you are poor or rich, you live your life rich anyway because you understand the true blessings in life and the true blessings of God. That's a privilege. ... [Because of America] now billions of people enjoy freer, fuller lives. That's the American Dream'" ("Meet James Golden," Nox and Friends, Oct. 7, 2017).

ELBERT GUILLORY, lawyer, member of the Louisiana State Senate from 2009 to 2016, switched from Democratic to Republican in 2013, founder of the Free at Last PAC dedicated to electing black conservatives to office, author of Little Book of Liberal Lies - "I want to take a moment to explain why I became a Republican and to explain why I don't believe it was a bold decision, at all. It was the right decision, not only for me, but for all of my brothers and sisters in the black community. You see, in recent history the Democrat Party has created the illusion that their agenda and their policies are best for black people. However it has been forgotten that the Republican Party was founded in 1854 as an abolitionist movement with one simple creed, that slavery is a violation of the rights of man. Frederick Douglass called the Republicans the party of freedom and progress. The first Republican president was Abraham Lincoln, the author of the Emancipation Proclamation. It was Republicans in Congress who authored the 13th, 14th, and 15th amendments giving former slaves citizenship, voting rights, and due process of law. The Democrats, on the other hand, were the party of Jim Crow. It was the Democrats who defended the rights of slave owners. It was the Republican President Dwight Eisenhower who championed the Civil Rights Act of 1957, but it was the Democrats in the Senate who filibustered the bill. You see, at the heart of liberalism is the idea that only a great and powerful big government can be the benefactor of social justice for all Americans. But the Left is only concerned with one thing, and that is control, and they disguise this control as charity. Programs such as welfare, food stamps, these programs aren't designed to lift black Americans out of poverty. They were always intended as a mechanism for politicians to control the black community. The idea that blacks, or anyone for that matter, need the government to get ahead in life is despicable. And even more important, this idea is a failure. Our communities are just as poor as they have always been. Our schools continue to fail children. Our prisons are filled with young black men who should be at home being fathers. Our self-initiative, our self-reliance, have been sacrificed in exchange for allegiance to our overseers, who control us by making us dependent on them. Sometimes I wonder if the word 'freedom' is tossed around so frequently in our society that it has become a cliche. The idea of freedom is complex and all encompassing. It is the idea that the economy must remain free of government persuasion. It is the idea that the press must operate without government intrusion. And it is the idea that the emails and phone records of Americans should remain free from government search and seizure. It is the idea that parents must be the decision makers in regard to their children's education, not some government bureaucrat. But most importantly it is the idea that the individual must be free to pursue his or her own habits, free from government dependence and free from government control. Because to be truly free is to be reliant on no one other than the Author of our destiny. These are the ideas that are at the core of the Republican Party, and it is why I am a Republican. So, my brothers and sisters of the American community, please join with me today in abandoning the government plantation and the party of disappointment, so that we may all echo the words of one Republican leader who famously said, 'Free at last; free at last; thank God Almighty, we are free at last'" (Elbert Guillory, "Why I Am a Republican," June 16, 2013)
https://www.youtube.com/watch?v=n_YQ8560E1w
https://secure.ifr-ors.com/ElbertGuillorysAmerica/Donate/images/liberalLies.pdf

KEN HAMBLN, author and former nationally syndicated talk show host -- "Name one major American city that improved morally, socially, and economically after the city elected a liberal black mayor ('You can't do it')."

BRIAN HAWKINS, pastor, San Jacinto City Council member, former convict, is running for congress in California's 36th District, a a longtime Democratic stronghold that includes Riverside County and Palm Springs in southern California. "'I'm what Obama should've been in 2008," Mr. Hawkins told The Washington Times. 'He could've spoken a message of healing and unity. But, he used some of that same rhetoric that pushed everybody back. I think California is a purple state. I think that just over the years, the Democratic Party has done a really good job of characterizing the Republican Party as White supremacist and racist.' He said he has already weathered vicious attacks for being a Black conservative. 'I get called a coon, Uncle Tom, I get all that,' he said. Mr. Hawkins said he knows how to overcome rough treatment. He came up the hard way. He grew up in a poor family that survived on government assistance. He spent a total of 10 years in prison for crimes when he was younger, including charges involving illegal gun possession and wrecking and then failing to return a rental car. Being a Black man, Mr. Hawkins said it would have been easy to blame racism for his run-ins with the law, but he wants to dismantle that kind of thinking. He said that using racism as an excuse ends up victimizes Black communities. 'There are people who will walk around with hate in their heart,' Mr. Hawkins said. 'You can't change what some people or even what groups have in their heart, but when you overwhelmingly think the country is racist, or that racism is still a major part, I would challenge that.' ... If elected, Mr. Hawkins wants to enhance public safety by investing in law enforcement, as well as cracking down on the rise of homelessness, which has greatly plagued his home state. He promises to better education and enhance border security" ("Black GOP pastor Brian Hawkins," The Washington Times, Aug. 26, 2021).

JOE R. HICKS, political commentator, Vice President of Community Advocates, syndicated columnist, former liberal (until the 1990s) -- "This term institutional racism, as far as I am concerned, is far more damaging to black psyche than almost any other words I can think of. It encourages black Americans to think of society as actively and reprehensibly racist and perpetuates bitterness and anger toward something they can't see and can't feel. 'Institution.' What institution? All American institutions? Government? Law enforcement? Corporations? Military? Educational institutions? All these and more are viewed as irremediably racist by this idealogical viewpoint. ... Have the American nation and its institutions succeeded in eradicating all racism? That's silly. Of course it has not. Nor has any other industrialized, diverse Western society. But waging a utopian battle to erase all racism, real or imagined, by the way, would be as futile as seeking a world free of germs. Now today black Americans are the master of their own destinies, something that black Americans who were alive in the 1930s and 1940s could not have imagined, just as they could not have imagined a twice elected black president, black attorney general, heads of America's political power, institutional power, if you will. Even before the election of Barack Obama, black Americans have been CEOs of Time-Warner, American Express, and Merrill Lynch, and have served as Secretary of State, National Security Advisor. Blacks have served in Congress, as police chiefs, mayors, governors, best-selling authors, Ivy League professors, billionaires, engineers, national talk show hosts, chess grandmasters, dot com millionaires, theoretical physicists, and Hollywood film directors. ... movement for social change has seemingly fallen off the track. After tragic deaths in Ferguson, Missouri, and Staten Island, New York, protestors were marching through the streets shouting, 'What do we want? Dead cops? When do we want 'em? Now!' Dr. King, ----, and Fanny Lou Cramer would be spinning in the grave, and I'm sure that they were. Fifty years ago, these great leaders and their allies, including Jews and working class white people from northern cities, marched for the rights guaranteed by America's Constitution and Bill of Rights. They demanded equality of opportunity and they demanded full rights. The reality of what they demanded was politically obvious and morally understandable. However today's protesters and their leaders insist that every black person who dies following a conflict of police is a victim of racism. Facts that often disprove this claim are often ignored. Conspiracy theories spread throughout the country. These protesters who insist that they are the manifestation of a youth civil rights movement ignore more than facts. It isn't so-called racist cops or individual racists who hold a threat to law-abiding black youth. According to the FBI, homicide is the leading cause of death among young black men who are ten times as likely as their white counterparts to be murdered. Black Americans who are only 13% of the population are responsible for 50% of all murders in the United States, nearly all killed by other young blacks. Actual acts of racism become increasingly rare in American society. In lieu of this dangers have, in fact, been created. Now are told that there is something called implicit bias, which asserts that racial bias operates subconsciously, meaning that whites functioning daily as anti-racist can now be targeted as unconscious racists. Whites ... regardless of social or financial status, all enjoy something called 'White Skin Privilege,' or so we are told. Last year two dozen graduate students at the University of California Los Angeles marched into an education class and announced a protest against a hostile and unsafe climate against scholars of color. They had been victims of something called Racial Micro-aggression, racism otherwise invisible to the naked eye. The school's administrator caved into these demands. ... Before the 1970s, speaking about and protesting racism stemmed from sincere grievances. But for far too many this is all drifted into being a recreational crutch, folks fashioned themselves into eternally battling a white America that is viewed as irredeemably mired in institutional racism. ... This is more than wrong; it is perhaps the primary barrier in America to advancing racial progress even further" ("The United States Is Not Institutionally Racist," Oxford Union Society, renowned debating society, May 12, 2015)
https://www.youtube.com/watch?v=v4TIU0Ucxig

JASON D. HILL, Ph.D. Philosophy from Purdue University, is professor of philosophy at DePaul University, Shillman Journalism Fellow at the David HorowitzFreedom Center, and author of Civil Disobedience and the Politics of Identity: When We Should Not Get Along (2013) and We Have Overcome: An Immigrant's Letter to the American People (2018). "Race has been endemic to American life since its inception. But I think race always was metaphysically irrelevant to the true spirit of America. Race, like the slavery that is America's tragic birth defect, was a betrayal of the essential moral meaning of America. ... We may say that the one state in human history that has inserted itself into the world and the global imagination, and offered itself up as a home, a refuge, a place where any person can be welcomed and offered a chance to fulfill any aspiration and goal, was and remains the United States. Today, there are other countries, of course, that fulfill this goal, including Canada, France, and Great Britain. Yet, because America was founded as a nation of immigrants--a cosmopolitan melting pot--it not only has provided the cosmopolitan with an existential referent, a home, but also has reversed a trend in political life that has marked human societies since recorded history. It has undermined the degree of tribalism at the heart of citizenship--belonging--and the notion of the community by making all such distinctions not just irrelevant, but ethically untenable. ... This is America, where a Third Founding (taking Lincoln's promise at Gettysburg and the Civil War as the second) was achieved in the civil rights movement and the passage of the 1964 Civil Rights Act. The inclusive promise of 'We, the People' was finally delivered to all people in this country. The formal debt owed to black people, for centuries of enslavement and inexcusable mistreatment and exclusion from mainstream American society, was paid. America has always been a place of regeneration, renewal, and self-examination; a place where peoplehood is not a given or a smug achievement, but, rather, a long and continuous aspiration. ... There is a reason that 'Matilda' the maid from Africa or Mexico or Jamaica, oppressed as she might feel by a dominant class structure in her native country, can flee the hermetically sealed nature of those systems and come to America. There is a reason that boatloads of peasants from Haiti and Cuba and other countries have risked their lives in makeshift rafts and leaky boats to seek hope and a better way of life here in America. These people are largely black people. America gives all of them a space to negotiate its ongoing moral narrative. America works!" ("The Moral Meaning of America: Two Parallel Narratives," 1776unites.com).

AMY HOLMES, Princeton graduate, journalist, political commentator, co-host of In Principle on PBS, former liberal Democrat animal rights activist vegetarian -- "Egregious, grotesque, absurd, crazy, ridiculous. These are a handful of the words that some local African American leaders are using to rebuke the Minneapolis City Council's moves toward dismantling the Police Department" (@realamymholmes, Jul. 3, 2020). "Fighting for equal justice and equal treatment is not a lonely endeavor. It's shared by millions and millions of Americans who love liberty, pray for continued progress, and are kind, generous, lovely, and decent people" (@realamymholmes, Jul. 2, 2020). "Minneapolis is spending $4,500/day for private security for 3 council members who have received threats... $63,000 over... 3 weeks. Can the citizens of Minneapolis get private security, too? What did it used to be called? Give me minute... 'The police'?" (@realamymholmes, Jun. 27, 2020). "We're all (mostly) adults. We don't need Twitter to preemptively protect us from weirdos. We can block/mute/ignore. Fortunately, I haven't had to block/mute very many people. Most people, including those who vehemently disagree with me, are normal, rational people" (@realamymholmes, Jun. 21, 2020).

COLEMAN HUGHES, B.A. in philosophy from Columbia university, a fellow at the Manhattan Institute, contributing editor of the City Journal - "Though we have not consistently lived up to the principle, liberal democracies decided long ago that the individual was to be the primary unit of moral concern and responsibility. What happened to your parents, grandparents, or fellow tribe members is supposed to be left at the door when it comes time to judge your actions. We do not give Jewish writers free rein to incite hatred against German people because the former's grandparents were murdered by the latter's. As tempting as such temporal displacements of justice might be, we've learned that indulging them creates an unending cycle of retributive violations. But we make an exception for blacks. Indeed, what George Orwell wrote in 1945 seems more apt today: 'Almost any English intellectual would be scandalised by the claim that the white races are superior to the coloured, whereas the opposite claim would seem to him unexceptionable even if he disagreed with it.' Only a black intellectual, for instance, could write an op-ed arguing that black children should not befriend white children because '[h]istory has provided little reason for people of color to trust white people,' and get it published in the New York Times in 2017. An identical piece with the races reversed would rightly be relegated to fringe white supremacist forums. In defense of such racist drivel, it won't suffice to repeat the platitude that 'black people can't be racist,' as if redefining a word changes the ethical status of the thing that the word signifies. Progressives ought not dodge the question: Why are blacks the only ethnic group routinely and openly encouraged to nurse stale grievances back to life? ... While mainstream media outlets know how to talk about anti-black racism, as of yet, most of them haven't figured out how to talk about less comfortable race-related topics—topics that don't gel nicely with the picture of modern-day blacks as helpless functions of history. Can we speak honestly, for instance, about the fact that blacks make up 14 percent of the population but commit 52 percent of the homicides? Or to state the problem in reverse, can we speak honestly about the fact that the same percentage of America's murder victims are black? Will purveyors of the idea that culture is irrelevant ever explain why blacks living in the same Los Angeles neighborhoods as Hispanics are nevertheless murdered at two to four times the rate? Do proponents of the idea that high-crime black neighborhoods are over-policed have a realistic solution to the epidemic of unsolved murders in such neighborhoods that does not involve more policing? And if they do have such a solution, will we ever be able to marshal the bipartisan coalition necessary to implement it when so many on the Left cannot even bring themselves to mention the statistics needed to describe the problem? Can we speak honestly about the social and psychological consequences of living in a community where known murderers roam free? Can we speak honestly about the economic externalities of high crime rates—the capital that is scared away; the higher prices businesses must charge to compensate for the increased risk of robbery? Or does the ever-present specter of white supremacy—and the attendant risk of trafficking in old stereotypes—really loom so large as to render frank discussion of these issues and their policy implications anathema?" (Coleman Hughes, "The High Price of Stale Grievances," Quillette, June 5, 2018).

JEREMY HUNT, West Point graduate, U.S. Army captain, writer, commentator, student at Yale Law School - "On Monday I cast my early vote for Republican Senators Kelly Loeffler and David Perdue in the Georgia Senate runoff elections. ... The problem is that Jon Ossoff and Raphael Warnock aren't radical about cleaning up the corruption in Washington that has led to record distrust in American institutions. They have no intention of disturbing the progressive consensus infecting nearly every aspect of American life--from Big Tech to academia and even professional sports. To the contrary, Warnock and Ossoff are radical about redefining what it means to be an American. I grew up in a family that taught me that America's story is about triumph. In back-to-back world wars, we triumphed over evil abroad. At home, we triumphed over the evil of slavery and later over the brutality of Jim Crow violence. Whenever evil rears its ugly head in America, it is ultimately defeated. As imperfect as our country may be, America grows closer to living up to her creed with each passing generation. This is the story that made me proud to be an American. In fact, it inspired me so much that I decided to attend the United States Military Academy at West Point and dedicate the next five years of my life to service as an officer in the Army. Well, today's Democrats tell a different story about America. They tell a story of a nation so mired in racism that it must be fundamentally transformed from the ground up. The entire American experiment in democracy was a complete failure and perhaps it's time to start anew. As Senate Minority Leader Chuck Schumer, D-N.Y., put it, 'Now we take Georgia, then we change America!' ... while condemning America, Warnock showered praise on Marxism in his 2013 book, The Divided Mind of the Black Church. Warnock appears to shrugs at the millions of lives lost to Marxism, jumps at any opportunity to condemn his own country, yet still wants Georgians to vote him into office. I'll pass. As a young husband and father, I'm not just voting for myself--I am voting for my one-year-old daughter's future. It is simply unimaginable to support a party who wants her to grow up believing that her country is a symbol of hate. Democrats envision an America where she is nothing more than the product of her skin color--not the content of her character. They want her to grow up believing that her every success or failure doesn't count unless it is viewed through the lens of identity politics. Not on my watch. A vote for the left is a vote not just for liberal politics. It's a vote to supplant American culture with a new unrecognizable version of itself. Well, that's not an America where families--especially young Black families like mine--can flourish and achieve the American dream" ("Jeremy Hunt: Georgia Senate runoffs," Fox News, Dec. 29, 2020).

WESLEY HUNT, West Point graduate, combat Apache helicopter pilot with the U.S. Army, 2020 Republican candidate for U.S. Senate, Texas 7th congressional district - "It's an absolute honor to be running in 2020 as an African American. When I look back at the progress we've made as a Nation over the past 150 years, I am feel a deep sense of pride. My great-great-grandfather was a slave and just 5 generations later, his family has 3 West Point graduates and a congressional candidate. We certainly have a long way to go and things we can improve, but to not recognize that progress is to diminish it's meaning. What happened to Mr. Floyd was a tragedy and was disgusting. Officer Chauvin and the four officers that stood around and watched belong in jail. However, I also believe that the vast majority of police officers consistently do the right thing and put their lives on the line to serve and protect our communities. As someone who put my life on the line in the Middle East, I think their service is worthy of our gratitude. We certainly have things that need to be improved, but we also need to be careful not to strip our police of the ability to do their jobs, to protect themselves and our children. As a black person in America, I have experienced racism in my life. I understand the frustration and emotion. I can absolutely assure you of that. But I'm also willing to recognize the progress that we've made and the values our country stands for that allow us to make move forward. Liberty, freedom and all the rights outlined in our Constitution are what have allowed us to prosper as a Nation. We need to be careful about discarding the values that created us and fostered the progress we enjoy today" ("Wesley Hunt is ready to context Fletcher for TX-7," Houston Chronicle, July 21, 2020).

NIGER INNIS, political activist, politician, news commentator (CNN, Fox news, and others), member of the Project 21 Black Leadership Network, national spokesperson for the Congress of Racial Equality (CORE), co-chairman of the Affordable Power Alliance, board member of the National Black Chamber of Commerce. He is the son of Roy Innis (d. 2017), who was a 1960s civil rights leader and the National Chairman of the Congress of Racial Equality (CORE) -- "The BLM movement, Black Lives Matter movement, was founded by Alicia Garza and a number of other co-founders that were promoting a hard Marxist and LGBT agenda. ... If you look at their agenda, defunding the police, that would put black lives in danger. But it's even more than that, Laura. They have, as a part of their platform, on their own website that we want to disrupt — disrupt! — the Western-prescribed nuclear family. They want to overthrow capitalism. They want to overthrow Western civilization, and they see America as the biggest clear and present danger to fulfilling that agenda, and they are using black people to do it" (Laura Ingraham Show, Fox News, June 8, 2020). Two of Roy Innis's sons were shot to death, one at age 13, one at age 26. He said, "My sons were not killed by the KKK or David Duke. They were murdered by young, black thugs. I use the murder of my sons by black hoodlums to shift the problems from excuses like the KKK to the dope pushers on the streets."

JONATHAN ISAAC was the lone NBA player to stand for the national flag amidst a league-wide demonstration of kneeling in solidarity with Black Lives Matter. He explains his position in the 2022 book Why I Stand. "In a clip that circulated on social media, Isaac told a crowd at the Reawaken American tour in South Carolina over the weekend, 'Around the time that George Floyd had tragically died … I tried my best to see it in the right way. I didn't view it as an African-American. I didn't view it as a conservative. I didn't view it as a liberal. I tried my best to combat the message in a Christian perspective. I tried to see it the way Christ would see it. And what I didn't want to do in that moment was join into a fight by kneeling for the National Anthem. Obviously, the fight between black and white, the fight between right and left, and everything that was going on. I wanted to view it in the way that Christ would.' Isaac added, 'And around that time, my pastor had preached a message. The message was about when Jesus was about to be taken by the Roman Guard, and Peter lunged forward and chopped off the man's ear, and Jesus stopped him, and he said, Those that live by the sword, will die by the sword.' And, ultimately that Jesus had a greater plan. So, I decided to stand. It wasn't entirely about the flag. It was just that moment of saying, 'I believe that the love of Jesus Christ is what's ultimately going to heal this world because it's what has healed me'" ("Magic Star Jonathan Isaac, The Free Press, May 17, 2022).

EARL WALKER (E.W.) JACKSON, lawyer, former Democrat, Republican since 1980s, pastor of Exodus Faith Ministries, founder of STAND (Staying True to America's National Destiny) -- "The one thing I at least hoped for from the president [Obama]—and I didn't have much hope for him—was that he'd bring us together. But he has divided us" (Virginia Gazette, Sep. 9, 2013). "I had a crisis of conscience. Can I be in a party that holds these views that are antithetical to my worldview? In my personal opinion, it is difficult if you are a Bible-believing Christian to reconcile that to some of the positions that the Democrat Party has taken" ("Jackson Is Confident," Richmond Times-Dispatch, Aug. 25, 2013). "Democrats now have fully embraced an abortion policy that amounts to infanticide. They have also made the lesbian-homosexual-bisexual-transgender agenda their vision for America. How have they managed to hold on to black Christians in spite of an agenda worthy of the Antichrist? They have shown a ruthless willingness to frighten black voters with outright lies about the plans of conservatives and Republicans. Vice President Joseph R. Biden's 'they gonna put y'all back in chains' was not a gaffe. It is part of the Democrats' strategy of using fear to keep blacks as a captive audience" ("Blacks Are Abandoning the Democratic Party," The Washington Times, Oct. 1, 2012).

KEVIN JACKSON, executive director of Black Sphere and Seeking Educational Excellence, political commentator, talk show host, author of The Big Black Lie: How I Learned the Truth about the Democrat Party (2009) Race Pimping: The Multi-Trillion Dollar Business of Liberalism (2014) - "I think every policy decision that's being made today, particularly in America and probably really around the world, is based on identity politics. If you think about it, whether it's an immigration policy in the border, they call America xenophobic, right? 'Oh, they don't want Mexicans here.' There are millions of Americans of Mexican heritage that we have no problem with, but when it comes to the left's agenda and letting in illegals, then suddenly we become xenophobic. We are made up of every possible population of people on the planet. America is the biggest melting pot mosaic you can ever create. It is God's gift to the world in that regard. And yet we are always facing identity politics. ... And that's how the divisions occur. We are one America, but we don't act that way because we have a division within this country who wants to see it destroyed. ... It comes from, in a word, money. ... In any given time, if you look at any of those groups, we're all thriving. ... But we're still told that we're in bad shape. Women are being told that there's better places to live. I'd love to know where a woman could live more freely than in America. ... If anybody stopped for one second and said, 'wait a minute, we're in a country where people come over here and, within one generation, are thriving.' There's many examples of it. Nigerians, for example, are one of the most successful groups in the country, bar none. They are one of the most successful. So what's their issue? Asians, when it comes to colleges and universities, they're the top. When it comes to businesses and income, they're second to Nigerians. What's their issue? So when you look at all these problems, the only conclusion you can come to is there's somebody who says, we've got to start a grievance issue in order to keep the money flowing. ... So if you teach me that I was robbed from another culture and another continent, brought to America and enslaved, mistreated, why should you love America, Kevin? Forget that we just had a black president. Forget that there are black multimillionaires running around this country. We are free to be and do whatever we want to be. And in 243 short years, we are now as free as anybody else in this country. Forget that. I want you to grieve. I want you to be upset. I want you to be mad, because if I can make you mad, I can make you adopt my ideology. So that whole thing is being taught, and it's a communist manifesto to make somebody hate what somebody else has. ... The prescription is we've got to start educating people in fighting our battles differently. We have to approach these problems. Not in the classic way. For example, if you were saying what I was saying, somebody might call you a racist. And what you have to say [is] my racism must be in math and it must be in reality, because the reality is black folks are in control of police, black folks are in control of their own politics, black folks are in control of their own destiny, black folks are in control of their lives, and yet you're always looking for somebody white to blame. Why is that, black man? And if you have the guts, anybody looking at this camera and saying to themselves, 'I have the guts to make that comment,' you're probably well on your way to healing..." ("Kevin Jackson on Identity Politics," The Epoch Times, Nov. 9, 2019)

RAYNARD JACKSON, Republican political consultant - "I like to say to all the media assembled here, that I wish they would quit lying about what you've done specifically for the black community. So you got radical liberal journalists like Joy Reid from MSNBC, Don Lemon from CNN, Roland Martin, who are putting more poison into the black community than any drug dealer, who are killing more black folks that any white person with a sheet over their face. How are they doing it? Spreading these lies about the economy you have, Mr. President, before the virus, was a continuation of Obama. That's factually not true. I have a degree in accounting. I keep up with the economy. They're lying" (RealClearPolitics, June 10, 2020).

JOHN E. JAMES, West Point graduate, Iraq war veteran, Ranger-qualified officer, Apache pilot, graduate of the University of Michigan's Ross School of Business, business owner, 2020 Republican candidate for Senate in the state of Michigan - He describes himself as an "unapologetic Christian, pro-life, pro-business, and pro-Second Amendment." "I too fought for this country and all Americans deserve to breathe free, not just cling tentatively to whatever freedom the government decides we deserve. In 2020, we have a choice to stand up and use our voices and our votes to defend our constitutional republic or to concede quietly to a leftist willing to tear it down piece by piece" ("James at GOP convention," The Detroit News, Aug. 24, 2020). "This election is about freeing those in socioeconomic bondage in our cities and winning back a generation turning to socialism on our campuses" ("This Election," The Washington Times, Feb. 29, 2020). "My dad, the storyteller--he told me how the son of a slave became the son of a sharecropper, the son of a sharecropper became a mason, and the son of a mason became an entrepreneur. And I'm proud to teach my sons that this is the only country where you can go from slave to senator in four generations and poverty to prosperity in one. I am the result of the American dream because of others' sacrifices. The next chapter will take all of us working together to build a better future for our kids" (John James political ad, YouTube, Jul. 19, 2020).
https://www.youtube.com/watch?v=dd8byG5wiTM

IMMANUEL JARVIS, GOP Chairman of Durham County, North Carolina - "When he turned 18, there was never a question which party Jarvis would join. He cast his first (and last) Democratic presidential ballot in 1996, voting to reelect Bill Clinton. ... His perspective began changing in the late 1990s, after a hurricane threatened Virginia Beach, Va. Jarvis figured the best source of information was on the AM dial, so he tuned in for the periodic news updates, figuring he would 'stomach through' the rat-a-tat on right-wing talk radio. What he heard--an assertively conservative view on taxes, education, race, guns, abortion and other social issues--was a revelation. 'I would listen, sort of, OK, that's stupid, whatever, and the point would be made and I'm like'-- his face froze and eyes grew wide as he paused dramatically--'That is right.' ... 'And over the course of just a couple days, as the storm is coming, I'm listening to more and more of this stuff, and I'm like, Well, that's true, too. But, wait a minute, who are these guys? And why is this something different than I've ever been taught?' Jarvis launched on a course of independent study, a journey through the works of Booker T. Washington, Frederick Douglass and W.E.B. Du Bois. He found particular resonance in Washington's up-by-your-bootstraps philosophy of Black improvement through education and self-reliance. The more Jarvis read, the more distaste he felt toward the Democratic Party and, in his eyes, its destructive paternalism. Democrats, he came to believe, don't really have the best interests of Black voters at heart, but prefer a transactional relationship: Here's some government aid; vote for us and we'll see you again in October of the next even-numbered year, when election time rolls around. It is part of a pattern, Jarvis suggested, as old as the country itself. 'Black people have been exploited,' he said, 'and manipulated and used as pawns for this entire time. Today it's just more sophisticated than it was before.' His true home, Jarvis felt, was in the God-fearing Republican Party, which he saw as more interested in helping raise up Black Americans by providing inspiration and, through education and economic incentives, the tools to succeed on their own rather than fostering dependence on never-ending relief programs. 'There's no reason generation after generation should live in public housing,' Jarvis said. 'One generation, I get it: hard times, bad luck, death in the family, loss of a job, disability. Republicans help you, at the same time they restore you, so you don't stay there forever'" ("He's Black, Republican and working to re-elect Trump," Los Angeles Times, July 9, 2020).

MANNING JOHNSON (1908-1959), a Communist Party USA member from 1930-39, renounced communism and dedicated himself to exposing its plans and methodology for the overthrow of America using racial strife. In 1958, he authored Color, Communism and Common Sense, the preface to which was written by Archibald Roosevelt, a son of President Theodore Roosevelt. Chapter one, "In the Web," begins like this: "Ten years I labored in the cause of Communism. I was a dedicated 'comrade.' All my talents and efforts were zealously used to bring about the triumph of Communism in America and throughout the world. To me, the end of capitalism would mark the beginning of an interminable period of plenty, peace, prosperity and universal comradeship. All racial and class differences and conflicts would end forever after the liquidation of the capitalists, their government and their supporters. ... Being an idealist, I was sold this 'bill of goods' by a Negro graduate of the Lenin Institute in Moscow. ... Little did I realize until I was deeply enmeshed in the Red Conspiracy, that just and seeming grievances are exploited to transform idealism into a cold and ruthless weapon against the capitalist system--that this is the end toward which all the communist efforts among Negroes are directed. Indeed, I had entered the red conspiracy in the vain belief that it was the way to a 'new, better and superior' world system of society. Ten years later, thoroughly disillusioned, I abandoned communism. The experiences of those years in 'outer darkness' are like a horrible nightmare. I saw communism in all its naked cruelty, ruthlessness and utter contempt of Christian attributes and passions. And, too, I saw the low value placed upon human life, the total lack of respect for the dignity of man, the betrayal of trust, the terror of the Secret Police and the bloody hand of the assassin, during and since, those fateful years when I embraced communism. ... My zeal, training, both theoretical and practical, combined with loyalty and willingness to sacrifice, changed me from a novice into a dedicated red—a professional revolutionist. Consequently, I climbed rapidly to the National Committee, the highest governing body of the Communist Party in America. ... Thus, as a participant on the highest level of the communist conspiracy in America, I observed the cold, calculating, ruthless nature of red power politics and political warfare, stripped of all its illusory propaganda and idealistic cover."
http://www.manningjohnson.org

VERNON JONES is a Democrat George state representative who is a conservative on many issues and a Trump supporter - "On issue after issue, and in just a single term, Trump destroyed these negative forces that have victimized the black community for decades. He gave us the opportunity to rise. ... [There is is a] large and growing segment of the black community who are independent thinkers [who are] becoming more woke and louder than ever" ("CNN Panel," Townhall, Aug. 25, 2020).

MICHAEL KERRIDGE is a Heritage Action Sentinel from Florida. Heritage Action is a grassroots movement of "local leaders, committed activists and champions for conservative victories. They are the front line of the conservative fight to keep congressmen accountable to the principles that will make life better for all Americans." "If anyone is willing to step away from the noise and cacophonic discourse that now compromise political discussion, we can begin to see that conservatism is not just an opposing or competing ideology. It is a human imperative wrought in the will and psyche of every reasonable person. I am a conservative because personal initiative favors personal economic freedom. I oppose excessive government control of business and the subversion of the traditional family structure. I fully endorse and favor a free-market economy and the rule of law. The values inherent in the individualism of my grandmother that spawned four generations of conservative thought and action embodied the sentiment that 'all are created equal,' and that government does not bestow anything on anyone. The entrepreneurship, individual effort, and hard work that made all of my grandmother's efforts and her life rich and full have influenced and spawned generational success. This makes me a 'reasonable man,' a reasonable person. The family is a microcosm of what works best for all of mankind. We realize that God created us male and female, that we are to train up our children and equip them with self-confidence, discipline, and respect for all that is good and right. This fortifies our society with reasonable people who think critically about their impact and legacy for their families, their fellow citizens, and their society" ("Reasonable Human Imperative," The Daily Signal, June 22, 2020).

ALAN KEYES, PH.D. in government from Harvard, former U.S. Ambassador, political commentator, syndicated columnist, author of Those Who Would Be Free: Where the Civil Rights Movement Went Wrong (1988), Masters of the Dream: The Strength and Betrayal of the Black America (1995), and Our Character, Our Future (1996) -- "As a black American, I cannot pretend to be surprised that many people who profess the truth of the Gospel of Jesus Christ nonetheless support the Deathocratic Party. Many black Americans, including members of my own family, have done so throughout my adult life. Like other so-called Democrats, black Americans pretend to see a valid trade-off between the murder of millions of innocent, helpless human beings and the good supposedly done by government programs assisting low-income families. All refuse to acknowledge the fact that, in effect, these programs have become a form of political slavery, keeping the urban poor in bondage to 'Deathocracy' – i.e., the peculiar coalition of crooked politicians, bureaucrats, and criminal gangs that presently oppresses neighborhoods in more than a few of America's largest cities. Forces presently fomenting mob action against the statues and other relics of dead 19th century enslavers have no qualms about promoting the deadlier form of bondage that masquerades as 'democratic' socialism. ... Unlike the Southern enslaving Democrats who bought and sold my ancestors before the Civil War, Deathocrats in our day seek to reduce the human population--in the United States and throughout the world--by all available means. ... Elitists from both the major political parties are openly or tacitly promoting the transition to totalitarian dictatorship. To this end, they are slyly encouraging Americans to shift the aim of our self-government from its original aim of justice and the secure exercise of God-endowed right, to a new aim of radically selfish personal identity. They offer to secure our freedom to choose and assert this identity with abuses of government power--up to and including the mass murder of hapless human individuals whose continued existence interferes with our freedom to become whatever we choose to be. Of course, no claim of transcendent right can justify this practice of wrongdoing in service to licentious freedom. Indeed, it bespeaks a surrender of natural conscience and humane feelings that is more suitable to a criminal gang than the citizen body of a lawfully self-governed republic. Right that cannot be maintained without extinguishing innocents is not right at all, but egregiously wrong. This common sense of right and wrong is what led Americans of good conscience to oppose slavery, even though the selfish aims of the enslavers mitigated against the wholesale slaughter of their innocent victims. Yet these days, the Deathocrats lure millions of Americans into supporting and engaging in the practice of abortion. For Planned Parenthood and the so-called "doctors" they pay to murder innocents, profit is certainly a selfish aim. But murder is, without any mitigation, the means of achieving it. How do the minions and fellow-travelers of the Deathocracy claim some moral vantage point superior to the profiteering enslavers so many of them pretend to disdain? They not only purposely murder millions of helpless people; they also serve as weapons of mass destruction, laying waste the hearts and consciences of all the millions who deploy their services. This is not just a matter of individual destruction. For it delivers a potentially decisive blow against the sense of right and justice without which no people can be trusted to govern itself with good effect" ("As It Murders Conscience, Will Abortion Kill Self-government?" renewamerica.com, May 21, 2019). "Largely in service to their factious partisan agenda, the Democrats are promoting proposals that strip all the features our constitutional government intended to prolong the sovereignty of the people of the United States and prevent the imposition of any form of tyranny over them. They pretend that the features they target are artifacts of archaic anti-democratic prejudices. In fact, their agenda is, in every respect, a tool of regression. They mean to restore the rule that 'might makes right' – which is what Marx's dialectical and materialistic view of history comes down to in the end. Like terrorists sabotaging a nuclear reactor, they seek to remove constitutional features that are, as it were, "control rods" and other safeguards of our self-government. This will allow them to consolidate a mass of power sufficient to explode our constitutional self-government. Like the Marxist demagogues they more and more openly declare themselves to be, this consolidation of power is truly their paramount aim. Every other aspect of their agenda is superstructure, built up and used to support and promote that aim, so that the United States ends in being a totalitarian, one-party dictatorship" ("Democrats' Deconstruction of the Constitution," renewamerica.com, Apr. 1, 2019).

ANGELA STANTON KING, owner of Stanton Publishing, founder of the American King Foundation, which is dedicated to criminal justice reform, 2020 Republican candidate for the U.S. House of Representatives for Georgia's 5th Congressional District, author of Life of a Real Housewife -- "My biggest issue with the current Democratic candidates as it comes to the black community is that all of them are pushing for poor women of color to have access to abortion. That's all that you hear. Since abortion Roe v. Wade has been passed, 46 percent of the black population has been aborted. To me, personally, you don't have my best interests in mind if the only thing you are offering me is access to abortion to kill my child before it has the chance to live, and then also free welfare. Black people have been voting Democrat for the past 60 years and it has done absolutely nothing for us but kept us stagnant, on welfare and now here we are, 46 percent of the black vote--I mean, the black people, the black population had been aborted" ("African American Voters Talk 2020 Race," Fox News, Nov. 24, 2019).

KIMBERLY KLACIK, a wife, mother, nonprofit founder and elected member of the Baltimore County Republican Central Committee, is running for Congress in 2020 for Maryland's 7th Congressional district -- "Do you care about black lives? The people running Baltimore don't, and I can prove it. Come walk with me. This is the real Baltimore. This is the reality for black people every single day. Crumbling infrastructure, abandoned homes, poverty, and crime. Baltimore has been run by the Democrat party for 53 years. What is the result of their decades of leadership? Baltimore is one of the top 5 most dangerous cities in America. The murder rate is 10X the U.S. average. The Baltimore poverty rate is over 20%. Homicide, drug and alcohol deaths are skyrocketing in our city. Do you believe black lives matter? I do. The vast majority of crime in Baltimore is perpetrated against black people who make up 60% of the population. So why don't we care about our communities? The Democrat party has betrayed the black people of Baltimore. If the politicians walked the streets like I do they would see exactly how their policies and corruption affect us. Go to any Baltimore neighborhood and ask this question: Do you want to defund the police? [They will answer, as these people did:] 'No.' 'No.' 'Absolutely not.' 'I had three sons killed in Baltimore city, and if we defund the police officers it's gonna be worser than that. No, I'm opposed to that.' 'What are you gonna defund the police for? Why? How do you defend your city, your community? Families are losing people.' It's not just Baltimore. The worst place for a black person to live in America is a Democrat-controlled city. It's 2020. Name a blue city where black people's lives better. Try. ... Democrats think black people are stupid. They think they can control us forever, that we won't demand better, and that we will keep voting for them, forever, despite what they have done to our families and our communities. Are they right?"

GLENN LOURY, Ph.D. in Economics from MIT, professor of social sciences and economics at Brown University, has taught at Boston, Harvard, Northwestern, and the University of Michigan. He was Harvard's first black tenured professor of economics. He is the author of One by One From the Inside Out: Essays and Reviews on Race and Responsibility in America (1995), Race, Incarceration and American Values (2008). He is a contributor to the Woodson Center's 1776 Unites program, which combats the 1619 Project's claim that America's true founding came with the arrival of the first black slaves, rather than with the Declaration of Independence. 1776 Unites explains that "slavery was America's birth defect, but America is not defined by its defect but by the promise of 1776." 1776 Unites champions black Americans who used the free market to build their own prosperity, often facing stiff odds. In an interview with Samantha Renck of the Daily Caller, July 17, 2020, Dr. Loury said of Black Lives Matter, "It is anti-capitalist. It has contempt for the normal narrative that one tells about the history of the country. It's obsessed with race. I've been to the website and looked at some of the demands. They're not limited to what the police do. They want to reform education in a particular way. They want black autonomy and local governance. They want a lot of different things. ... It has a kind of post-modern, critical race theory dimension to it."

LLOYD MARCUS, author, songwriter, syndicated columnist, political activist, chairman of Conservative Campaign Committee PAC, author of Confessions of a Black Conservative: How the Left Has Shattered the Dreams of Martin Luther King, Jr., and Black America (2010) -- "Outrageously, cowardly and traitorous politicians are allowing Black Lives Matter, a racist hate group to engage in an "Everything Must Go" fire-sale against America. BLM is literally pulling down monuments and demanding that large portions of our history be removed from the records. They are burning down homes which dare fly the U.S. flag. They are taking control of portions of cities, absurdly claiming it as their new country. Why is BLM behaving like spoiled-brat bullies on America's playground? The answer: Because they are allowed to do it. ... What is so frustrating is that BLM is an extreme racist and anti-American hate group. Years ago, BLM declared war on cops and white people. They marched down a NY street chanting, 'What do we want? Dead cops! When do we want it? Now!' ... Folks, how can any American in their right mind support these haters, paid to assassinate cops and whites and destroy our country? Long before the George Floyd incident, BLM was paid $150 million by George Soros and various anti-American liberal corporations and foundations. ... Hateful extreme leftists are dominating the airwaves with intellectual sounding nonsense in praise of BLM. They claim America always has been and always will be irreversibly racist. They say the solution is to tear up and rewrite the U.S. Constitution. Folks, this is hogwash! Given that blacks are only 13% of the population, Christians and decent whites had to play major roles in ending slavery and empowering blacks. And yet, leftists get away with pretending that every achievement made by blacks throughout American history was made despite white America. ... Leftists do not give a rat's derriere about black empowerment or black lives. They view blacks as useful idiots towards transforming America into their socialist/communist utopia in which anything goes sexually. A huge elephant in the room is how long will the white majority tolerate being repeatedly poked in the eye with a hot poker of racial hate by BLM; demanded to kneel in worship to blacks? While claiming to be against racial hate, leftists are intentionally generating such hate. They believe voters will blame Trump and vote against him in November. ... Here's another example of the good-hearted nature and generosity of the American people. Fake news media and Democrats promoted the lie that Republicans and white America did not care about the victims of hurricane Katrina because they were mostly black. The truth is U.S. donors opened their hearts, giving $4.2 billion to victims of Katrina which is believed to be the highest amount ever. ... Another thing causing my head to explode is all of the pandering to BLM, an evil and demonic hate group. In compliance to BLM, pastors are telling their white congregations to own up to their white privilege. My response is, 'Stop it! Stop falling for leftists' bogus guilt-trip.' For crying out loud! America is the greatest land of opportunity on the planet for all who choose to purse their dreams. Anything else is a lie!" ("BLM at War with America," June 25, 2020, lloydmarcus.com).

LIZ MATORY is author of Born Again Republican (2016). "My greatest desire is for more Americans to remember their conservative roots. Five years ago, I feared conservatives. I thought they were 'the bad guys' and that 'they' didn't care about Black people. Like so many Washingtonians and women of color, I was a liberal by default and never questioned being one. I just knew that I wasn't supposed to be a conservative. I became an independent voter in 2015. I had become extremely disenchanted and disheartened with the status quo. If anything, I was desperate to find solutions that would really make a difference. It was only then when I had the guts to read Barry Goldwater's 'The Conscience of a Conservative' and Arthur Brooks' 'The Conservative Heart.' Through all of my schooling and political activism, I admit I never really knew what conservatives believed. I only knew they were the 'enemy.' If you had told me just five years ago that I would be a conservative, like a Bible, pro-life, and guns conservative, I would not have believed you. But I am. A very proud one. Everything makes sense now, especially when it comes to the issues that still face 'Black America.' We are actually conservatives, and have been since the beginning. It is as if our heritage was purposefully obscured to ensure we would not advance. We need only to flip the switch to see the light. Faith. Family. Freedoms. Free enterprise. There is no color to it. Just truth" ("From Liberal to Liberated," The Daily Signal, June 22, 2020).

LENNY MCALLISTER, director of Western Pennsylvania for Commonwealth Foundation -- "As America has taught the world over our modern history, the power of free markets and conservative principles has broken down systems of oppression from Montgomery to Mumbai. These principles have lifted many in Latin America and Asia out of poverty. They forced integration of public facilities through boycotts. They continue to push for life-enhancing innovations in technology, education, and retail. A lifestyle that allows one to embrace one's potential, explore one's destiny, and self-determine one's successes is a lifestyle that extols the American Dream. With our conservative principles, we grasp both the legality and sentiment of the Constitution, the founding vision for our nation, and the power of perseverance in America. Visionary conservatives leading within modern America take the best of our foundation and apply contemporary lessons of courage and tact to pursue a more perfect union. ... Why am I a conservative? Why should conservatives lead the civil rights movement? Because only through the fulfilled promise of constitutional conservatism will America entrench itself as the beacon of freedom, opportunity, and prosperity that truly lifts character over color, results over race, and justice over prejudice" ("Advancing Freedom for All," The Daily Signal, June 22, 2020).

EMERY MCCLENDON, a Heritage Sentinel from Indiana. Heritage Action is a grassroots movement of "local leaders, committed activists and champions for conservative victories. They are the front line of the conservative fight to keep congressmen accountable to the principles that will make life better for all Americans." "For years we have heard it over and over that Blacks are loyal to the Democratic Party. The Democrats believe that Blacks blindly follow their party's principles because of a 'herd mentality,' and refuse to change or consider voting for Republican or conservative principles. Democrats believe this even though many Blacks find themselves out of sync with many of the policies of the Democratic Party platform. Recently, for good reasons, Blacks have begun to depart from the party and embrace conservatism. I am proud to be among those that have made that choice. There are many reasons to embrace conservatism. Perhaps one of the chief reasons for making this choice is that one may embrace and pursue his or her own destiny and develop a sense of pride in individual accomplishment. This is a very important aspect if one values his or her sense of personal responsibility and seeks prosperity. Conservatism allows an individual to excel beyond the dependency and imposed reliance forced upon him by the government, and gives one the desire to work toward greater life goals" ("Working for Everyone," The Daily Signal, June 22, 2020).

KEVIN MCGARY, chairman of the Frederick Douglass Foundation of California, author of The War on Women (2020) -- The following is excerpted from "Frederick Douglass Foundation chairman," Just the News, July 7, 2020: "During an interview on the 'John Solomon Reports' podcast, Kevin McGary, the chairman of the Frederick Douglass Foundation of California, questioned the claim that systemic racism prevails among police when so many minorities populate law enforcement's ranks. Instead, he said that the description of systemic racism could be applied to the Democratic Party, which he said 'started slavery and segregation and to this very day they actually encourage the black genocide of black babies.' He also said that 'all of their upper echelon, meaning in the House and the Senate, are white, and has been for decades, many decades, probably forever.' ... Discussing the late founder of Planned Parenthood, McGary said that Margaret Sanger's 'racial hatred towards blacks is unparalleled' and he said that 'her organization specifically targets to this very day black babies' through its abortion programs. ... Regarding the key question that will characterize this year's election, he remarked, 'The question is: Do you want the ideal of America, the free, the righteous, the just-type America or do you want a new sort of reimagined America that embraces something that is anathema to our Constitution, that would be Marxism.'"

ANGELA MCGLOWAN, CEO of Political Strategies and Insights, political commentator, author of Bamboozled: How Americans Are Being Exploited by the Lies of the Liberal Agenda -- "Sharpton and Jackson are 'race brokers.' Their job is to define black identity and then keep blacks in line to vote to the highest Democratic bidder that serves their purposes. 'Black enough' is just another tool in the bamboozler's toolbox." "The Republican party is not perfect, but if you put this party's record of achievements on one side of a balance scale and the Democrat's record on the other, the Republican side would slam the table."

CHARLOTTE MCGUIRE, vice president of the Ohio Board of Education - "I am a conservative by choice. Conservatism's principles of life, freedom, faith, family, personal responsibility, limited government, and free markets all aligned with my biblical worldview and values, and, therefore my actions. I was raised in the segregated South during the Jim Crow era. Racism was alive, well, and 'in your face.' But, against all odds, I overcame the obstacles of racism and discrimination that I faced. My parents were key. They encouraged me and told me that hard work and dedication would pay off. My dad said, 'If you're going to be a ditch digger, be the best ditch digger there is.' My mom told me that when I faced racists, 'kill them with kindness.' Against all odds, my dad worked two jobs so his five children would have an opportunity to go to college. My dad and mom believed that education was key to our freedom and independence. They didn't want us to depend on the government. In Memphis, Tennessee, I was the colored girl who could only go to the zoo on Tuesday. Or, if I wanted go see a movie at the Malco Theatre, I had to use the side entrance, climb what seemed like a million steps, and sit in the balcony. My race designation evolved to Negro and I participated in the 1968 protest to support garbage collectors' job rights. With my parents' approval, and as a high school senior in a segregated educational system, I waited in downtown Memphis at a rally to hear civil rights leader Martin Luther King Jr. He was the hope of the ages for Black Americans who wanted equal opportunities to succeed. Dr. King never showed up. He was assassinated, and rioting broke out in downtown Memphis and around the country. My senior class trip to Washington, D.C., was cancelled. A couple of months later, I graduated from the same school as my parents, Booker T. Washington High School. Being the first person in my family to go to college during this turbulent time, I was sent north to attend Central State University in Wilberforce, Ohio. There, I had family members to assure my safety and support me. My conservative values caused me to pray and persevere against all odds. I believe all my rights come from God. I believe in the self-evidentiary clause that I am created equal among a diverse humanity. I believe that I have the right to life and liberty, and to pursue happiness. I believe I have the innate right to become who I was providentially purposed to be. To our Creator be all the glory" ("Against All Odds," The Daily Signal, June 22, 2020).

SHEMEKA MICHELLE, a Trump supporter in North Carolina, spoke at the #WalkAway Rescue America rally in Hollywood, California, on August 8, 2020. #WalkAway founder Brandon Starka said, "We're doing these rallies because we wanted to show the radical left who's been smashing windows, committing acts of violence, committing acts of vandalism they do not own America's streets. We're going to fight for the heart and soul of America ... We're a movement of people who are walking away from the Democratic party. We're walking away from the ideology of liberalism, the liberal media…basically, we want to live in a country with peace and civility…truthfulness, kindness and again, we're not getting that from the political left so we're walking away from the Democrats." In Hollywood, Shemeka Michelle lambasted a white male Black Lives Matter counter-protester: "I don't need you to tell me my life matters. I don't need your privilege to tell me or to justify who I am in America. This is my country. This is my land. My ancestors built this country, so I'm gonna walk around here as bold as a I want to. And I don't have to have you to cosign and tell me my life matters. That right there insinuates that your voice is bigger and better than mine. You are supporting an organization that does not like black men. And as a black woman, I can tell you how important black men are to the black family; without them we are nothing. ... We kill more black babies than are born every year. You said 'Black Lives Matter'; what about black lives in the womb? They don't matter? They don't matter? So how are you pushing an organization that doesn't care?" ("Hundreds gather," The Blaze, Aug. 9, 2020).

DEROY MURDOCK, syndicated columnist, political commentator, contributing editor of the National Review Online, a senior fellow with the London Center for Policy Research -- "The mainstream Democratic position on abortion has devolved in just two decades from 'Safe, legal, and rare' to 'Yee-haw!' Second Amendment advocates surely have noticed. ... Biden finally stands where all Democratic presidential contenders must, to avoid the Donkey party's volcanic, socialist rage: Abortion is A-okay until the moment a baby exits the womb, and taxpayers must sponsor it, at least for the poor. Today's Democrats believe that every individual right demands a corresponding taxpayer-funded freebie. That impulse triggers this modest proposal: Guns for All! Every American has a Second Amendment right to own a gun, but not everyone can afford one. ... A Smith & Wesson .38 Special revolver runs $280. For workers making the $7.25 minimum wage, this equals nearly 39 hours of earnings. That's almost a whole work week, just for a basic firearm. Unfair! Those who seek the persuasiveness of a Glock pistol must pay $600 each. That costs a minimum-wage employee 83 hours of labor (more than two 40-hour weeks). Or she simply could sacrifice 150 McDonald's Big Macs, 129 Starbucks chai lattes, or 46 plates of fettucine Alfredo at Olive Garden. ... Nobody should have to choose among firearms, food, or shelter. Likewise, the ability to buy a gun shouldn't be dependent on someone's ZIP code. So, say it loud, say it proud: Guns for All! Congress immediately should allocate $563.8 million as an initial act of basic solidarity with the non-arms-owning public. This amount parallels Planned Parenthood's taxpayer subsidies and reimbursements for its fiscal year 2018. This private organization has enjoyed federal dollars despite the 7.6 million abortions that it has perpetrated between 1973's Roe v. Wade decision and 2017, Life News reports. Last year, it aborted another 332,757 unborn Americans--the most since 2012. Planned Parenthood Federation of America president Leana Wen, M.D., considers abortion part of 'our core mission.' While you spend five minutes reading this op-ed, Planned Parenthood will whack three more babies. An equivalent $563.8 million federal grant to the National Rifle Association would help this private organization furnish weapons to low-income Americans who yearn to enjoy their constitutional right to keep and bear arms and invoice taxpayers to exercise that right" ("If Taxpayer-Funded Abortion Is a Right, Let's Have Guns for All," National Review, June 14, 2019).

DEAN NELSON is chairman of the Douglass Leadership Institute. "I am a grassroots guy, not a scholar, so I will not try to engage The 1619 Project from an academic point of view. What I can tell you is that I--and the thousands of African American pastors and leaders I am privileged to serve--learned in our schools the very 'white history' that The 1619 Project seeks to remedy. Like me, most of the ministers I know had their public school education supplemented by additional black achievement-oriented reading material and black history-focused church events. Like the books given to me by my mother, that material and events depicted black Americans as leaders who triumphed over adversity and made the country a better place, not as victims who led lives of tragic desperation. Learning 'white history' in school did not cause any of us to believe we were inferior to anyone, nor did we somehow naively conclude that the world was free of racism. The racism we did experience did not make us think that America and its ideals didn't belong to us, nor did it deprive us of the ability to love our country and work to make it better. And thankfully we did not enter adulthood looking for pity or thinking of ourselves as helpless pawns in a white man's world. ... The problems that exist in a portion of the black community will not be solved, or even ameliorated, by a widespread embrace of The 1619 Project. That does not mean that the way we teach American history couldn't be improved. Black Americans--great and ordinary--have achieved incredible things against formidable odds, for themselves and for our country from the time of its founding. The fact that we have been able to embrace the principles of the American founding, despite the hypocrisy with which those principles were first applied to us, should testify to their power, not justify their weakening or destruction. Freedom and progress require work. And each of us must be willing to pick up our own plows and work until our job is done" ("Living by the Grace of God and the Power of Applying Oneself," 1776unites.com). "Too many white people on the right and left only want to listen to Black people who agree with them on everything. ... Perhaps the most outrageous of these cases occurred when my good friend and mentor to countless conservatives--black, white, young and old--Kay Coles James, president of The Heritage Foundation, penned a thoughtful and balanced reflection on the current state of affairs in our nation. Her words reflected what nearly every Black American conservative I know feels: We love our country, we refuse to use race as an excuse not to be and do our best, but we know America still has a race problem. Tucker Carlson, who has a popular show on Fox News, responded to Mrs. James' incredibly moving piece by accusing her on his television program of penning 'a long scream denouncing America as an irredeemably racist nation.' This is beyond absurd. Mrs. James wrote, 'There is no other country like ours in the world--nothing compares to its greatness.' Like countless Black leaders before her, she was merely calling us to live up to America's best ideals. And you can't do that if you won't acknowledge there's a problem in the first place. The work of healing America's racial wounds is not done. Mrs. James has a responsibility, as not only the leader of America's pre-eminent conservative think tank, but also as a Black female conservative, to speak out on difficult issues regarding race relations. But Mr. Carlson's comments remind me that some on the right and left want to engage Black people in the 'national conversation' only when those Black people are saying exactly what they want to hear. If you are a Black liberal, you'd better not challenge the liberal orthodoxy surrounding abortion or family structure. You will be canceled. And if you are a Black conservative, you'd better not acknowledge that racism exists or plays any role in the challenges our nation faces today, or you will be denounced as an America-hater, no matter how many decades you have worked to make your country the best it can be. The Black conservatives I know are not conservative because we think race is not a problem in this country. We are conservative because we think that economic prosperity, limited government and strong families are best for all Americans, including Black Americans" ("Even for conservatives, no denying reality," Richmond Free Press, June 25, 2020).

SOPHIA A. NELSON, JD American University, journalist, author of Black Woman Redefined: Dispelling Myths and Discovering Fulfillment in the Age of Michelle Obama (2012) and E Pluribus One: Reclaiming Our Founders' vision for a United America (2017) - "Our nation is hurting right now. Our nation needs a deep spiritual and soul healing right now. For so long, the voices of Black conservatives have been questioned. Called 'Uncle Tom.' Called 'sellout.' Or worse. I believe that the time for divisions among us as Black people is over. It is now time for us to unite in solidarity, not just in the fight for 'Black lives' and their value, but in the fight for us to live out our nation's earliest credo: e pluribus unum. Out of many, one. If we are to win this fight for the soul of America, conservatives no longer can run from that fight. I am a conservative because I believe in smaller, less government. I believe in the wisdom and patriotism of 'we the people,' not that of a centralized, overburdensome government. I believe in religious liberty and freedom. I believe in the rights of the people to peacefully assemble and to bear arms. I believe that all men and women are created equal and endowed by our Creator with life, liberty, and the right to pursue happiness. I am a conservative who loves her people deeply. It is time for Black conservatives, moderates, and liberals alike to work across ideological lines to help develop and guide our community to educational, economic, political, and social policies that will create sustained opportunity, access, ownership, and freedom in our day-to-day lives" ("Courageous Conservatism," The Daily Signal, June 22, 2020).

BURGESS OWENS, retired pro football player, Republican congressman for Utah's 4th district, author of Liberalism or How to Turn Good Men into Whiners, Weenies and Wimps (2016) -- After winning his seat in the House of Representatives in November 2020, Owens said there is a new "Freedom Force" in Congress. "It's interesting because we have a group of people who came in, we are very diverse and different races. We share in common the love for our country. I have to thank the American people across the country. We flipped over 14 seats and we did not lose one. It was a message for the American people [that] we want to get back to basics and we love our nation. This group will be ... giving a contrast to the hard left. ... We have ... a group of people who believe in God, country, and family; a respect for women and authority -- and the other side that hates everything I mentioned. ... We've all dealt with the harshness, the evil of socialism and Marxism. So we can talk from experience. I'm part of a generation that got snookered by the left" ("Rep.-elect Burgess Owens, retired NFLer, touts GOP's 'Freedom Force' to oppose AOC's 'Squad," Fox News, Nov. 28, 2020). Two of the new conservative House members are hispanic and two are black. During his campaign, Owens said, "At stake right now, we are fighting for the heart and soul of our nation. And I think it's more evident today that we have an ideology that is way against our country's values" ("America Will See a Renaissance with Trump Re-elected," Breitbart, July 5, 2020). "As a kid I was told which water fountain I had to use. Don't you dare tell me which national anthem I stand for. It's a beautiful hymn ['Life Ev'ry Voice and Sing'], but the racist notion of saying 'here you have this anthem' is unacceptable. I'm a proud American, proud of my history and proud of that flag" (@BurgessOwens, Jul. 6, 2020). "So, when can we stop taking monuments down and figure out how to save millions of children being trafficked, get jobs back, tackle criminal justice reform and a million other more pressing issues? We need to act now" (@BurgessOwens, Jul. 6, 2020). "LOVE, LOVE, LOVE .. passing my patriotism on to my grands.. and knowing that they're getting it...sooooo awesome. Happy Birthday America" (@BurgessOwens, Jul. 6, 2020). "Always remember as Marxist protest National Anthem and tell us "it's not about the Flag", it has ALWAYS been about our GOD, Country & Family Culture...represented by our Flag" (@BurgessOwens, Jul. 6, 2020). Speaking with Laura Ingraham on Fox News following his speech at the 2020 Republican National Convention, Owens said, "What the Democratic Party's doing [with the lockdowns] basically is taking away everything that gives us hope, gives us excitement. They are truly a dour, dark, depressed party, and on the other side of the coin, we're optimistic, we're light. We say let's go out and make things happen. Let's figure it out. We have business owners out there, we have this mentality that we're going to figure out ways around anything, including this virus, if we just allow them to let us go and do what we do best, and that is figure out a way to win" ("Burgess Owns slams Dems," Fox News, Aug. 27, 2020).

CANDACE OWENS, conservative commentator and political activist, former communications director of Turning Point USA -- "And for that, I find it necessary to formally state that not once in my entire life was I made to feel incapable or weak next to my male peers. Not once did a school teacher tell me that I ought to learn to cook and clean rather than to read and write, and for clarification, the eating disorder that I had in college had absolutely nothing to do with the urging of any man. ... I happen to find it simply polite when a man opens a door for a woman and not once has the action sent me into analytical overdrive regarding what sort of monster would assume my incapability?! No, in fact, I typically just say 'thank you.' And I'm not sorry for any of this--by the way. So if that somehow disqualifies me from sitting at the table of 'real women,' I'll learn to live with the losses. Happy women are growing tired of being silenced. I have girlfriends who choose to stay at home to raise their children, and they are not prisoners. I know a few that voted against Hillary Clinton that are far from deplorable, and perhaps most shockingly of all, not one of these ladies feels victimized by the state of her own womanhood. Asking them to disregard their content in favor of a movement, isn't a movement, it's an agenda--and a strikingly ironic one at that. It tells us women repeatedly that we must accept our status as the weaker sex--the very notion that it claims to reject. For the record, the only time that I have ever been outright told that I was incapable, different, or less-than because of my sex, it was being 'taught' to me…by another woman. And it is a reality that I simply refuse to accept" ("I'm Not a Feminist," candaceowens.com Apr. 4, 2019).

CLARENCE PAGE is a journalist and a Pulitzer Prize-winning news columnist, a senior member of the editorial board of the Chicago Tribune. "In 2019, marking 400 years since the first known Africans arrived on these shores from West Africa as slaves, the New York Times launched its ambitious 1619 Project. It aimed to reexamine U.S. history through the lens of black history--as if American history began with the arrival of the first black folks. The concept was well-intended, and the execution of its first episode well-documented. Yet, it left me feeling that the New York Times missed at least half of the story. By looking through the lens of black victimization, it paid too little attention to what I call 'black overcoming'--our victories over adversity and achievements of success, sometimes in conflict but also often in cooperation with people from other races and ethnic groups. The New York Times incorrectly assumes that the challenges facing particularly inner-city blacks are related to a legacy of slavery and discrimination. This is patently untrue. ... Our project, '1776,' puts less of an emphasis on history and more on the question prophetically raised by Rev. Martin Luther King, Jr., at the height of his civil rights revolution: 'Where do we go from here?' Mindful of the inevitable criticism that his movement was subversive, King made a special effort to ground his historic 1963 'I Have a Dream' speech in 'a dream as old as the American dream' by repeated references to the nation's founding documents, including Abraham Lincoln's 'Gettysburg Address.' He assured friends and foes alike that his civil rights movement had come not to deny the gospel of the American dream, but to fulfill it. We must disrupt the long-held stereotypes of black people as helpless bystanders in their own history. We have had entrepreneurs, skilled tradesmen, military officers, inventors, organizers, and many others who responded to adversity by marshaling resources, building local enterprises, and creating jobs. We organized and acted to defeat slavery, segregation, and deprivation, and then we persevered to build businesses that included banks, hotels, small factories, and a black-owned railroad. In addition to the consequences of slavery, these contributions of black Americans should be at the very center of the story we tell ourselves about who we are. Even in bondage, slaves had agency in various amounts, or to varying degrees, and they acted on it in a variety of ways. Those who prefer to focus on our victimization don't always want to recognize it, but the ways our ancestors exercised agency in bondage formed the foundation of their successes (or failures) after they were freed" ("A Dream as Old as the American Dream: Embrace Black Patriotism over Victimization," 1776unites.com).

STAR PARKER, founder of the Center for Urban Renewal and Education (CURE), an institute that promotes market-based solutions to fight poverty; syndicated columnist; spoken on more than 250 college campuses; author of Necessary Noise: How Donald Trump Inflames the Culture War and Why This Is Good News for America (2019) -- "As more of our political elite join the mobs in the streets to conflate the death of George Floyd with a general indictment of America as a racist and evil nation, black Americans, more than anyone, will suffer. ... It is simply delusional to suggest that there has been hardly any change in the gaps in income and wealth between blacks and the rest of the nation over the more than half-century since the passage of the Civil Rights Act because of 'systemic racism.' If there is a racism that accounts for these persistent disparities, it is the racism of big-government liberals. Now we see some Republicans, many business leaders and even some black conservative leaders signing on to this. It is a racism that says black Americans cannot adhere to the same eternal truths, to the same law, as everyone else and take personal responsibility for their lives. ... If black Americans are victims of anything, it is that they live in a country that has become a wasteland of moral relativism. What government can do is advance policies to encourage the right behaviors. Allow parental choice in education; advance ownership by replacing the payroll tax with personal retirement accounts; implement housing and health care policy that relies on freedom and choice. And, purge ethnicity from existing and future law. ... the only systemic racism that poisons and divides our country is the insistence of the powerful to see everyone through the lens of race, placing one's race ahead of one's humanity. The result is the isolation and separation of the 'black community' that they claim to care so much about from the community of the nation and the entire community of God" ("Don't Confuse Moral Bankruptcy with Racism," urbancure.org, June 9, 2020). "When the Civil Rights Act was signed into law, I think that it offered us an opportunity, as American people, to be one. E pluribus unum. But what we know now is there are people who have a vested interest in overturning America. They don't believe that America is inherently good. They don't believe what [Alexis] de Tocqueville said about America. They think America is inherently evil and this founding country that had slaves has to pay forever. So in that, they're going to insist to rewrite America. We're hearing it, the rhetoric, that we should no longer have police forces. Leave us alone. I don't know what else to say, but … Listen, leave us alone. And at least leave race out of every question. Let's just move on as individual, unique people and let friendships bond and let work relationship … You can't legislate morality. We can govern behavior through law, but you can't legislate morality. We're not going to purge our country of every racist cop. It's just not human nature to be able to say, "I can be good all of the time, and I can assure that no one will ever be a racist." So I think that the goal for America should be to undo all of the perception of racism business, including all the affirmative action and racial preference programs. And then I think that we should just move on individually" ("Star Parker Shares Why It's Not True that America is 'Systemically Racist,'" Daily Signal, June 12, 2020).

JESSE LEE PETERSON, founder and president of BOND (Brotherhood Organization of a New Destiny), author of The Antidote - "I realized that most black people are not suffering because of this lie about racism, but because of the destruction of the family and the lack of moral character. We are rebuilding the family by rebuilding the man. ... I went back to God and said, 'You have changed my heart, you have changed my values; I can no longer identify with the Democratic platform, because the Democratic platform is anti-God, anti-family, anti-country, anti-military, anti-unborn child. I said, I can't identify with that any more, can you forgive me?' God forgave me, and I became a Republican conservative. I am 100% Republican conservative. ... When I was a Democrat, anything goes. I blamed white people for all my weakness and failures, and I suffered for it. It wasn't until I really became to look at myself and to understand that if I'm black and racism is holding me back--according to the Democrats and the race hustlers like the NAACP, the Congressional Black Caucus, and most of the black preachers--why isn't racism holding back these black people back who are telling me it is racism? They are married; their kids are going to good schools. And that's when I realized I had been lied to, that it wasn't about racism, that white people are not holding me back. The Democrats didn't care about me; they were lying to me. ... Most are stuck on the Democratic plantation, and a lot of blacks are unable to leave because of that mentality, and in some cases they are afraid to leave because they are attacked by their family members and others. The Democratic plantation really is worse than the plantation I grew up on down in Alabama. I grew up under Jim Crow laws. I remember 'For Colored Only" signs and "Whites Only" signs, but ... my grandparents worked hard, their parents worked hard. They were very independent, unlike the Democratic Party plantation that causes you to become dependent on them and not on yourself. Once you become addicted to that, they will not let you off, and if you try to get off, you are attacked, called 'Uncle Tom,' a sellout, the N word, all sorts of craziness, because they do not want you to leave that plantation. We gave black people a black president. (I didn't vote for him, but white people did.) And instead of getting better, the races were more divided. It's not a race problem, it's a spiritual problem. ... It's not about color, it's about character. Men and women need to return to God, raise your children, quite whining and begging. ... Every year we have a men's conference on a father's day weekend. ... It is working, because once they get rid of their anger, they can feel better about themselves and they can move on" (Unfiltered: The Democratic Plantation, YouTube, Oct. 18, 2018).
https://www.youtube.com/watch?v=mTcViL8Udo0

BILLY PREMPEH, GOP candidate for New Jersey's ninth district, is an Air Force veteran. He said on Fox & Friends Weekend, July 11, 2021, "When I decided to join the military and fight for the country, I understood that that flag meant more than just red, white and blue on a piece of cloth. It actually symbolizes the unification of our nation and the many things our country has gone through up until this point. The one thing that always stays constant with America is we always find a way to come through, we always find a way to come together and persevere. And that's why so many countries follow our lead and we need to stand as a beacon of hope for the rest of the world. ... When you're in boot camp, even, everybody's at the bottom, everybody works their way to the top. Those colors unify us all. We're all green at the end of the day and we're all red, white and blue. We're all American."

AUTRY PRUITT, political commentator, CEO of New Journey, "a political action committee dedicated to changing minds and exposing the lies of the Democratic Party" - "The history of the Ku Klux Klan and its inherent racism are inexorably linked to the Democratic Party. Apologists ferociously distance themselves from that fact, claiming the Democratic Party of today is nothing like the party of the second half of the 19th century. The truth, however, is that Democrats supported Klan-backed oppression and violence against blacks and Republicans for more than 100 years. It takes only a handful of examples over time to illustrate this ugly track record. When the 14th Amendment to the Constitution was being debated in Congress in 1866, not one Democrat in the House or Senate voted for it. Not satisfied with opposing Republicans on congressional votes, the KKK murdered no fewer than a dozen South Carolina Republican state legislators in 1870. By the 1924 presidential election, the Klan was so institutionalized within the Democratic Party it rallied enough convention delegates to defeat a party platform plank denouncing the Klan. Klansmen were so pleased with the results they conducted a notorious celebration that came to be known at The Klanbake. ... Democrat antics accelerated during the civil rights era with Governors George Wallace and Orval Faubus refusing to integrate schools. In Washington, DC, former Klansman and U.S. Senator Robert Byrd was busy filibustering the 1964 Civil Rights Act. This is a smattering of the hundreds - probably thousands - of ways in which Democrat Klansmen, with the support of their party, spent more than a century terrorizing and oppressing black Americans. The intimidation of the past continues today; just ask any African-American who has been viciously attacked as an Uncle Tom or an Oreo simply for disagreeing with liberal orthodoxy. ... Small wonder that GOP presidential candidates hover in the high single digits when it comes to winning the black vote. Between the lies of Democrats running for office and a supposedly unbiased media ready to promote such fallacies, it's a wonder Republicans receive even that many African-American votes" ("Associated Press Hides Democrats' Hatred of African Americans," Townhall, July 4, 2016).

KENDALL QUALLS, former U.S. Army field artillery officer; successful businessman who has worked for Johnson & Johnson and other companies; in 2020 ran as a Republican candidate for the House of Representatives in Minnesota's third congressional district and lost to incumbent Dean Phillips- "In response to my opponent [Democratic Congressman Dean Phillips], and his attempt to convey the Black experience and redefine America in the process, I'm going to tell you what it's really like to be a Black man in America. My opponent's virtue signaling insults me, and it should insult you too. Dean Phillips got his degree in Urban Studies from an Ivy League School in the Northeast. I got my degree in Urban Studies from the streets of Harlem in New York City. Yet, unlike him, I'm not going to lecture you on the evils of white people, or guilt you into believing that 'white privilege' makes you personally responsible for slavery and the struggles Black people face today. ... I'm also not going to sit idly by as statues topple, and they tell you our history needs to be erased or rewritten. Why? Because I don't believe it. Like you, I know the overwhelming majority of white people aren't racist. But as a Black man I am going to tell you that if you look for racism in America you will find it. At the same time, if you look for opportunity in America you will find it tenfold. I am also going to tell you that in spite of spending part of my childhood in a crime and drug-infested housing project in Harlem, in spite of spending the other part in a trailer park in rural Oklahoma, and in spite of having to work nights and weekends to put myself through school, I made it. I made it because America is an exceptional place full of exceptional people. And there are millions more just like me who made it --white, black, brown, and everything in between. However, my opponent and his progressive comrades across the nation are using the tragic death of George Floyd to fuel the flames of racism and create a smoke screen to cover up how they failed our cities, our country, and the Black community. When I was in high school, I remember big city politicians and urban elites calling America racist because Black-Americans struggled in the inner cities. Not much has changed. Black-Americans still struggle, the same urban elites dominate the conversation, and yet they present no fundamental plan for change. Empty platitudes and a reading list for white people won't solve the struggles in the Black community. Those on the left tell us "we have to have the tough conversations" about race. I agree. Let's have the "tough conversations" by looking at the real barriers to progress: * Progressive politicians and urban elites that want to shift accountability from the failed programs they've championed and benefited from the past 50 years. * The destruction of two-parent Black families through social programs that discourage marriage and result in generational welfare. * Policies that limit educational opportunities, prohibit school choice, and protect teachers' unions, preventing prosperity in the process. This story isn't being told in the halls of Congress but, rest assured, I won't be afraid to speak truth to power. I won't be afraid to "have the hard conversations." This election is about our country's direction. We must fight the ideology of destruction and those who promote the vision of America as a systemically racist country. We must fight those who enable and spread this vision, paving the way for mob rule in the process. ... I'm not afraid to tell you that life isn't fair. Like all countries, America has its imperfections. But with faith and hard work, you have the freedom in this country to overcome your circumstances and build a better life. I'm proof of it. I want to protect the freedom that allowed my opponent's family to prosper, allowed me and my family to improve our lot in life, and make sure that freedom is here so you and your family can prosper too" (posted by John Hinderaker, Powerlineblog.com, June 29, 2020).

WILFRED REILLY, Ph.D., associate professor of political science at Kentucky State University, author of Hate Crime Hoax: How the Left Is Selling a Fake Race War - "When people argue that policing is institutionally racist, almost always what they are saying is, African-Americans are arrested at a higher rate, or they encounter police at a higher rate, than the black percentage of society would predict. But the obvious intermediary variable there is crime rate. If you look at the federal justice statistics crime report, the African-American crime rate for violent crimes where you encounter the police is 2.4 times the white rate. So you would expect there, unfortunately, to be more encounters between African-Americans and the police. And when you look at this narrative about black people and the police being in constant conflict, not only does a lot of the structural element disappear if you adjust for crime rate, the figures themselves that are often used strike me as very, very inflated in terms of police violence. ... The Washington Post database listed a total of nine unarmed black men killed by police in all of 2019. The total number of unarmed people, all races, all sexes, was only 56. There were only about 1,000 people of all backgrounds, armed or unarmed, killed by police, and only 229 of those were African Americans. ... Rolland Friar, who is one of the youngest individuals ever to gain tenure at Harvard, and like me is a black man, took a comprehensive look at every type of violence in a paper that came out, I believe, in 2016. ... when it came to police shootings, African Americas were actually 24.2% less likely to be shot by police than whites were. I don't think you see a pattern of broad, systemic targeting of black people by police today. I don't think we can just look at interactions between African-Americans and police and say, what we have here is an epidemic pattern of racism" (Interview with Mark Levin, June 15, 2020).

JASON L. RILEY, editorial board member of the Wall Street Journal, Fox News contributor, author of Please Stop Helping Us: How Liberals Make It Harder for Blacks to Succeed (2016) and False Black Power? (2017) -- "This book examines the track record of the political left's serial altruism over the past half century. Have popular government policies and programs that are aimed at helping blacks worked as intended? And where black advancement has occurred, do these government efforts deserve the credit that they so often receive? The intentions behind welfare programs, for example, may be noble. But in practice they have slowed the self-development that proved necessary for other groups to advance. Minimum-wage laws might lift earnings for people who are already employed, but they also have a long history of pricing blacks out of the labor force. Affirmative action in higher education was intended to address past discrimination, but the result is fewer black college graduates--particularly in the fields of math and science--than we'd have in the absence of racial preferences. And so it goes, with everything from soft-on-crime laws that make black neighborhoods more dangerous to policies that limit school choice out of a mistaken belief that charter schools and voucher programs harm the traditional public schools that most low-income students attend. In theory these efforts are meant to help. In practice they become barriers to moving forward. Please Stop Helping Us lays bare these counterproductive results. People of goodwill want to see more black socioeconomic advancement, but time and again the empirical data show that current methods and approaches have come up short. Upward mobility depends on work and family. Social programs that undermine the work ethic and displace fathers keep poor people poor, and perverse incentives put in place by people trying to help are manifested in black attitudes, habits, and skills. Why study hard in school if you will be held to lower academic standards? Why change antisocial behavior when people are willing to reward it, make excuses for it, or even change the law to accommodate it? Yes, the Obama presidency is evidence that blacks have progressed politically. But if the rise of other groups is any indication, black social and economic problems are less about politics than they are about culture. The persistently high black jobless rate is more a consequence of unemployability than of discrimination in hiring. The black-white learning gap stems from a dearth of education choices for ghetto kids, not biased tests or a shortage of education funding. And although black civil rights leaders like to point to a supposedly racist criminal justice system to explain why our prisons house so many black men, it's been obvious for decades that the real culprit is black behavior--behavior too often celebrated in black culture. In April 1865, one hundred years before Johnson addressed Howard University graduates, the abolitionist Frederick Douglass spoke at a Boston gathering of the Massachusetts Anti-Slavery Society on a similar theme. 'Everybody has asked the question, and they learned to ask it early of the abolitionists, What should we do with the Negro?' said Douglass. 'I have had but one answer from the beginning. Do nothing with us! Your doing with us has already played the mischief with us. Do nothing with us! If the apples will not remain on the tree of their own strength, if they are worm-eaten at the core, if they are early ripe and disposed to fall, let them fall. ... And if the Negro cannot stand on his own legs, let him fall also. All I ask is, give him a chance to stand on his own legs!'" (Please Stop Helping Us: How Liberals make It harder for Blacks to Succeed).

IAN ROWE has an MBA from Harvard Business School, where he was the first black Editor-in-Chief of the Harbus, the school's newspaper. He is a Resident Fellow at the American Enterprise Institute, "where he focuses on upward mobility, education, family formation, and adoption." He is co-founder of Vertex Partnership Academies, a network of character-based high schools scheduled to open in the Bronx in 2022. He is the author of Agency (). He is a participant in the Woodson Center's 1776 Unites program which combats the 1619 Project's claim that America's true founding came with the arrival of the first black slaves, rather than with the Declaration of Independence, and that seeks to paint America as a criminal organization founded on slavery. 1776 Unites explains that "slavery was America's birth defect, but America is not defined by its defect but by the promise of 1776."

ERIC RUSH is a columnist, author of Negrophilia: From Slave Block to Pedestal - America's Racial Obsession, and part of the Black Men for Trump movement which was launched on August 28, 2020. "For those who saw the advances in national policy, prevailing attitudes and the level of hope among Americans that came out of the Civil Rights Movement despite the collective pain it took to arrive there, it is profoundly sad to witness the ginned-up civil unrest we are currently experiencing, as well as the number of black people--especially young black people--who don't have a clue as to what racism and oppression actually are. From where a lot of us stand, it's pretty evident that nearly all of our young, black, well-paid professional athletes and entertainers have been completely indoctrinated into far left racialist orthodoxy, as they 'take a knee' at events, don 'Black Lives Matter' and 'I can't breathe' T-shirts and advocate for the wholesale dismantling of our political, economic and social systems. To be fair, however, we must view their deep ignorance in the context of that to which these people have been exposed. The subversive and substandard public education and other indoctrination to which they've been subjected was by design ... But while we have racist blabbermouths like Shaun King, Jemele Hill and the entire pantheon of prominent black politicos calling for all manner of inane and destructive policy measures, there are now other voices to be heard above the fray. There may still be a significant percentage of black voters who somnambulistically cast votes for the Biden-Harris ticket, but others will not be able to help but notice the spate of pro-Trump, black GOP candidates who have stepped up and the increasing number of blacks who also support President Trump. ... The Democratic Party's cross-hairs have been trained on black families ever since the administration of Franklin Delano Roosevelt when, in order to appease unions and Southern Democrats, entitlements were strategically and insidiously employed in order to deny jobs to black men and enroll blacks into government programs. Democrats under Lyndon Johnson instituted the 'Great Society,' which supercharged entitlements and led to the multi-generational dependency we see today among many black families. ... On Friday, Aug. 28, black men across America will launch and lead the Black Men for Trump movement by publicly posting their message--including the graphic above--on their organizational websites, blogs, Facebook, Twitter, Instagram and other media pages. The group plans to go live with videos and interviews, and make a bold public stand for America. Unlike the Black Lives Matter group, this is a grass-roots organization that's comprised of black men who support the president--some conservative, others just fed up--and their supporters. ... In truth, there hasn't been a valid reason why blacks and other ethnic minorities should vote Democrat for many years. In microcosm, the party has been doing to these groups what socialists and communists have been doing to nations – promising the moon and then enslaving them--and it appears that blacks are finally catching on in numbers that could help turn the tide against socialist ascendancy in America" ("Black Men for Trump Movement," WorldNetDaily, Aug. 26, 2020).

CLARENCE "C.J." SAILOR, a leader at an educational nonprofit in Detroit - "I remember going to vote for the first time at age 18 in Detroit, Michigan. I was full of vigor and hope until a friend of mine told me to vote for the Democratic ticket. I was bewildered and I asked him why. He said, 'Because that's the way all Black people vote.' I had not yet registered my party affiliation, and like most teenagers growing up in the inner city, I knew only of liberal policies and social promises. I was determined to be different, so I told my friend that I would vote for someone who held the values and beliefs that my parents taught me. After reading several pieces of campaign literature, I was unable to find a candidate who embraced local control, family values, and economic freedom. I was stuck with the independent candidate, who was a better choice than the candidate who stood for big government and less freedom. Today, I'm a conservative because I believe my values of strong and healthy families, faith in God, and economic freedom are essential to thriving communities. Now more than ever, these values can heal our nation of racial injustice and promote upward mobility. We must embrace the next generation of leaders and pass on the legacy of faith, hope, and American exceptionalism" ("Essential to Thriving Communities," The Daily Signal, June 22, 2020).

TIM SCOTT, businessman, politician, U.S. Senator for South Carolina since 2013, co-author with Trey Gowdy of Unified: How Our Unlikely Friendship Gives Us Hope for a Divided Country (2018) -- "And don't throw 'you're the only black guy they know' at me either. There are only two black Democratic Senators, stop pretending there's some huge racial diversity gap in the Senate. Ask my Dem colleagues what their staffs look like...I guarantee you won't like the answer" (@SenatorTimScott, June 10, 2020). "I think we can have a robust debate about the renaming of some military bases; there are some things we can have a serious debate about; but this desire to purge all of history because it was ugly or negative really does not serve the American people well. ... In America, all things are possible. In America we may have flaws, we may have challenges but we get it together and we come together to overcome those challenges, and that's why I think often times preserving the history, as ugly as it may have been, can be a sign and a symbol of how good it can be. And if we want to do something, why don't you put up a statue to Booker T. Washington. Why don't you have a conversation about Washington Carver? These would be positive steps. Tearing down history for the sake of anarchy is not how we make progress in this country. It never has been and it never will be because we are the United States of America. For me, remembering our history is really important. Me celebrating all of our history would be crazy. I'm not going to celebrate all of history because all of it shouldn't be celebrated but we should remember it. It is a fantastic landmark for us to realize that progress has been made, progress needs to be made and it only happens when we work together. ... We have to understand, appreciate, and frankly embrace remembering the tragedies brought upon man by other men, and how men came together. People fought their brothers and sisters in the Civil War, literal brothers and sisters, blood brothers and sisters, for an oppressed, voiceless people to be heard and to be seen and to be free. When that kind of carnage is part of our history, that's ugly, too, but we should celebrate the fact that we will go to whatever length necessary to preserve this nation, and the president, congress, Republicans, Democrats, black and white, we need to come together and realize that there is an element, a minority element in this country that doesn't want progress, they want anarchy. They don't want us to unify; they want us to be lawless. ... We cannot have autonomous zones that are not a part of the United States of America. We have to be a country driven by order, structure, and discipline. That is the only country where human flourishing at his highest potential is even possible. ... Without any question chaos and lawlessness has to be dealt with significant force, period. ... They're simply agitators and trying to find a way to create anarchy, chaos and lawlessness. That is dangerous for every single person in this nation, especially the most vulnerable communities we have" ("Senator Tim Scott Joins Fox and Friends," June 23, 2020).

T.W. SHANNON, CEO of Chickasaw Community Bank --[Commenting on Joe Biden's statement that anyone who votes for Trump "ain't black] "Not only is it offensive to me, it's offensive to my African American children, it's offensive to my entire family and he should spend the rest of his campaign apologizing to our community, because what he said was outrageous. ... This is 2020 and I can't believe that we have a candidate who thinks in his mind that he is able to define what it means to be black. ... It's not a government handout that's going to make a difference in life" ("Black Voices for Trump Panel," Townhall, May 25, 2020).

JAMILE SHAW, SR., author of Shattered Plans, Still a Future of Hope -- "The tactic of BLM, is to make you feel guilt, my goal is to make you feel strength because you are on the side of righteousness. They want you to bow down, we want you to stand up. They use fear, we use respect. We must stand up to bullies! When my Son was Murdered I reached out to every so called Black leader in L.A. to get help with the Murder of my son. Every one of them was in the bed with the illegal aliens. BLM and Black Politicians in L.A. only support Black people who were Murdered by the Police, Period" (@real_jamielshaw, June 16, 2020).

JA'RON SMITH, Assistant to the President for Domestic Policy since 2019 - He says he learned conservatism while working as an intern for Congressman J.C. Watts. He also worked for South Carolina Senator Tim Scott and then-U.S. Rep. Mike Pence. The following is excerpted from Smith's speech at the Republican National Convention 2020: "Growing up I'd never really known a Republican. I believed all the stereotypes. It took meeting Republicans who shared my values to show me I was wrong. Don't Trump knows that in the work of revitalizing communities America's strength is America's people. And I can tell you, he really cares, and he takes action. Every issue important to black communities has been a priority for him: prison reform, building broken families, bringing jobs back to America, jobs in Cleveland, jobs in Detroit, jobs in Milwaukee. President Trump knows that education is the great equalizer. That's why he secured record and permanent funding for historically black colleges and universities and is fighting hard for school choice. ... President Trump has made it clear that if you want safe communities you must have police departments with the highest standards. ... I am proud to say that he is my president. God bless America."
https://theconservativetreehouse.com/2020/08/28/jaron-smith-americas-strength-is-americas-people/

THOMAS SOWELL, Senior Fellow on Public Policy at the Hoover Institution, Stanford University, conservative columnist, author of about 45 books, including Black Rednecks and White Liberals: Hope, Mercy, Justice an Autonomy in the American Health Care System (2009), Intellectuals and Race (2013), and Discrimination and Disparities (2nd edition, 2019), Charter Schools and Their Enemies (2020) -- The following are quotes from Sowell's books published on Twitter by @ThomasSowell: "Racism is not dead. But it is on life-support, kept alive mainly by the people who use it for an excuse or to keep minority communities fearful or resentful enough to turn out as a voting bloc on election day" (June 3, 2020). "It is self-destructive for any society to create a situation where a baby who is born into the world today automatically has pre-existing grievances against another baby born at the same time, because of what their ancestors did centuries ago" (June 29, 2020). "One of the sad signs of our times is that we have demonized those who produce, subsidized those who refuse to produce, and canonized those who complain" (June 29, 2020). "That people on the political left have a certain set of opinions, just as people do in other parts of the ideological spectrum, is not surprising. What is surprising, however, is how often the opinions of those on the left are accompanied by hostility and even hatred" (June 28, 2020). "Some people seem to think that the answer to all of life's imperfections is to create a government agency to correct them. If that is your approach, then go straight to totalitarianism. Do not pass 'Go.' Do not collect $200" (June 26, 2020). "Planned Parenthood was founded not simply as an organization for limiting the size of families in general but more particularly to reduce the reproduction of the black population in the United States, as Planned Parenthood founder Margaret Sanger herself noted" (June 26, 2020). "Some Americans will never appreciate America, until after they have helped destroy it, and have then begun to suffer the consequences" (Jude 26, 2020). "Our children and grandchildren may yet curse the day we began hyping race and ethnicity. There are countries where that has led to slaughters in the streets but you cannot name a country where it has led to greater harmony" (June 25, 2020). "One of the bittersweet things about growing old is realizing how mistaken you were when you were young. As a young political leftist, I saw the left as the voice of the common man. Nothing could be further from the truth" (June 23, 2020). "A vastly expanded welfare state in the 1960s destroyed the black family, which had survived centuries of slavery and generations of racial oppression" (June 22, 2020). "We keep hearing that 'black lives matter,' but they seem to matter only when that helps politicians to get votes, or when that slogan helps demagogues demonize the police. The other 99 percent of black lives destroyed by people who are not police do not seem to attract nearly as much attention in the media" (June 21, 2020). "Racial bean counters automatically attribute statistical differences between blacks and whites to racial discrimination. But they never attribute statistical differences between whites and Asian Americans to discrimination. When banks approve a higher percentage of loans to white applicants than to black applicants, that is automatically called discrimination, but when Asian-Americans are approved at a higher rate than whites, it is not" (June 20, 2020). "The time is long overdue to stop looking for progress through racial or ethnic leaders. Such leaders have too many incentives to promote polarizing attitudes and actions that are counterproductive for minorities and disastrous for the country" (June 19, 2020). "The principal impetus for the abolition of slavery came first from very conservative religious activists—people who would today be called 'the religious right.' Clearly, this story is not 'politically correct' in today's terms. Hence it is ignored, as if it never happened" (June 19, 2020). "Civil rights used to be about treating everyone the same. But today some people are so used to special treatment that equal treatment is considered to be discrimination" (June 18, 2020). "If you were to give reparations to everyone whose ancestors had been slaves, I suspect that you would have to give reparations to more than half the entire population of the globe. Slavery was not confined to one set of races" (June 18, 2020). "When I was growing up, we were taught the stories of people whose inventions and scientific discoveries had expanded the lives of millions of other people. Today, students are being taught to admire those who complain, denounce and demand" (June 15, 2020).

TALEEB STARKES, co-writer and executive producer of the documentary Mothers of No Tomorrow, author of Black Lies Matter: Why Lies Matter to the Race Grievance Industry (2016) and The Gospel of Knee-Sus: and Religion of Victimanity (2019). Starkes' The Top 5 Issues Facing Black Americans has been viewed more than 11 million times. The five issues are (1) Unquestioning allegiance to so-called progressive policies; (2) Proliferation of baby mamas (single mother households); (3) Urban terrorism (black on black violence); (4) Lack of diversity (censorship of conservative black thinking); (5) The victim mentality. Following is a quote from Starkes' video: "Issue #5: The victim mentality. Nothing holds someone back more than seeing himself as a victim. Why? Because the victim is not responsible for his situation. Everything is someone else's fault. And the victim sees little chance of improving his life. How can he get ahead if someone is holding him back? All of this makes the victim unhappy, frustrated, angry. This is how too many blacks see themselves, as victims. So much so that their victim status becomes their primary identity and ruling ideology. I call it victimology. Unfortunately many black churches preach this victimology. Many black parents pass it on to their children, inner city schools teach it to their students, and the black media reinforce it. Meanwhile, the NAACP and other black grievance groups fundraise on it" (The Top 5 Issues Facing Black Americans)
https://www.prageru.com/video/the-top-5-issues-facing-black-americans/

SHELBY STEELE, lawyer, former Lt. Gov. of Maryland (first black elected to statewide office in Maryland), former RNC Chairman, conservative political analyst, columnist, senior fellow at the Hoover Institution; author of White Guilt: How Blacks and Whites Together Destroyed the Promise of the Civil Rights Era (2007), A Dream Deferred the Second Betrayal of Black Freedom in America (2009), and Shame: How America's Past Sins Have Polarized Our Country (2015) -- "Dick Gregory was just the first black leader I encountered in the then brand-new age of white guilt. Martin Luther King had delivered his great speeches in the age of racism to a resistant America still minimizing the human toll of its racism. For King's generation of leaders racism was a barrier in the path to black freedom, and the goal was to remove it. But for this new generation of black leaders, racism existed within a context of white guilt, within a society that suffered a vacuum of moral authority precisely because of its indulgence in racism. Thus, America and all its institutions suddenly needed something from blacks—a people who in the past had been needed for little more than manual labor. By the mid-sixties white guilt was eliciting an entirely new kind of black leadership, not selfless men like King who appealed to the nation's moral character but smaller men, bargainers, bluffers, and haranguers—not moralists but specialists in moral indignation—who could set up a trade with white guilt. The most striking irony of the age of white guilt is that racism suddenly became valuable to the people who had suffered it. Racism, in the age of racism, had only brought every variety of inhuman treatment, which is why the King generation felt that extinguishing it would bring equality. But in the age of white guilt, racism was also evidence of white wrongdoing and, therefore, evidence of white obligation to blacks. ... Thus, white guilt made racism into a valuable currency for black Americans—a currency that enmeshed whites (and especially American institutions) in obligation not to principles but to black people as a class. (Notice that affirmative action explicitly violates many of the same principles—equal protection under the law, meritorious advancement—that the King-era civil rights movement fought for.) Lacking other sources of capital, blacks embraced racism as power itself. What was new for me on that hot August night was that Dick Gregory was not fighting to end racism as King had always done; he was giving us the ideas we needed to enlarge it" (White Guilt: How Blacks and Whites Together Destroyed the Promise of the Civil Rights Era). "So when people start to talk about systemic racism, built into the system, what they're really doing is expanding the territory of entitlement. We want more. We want society to give us more. Society is responsible for us, because racism is so systemic. Well, that's a corruption, and I know it's a corruption, because the truth of the matter is blacks have never been less oppressed than they are today. Opportunity is around every corner. In all of this, no one ever stops to say, well, you're unhappy with where minorities are at in American life, and blacks continue to be at the bottom of most socioeconomic measures. You're unhappy about that. Well, why don't you take some responsibility for that? Why don't you take more responsibility? I would be happy to look at all the usual bad guys, the police and so forth, if we had the nerve, the courage to look at black people. To look at black Americans, minority Americans, and say, you're not carrying your own weight. ... We're farther behind than we've ever been, and we keep blaming it on racism, blaming it on the police. I'm exhausted with that. I grew up in a time when there was real segregation. Blacks during the '50s took a lot of responsibility for their lives, because the government didn't. My father bought three ramshackle houses, rebuilt them, rented them out, kept clawing his way up the ladder. A man with a third-grade education from the South. What civil rights bill is going to replace that? That value system? And he was not exceptional. Across the community we lived in, those were the values. That is the problem. We have allowed ourselves to be enabled in avoiding our real problems by a guilty white society. ... There's always going to be some racism, in every society. My own sense is that it is endemic to the human condition. ... We have let this sort of guilty society, and our grievance industry, put us in this impossible situation where we are a permanent underclass. Before the '60s, there was no black underclass. That's a new phenomenon" (Life, Liberty, and Levin, June 7, 2020).

CAROL SWAIN, Ph.D. from University of North Carolina, Chapel Hill, , political scientist, former professor at Princeton and Vanderbilt universities, a member of Black Voices for Trump, author of New White Nationalism in America (2002), Black Faces, Black Interests: The Representation of African Americans in Congress (2006), Be the People: A Call to Reclaim America's Faith and Promise (2011), and Abduction: How Liberalism Steals Our Children's Hearts and Minds (2016) - "I think it's fascinating that at this point in American history it's like white people have lost their voice. So they are very intimidated. Nobody wants to be called a racist and the political Left understands this. So they have this concept of virtue signaling. So the corporations are trying to signal that they care about black people and they care about poor people by giving money to organizations like Black Lives Matter or those related to Antifa. And so that's part of what is going on. They are trying to buy peace. They are not buying peace. They are supporting anarchy. You see these people ripping down monuments. They need to be held accountable and be brought to justice. We have them on film. This has happened repeatedly in cities across the nation and the police stood idly by while mobs destroyed other people's property. I think it's a terrible period in American history and its wrong and won't benefit anyone. Most importantly it's not going end well. ... there are a lot of the older people who have children and because they were prosperous they sent them to elite universities where their kids were indoctrinated with this critical race theory. Critical feminist theory and all of the stuff like that. And the children are influencing the parents to the point where the parents are allowing them to make the decisions. And they are making bad decisions. They are destroying America. Nobody is going to like the country we end up with. I do believe that we run the risk of falling to another nation" ("Carol Swain Has a Direct Message for the President," The Tennessee Star, June 12, 2020). The following is Dr. Swain's article "Hope and Encouragement," The Daily Signal, June 22, 2020: "I am a conservative because I have tasted and spit out the depressing, self-defeating ideologies and fruits of progressive liberalism. Long before I knew I was a conservative, I was acting upon and living my life by conservative principles. Despite my poverty and lack as one of 12 children growing up in rural indigence, I still believed I could make good things happen, and that I was not destined to remain poor. I married at 16, started a family, and eventually earned a high school equivalency after having dropped out of school after completing the eighth grade. Next came a divorce and my entry into a community college, where I earned the first of five college and university degrees. A brief stint on welfare after my divorce convinced me of the need to get an education so I could get a 'good' job. It never occurred to me as I was studying, working, and raising my children that the world was stacked against me or that it owed me a better break because of my race, impoverished roots, female gender, or family status. It would take graduate school and studies of oppression to reveal to me that people from my background were doomed to poverty because of oppression and systematic racism. Fortunately, I was successful and thriving before I heard these depressing messages. My belief in the American Dream and its possibilities inspired me to study hard, make the dean's list at the community college, and graduate from the four-year college magna cum laude while working 40 hours a week on nights and weekends at the community college where I earned my first degree. I always have been a strong individualist who rejects groupthink and questions the behaviors and thought patterns of those around me. Today, I am a conservative because I believe in God, country, and nation. As a Black child in the rural South, I knew I lived in the greatest country in the world, and I took pride in being a Virginian because my state was the home of presidents. Slavery, Jim Crow, racism, and other realities of the Black experience never defined or crippled me. Conservatism offers hope and encouragement to those willing to avail themselves of opportunities" ("Hope and Encouragement," The Daily Signal, June 22, 2020).

A.J. SWINSON is director of development at New Journey PAC - "I am an African American millennial woman, and I'm a proud conservative. I learned conservative principles from my parents, who grew up in poverty in Washington, D.C., and Richmond, Virginia. My parents' political views changed when they became sold-out Christians. They began to see that progressive values did not line up with the Bible they studied each day. They also understood the Democratic Party's role in destabilizing the neighborhoods they grew up in. Today, my parents are successful despite their meager beginnings. They raised their children to be self-sufficient, entrepreneurial, and morally strong. These are the core principles of conservatism. Years ago, Black people built Rosewoods and Black Wall Streets around the country, and were successful despite Jim Crow laws, white supremacy, and oppression. We had a higher marriage rate than other races and focused on business and education. We put our faith in God, not man, to sustain us. Abraham Lincoln said, 'What is conservatism? Is it not adherence to the old and tried against the new and untried?' It was a mistake to leave what worked for us in the past to fit into a progressive agenda that expects blind loyalty (or we 'ain't Black') and fails to hold biblical principles in high regard. I am a conservative because I want to go back to what has been proven to work for us, and it's not socialism or a larger welfare state. It is faith in God, love for others, local investment and entrepreneurship, prioritizing education, and traditional values" ("Self-Sufficient, Entrepreneurial, Morally Strong," The Daily Signal, June 22, 2020).

BRANDON TATUM, ex-police officer, CEO of The Officer Tatum LLC -- "Growing up... I wasn't taught to love America. I wasn't taught Police were heroes. I wasn't taught to vote. I wasn't taught that marriage was honorable. I wasn't taught I was equal to white ppl. I learned the truth as an adult. This is what needs to change! ... Where are you at to support black lives at the abortion clinic? Maybe, If we told you white cops were doing the abortions at planned parenthood maybe you would care. Maybe not! ... It's not your race that's holding you back. It's your attitude! ... Barack Obama single-handedly hurt race relations more than any other president in the history of the United States. ... Defunding the Police will destroy America. ... I am sick of the racism and discrimination I see targeted at my white brothers and sisters. It making me sick to my stomach. White people cannot even have an opinion anymore, unless is PC. I will always fight for equality And not just for black folks But for all Americans ... When you cannot find enough real examples of racism or point out the racist individuals you create a fake unproven theory that no one can actually confirm or fix. Its all to keep people in fear, angry, and divided. ... For all you racists out here yelling #BlackLivesMatter, I'm here to tell you #AllLivesMatters. We all matter. Cops included. We all go through stuff. We are all working our butts off trying to live the America dream. Save your sab stories. Go get it like everyone else. I have yet to meet someone who is oppressed. I've only met people who claim someone else is oppressed. ... BLM want you to care about all black lives, yet they only care about black criminals killed by white police officers" (@TheOfficerTatum, June 1, 4, 6, 7, 11, 13, 2020).
https://www.youtube.com/watch?v=lMRVr8q3vdw&feature=youtu.be

LEO TERRELL, civil rights attorney and former Democrat -- "Ninety-eight percent of all police officers are good. Get rid of two percent but not the entire police force and I think that Black Lives Matter has hijacked this entire issue and now we're talking about taking down monuments, taking down statues, we're talking about painting streets. None of that goes to police reform and changing the system within the system. ... They don't even know what it ['systemic discrimination'] means. ... This is not 1960. You got Democratic cities--Chicago, Atlanta, LA--run by Democrats, run by people of color. There's chaos in those cities and they're calling 'systemic discrimination. They need to look in the mirror. This is not 1960. This is not Bull Connor. This is not German Shepherds chasing black folks down the street and yet they play this game of using a word, a term, a phrase that does not apply in 2020. ... Let me be as clear as possible: I, as a black man, as an American, do not support Black Lives Matter. Why? Very simple. Black Lives Matter doesn't care about all black lives. ... They are profiteers. You will see Al Sharpton--you'll see him at a police case involving a black man and a white officer, but other than that, those are the only black lives that matter" ("Civil Rights Attorney Talks about Being Shunned," Daily Caller, July 15, 2020). "As the Democratic Party gets ready to hold its national convention, I'd like to explain why I've left the Democratic party and will proudly cast my vote for President Donald Trump. First let me say, I did not leave the Democrats, they left me. The party of the Civil Rights movement, the party of JFK and 'Ask not what your country can do for you' has abandoned all its principles and handed the reins over to extremists. ... What has happened to the Democratic party? I don't even recognize it anymore — not since they allowed all policy decisions to be made by extremists within the Black Lives Matter and Antifa movements. ... I need, WE need, for Democrats to support law and order. We need Democrats to acknowledge that ALL Black lives matter ... that it means more than just the George Floyds of the world. It means the Black-on-Black crime that's killing children in Chicago, and the looting and riots that killed retired St. Louis police captain David Dorn, a Black man. Instead of seeing the very real and very necessary reason for police in poor neighborhoods, Democrats are calling to 'Defund the Police.' If you do this, who will answer the call to fight the drug dealers and the gang members in the neighborhood? I can assure you, it won't be a social worker and it won't be Senate Minority Leader Chuck Schumer, D-N.Y. Finally, the Democratic party has left me by refusing to acknowledge that President Trump is right about the corrosion of America's largest cities. Our cities are literally going up in flames, all while the elected officials blithely watch. And guess who's running them? Democrats. ... My vote depends upon one thing: who will fight for every American in this country? It's the candidate who will fight for law and order, and fight for equality of educational opportunities. My vote has been earned by a Republican, and that is our current President, Donald J. Trump" ("The Democratic Party left me this year," Fox News, Aug. 17, 2020).

CLARENCE THOMAS, most Senior Justice of the U.S. Supreme Court, the second African-American justice to serve on the court, author of My Grandfather's Son: A Memoir (2008) -- The following are from azquotes.com: "I'd grown up fearing the lynch mobs of the Ku Klux Klan; as an adult I was starting to wonder if I'd been afraid of the wrong white people all along - where I was being pursued not by bigots in white robes, but by left-wing zealots draped in flowing sanctimony." "The absolute worst I have ever been treated, the worst things that have been done to me, the worst things that have been said about me, are by northern liberal elites, not by the people of Savannah, Georgia." "Today, now, it is time to move forward, a time to look for what is good in others, what is good in our country. It is time to see what we have in common, what we have to share as human beings and citizens." "I believe that there is a moral and constitutional equivalence between laws designed to subjugate a race and those that distribute benefits on the basis of race in order to foster some current notion of equality. ... In my mind, government-sponsored racial discrimination based on benign prejudice is just as noxious as discrimination inspired by malicious prejudice." "I assert my right to think for myself, to refuse to have my ideas assigned to me as though I was an intellectual slave because I'm black." "A good argument diluted to avoid criticism is not nearly as good as the undiluted argument, because we best arrive at truth through a process of honest and vigorous debate. Arguments should not sneak around in disguise, as if dissent were somehow sinister... For it is bravery that is required to secure freedom."

JIMMY TILLMAN is a Heritage Action Sentinel from Illinois. Heritage Action is a grassroots movement of "local leaders, committed activists and champions for conservative victories. They are the front line of the conservative fight to keep congressmen accountable to the principles that will make life better for all Americans." "The easy answer [as to why I am a conservative] is because I am a God-fearing Christian, but I will share a more complex reason why the son of a civil rights icon and Democratic ward boss is a conservative. I am an alumnus of Central State University, a historically Black university in Wilberforce, Ohio, a town that was the last stop on one of the Underground Railroad lines. It was here where I learned how to ask the right questions and to think critically. I received my degree in history. As a historian, reflecting on Juneteenth (an American holiday commemorating when the last slaves in Galveston, Texas, got word that the Union was saved and they were granted rights as Americans), I am reminded that it was through the spirit of Christian values that the abolition movement was founded. I owe my citizenship to the brave men who fought and died in the Civil War. This includes many slaves, who afterward built viable communities throughout the South during Reconstruction. These former slaves went on to send five conservative representatives to the Senate and House. A quick look at most of the historical gains by Blacks in America and the conservative movement is usually behind it. Most recently, the Martin Luther King Republicans joined with the conservative group Reopen Illinois to campaign for the right to worship. This led to the governor's lifting an unconstitutional ban on churches" ("Christian Values and Critical Thinking," The Daily Signal, June 22, 2020).

TERRIS E. TODD is executive director of the White House Initiative on Educational Excellent for African Americans, former administrator in K-12 public schools, vice chairman of the Michigan Republican Party - "The White House Initiative on Educational Excellence for African Americans, where I am executive director, was created to strengthen our nation by improving educational outcomes for African Americans of all ages. The mission includes helping ensure students are prepared for college and productive careers to contribute to the well-being of society. ... My conservative beliefs and values have always been a way of life for me. That belief system carries with me in everything that I do and in every job I have ever had. The belief that God is supreme to all creation, that our freedoms are given by God and protected by government, are just a few conservative values that I long have embraced and will continue to share with those I come in contact with throughout my lifetime" ("Way of Life," The Daily Signal, June 22, 2020).

SCOTT TURNER, former professional football player with the NFL, Texas Republican state representative for the 33rd District 2012-2016, currently director of the White House Opportunity and Revitalization Council - "So the White House opportunity and Revitalization Council is made up of 13 federal agencies and three state and federal partners ... to help streamline and coordinate the resources of these said agencies into Opportunity Zones projects from a day to day basis. What we're doing right now is we're going on a nationwide listening tour. ... we have the opportunity to make a generational impact, us together. See, revitalization doesn't have a color. It doesn't have a party. Revitalization starts in the heart of every man. ... See, there hasn't been much investment, if you will, in these communities in decades upon decades. But I believe that as we implement these initiatives and as we keep our focus correct during the implementation and the projects and the things that take place in the said cities and communities, that the impact will be generational, that those kids that I see running around and the projects and the neighborhoods of America as I've seen on this listening tour, them and their children will be affected" ("The White House's Vision for Opportunity Zeons," opportunitydb.com, May 29, 2019). In June 2020, Turner spoke against kneeling at major league sports games. "On any job in America, I believe you don't have the opportunity to kneel when you go to work. As NFL players, we play in the NFL. That's our sport, that's our job, that's a time to stand. [Citing his grandfather's service in World War II, he said he would] never agree with anybody disrespecting the flag of the United States of America" ("Ex-NFL player from Texas," The Dallas Morning News, June 4, 2020).

HERSCHEL WALKER, former NFL star, businessman -- "I have an idea. For all these people who don't want any police, I'd love to meet with American Airlines, Delta, and Southwest and make a deal to fly them to countries that don't have police. I want them to be happy!" (@HerschelWalker, June 17, 2020). Walker spoke at the Republican National Convention on August 24, 2020. He said, "It hurts my soul to hear the terrible names that people call Donald. The worst one is 'racist.; I take it as a personal insult that people would think I would have a 37-year friendship with a racist. People who think that don't know what they are talking about. Growing up in the deep south, I have seen racism up close. I know what it is. And it isn't Donald Trump. Just because someone loves and respects the flag, our National Anthem, and our country doesn't mean they don't care about social justice. I care about all of those things, and so does Donald Trump. He shows how much he cares about social justice and the black community through his actions. And his actions speak louder than any stickers or slogans on a jersey." That night Walker told Laura Ingraham of Fox News, "We have a Democratic Party, today, not telling anyone where they stand on anything. That is the honest truth, but they want you to go to a voting booth and make an emotional decision. I was raised Democrat, and I didn't know any better, and what's strange is I'm not saying the Democrat Party is bad, I'm saying it doesn't fit what I believe. First of all, I believe in God, I believe in family, I believe in the American flag, I believe in the national anthem. I believe in law and order. While the Democrat Party has not said that they believe in any of those things. That's what made America beautiful. ... It seems like we have a political civil war right now where people are afraid to speak their mind and that's sad" ("Hershel Walker explains," Fox News, Aug. 25, 2020). On September 7, 2020, Walker tweeted a video stating, "I've watched a lot of these beautiful cities being destroyed by people rioting and I saw all these local leaders that won't step to the plate to protect their citizens or their citizens' businesses. So I'm going to step up to the plate and become a local leader in a sense that I want to put in a mandate that anyone arrested during a riot and they're not from that city, they don't have a resident in that city or that town, should be arrested and get federal time." In May 2022, in his run for the GOP U.S. Senate primary in Georgia, Walker said he supported a total ban on abortion. "There's no exception in my mind. Like I say, I believe in life. I believe in life."

DAVID WEBB, commentator, journalist, co-founder of Tea Party 365, host of the David Webb Show -- "I would like to start with a simple quote, 'There is a class of colored people who make a business of keeping the troubles, the wrongs, and the hardships of the negro race before the public. Some of these people do not want the negro to lose his grievances because they do not want to lose their jobs. There is a certain class of race problem solvers who don't want the patient to get well.' That was said by Booker T. Washington. ... To anyone who believes that America is institutionally racist, I will challenge you to do this. Go into communities and deal with problems by examining the roots of those problems, the foundations. The foundation of problems start with the individuals, and there are factors. There are factors of education ... family structure. In the 1960s, 80 plus percent of blacks were two parent homes. Today that is reversed completely the other way. There are a lot of factors: the entitlement system, the growth of liberalism to a point of progressivism beyond any imaged course. Education comes from a strong or blended family unite. That is your best path to success. And when it comes to single parentage of any ethnicity, a single mother has a higher likelihood of being in poverty, therefore raising a child in poverty. I'm addressing foundation. Because it is easy to argue ... the emotion, the misapplication of facts, and the narratives, but if we do not address the foundation of the problem we will not advance as a society. ... America is not perfect, but working towards a more perfect union. ... Look for solutions; do not fall into false claims; do not follow charlatans; do not follow shake-down artists who want to draw you into arguments rather than have true debate on substance. ... We talk about skin color. Our skin is not an organ. It does not think; it does not form ideas; it is merely the genetic result of our parents. Our ability to use our brain and reason a free society such as in America is why we have overturned the blight and the negative aftermath of racism that began with colonial slavery. America is a land of opportunity as promised in our Declaration of Independence and preserved legally in our Constitution and the Bill of Rights. We have amended our Constitution and we have evolved as a nation. Our people stand proud to support and defend opportunity and freedom for all" ("The United States Is Not Institutionally Racist," Oxford Union Society, renowned debating society, May 12, 2015,
https://www.youtube.com/watch?v=pv7hsiUirUU

DEE DEE BASS WILBON, a partner at Bass Public Affairs in Washington, D.C. - "I was in my early 20s working in a brand-new job after college when I was first asked, 'Why are you a conservative?' The co-worker also felt the need to remind me that I was Black, which he believed made it even more egregious. The first political campaign I worked on was in the mid-1980s for a Black woman running for city council in my hometown. She believed that human life began at conception. She believed in the free market giving everyone an opportunity to increase financially. She believed that you should be able to attend a school or get a job based on your ability and not because of the color of your skin. I was 12 years old when I worked on that campaign. As a kid, conservative principles made perfect sense even if I had not yet heard the word conservative. They make perfect sense today as they align with what I have been taught as a Christian. The answer to my colleague's question was easy for me then as a young single woman, and remains easy for me almost 30 years later as a wife and mother of two. I am a ­­­­conservative because of Christian values. I love America. Our nation is an imperfect experiment in a democracy founded on Judeo-Christian values. I believe that as we move away from these founding principles, we move away from our destiny of being one nation under God with liberty and justice for all" ("Founding Principles," The Daily Signal, June 22, 2020).

DAREN WILLIAMS, director of policy and endorsements at New Journey PAC - "Most if not all people assume that conservatism was born by way of Edmund Burke's critique of the French Revolution in 1790, and the writing of others before him such as Richard Hooker, the Marquess of Halifax, and David Hume. That is, the fundamental ideas and practices of conservatism are the legacy of old English white men. It is with this misconception and failed understanding of the world's history that conservatism is scorned as a white man's ideology, particularly by Black Americans. The roots of conservatism did not grow from the minds or hands of white men or any other race of man. The core values of conservatism were first written by the hand of God on the tablets which Moses held as he descended Mount Sinai to give to the Children of Israel. The Ten Commandments are the true origins of conservatism, passed down from generation to generation for millenniums. At times lost through stubbornness and pride, but always found in the humble pursuit of Truth. These 10 fundamental laws are the infallible building blocks of conservatism and of a truly sustainable society, starting with the individual's responsibility to God and then his love for his neighbors. They enshrine and guarantee, if followed, a healthy, long-standing, and thriving individual, family, community, and nation of people. And if ignored, the weakening, destruction, and demise of those entities, in that exact order. Why I'm a Black conservative has absolutely nothing to do with the color of my skin. It has everything to do with the origin of conservatism, which is from the same hands of my origin: God" ("Origins of Conservatism," The Daily Signal, June 22, 2020).

DEANA BASS WILLIAMS, partner at Bass Public Affairs in Washington, D.C. - "Three fundamental beliefs make me a conservative. I believe in the value of the individual over the state. I value freedom of expression. I believe life is a gift from God and should be protected and celebrated. These foundational principles governed my way of thinking long before I had heard the term conservative, and even longer still before I knew anything about the 'conservative movement.' In my life, the best solutions on how to respond to challenges all have come from my family, my church, and my immediate community, not from the government. My community, not the government, has done a better job of dismantling poverty, alleviating educational disparities, and improving health care outcomes. In my life, solutions to depression and despair were found in the church and not by a government program. While the left professes to promote tolerance, my experience bears out that their tolerance extends only to their ideas. As a professional communicator for almost three decades, I have grown to value a fundamental principle of conservatism, and that is the freedom of expression and the marketplace of ideas. Of course, when conservatives say they value life, the immediate thought goes to the abortion debate. While protecting the unborn is critical, it is merely the foundation of the sanctity of life argument. Conservatism's emphasis on life extends to supporting policies that empower and protect human life at every stage of development. Yes, that means defunding killing machines such as Planned Parenthood, but it also means reforming a criminal justice system that shows bias against African Americans" ("Three True North Principles," The Daily Signal, June 22, 2020).

WALTER E. WILLIAMS, Professor of Economics at George Mason University -- "While it might not be popular to say in the wake of the recent social disorder, the true plight of black people has little or nothing to do with the police or what has been called 'systemic racism.' Instead, we need to look at the responsibilities of those running our big cities. Some of the most dangerous big cities are: St. Louis, Detroit, Baltimore, Oakland, Chicago, Memphis, Atlanta, Birmingham, Newark, Buffalo and Philadelphia. The most common characteristic of these cities is that for decades, all of them have been run by liberal Democrats. Some cities -- such as Detroit, Buffalo, Newark and Philadelphia -- haven't elected a Republican mayor for more than a half-century. On top of this, in many of these cities, blacks are mayors, often they dominate city councils, and they are chiefs of police and superintendents of schools. Democratic-controlled cities have the poorest-quality public education despite their large, and growing, school budgets. Consider Baltimore, Maryland. In 2016, in 13 of Baltimore's 39 high schools, not a single student scored proficient on the state's math exam. In six other high schools, only 1% tested proficient in math. Only 15% of Baltimore students passed the state's English test. That same year in Philadelphia only 19% of eighth-graders scored proficient in math, and 16% were proficient in reading. In Detroit, only 4% of its eighth-graders scored proficient in math, and 7% were proficient in reading. It's the same story of academic disaster in other cities run by Democrats. ... White liberals and black politicians focus most of their attention on what the police do, but how relevant is that to the overall tragedy? According to Statista, this year, 172 whites and 88 blacks have died at the hands of police. To put police shootings in a bit of perspective, in Chicago alone in 2020 there have been 1,260 shootings and 256 homicides with blacks being the primary victims. That comes to one shooting victim every three hours and one homicide victim every 15 hours. Three people in Chicago have been killed by police. If one is truly concerned about black deaths, shootings by police should figure way down on one's list -- which is not to excuse bad behavior by some police officers" ("The True Plight of Black Americans," Townhall, June 10, 2020).

ALLEN B. WEST, retired lieutenant colonel, paratrooper, combat veteran, former member of U.S. Congress (Florida), Senior Fellow of the Media Research Center, author of We Can Overcome: An American Black Conservative Manifesto (2020) -- "The purpose of this literary endeavor is to historically articulate the principles, values, and foundations of the black community, tracing the steps from slavery to the Black Lives Matter movement and highlighting the people and events that proved to be pivotal to the history of the black America. I intend to advocate not for a political party alignment but for the return of the black community to its founding principles: family union and values; education as a pivotal strategy for moving upward and onward; the independent and entrepreneurial mind‐set of the black businessperson; selfless military service to defend the core principles of our country; and respect for authorities. This book will place emphasis on the teachings and philosophies of our black predecessors. First among them is Booker T. Washington, born a slave in Virginia, as he explained in his 1901 autobiography Up from Slavery. He understood the value and power of self‐improvement and professed the importance of uplifting the people through education—especially job training that allowed black youths to become skillful and employable workers. He urged the black community to learn a skill, distinguish themselves by working hard, and improve their quality of life by saving money and becoming property owners—a philosophy my parents proudly applied to their life. After attending the Hampton Institute in Virginia, a school he arrived at with only fifty cents in his pocket, he established the Tuskegee Institute in Alabama. His non-confrontational and indirect approach toward the widespread racial inequality suited the white community. As a result, many wealthy white people, such as John D. Rockefeller Jr., perceived Washington as a nonbelligerent and educated black man and were happy to financially help and support his projects. While Washington preached a gradual and accommodating economic approach to the improvement and advancement of the black community, W. E. B. Du Bois--born a free man--ignited the fire in them with militant dialectic that admonished Washington's placid tones and accused him of worsening economic and racial disparities with the white community. In The Souls of Black Folk, his collection of essays published in 1903, Du Bois urged the black community to stop being submissive and start fighting for civil rights and for full citizenship rights. He highlighted the importance of a college education for black youth--he himself had a PhD in history from Harvard University--as the primary way for them to become leaders. Even though these two leaders presented two different philosophies, their ultimate goal was the same: allow blacks to become strong, independent, first‐class citizens of the country they helped build. Our history in America is not of being victims; it is of being victors, even in the harshest of conditions. It is time we stop singing 'We Shall Overcome' and assess the means by which we can overcome. Our predecessors gave us the keys, and it is time we found them again. This book is my American black conservative manifesto. An attempt to restore the true‐north principles of the American black community. I believe that we can overcome, but it will require us to go back to the ways, perspectives, and teachings of the ol' folks who fought to bring us out of physical bondage and enslavement--but not to see us weighed down by the metaphysical chains of economic enslavement. My hometown Atlanta Falcons have a saying that is appropriate for this moment: 'Rise up!'" (We Can Overcome: An American Black Conservative Manifesto, 2020).

JOHN WOOD, JR., is a national leader for Braver Angels, a grassroots organization that focuses on political depolarization, former Vice-Chairman of the Republication Party of Los Angeles County, writer, speaker. He was raised by a mother who's a liberal black Democrat from inner city LA and father who's a conservative white Republican from Tennessee. His father emphasized the greatness of black culture in the context of the greatness of America and made him proud of being a black man. "Who has a greater claim to the legacy of America--the men who enslaved their fellow human-beings in contradiction of the principles that guided the nation's founding, or the slaves who, through a greater belief in freedom, added to the canon of freedom that enriches America's understanding of herself to this day? Who has a greater claim--those white people who defended the 'peculiar institution' or those white people who enthusiastically received Frederick Douglass and Harriet Jacobs on the lecture circuit, plus the thousands upon thousands who read their books and pushed forward the cause of freedom? Do the triumphs of these devotees to freedom and equality in America begin a story about our nation's moral failures, or is it a story about America's long march towards her higher aspirations? The answer to this question depends on what we, as Americans, choose to define our nation and ourselves by. This, in turn, will determine what our nation will become" ("Acknowledging Slavery's Limits in Defining America," 1776unites.com).

ROBERT WOODSON, SR., veteran of the 1960s civil rights movement, founder of the Woodson Center and the 1776 Unites program - "Robert L. Woodson Sr., a veteran of the 1960s civil rights movement, condemned both the BLM riots and the [New York Times] 1619 Project. He has fought to empower the black community for decades, and he told PJ Media that the riots and the 1619 Project actually harm the cause of helping inner-city blacks. 'Low-income blacks are the collateral damage' of the riots, Woodson told PJ Media. 'It's really damaging. Many of the businesses that are being torched are black-owned businesses. In my own neighborhood of Philadelphia, they burned down a grocery store that employed ex-offenders and a center that treated dialysis patients. I don't know what this has to do with social justice,' he quipped. Woodson, who founded the Woodson Center in 1981 in order to help residents of low-income neighborhoods address the problems of their communities, chastised the leaders of the Black Lives Matter movement and insisted that the 1960s civil rights movement never worked hand-in-glove with violent rioters. ... He condemned other civil rights veterans as 'complicit' with the riots 'because they're not speaking out' against them. ... Of the rioters, Woodson insisted, 'Their target isn't injustice in America, it's America itself. They have stopped all pretense of being interested in social justice for blacks. They're after civil society itself.' ... The Woodson Center recently launched a program called 1776 Unites, which combats the 1619 Project's claim that America's true founding came with the arrival of the first black slaves, rather than with the Declaration of Independence. ... While the 1619 Project seeks to 'present America as a criminal organization founded on slavery,' 1776 Unites explains that 'slavery was America's birth defect, but America is not defined by its defect but by the promise of 1776.' ... 1776 Unites includes a team of 20-25 black and white scholars who champion the black Americans who used the free market to build their own prosperity, often facing stiff odds. It also includes 'community activists whose lives embody' the spirit of redemption for inner-city communities. 'There's a move afoot in black America to recognize that the problems we're confronting are internal and can't be solved by external means,' Woodson said" ("Civil Rights Vet Warns Against BLM Riots," PJ Media, July 30, 2020). "In Woodson's view, the 1619 Project inculcates the 'diabolical, self-destructive' idea that 'all white Americans are oppressors and all black Americans are victims.' 'Though slavery and discrimination undeniably are a tragic part of our nation's history, we have made strides along its long and tortuous journey to realize its promise and abide by its founding principles. People are motivated to achieve and overcome the challenges that confront them when they learn about inspiring victories that are possible and are not barraged by constant reminders of injuries they have suffered'" ("1776 Is Helping Turn Civics Education Around," RealClearEducation, Aug. 26, 2020).


- Receive these reports by email
- www.wayoflife.org

______________________


Sharing Policy: Much of our material is available for free, such as the hundreds of articles at the Way of Life web site. Other items we sell to help fund our expensive literature and foreign church planting ministries. Way of Life's content falls into two categories: sharable and non-sharable. Things that we encourage you to share include the audio sermons, O Timothy magazine, FBIS articles, and the free eVideos and free eBooks. You are welcome to make copies of these at your own expense and share them with friends and family. You may also post parts of reports and/or entire reports to websites, blogs, etc as long as you give proper credit (citation). A link to the original report is very much appreciated as the reports are frequently updated and/or expanded. Things we do not want copied and distributed are "Store" items like the Fundamental Baptist Digital Library, print editions of our books, electronic editions of the books that we sell, the videos that we sell, etc. The items have taken years to produce at enormous expense in time and money, and we use the income from sales to help fund the ministry. We trust that your Christian honesty will preserve the integrity of this policy. "For the scripture saith, Thou shalt not muzzle the ox that treadeth out the corn. And, The labourer is worthy of his reward" (1 Timothy 5:18). Questions? support@wayoflife.org
Goal:Distributed by Way of Life Literature Inc., the Fundamental Baptist Information Service is an e-mail posting for Bible-believing Christians. Established in 1974, Way of Life Literature is a fundamental Baptist preaching and publishing ministry based in Bethel Baptist Church, London, Ontario, of which Wilbert Unger is the founding Pastor. Brother Cloud lives in South Asia where he has been a church planting missionary since 1979. Our primary goal with the FBIS is to provide material to assist preachers in the edification and protection of the churches.

Offering: Offerings are welcome if you care to make one. If you have been helped and/or blessed by our material offerings can be mailed or made online with with Visa, Mastercard, Discover, or Paypal. For information see: www.wayoflife.org/about/makeanoffering.html.
Publisher of Bible Study Materials
Publisher of Bible Study Materials