Publisher of Bible Study Materials
Publisher of Bible Study Materials
The following is excerpted from "What Does It Mean to Be Justified" by God by Harry A. Ironside: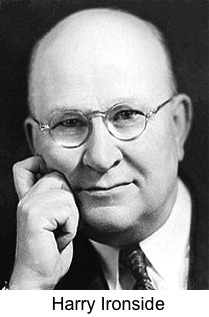 S
ome years ago a friend of mine
was preaching in a certain place, and somebody came to him one day and said, "Could you come and see a woman who is very sick? We are afraid she is dying. She is troubled about her soul and doesn't seem to understand the way." Of course he gladly went as any of us would under such circumstances. As he entered the room and sat down beside the bed, the woman said, "Tell me what is necessary in order that my soul may be saved and my sins forgiven." He told her the old, old story, the story of the Cross. He told her how "God commendeth his love toward us, in that, while we were yet sinners, Christ died for us" (Romans 5:8). He told her how, hanging on that cross in those awful hours of darkness, our blessed Lord Jesus, as the substitute for sinners, drank the cup of wrath that we deserved and made full satisfaction for iniquity; and now God can justify everyone who believes in Him, whom He raised from the dead.


When he finished, she said, "Oh yes, I know, I understand all that, but I don't see how I can know that my sins are forgiven." So again, very patiently, he went over the same story, but tried to present it in a little different light. He told her that the Lord Jesus was the one great sacrifice for sin, that He offered Himself for our sins, that He was made sin for us, He who knew no sin, that we might be made the righteousness of God in Him.
And when he finished, she said, "Yes, I understand that, but is that all that is required?"
The evangelist sprang from his seat. He was a very fiery man by nature, and sometimes the fire came out even after he became a Christian. He said in a tone that shook the room, "You wicked woman!"
And she, lying there so sick, was almost terrified and said to him, "Oh, sir, why do you talk to me like that?"
"You wicked woman, you vile woman! You ask me what is necessary in order that you may be saved. I tell you how God has bankrupted Heaven to save your guilty soul. I tell you how He has sent His own blessed Son to give His life for you. I tell you how He was forsaken of God upon that Tree, and you have the insolence to look up into the very face of God and say, 'Is that all?' What more would you want? It is all that God Himself could do."

She burst into tears and exclaimed, "Oh, sir, I understand. I did not realize what I was saying. Oh, I thank God for what He has done. It is enough! If it is enough for God, it surely is enough for me!"
Send to Kindle


- Receive these reports by email
- www.wayoflife.org

______________________


Sharing Policy: Much of our material is available for free, such as the hundreds of articles at the Way of Life web site. Other items we sell to help fund our expensive literature and foreign church planting ministries. Way of Life's content falls into two categories: sharable and non-sharable. Things that we encourage you to share include the audio sermons, O Timothy magazine, FBIS articles, and the free eVideos and free eBooks. You are welcome to make copies of these at your own expense and share them with friends and family. You may also post parts of reports and/or entire reports to websites, blogs, etc as long as you give proper credit (citation). A link to the original report is very much appreciated as the reports are frequently updated and/or expanded. Things we do not want copied and distributed are "Store" items like the Fundamental Baptist Digital Library, print editions of our books, electronic editions of the books that we sell, the videos that we sell, etc. The items have taken years to produce at enormous expense in time and money, and we use the income from sales to help fund the ministry. We trust that your Christian honesty will preserve the integrity of this policy. "For the scripture saith, Thou shalt not muzzle the ox that treadeth out the corn. And, The labourer is worthy of his reward" (1 Timothy 5:18). Questions? support@wayoflife.org
Goal:Distributed by Way of Life Literature Inc., the Fundamental Baptist Information Service is an e-mail posting for Bible-believing Christians. Established in 1974, Way of Life Literature is a fundamental Baptist preaching and publishing ministry based in Bethel Baptist Church, London, Ontario, of which Wilbert Unger is the founding Pastor. Brother Cloud lives in South Asia where he has been a church planting missionary since 1979. Our primary goal with the FBIS is to provide material to assist preachers in the edification and protection of the churches.

Offering: Offerings are welcome if you care to make one. If you have been helped and/or blessed by our material offerings can be mailed or made online with with Visa, Mastercard, Discover, or Paypal. For information see: www.wayoflife.org/about/makeanoffering.html.