A New Testament Church Is a Purifying Church
David Cloud, Way of Life Literature, P.O. Box 610368, Port Huron, MI 48061
866-295-4143,
fbns@wayoflife.org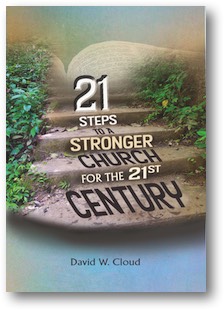 I
t is impossible
to know if we have New Testament churches today, or to build New Testament churches today, if we don't compare them with, and model them after, Scripture. The pattern is not found in the church fathers, the Waldenses, the Lollards, the Anabaptists, the Lutherans, the Anglicans, the Reformed Presbyterianism, the Geneva Calvinists, the British general Baptists or particular Baptists, the Brethren, Pentecostalism, Charismaticism, Fundamentalism, Evangelicalism, New Reformed Calvinism, denominational Baptists, or any of the streams of Independent Baptists. All of these must be measured by the one infallible rule of the New Testament faith.


"Your glorying is not good. Know ye not that a little leaven leaveneth the whole lump? Purge out therefore the old leaven, that ye may be a new lump, as ye are unleavened. For even Christ our passover is sacrificed for us: Therefore let us keep the feast, not with old leaven, neither with the leaven of malice and wickedness; but with the unleavened bread of sincerity and truth" (1 Corinthians 5:6-8).


This is a true New Testament church. If a church is not purging, it is not a New Testament church. This means that most churches today are man-made. They are following human tradition rather than God's Word. Members can commit fornication with the world (James 4:4) with no consequences.

Paul likens the church to the feast of unleavened bread (Ex. 12:15). It began on the day of Passover, which signifies salvation (Ex. 12:1-14). It lasted seven days, the number of completion, signifying the entire Christian life. Beginning with salvation, the child of God is to purify himself of leaven, which is defined as "malice and wickedness" (1 Co. 5:8). This refers to the sins of the spirit and the flesh.

The purging is
absolutely necessary
(1 Co. 5:6). "Your glorying is not good. Know ye not that a little leaven leaveneth the whole lump?" A church that is not purging out leaven is being leavened and is on the way to apostasy, which can happen in one generation. If young church members are allowed to live in worldliness with no consequences, that church is doomed.

The purging is
a strong command
(1 Co. 5:7). "Purge out" is the Greek aorist which is like a military command, "Purge it out!" God doesn't accept sin in the Christian life and church. "My little children, these things write I unto you, that ye sin not" (1 Jo. 2:1). Sin is present, but it must not be ignored. It must be dealt with by repentance and confession, or God will chasten as He did some at Corinth who were abusing the Lord's Supper and were not judging themselves (1 Co. 11:28-32).

The purging is
because of Christ's sacrifice
(1 Co. 5:7). He died to save us from our sins, not that we might continue in our sins. "Who gave himself for us, that he might redeem us from all iniquity, and purify unto himself a peculiar people, zealous of good works" (Tit. 2:14).

The purging is
strict
. "... there shall no leavened bread be seen with thee" (Ex. 13:7). The purging of all leaven describes the aim for perfect holiness in the Christian life. "... let us cleanse ourselves from ALL filthiness of the flesh and spirit" (2 Co. 7:1). "Wherefore laying aside ALL malice, and ALL guile, and hypocrisies, and envies, and all evil speakings" (1 Pe. 2:1). "And have NO fellowship with the unfruitful works of darkness" (Eph. 5:11). These Scriptures are to be applied to every area of the life: personal life, family life, church life, music, dress, occupation, entertainment, literature, social media, friends, associates. This is a very strict way of life!

The purging must be
continual, persistent, unceasing
(1 Co. 5:8). To "keep the feast" points to a process. The feast of unleavened bread in Israel was a week long, seven days, which is the number of completion. The feast of unleavened bread in the Christian life is lifelong. It is a daily, continual purging. It is a process of putting off the old man and putting on the new man (Eph. 4:22-24). It requires an atmosphere of purging, a purging type of church, which consists of such things as 2 Timothy 4:2-type preaching, effectual teaching, personal Bible reading, study, memorization, and meditation, exhorting one another, discipline. As soon as the purging stops, the growth stops. When a church ceases to be a purging church, it is on the path of eventual apostasy.

There are two aspects of sanctification in this chapter. There is positional sanctification, which is the believer's position "in Christ"; it is eternal and unchanging ("ye are unleavened," 1 Co. 5:7). And there is practical sanctification, which is progressive sanctification, Christian growth ("purge out therefore the old leaven," 1 Co. 5:7).

A purging church requires a regenerate church membership. Unsaved people will not respond to spiritual purging. It is impossible to have a pure lump church if it is a mixed multitude of saved and lost.

This is not a church that is content with a congregation full of leaven as the status quo. Paul didn't allow even one member to continue in disciplinary sin. For a pastor to be content with a leavened lump is to be a rebel against God. That is not a New Testament church.

The purging pleases Christ and has His blessing and power (1 Co. 5:4). "In the name of our Lord Jesus Christ, when ye are gathered together, and my spirit, with the power of our Lord Jesus Christ." We must not fear man. We must not fear the human consequences of discipline. If God be for us, who can be against us!


- Receive these reports by email
- www.wayoflife.org

______________________


Sharing Policy: Much of our material is available for free, such as the hundreds of articles at the Way of Life web site. Other items we sell to help fund our expensive literature and foreign church planting ministries. Way of Life's content falls into two categories: sharable and non-sharable. Things that we encourage you to share include the audio sermons, O Timothy magazine, FBIS articles, and the free eVideos and free eBooks. You are welcome to make copies of these at your own expense and share them with friends and family. You may also post parts of reports and/or entire reports to websites, blogs, etc as long as you give proper credit (citation). A link to the original report is very much appreciated as the reports are frequently updated and/or expanded. Things we do not want copied and distributed are "Store" items like the Fundamental Baptist Digital Library, print editions of our books, electronic editions of the books that we sell, the videos that we sell, etc. The items have taken years to produce at enormous expense in time and money, and we use the income from sales to help fund the ministry. We trust that your Christian honesty will preserve the integrity of this policy. "For the scripture saith, Thou shalt not muzzle the ox that treadeth out the corn. And, The labourer is worthy of his reward" (1 Timothy 5:18). Questions? support@wayoflife.org
Goal:Distributed by Way of Life Literature Inc., the Fundamental Baptist Information Service is an e-mail posting for Bible-believing Christians. Established in 1974, Way of Life Literature is a fundamental Baptist preaching and publishing ministry based in Bethel Baptist Church, London, Ontario, of which Wilbert Unger is the founding Pastor. Brother Cloud lives in South Asia where he has been a church planting missionary since 1979. Our primary goal with the FBIS is to provide material to assist preachers in the edification and protection of the churches.

Offering: Offerings are welcome if you care to make one. If you have been helped and/or blessed by our material offerings can be mailed or made online with with Visa, Mastercard, Discover, or Paypal. For information see: www.wayoflife.org/about/makeanoffering.html.
Publisher of Bible Study Materials
Publisher of Bible Study Materials