A New Testament Church Has a Vision for Evangelism and World Missions
David Cloud, Way of Life Literature, P.O. Box 610368, Port Huron, MI 48061
866-295-4143,
fbns@wayoflife.org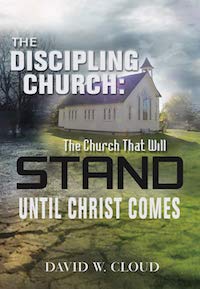 The following material is excerpted from
THE DISCIPLING CHURCH: THE CHURCH THAT WILL STAND UNTIL JESUS COMES
,
550 pages. Available from www.wayoflife.org.

__________

Outline
The Scriptural Emphasis
An Independent Baptist Vision
An Example of That Vision

The heart of the Lord's Great Commission is evangelism and missionary church planting.

Building and maintaining passion for this great work is a major part of a discipling church.

It puts a vision before the people of what God is doing today and encourages them to find their part in this great business.

In a church that is zealous for Christ's Great Commission and makes this a major, major priority--other things being right--young people tend to surrender to God's calling of "full time ministry." It is God, and not churches, that calls individual young people to be preachers and missionaries and church leaders and pastor's wives, but God does this through the vision of His work being kept before the people.

The Scriptural Emphasis

This is the commandment that Christ emphasized to His disciples after He rose from the dead.

See Matthew 28:18-20; Mark 16:15; Luke 24:48; John 20:21; Acts 1:8; 2 Corinthians 5:20; Philippians 2:16.

This Commission is in effect until the end of the age ("lo, I am with you alway, even unto the end of the world," Mt. 28:20).

This Commission is the theme of the book of Acts.

This Commission is at the heart of Christian discipleship.

This Commission is the purpose for which Christ came (Luke 19:10). Christ died that men might be saved, and His death does not benefit men unless they hear the gospel, which is the power of God unto salvation to those who believe (Luke 24:46-47).

Thus, Christ commanded that the gospel be preached to every person in every nation, and He commanded that those who believe should be baptized and taught to "observe all things whatsoever I have taught you" (Mt. 28:19).

We see in the book of Acts and the epistles that this requires the establishing of sound churches which are the pillar and ground of the truth (Acts 14:23; 1 Timothy 3:15; Titus 1:5).

This is a BIG task that requires a lot of workers, and one of the church's chief jobs is to pray for and train workers for this great harvest.

An Independent Baptist Vision

One of the things that attracted me to Independent Baptist churches as a new Christian in 1973 was the evangelistic, missionary, church-planting zeal: every member being trained for and encouraged to be an ambassador for Christ (2 Co. 5:20); training and sending out missionaries; supporting missionaries directly; meeting missionaries personally; reading their prayer letters and praying for them specifically.

Growing up in the Southern Baptist Convention, I had never met a real missionary that I can recall. And the missionaries we learned about were dead ones like Lottie Moon.

In contrast, Highland Park Baptist Church in Chattanooga, Tennessee, trained and sent out missionaries, gave half of its budget to missions and held massive annual missionary conferences attended by "real" missionaries who testified of the miracles God was performing in lives around the world. This Great Commission vision was one of the chief reasons why Highland Park left the Southern Baptist Convention.

A large Great Commission vision was typical of Independent Baptists of that day.

The first church I joined was small and young and still meeting in a storefront building, but it had a Great Commission vision, and many of the young people surrendered to God's will and trained for His service.

Aggressive evangelism (not shallow Quick Prayerism but biblical evangelism) and church planting keeps spiritual excitement alive in the congregation. It gives a forward-looking vision. It produces new converts to disciple.

An Example of That Vision

The missionary vision is gradually dying among Independent Baptists. Fewer men and women are surrendering, fewer are training, fewer are going to foreign lands to live, fewer new churches are being planted.

And the evangelistic missionary vision in many Independent Baptist churches even in the "heyday" was corrupted by such things as shallow evangelistic methodologies, spiritual and biblical shallowness,

But in our ministry we continue to major on Christ's Great Commission, and we have found that this is something that God greatly blesses. It only stands to reason that God will bless a church that makes a big deal of the things that God loves.

Our people think that aggressive evangelism and church planting are normal!

We keep this fire burning in all sorts of ways: by making it a constant emphasis in every part of the preaching and teaching ministry, by making it a part of our basic discipleship course, by making it a major emphasis of youth discipleship and the youth conferences, by annual missions conferences that challenge the people and impart a fresh and larger vision, by focusing on personal evangelism and leading the people and organizing the people in this work locally, by seeking to reach every person in our entire area with the gospel, by Friend's Days that are geared to evangelism, and by ongoing gospel works in a couple of dozen towns and villages.

We exhort the people and train the people and lead them. We challenge our young people to surrender their lives to Christ's Commission and to find their place in this "program."

I am convinced that a church that is doing its business correctly will see young people dedicate themselves to this task. I believe, in fact, that this is an important measure of a church's spiritual temperature.

Else, why would Christ say, "The harvest truly is great, but the labourers are few: pray ye therefore the Lord of the harvest, that he would send forth labourers into his harvest" (Luke 10:2)?

We have seen the answer to this prayer in our work. Several years ago we started having a young man during our main weekly service to lead the church in prayer that the Lord would raise up labourers for His harvest, and ever since then we have had an increasing number of young people dedicate themselves for this work and desire to train for this work. They want to attend Bible college rather than secular college, though our Bible college has no accreditation and is not a path to any type of secular job. Currently we have 15 preachers in our church! Recently the father of one of our high school graduates wanted him to study engineering in Australia and a scholarship was obtained, but this young man wanted to attend our Bible college and actually wept when he learned of his father's plan. Finally the father relented and let the young man attend Bible college, and he is happy living in a cramped dorm with very "rustic" facilities (e.g., no air conditioning, third world toilet facilities) and spending a good part of his time traveling to villages over terrible roads on the back of a little motorcycle.

This is in contrast to the young people in a great many churches who haven't surrendered to God's will. They are seeking a comfortable life. They want money and prestige. They aren't planning their lives as pilgrims in a strange world but as citizens of this present world.

This is a major emphasis of our ministry to the youth. We want them to find their places in the Lord's great harvest. God is in charge of giving gifts and callings, and He doesn't call every person to be a preacher or missionary, etc., but finding my place in God's calling begins with unconditional surrender to His perfect will (Romans 12:1-2). It requires that the child of God surrender to Him and get busy serving Him, and the Lord then leads that individual step by step in His will.

We started a Bible college for the purpose of training laborers for God's harvest. When we started praying earnestly for the Lord to raise up workers for His harvest and the Lord began answering that in the lives of our young people, we knew that we had to train them properly in a full-time setting.

We train and challenge the parents to have a spiritual vision for their children's earthly lives rather than a worldly vision. The parents can't call their children; that is God's business. But parents can live the example before their children of putting God first and living for Him and pursuing His will. And parents can disciple their children and urge them to surrender to God's perfect will, wherever that leads.

We deal with this in the chapter "The Discipling Church Builds Godly Homes."

We seek to prepare young people for marriage and to help them find mates in God's will who are likeminded in the work of the Lord. So many times we have heard of a young person who had a vision for doing God's will in missions but he or she married someone who lacked that vision. Almost invariably, the result is the death of the spiritual vision. (We deal with this in the chapter "A Discipling Church Disciples Youth.")


The previous material is excerpted from THE DISCIPLING CHURCH: THE CHURCH THAT WILL STAND UNTIL JESUS COMES, 550 pages. Available in print or as a free eBook from www.wayoflife.org.


- Receive these reports by email
- www.wayoflife.org

______________________


Sharing Policy: Much of our material is available for free, such as the hundreds of articles at the Way of Life web site. Other items we sell to help fund our expensive literature and foreign church planting ministries. Way of Life's content falls into two categories: sharable and non-sharable. Things that we encourage you to share include the audio sermons, O Timothy magazine, FBIS articles, and the free eVideos and free eBooks. You are welcome to make copies of these at your own expense and share them with friends and family. You may also post parts of reports and/or entire reports to websites, blogs, etc as long as you give proper credit (citation). A link to the original report is very much appreciated as the reports are frequently updated and/or expanded. Things we do not want copied and distributed are "Store" items like the Fundamental Baptist Digital Library, print editions of our books, electronic editions of the books that we sell, the videos that we sell, etc. The items have taken years to produce at enormous expense in time and money, and we use the income from sales to help fund the ministry. We trust that your Christian honesty will preserve the integrity of this policy. "For the scripture saith, Thou shalt not muzzle the ox that treadeth out the corn. And, The labourer is worthy of his reward" (1 Timothy 5:18). Questions? support@wayoflife.org
Goal:Distributed by Way of Life Literature Inc., the Fundamental Baptist Information Service is an e-mail posting for Bible-believing Christians. Established in 1974, Way of Life Literature is a fundamental Baptist preaching and publishing ministry based in Bethel Baptist Church, London, Ontario, of which Wilbert Unger is the founding Pastor. Brother Cloud lives in South Asia where he has been a church planting missionary since 1979. Our primary goal with the FBIS is to provide material to assist preachers in the edification and protection of the churches.

Offering: Offerings are welcome if you care to make one. If you have been helped and/or blessed by our material offerings can be mailed or made online with with Visa, Mastercard, Discover, or Paypal. For information see: www.wayoflife.org/about/makeanoffering.html.
Publisher of Bible Study Materials
Publisher of Bible Study Materials