Publisher of Bible Study Materials
Publisher of Bible Study Materials
History of the Churches from a Baptist Perspective
by David W. Cloud,
2021, two vol set, 558 pgs, 594 pgs

Formats: Softcover, eBook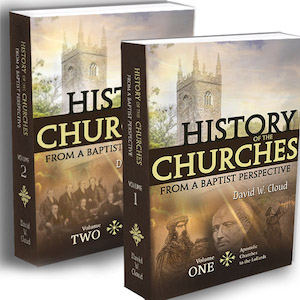 Two volume set.

This enlightening course on church history begins with the apostolic churches and ends with the early 1900s. We show that sound churches have existed side-by-side with apostate ones through the centuries. The chapters are as follows: The Apostolic Churches, The Budding of Apostasy AD 100-700, The Rule of the Roman Catholic Church 700-1500, The Byzantine Empire and Greek Orthodoxy, Islam, The Waldenses, The Catholic Inquisition, The Bible in the Middle Ages, John Wycliffe and the Lollards, The Protestant Reformation, The Catholic Counter-Reformation, The Bibles of the Reformation, The Anabaptists in Europe 1500-1700, The Baptists in England, Revival and Missions 1700-1800, Baptists in America, Fundamentalism and Fundamental Baptists.

The 2016 edition was enlarged and accompanied by 11 PowerPoint presentations with more than 1,100 slides and video clips, plus new maps and a new PDF book,
The Bible and Western Society
.

The August 2021 two volume edition is again enlarged with new studies on Baptists in England and America.


For a one volume introductory study see
Highlights in Church History
Book Set: Softcover and Spiral Binding, 558 pages and 594 pages, 5.5 x 8.5 in.
eBook Set: Two PDF files, left and right pages duplicate book.
PowerPoints/Keynotes/Maps: 1148 slides in 11 presentations
Softcover Books
2 Book Set

or call... 1-866-295-4143 (toll free: USA & Canada) all other Int'l calls: 1-519-652-2619
If you live in Canada -
For your order to be charged in Canadian funds and to ship within Canada, please place your order by phone. Call toll free 1-866-295-4143.
Note that all cart orders process in US dollars and ship from the USA.

_________

CART TERMS
(if you use the cart)
- Prices shown are US Funds
- Items ship from Port Huron, MI. USA.
- Cart accepts Visa, Master Card, Discover, AmEx, PayPal.
- Shipping is real time USPS lookup base on weight.
- International customers: Call or use cart.
- No refunds. Defective material will be replaced.


SHIPPING

- Orders typically ship in 3-4 days.
- Your order will typically arrive in 2-3 weeks.


DOWNLOADS
- Customer is responsible for backups.
- We cannot guarantee file replacement.