Publisher of Bible Study Materials
Publisher of Bible Study Materials
History of the Churches
From a Baptist Perspective

Maps (jpgs) PowerPoint & Keynote Downloads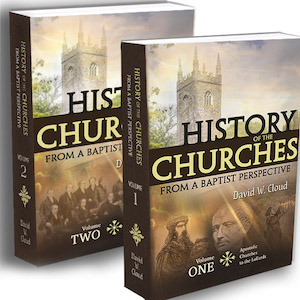 Slides and Map jpgs for
"History of the Churches from a Baptist Perspective."

- Over 1,100 slides in 11 Presentation (PowerPoint or Keynote
- 21 Map jpg images.
eBook "The Bible and Western Society"


This course begins with the apostolic churches and ends with the early 1900s. The chapters are as follows: The Apostolic Churches, The Budding of Apostasy AD 100-700, The Rule of the Roman Catholic Church 700-1500, The Byzantine Empire and Greek Orthodoxy, Islam, The Waldenses, The Catholic Inquisition, The Bible in the Middle Ages, John Wycliffe and the Lollards, The Protestant Reformation, The Catholic Counter-Reformation, The Bibles of the Reformation, The Anabaptists in Europe 1500-1700, The Baptists in England, Revival and Missions 1700-1800, Baptists in America, Fundamentalism and Fundamental Baptists.
The 2016 edition was enlarged and accompanied by 11 PowerPoint presentations with more than 1,100 slides and video clips, plus new maps and a new PDF book,
The Bible and Western Society
.
The August 2021 edition is again enlarged with new studies on Baptists in England and America.
Note:

These Powerpoints and/or Keynotes are a companion to the book.
They are free for anyone to download, but they are designed to accompany the books, not replace them. The books are necessary both for students and teachers.

By offering the PowerPoints for free, we have reduced the price of the books to make them more affordable. The sale of the books is the only way that Way of Life is recompensed for the great labor and expense that goes into the publication of the materials. We have spent tens of thousands of dollars in research books, travel, equipment, tour guides, site fees, licensing of artwork, etc., to produce each of our major titles and the accompanying PowerPoint sets.
PowerPoint and Keynote Downloads
Presentations and PDF's in one zip file.

You should know how to handle and expand zip files on your device, especially if downloading to phone or tablet.
We recommend that you download to a desktop or laptop, unzip, check the files, then move to portable devices as needed.
We help as we can, but there are too many devices and apps in use today for us to advise you how to install and use these files for any particular instance.

Powerpoint Presentatons
for Windows Users
PowerPoint set (one zip file)
Map set (jpgs) (one zip file)
Link to The Bible and Western Society
eBook download page.

Keynote Presentations
for Apple Users (Mac, iPad)
Keynote set (one zip file)
Map set (jpgs) (one zip file)
Link to The Bible and Western Society
eBook download page.

Publisher of Bible Study Materials
Publisher of Bible Study Materials