Publisher of Bible Study Materials
Publisher of Bible Study Materials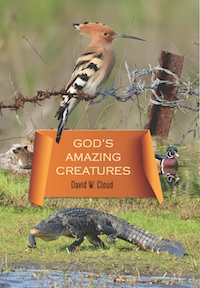 God's Amazing Creatures

by David W. Cloud


This book features fascinating and educational studies on 29 animals:
alligator, anhinga, bald eagle, bat, black kite, cheetah, cuckoo, coney, dragonfly, great blue heron, grizzly, horse, hummingbird, leopard, lion, mallard duck, monarch butterfly, osprey, ostrich, partridge, pelican, pied-billed grebe, salt water crocodile, starling, trilobite, wild turkey, weaver bird, wood duck, and woodpecker.

There are also studies on bird migration and the bird's flight feather.


Each study is accompanied by a high quality photo taken by the author.


The Bible teaches us that creation is a divine revelation (Romans 1:20) and instructs us to study the creatures that God has made. "Go to the ant, thou sluggard; consider her ways, and be wise" (Pr. 6:6). Scripture is filled with lessons from creation, particularly by means of parables, similes, metaphors, and personification.

When God exhorted, reproved, and instructed Job, He mentioned eleven types of animals and spoke of their habits (Job 38-41).
Book: Softcover, 128 pages, 32 color photographs, 5.5x8.5 in.
eBook: PDF format
or call... 1-866-295-4143 (toll free: USA & Canada) all other Int'l calls: 1-519-652-2619
If you live in Canada -
For your order to be charged in Canadian funds and to ship within Canada, please place your order by phone. Call toll free 1-866-295-4143.
Note that all cart orders process in US dollars and ship from the USA.

_________

CART TERMS
(if you use the cart)
- Prices shown are US Funds
- Items ship from Port Huron, MI. USA.
- Cart accepts Visa, Master Card, Discover, AmEx, PayPal.
- Shipping is real time USPS lookup base on weight.
- International customers: Call or use cart.
- No refunds. Defective material will be replaced.


SHIPPING

- Orders typically ship in 3-4 days.
- Your order will typically arrive in 2-3 weeks.


DOWNLOADS
- Customer is responsible for backups.
- We cannot guarantee file replacement.