Publisher of Bible Study Materials
Publisher of Bible Study Materials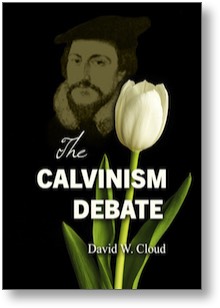 The Calvinism Debate

by David W. Cloud
December 2020 Edition

I have examined Calvinism many times during the past three decades and have read materials such as Calvin's Institutes; Arthur Pink's The Sovereignty of God; the Westminster Confession of Faith; Iain Murray's Spurgeon vs. the Hyper-Calvinists; Debating Calvinism: Five Points, Two Views by Dave Hunt and James White, to name a few.


As best as I know how, I have studied these materials with the sole desire to know the truth and to follow it wherever it leads. Thus, I have made a considerable effort to understand Calvinism properly and not to misrepresent it (though I have learned that a non-Calvinist will ALWAYS be charged with misrepresentation).

The chapters in this book include The Central Errors of Calvinism, Beware of Quick Prayerism, Calvin's Camels (Scriptures that contradict Calvinism), Calvinism's Proof Texts Examined, and What about Hyper-Calvinism?
Book: Softcover, 184 pages, 5.5x8.5 in.
eBook: Free, PDF, mobi (Kindle), or ePub formats
or call... 1-866-295-4143 (toll free: USA & Canada) all other Int'l calls: 1-519-652-2619
If you live in Canada -
For your order to be charged in Canadian funds and to ship within Canada, please place your order by phone. Call toll free 1-866-295-4143.
Note that all cart orders process in US dollars and ship from the USA.

_________

CART TERMS
(if you use the cart)
- Prices shown are US Funds
- Items ship from Port Huron, MI. USA.
- Cart accepts Visa, Master Card, Discover, AmEx, PayPal.
- Shipping is real time USPS lookup base on weight.
- International customers: Call or use cart.
- No refunds. Defective material will be replaced.


SHIPPING

- Orders typically ship in 3-4 days.
- Your order will typically arrive in 2-3 weeks.


DOWNLOADS
- Customer is responsible for backups.
- We cannot guarantee file replacement.