Publisher of Bible Study Materials
Publisher of Bible Study Materials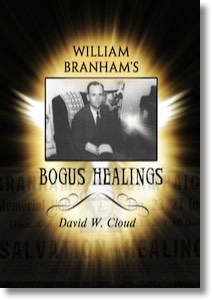 William Branham's Bogus Healings
The material in this book was first published in O Timothy magazine, Volume 7, Issue 4, 1990. The interview with the late Alfred Pohl was conducted February 21, 1990, by David Cloud. While visiting with us for a few days in Washington state, Mr. Pohl, who lived in Canada, agreed to recount his experiences in a healing campaign with William Branham. At that time, Pohl was a leader in a Pentecostal denomination and a teacher in their Bible college. The duplicity and heresy he witnessed in the Branham healing campaign was a major step toward his leaving Pentecostalism.
Softcover printed edition
is available. Phone
1-866-295-4143 or contact support@wayoflife.org
---

Download Help Kindle Help eBook Info/Help

Please Read: After downloading you must add the mobi or epub file to the
library of your eReader (device) or reading app (tablet). Mobi files do not automatically
install onto the Kindle or Kindle app. You must "install it." See the Kindle help file above.
Because there are so many different devices and apps available for ebooks
it is up to you to know how use these files for your particular situation.