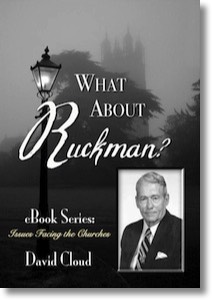 A critique of the teaching of Dr. Peter S. Ruckman. The sixth edition for 2008, contains new articles: "Is the KJV Advanced Revelation," "The Divorced Pastor," "Salvation Is the Same in the Old and New Testaments," "Dr. Ruckman's Slanderous Mouth," and "My Position on the King James Bible."
Softcover Edition available:
$3.95 Softcover Book, 55 pgs
---

Download Help Kindle Help eBook Info/Help

Please Read: After downloading you must add the mobi or epub file to the
library of your eReader (device) or reading app (tablet). Mobi files do not automatically
install onto the Kindle or Kindle app. You must "install it." See the Kindle help file above.
Because there are so many different devices and apps available for ebooks
it is up to you to know how use these files for your particular situation.