Publisher of Bible Study Materials
Publisher of Bible Study Materials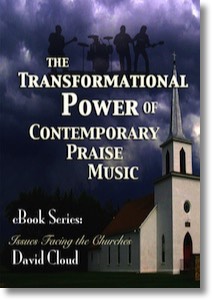 The Transformational Power of Contemporary Praise Music
This book describes the power of contemporary worship music to change the character of a "traditional" Bible-believing church. We analyze the reason why this music lies at the heart and soul of many of the dramatic changes that are coming to "fundamentalist" churches. The transformational power is two-fold: It lies in the music's underlying philosophy and in the character of the music itself. We first document the philosophy of CCM, which is a doctrine of license under the guise of a more relaxed, grace-filled approach to Christian living and doctrine. On the musical side, we examine the elements of contemporary worship, every aspect of which is designed to create a sensual, mystical emotional experience. As Michael W. Smith says, contemporary music "helps you enter into the presence of God." The major elements are the syncopated dance rhythm, unresolving chord sequences, sensual vocal techniques, electronic modulation, the rise and fall in intensity, and the repetition. We illustrate and analyze each of these elements.


Video also available
Softcover printed edition
is available. Phone
1-866-295-4143 or contact support@wayoflife.org
---

Download Help Kindle Help eBook Info/Help

Please Read: After downloading you must add the mobi or epub file to the
library of your eReader (device) or reading app (tablet). Mobi files do not automatically
install onto the Kindle or Kindle app. You must "install it." See the Kindle help file above.
Because there are so many different devices and apps available for ebooks
it is up to you to know how use these files for your particular situation.