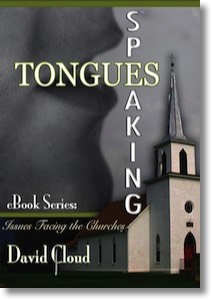 This book contains a thorough examination of the issue of tongues speaking and tongues interpretation. Eight biblical reasons are given for rejecting the Pentecostal doctrine of tongues: Biblical tongues were real earthly languages; they were a sign to Israel; they were not a sign to believers; they were spoken to God; they were accompanied by interpretation; they were bound by apostolic law; they were never learned; and they were not spoken by all believers. The book also examines the doctrine of a "private prayer language."
Softcover Edition available:
$3.99 Softcover Book, 65 pgs
---

Download Help Kindle Help eBook Info/Help

Please Read: After downloading you must add the mobi or epub file to the
library of your eReader (device) or reading app (tablet). Mobi files do not automatically
install onto the Kindle or Kindle app. You must "install it." See the Kindle help file above.
Because there are so many different devices and apps available for ebooks
it is up to you to know how use these files for your particular situation.