Publisher of Bible Study Materials
Publisher of Bible Study Materials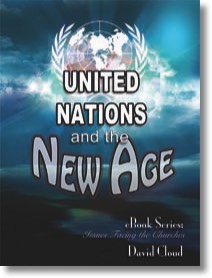 The United Nations and the New Age
This is an extensive, well-documented study of the New Age philosophy that permeates the United Nations. We examine the UN's one-world agenda, its anti-semitism, its religious syncretism, and its influence in education. We visit the UN Meditation Room, look at the lives and beliefs of UN leaders such as Robert Muller, Dag Hammarskjöld, and U Thant. and analyze miscellaneous New Age organizations and programs that are affiliated with the UN, such as the Lucis Trust, the Temple of Understanding, Planetary Citizens, and the Earth Charter.
Softcover Edition available:
$5.99 Softcover Book, 78 pgs
---

Download Help Kindle Help eBook Info/Help

Please Read: After downloading you must add the mobi or epub file to the
library of your eReader (device) or reading app (tablet). Mobi files do not automatically
install onto the Kindle or Kindle app. You must "install it." See the Kindle help file above.
Because there are so many different devices and apps available for ebooks
it is up to you to know how use these files for your particular situation.