Publisher of Bible Study Materials
Publisher of Bible Study Materials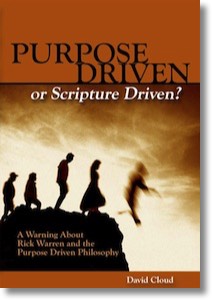 Purpose Driven or Scripture Driven
This book examines the influential "seeker sensitive" church growth philosophy that is promoted by Rick Warren of Saddleback Church. It contains a review of Warren's books The Purpose Driven Life and The Purpose Driven Church and a firsthand report of a visit to Saddleback Church. It documents Warren's weak gospel, his social gospel emphasis, his judge not philosophy, his amazing anti-fundamentalist tirades, and Saddleback's rock music culture. It also documents Warren's radical ecumenical relationships, including his positive association with the Roman Catholic Church.
Softcover Edition available:
$8.49 Softcover Book, 142 pgs
---

Download Help Kindle Help eBook Info/Help

Please Read: After downloading you must add the mobi or epub file to the
library of your eReader (device) or reading app (tablet). Mobi files do not automatically
install onto the Kindle or Kindle app. You must "install it." See the Kindle help file above.
Because there are so many different devices and apps available for ebooks
it is up to you to know how use these files for your particular situation.