Publisher of Bible Study Materials
Publisher of Bible Study Materials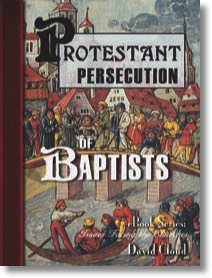 Protestant Persecution of Baptists
Though the Protestant Reformers of the 16th to the 18th centuries demanded religious liberty from the Roman Catholic Church, in many cases they did not give liberty to others. That they persecuted Baptists and others who differed from them is a fact rarely told in church histories and therefore little known, but it is a fact that we document in this book. We first examine the roots of the doctrine of persecution in the teaching of Jerome and Augustine, then document its ugly exercise by Calvinists, Lutherans, and Anglicans in England, Europe, and America.
Softcover Edition available:
$5.99 Softcover Book, 80 pgs
---

Download Help Kindle Help eBook Info/Help

Please Read: After downloading you must add the mobi or epub file to the
library of your eReader (device) or reading app (tablet). Mobi files do not automatically
install onto the Kindle or Kindle app. You must "install it." See the Kindle help file above.
Because there are so many different devices and apps available for ebooks
it is up to you to know how use these files for your particular situation.