Publisher of Bible Study Materials
Publisher of Bible Study Materials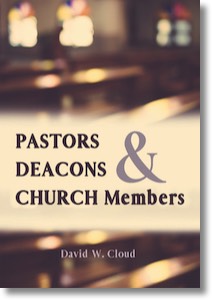 Pastors, Deacons, and Church Members
This book examines the office of the pastor, the office of a deacon, and the church member's relationship to pastors. It deals with the pastor's call, qualification, authority, support, ordination, and discipline. It contains an extensive and practical commentary on the standards of 1 Timothy 3 and Titus 1. It examines each major New Testament passage dealing with the relationship between pastors and church members. It looks at the extent of the pastor's authority and the spiritual characteristics of his authority, as well as the responsibilities of church members. The book also deals extensively with the office of a deacon: his work, authority, qualification, appointment, and reward. This is an extremely practical book that can be studied with profit by every church member. It gives many tips for dealing with problems that typically arise in churches.
NOTE: Mobi format is not yet available. Mobi Download will not work.
Mobi will become available any day. Please check back.
Softcover Edition available:
$8.49 Softcover Book, 133 pgs
---

Download Help Kindle Help eBook Info/Help

Please Read: After downloading you must add the mobi or epub file to the
library of your eReader (device) or reading app (tablet). Mobi files do not automatically
install onto the Kindle or Kindle app. You must "install it." See the Kindle help file above.
Because there are so many different devices and apps available for ebooks
it is up to you to know how use these files for your particular situation.