Publisher of Bible Study Materials
Publisher of Bible Study Materials
Free eB
OOK
- Softcover book available
.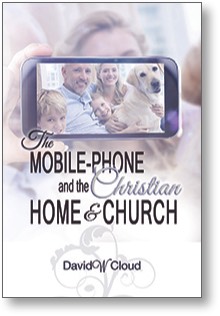 The Mobile-Phone and the Christian Home and Church
Many Christian homes and churches are losing a frightful percentage of their young people to the world.

This practical and far-reaching youth discipleship course deals with the parent's part, the church's part, and the youth's part in winning and discipling young people. It covers salvation, child discipline, the Christian home environment that produces disciples, reaching the child's heart, Bible study techniques, how to protect young people from dangers associated with the Internet and smartphones, how to use apologetics, and many other things.

The section on building a wall of protection deals with such things as having a basic home phone that teens can use under parental oversight, using filters and accountability software, controlling passwords and apps, the power of pornography, the dangers of Facebook and video games, avoiding conversation with members of the opposite sex, and monitoring the young person's attitude. The course explains how the church and the home can work together in youth discipleship. It describes the characteristic of a church that produces youth disciples, such as having qualified leaders, officers, and teachers, maintaining biblical standards for workers, being careful about salvation, being uncompromising about separation from the world, building godly homes, discipline, prayer, and vision.

It deals with how to train young people to be effective Bible students and how to involve them in the church's ministry. Finally, the course deals with eleven biblical principles of spiritual protection that young people must build into their own lives.

These are living to please the Lord, living by the law of the Spirit, practicing humility, pursuing Christian growth, pursuing edification and ministry, pursuing honesty, practicing vigilance and separation, pursuing pure speech, redeeming the time, pursuing temperance, and obeying and honoring one's parents.



Also available as a printed
Softcover Book
.
$11.49 Softcover Book, 197 pgs