Publisher of Bible Study Materials
Publisher of Bible Study Materials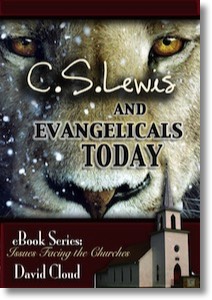 CS Lewis and Evangelicals Today
This is a well-documented examination of the influential writer C.S. Lewis, who is loved with an equal fervor by "conservative evangelicals," hell-denying emergents, Roman Catholics, Mormons, and even some atheists. We examine Lewis' weak conversion testimony, his heresies, and the reason why he is so popular today. The heresies include his denial of the inerrant inspiration of Scripture, rejection of the "penal substitutionary atonement," prayers for the dead, purgatory, theistic evolution, hell as a state of mind, and the possibility of salvation without personal faith in Christ and of finding salvation after death.

Softcover Edition available:
$4.49 Softcover Book, 35 pgs
---

Download Help Kindle Help eBook Info/Help

Please Read: After downloading you must add the mobi or epub file to the
library of your eReader (device) or reading app (tablet). Mobi files do not automatically
install onto the Kindle or Kindle app. You must "install it." See the Kindle help file above.
Because there are so many different devices and apps available for ebooks
it is up to you to know how use these files for your particular situation.