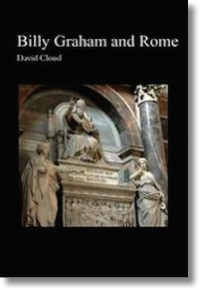 Nothing more plainly evidences the bankruptcy of today's Evangelicalism than its flirtations with Rome, and no man epitomizes this bankruptcy more than Billy Graham. Billy Graham has been Evangelicalism's foremost personality since the middle of the twentieth century.

An article in Christianity Today for Oct. 5, 1992, entitled "Can Evangelicalism Survive Its Success?" noted: "IT WOULD BE DIFFICULT TO OVERESTIMATE BILLY GRAHAM'S IMPORTANCE IN THE LAST 50 YEARS OF EVANGELICALISM. ... Graham personally embodied most of the characteristics of resurgent evangelicalism. ... de-emphasizing doctrinal and denominational differences that often divided Christians."


Softcover Edition available:
$5.99 Softcover Book, 136 pgs
---

Download Help Kindle Help eBook Info/Help

Please Read: After downloading you must add the mobi or epub file to the
library of your eReader (device) or reading app (tablet). Mobi files do not automatically
install onto the Kindle or Kindle app. You must "install it." See the Kindle help file above.
Because there are so many different devices and apps available for ebooks
it is up to you to know how use these files for your particular situation.