Publisher of Bible Study Materials
Publisher of Bible Study Materials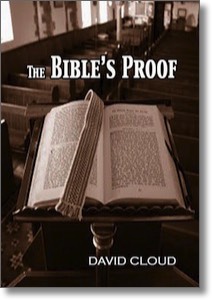 A look at eight of the evidences that the Bible is what it claims to be, the infallible Word of God to man. The chapter titles are as follows:
- The Bible's Unique Construction
- The Character of the Bible's Authors
- Fulfilled Prophecy
- The Bible's Factualness and Accuracy
- The Bible's Candor
- The Bible's Indestructibility
- The Bible's Universal Appeal
- The Bible's Doctrine of Salvation.

Softcover Edition available:
$4.99 Softcover Book, 43 pgs
---

Download Help Kindle Help eBook Info/Help

Please Read: After downloading you must add the mobi or epub file to the
library of your eReader (device) or reading app (tablet). Mobi files do not automatically
install onto the Kindle or Kindle app. You must "install it." See the Kindle help file above.
Because there are so many different devices and apps available for ebooks
it is up to you to know how use these files for your particular situation.