Christ's Messages to the Seven Churches
Free Video Series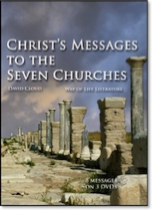 I
t has been nearly 2,000 years since the Apostle John received Christ's message to these churches, but never have the messages been any more pertinent than they are today. In this video series, David Cloud examines each of the churches of John's day for clues as to where our churches stand today. How would your church measure up under the gracious but penetrating eye of the Lord Jesus Christ? It is a question that bears asking in these last days.


This series contains messages - one for each of the churches and an overview of the series. Unlike many series on this topic, this is not purely informational or historical, but rather a strong exhortation to be ready for the Lord's return.

This series is perfect for a Sunday School, special meetings, family viewing, or your own personal devotions.

The Lord's powerful messages to the seven churches have a four-fold application. First, they were given to instruct the individual churches to which they are addressed. Second, they were given to instruct all churches. The lessons apply to every church of every place and time. Third, the messages were given to instruct individual believers. Finally, the messages offer a general overview of church history. Though the latter is not the major purpose of the Lord's messages to the seven churches of Revelation, it appears to be a proper application. For example, Revelation 3:10 looks beyond anything that was experienced by the historical church at Philadelphia in the first century.

In this sense, the messages are like a parable with one main teaching. By their divinely inspired order, we see the same pattern of increasing apostasy that is revealed in other ways in the New Testament. Compare 2 Timothy 3:1-5, 13; 4:3-4. I believe we are living today both in the Philadelphian and the Laodicean age. Though we are surrounded by the most incredible apostasy, there are still many Bible-believing churches that hold to the old paths and are patiently waiting to be saved out of the world before the Great Tribulation begins.

This video's may be placed on your own site by using the Vimeo embed code.