Why You Need the Friday Church News Notes
July 13, 2022 (first published October 1, 2010)
David Cloud, Way of Life Literature, P.O. Box 610368, Port Huron, MI 48061
866-295-4143,
fbns@wayoflife.org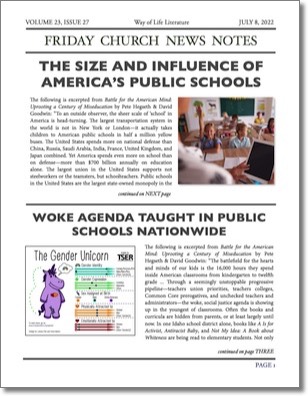 W
e began
publishing the
Friday Church News Notes
in 1999 with the objective of providing a weekly hand-out for Bible-believing churches. The News Notes are published on Friday so they can be duplicated and distributed on Sundays.

The
Friday Church News Notes
is a four-page report that is posted in a plain text edition to the Fundamental Baptist Information Service mailing list and in an
ATTRACTIVE, FULL-COLOR GRAPHICAL PDF EDITION
that is uploaded to the Way of Life web site each Friday. This is available as a free download.

The
Friday Church News Notes
is not merely a collection of news items. The reports are carefully and prayerfully chosen to educate, warn, and challenge Bible-believing churches, individuals, and families. The Notes help keep God's people informed and protected from the wiles of the devil in these evil end times.

In the
Friday Church News Notes
, we learn how to exercise spiritual discernment by examining current events through the lens of Scripture. We learn a biblical worldview.

The
Friday Church News Notes
deal with "negative" events of these times, but with the positive goal of keeping our focus on eternity and being ever-aware that the prophetic hour is late and we must be found faithful in God's service.

The
Friday Church News Notes
exposes popular myths and errors (e.g., Darwinian evolution, the judge-not philosophy, ecumenism, Christian rock, secular humanism, charismaticism, New Evangelicalism, emerging church, New Age, New Catholicism, contemplative prayer, atheism, paganism, globalism, socialism)

The
Friday Church News Notes
exposes the dangers of the prevailing pop culture.

The
Friday Church News Notes
reports on worldwide persecution against Christians so that we might pray for those who are in bonds.

The
Friday Church News Notes
features fascinating creation science facts.

The
Friday Church News Notes
contains illustrations that can be used in preaching/teaching.

The emerging church has openly stated that they are targeting the children and grandchildren of today's Bible-believing Christians. We must educate them properly to protect them.


To sign up for the Fundamental Baptist Information Service e-mailings, see the sign up link on the right side of Way of Life's front page or go to the following page:
https://www.wayoflife.org/fbis/

To see back issues of the
Friday Church News Notes
and to download the full-color PDF files, go to the following page:
https://www.wayoflife.org/friday_church_news/


Friday Church News Notes
is also found on the main navigation menu on all web pages.

"Every week I look forward to the Friday News from Way of Life. Your discernment and 'nose' for the news keeps me abreast of all that is going on. Most folks are not well versed about the apostasy and deviation in so-called Christian bodies. Your articles help to point out that all is not well just because something is labeled Christian."

"I'm 24 years old, and the Friday News Notes have helped educate me and have protected me from Satan's devices."


- Receive these reports by email
- www.wayoflife.org

______________________


Sharing Policy: Much of our material is available for free, such as the hundreds of articles at the Way of Life web site. Other items we sell to help fund our expensive literature and foreign church planting ministries. Way of Life's content falls into two categories: sharable and non-sharable. Things that we encourage you to share include the audio sermons, O Timothy magazine, FBIS articles, and the free eVideos and free eBooks. You are welcome to make copies of these at your own expense and share them with friends and family. You may also post parts of reports and/or entire reports to websites, blogs, etc as long as you give proper credit (citation). A link to the original report is very much appreciated as the reports are frequently updated and/or expanded. Things we do not want copied and distributed are "Store" items like the Fundamental Baptist Digital Library, print editions of our books, electronic editions of the books that we sell, the videos that we sell, etc. The items have taken years to produce at enormous expense in time and money, and we use the income from sales to help fund the ministry. We trust that your Christian honesty will preserve the integrity of this policy. "For the scripture saith, Thou shalt not muzzle the ox that treadeth out the corn. And, The labourer is worthy of his reward" (1 Timothy 5:18). Questions? support@wayoflife.org
Goal:Distributed by Way of Life Literature Inc., the Fundamental Baptist Information Service is an e-mail posting for Bible-believing Christians. Established in 1974, Way of Life Literature is a fundamental Baptist preaching and publishing ministry based in Bethel Baptist Church, London, Ontario, of which Wilbert Unger is the founding Pastor. Brother Cloud lives in South Asia where he has been a church planting missionary since 1979. Our primary goal with the FBIS is to provide material to assist preachers in the edification and protection of the churches.

Offering: Offerings are welcome if you care to make one. If you have been helped and/or blessed by our material offerings can be mailed or made online with with Visa, Mastercard, Discover, or Paypal. For information see: www.wayoflife.org/about/makeanoffering.html.
Publisher of Bible Study Materials
Publisher of Bible Study Materials