Why Was the Maranatha Ad Warning Pharisaical?
July 13, 2022 (first published October 1, 2010)
David Cloud, Way of Life Literature, P.O. Box 610368, Port Huron, MI 48061
866-295-4143,
fbns@wayoflife.org
I received the following challenge in regard to my report about the Maranatha Baptist College video ad.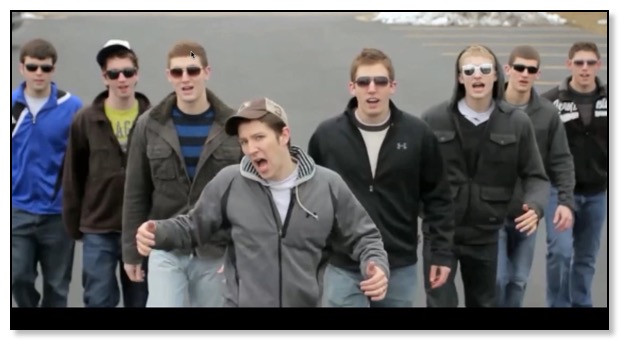 The Friday Church News report from March 16 about the ad and two subsequent reports ("Comments about the Maranatha Ad" and "More Comments about the Maranatha Ad") can be found at the Way of Life web site -- www.wayoflife.org

I have removed a couple of things from the following e-mail that aren't relevant to the issue I want to address and to hide the man's identity:

"I appreciate much of your study, insight, and warning. I've only recently left the american fundamentalist 'camp' because of all-powerful pastors pulling strings and not following Scripture but pragmatism instead. ... We thought [the video] was quite creative and winsome. My wife is a Maranatha grad, and though we've been disturbed by abuse cover-ups in recent years in fundamentalism, this video has us researching Maranatha again as a possibility for our child. One of the guys 'jiving' was a roommate when I was in Seminary, and he is a real level-headed, faithful, dependable guy.

"Here's the substantive question I have: When we talk of being 'worldly' and staying far away from any possible appearance that we could be 'worldly,' it seems we can get just like the Pharisees who wrote the Talmud. They put so many 'hedges' around what God actually said, that they followed their own super-conservative rules to the detriment of God's actual will for them. Jesus seemed to have more anger at religious leaders than anyone else. They put the commandments of men first - not consciously, but practically, and actually.

"So, can't we sing bouncy harmonies and have clever and winsome video effects AND STILL love God and His word with all of our heart, soul, mind, and obedience? I think we can. If the people have the right heart, and solid Bible knowledge, and a humble and contrite spirit before the Lord. And to think that the only way that we can stay 'right' is to build up additional hedges around God's Words -- isn't that like the Pharisees?"


REPLY FROM BROTHER CLOUD


Thank you for taking the time to write. I appreciate your attitude. So many of the e-mails I received supporting the college were not very gracious. I appreciate your desire to deal with the substance of my warning instead of using the occasion to launch a personal attack on the messenger.

You ask an interesting question. The term "Pharisee" is thrown around a lot today, particularly by the contemporary crowds, but it must be defined biblically.

Phariseeism is exalting one's tradition to the same level of authority as God's Word; it is salvation by works; it is hypocrisy; it is Christ rejection; it is self-righteousness; it is works religion without grace. That is the definition we find in the Gospels. See Matthew 12:22-24; 15:1-9; 23:15; Luke 12:1; 18:9-14.

Jesus' anger at the Pharisees was
not
because they loved God's Word and took it too seriously! It was
not
because they were careful to honor the details of God's Word.
Never
did Jesus reprove them for such a thing. The following testimony expresses the very essence of true spirituality and godliness:

"Therefore I esteem all thy precepts concerning all things to be right; and I hate every false way" (Psalms 119:128).

Was the Psalmist speaking here as a Pharisee? Of course not. It is spiritual to esteem all of God's precepts concerning all things to be right and to hate everything that is contrary to God's precepts. And note the emphasize on ALL precepts and ALL things and EVERY false way. This is the very strictest sort of Biblicist mindset, and it is held forth in the pages of God's Word as the attitude of the man who loves God passionately.

Jesus reproved the Pharisees for turning the law of Moses into a way of salvation, which it was never intended to be, and for their hypocrisy and for their lack of love and grace and compassion. Consider the following reproof:

"Woe unto you, scribes and Pharisees, hypocrites! for ye pay tithe of mint and anise and cummin, and have omitted the weightier matters of the law, judgment, mercy, and faith: these ought ye to have done, and not to leave the other undone" (Matthew 23:23).

Jesus
didn't
say, "You Pharisees make far too much of tithing and other such things in God's law. You are much too zealous for God's Word. Don't you know that God never intended you to take everything so strictly. Why don't you lighten up?"

No, Jesus said they did well to take God's Word strictly by honoring even the details of tithing. What He hated was that they had missed the heart and soul of the Law, which was judgment (judging spiritual judgment and treating one's fellow man in a just manner), mercy, and faith. The Law was not given as a means to obtain righteousness; rather, it revealed God's extreme holiness and man's fallenness and pointed to Christ as the believing sinner's justification (Rom. 3:19-24; Gal. 3:10-13, 24-25). The Pharisees missed the heart of the Law which is love God with all one's heart and to love one's neighbor as oneself. The fact that they were complicit in the death of the Son of God is clear evidence that they did not love God.

Candidly, I wouldn't give you two cents for a lot of IFB preachers as far as having any respect for them, but I don't know of any full-blown fundamentalist Pharisees. We believe too much in grace and delight too much in God's free righteousness. There is hypocrisy, though, and there is an element of true legalism within the IFB movement. I have warned about this often. (See, for example, my new free eBook
THE TWO JACKS
, which we are preparing to publish this week at the Way of Life web site.)

While I can't speak for everyone, I can speak for myself. And I don't preach works for salvation and I don't preach works for sanctification. Everything is by God's grace and His grace alone. That might come across in any one particular sermon, but it is clear in my thinking and in the overall perspective of my ministry. As for hypocrisy, I don't always live up to what I preach. Far from it, but I confess my sins to God (and to man when the situation necessitates) and don't pretend to any self-righteousness. I know at every moment that the only righteousness I have that is acceptable to God is in Christ and in Christ alone. That is not Phariseeism.

What, though, about adding one's tradition and thinking to the same level of authority as God's Word. That would seem to be the issue here.

First, the Bible demands a very strict separation from the world. This is not Phariseeism; it is New Testament Christianity.

Following are just some of these commandments, and they are indeed commandments and not suggestions.

"And be not conformed to this world: but be ye transformed by the renewing of your mind, that ye may prove what is that good, and acceptable, and perfect, will of God" (Romans 12:2).

"Having therefore these promises, dearly beloved, let us cleanse ourselves from all filthiness of the flesh and spirit, perfecting holiness in the fear of God" (2 Corinthians 7:1).

"But God forbid that I should glory, save in the cross of our Lord Jesus Christ, by whom the world is crucified unto me, and I unto the world" (Galatians 6:14).

"And have no fellowship with the unfruitful works of darkness, but rather reprove them" (Ephesians 5:11).

"For the grace of God that bringeth salvation hath appeared to all men, Teaching us that, denying ungodliness and worldly lusts, we should live soberly, righteously, and godly, in this present world" (Titus 2:11-12).

"Pure religion and undefiled before God and the Father is this, To visit the fatherless and widows in their affliction, and to keep himself unspotted from the world" (James 1:27).

"Ye adulterers and adulteresses, know ye not that the friendship of the world is enmity with God? whosoever therefore will be a friend of the world is the enemy of God" (James 4:4).

"Dearly beloved, I beseech you as strangers and pilgrims, abstain from fleshly lusts, which war against the soul" (1 Peter 2:11).

"Love not the world, neither the things that are in the world. If any man love the world, the love of the Father is not in him. For all that is in the world, the lust of the flesh, and the lust of the eyes, and the pride of life, is not of the Father, but is of the world. And the world passeth away, and the lust thereof: but he that doeth the will of God abideth for ever" (1 John 2:15-17).

"And we know that we are of God, and the whole world lieth in wickedness" (1 John 5:19).

Separation from the world by a born again, blood-washed, saved-by-grace-alone believer is not Phariseeism. It is obedience to God and conformity to His character and will.

The issue, then, is whether there is a biblical basis for labeling the Maranatha ad worldly. If there is not, then I am adding my opinion to God's Word and making my opinion and tradition a law for others. That would be true legalism. But I am convinced that there is a clear basis and that my judgment is not therefore mine but is that of God's Word.

The video ad is not just innocent fun. It is not merely "creative and winsome." I enjoy life and all of the things God has given us richly to enjoy. I almost laughed myself silly recently at an entertaining video that my son made of his young daughters as "weather girls." It was hilarious and it was innocent fun. My son's video, even though it was merely for family viewing and was not produced to represent a Bible College, had no questionable music and depicted no questionable activities. It didn't present a foreign philosophy and cocky attitude and it didn't reek of the world. Yet all of that and more can be said of the Maranatha video.

I don't have time to write a complete study on this, but Romans 12:2 is sufficient. It warns against conformity to the world, patterning oneself after the world, allowing the world to mold us to its image. I believe this is exactly what the ad does. I have studied CCM and the world and philosophy of CCM since its birth in the 1970s. I was in southern California on two visits as a hitchhiking hippie before I was saved at the exact time and place where CCM was born and I was confronted with it as a young Christian and had to make major decisions about what direction I would go in my Christian life. I have studied it ever since and have written several books and produced several video series on it. I have also studied New Evangelicalism and the emerging church and every other element today pertaining to the contemporary philosophy in a very serious fashion.

And I am convinced that the ad represents
that
world and not the world of a sober Biblical stance. One emphasis of New Evangelicalism has always been to lighten up and have fun and not be so "strict." It has replaced the soberness of New Testament Christianity with a smiley-face Christianity, and it has then gloried in the fact that this is more attractive to the unsaved and particular to youth than the old "Puritan soberness." Of course it is, but that doesn't make it right! In New Evangelicalism, fun is not just something you do privately for a bit of relaxation. Fun is the face of New Evangelicalism. New Evangelicalism has always been influenced by the world, because it has renounced strict separation from the world. It has walked in lock step with the world, becoming ever worldlier with each passing decade. It stays a bit behind the world, but as the world changes it changes because the separation is not careful enough.

Is the Maranatha ad worldly? In my judgment (and God's Word instructs me to make such judgments, to discern both good and evil, Heb. 5:14), this ad reeks of pride, and that is a chief characteristic of the world. The focus is on self, and that is a characteristic of the world. The focus is on fun, and that is a characteristic of the world. The video is shallow and flippant, which is a characteristic of the world. The music feeds the flesh and not the Spirit, which is a characteristic of the world.

Where is the sobermindedness? Where is the spiritual vigilance? Where is the godly fear? I cannot even imagine the apostle Paul or James or John making such a video or putting their stamp of approval on it. The things
they
published were so serious, so sober, so HOLY, meaning different in character than anything you will find in the pop culture of the world today. The ad is profane rather than holy.

I am convinced that the ad represents a lack of spiritual discernment and a perspective informed by the world. Many IFBaptists have become so influenced by the world that they don't know what is happening. They are like the frog in the pot that is being heated ever-so gradually. They drink too deeply of the pop culture and justify it in the name of liberty. They flirt with things that are forbidden. And they lose the keenness of spiritual discernment. They conform their Christianity to the world, but they aren't aware of it because they are avoiding the grosser aspects of worldliness and are staying a bit behind the world, and because everyone around them is equally conformed to the world.

Such a judgment is not Phariseeism. It is based on the Bible based and not mere opinion and tradition. My judgment might be wrong, because no preacher is infallible, but it is not Phariseeism. I preach a Christ-alone, grace-alone gospel. I preach grace as the key to Christian living. I delight continually in God's grace. I show grace to others. I come daily to God to obtain grace to help.

But the true grace of God is strict in its holiness and separation from the world (Titus 2:11-15). True Bible Christianity has the face of sobermindness and the fear of God rather than flippancy.

I suggest that you stop throwing the term "Pharisee" around so lightly. The Bible warns that end-time Christianity will be characterized by following its own lusts (2 Timothy 4:3-4).

I will conclude with the following comment that was made by a reader:

"I was grieved by the music and the 'cool dude' feel, but even more so, by the lack of an emphasis of Christlikeness. This is supposed to be a Christian college, but the only slight allusion to any spiritual aspect, as far as I picked up on, was when he referred to 'getting his theology.' Now, instead of encouraging students to come and learn of God and deepen their understanding of Christ and the Word, they want insincere kids to go and have a fun time, learn things that will help them in a secular job, and eat good steak! If a Bible college ceases to develop a thirst for holiness and fear of God in their students, if they cease to stress the necessity of a deep, thriving relationship with Christ and a passion for lost souls, if they cease to equip their students for the Lord's work and His only, they should shut their doors: they are now only doing harm to the cause of Christ."


- Receive these reports by email
- www.wayoflife.org

______________________


Sharing Policy: Much of our material is available for free, such as the hundreds of articles at the Way of Life web site. Other items we sell to help fund our expensive literature and foreign church planting ministries. Way of Life's content falls into two categories: sharable and non-sharable. Things that we encourage you to share include the audio sermons, O Timothy magazine, FBIS articles, and the free eVideos and free eBooks. You are welcome to make copies of these at your own expense and share them with friends and family. You may also post parts of reports and/or entire reports to websites, blogs, etc as long as you give proper credit (citation). A link to the original report is very much appreciated as the reports are frequently updated and/or expanded. Things we do not want copied and distributed are "Store" items like the Fundamental Baptist Digital Library, print editions of our books, electronic editions of the books that we sell, the videos that we sell, etc. The items have taken years to produce at enormous expense in time and money, and we use the income from sales to help fund the ministry. We trust that your Christian honesty will preserve the integrity of this policy. "For the scripture saith, Thou shalt not muzzle the ox that treadeth out the corn. And, The labourer is worthy of his reward" (1 Timothy 5:18). Questions? support@wayoflife.org
Goal:Distributed by Way of Life Literature Inc., the Fundamental Baptist Information Service is an e-mail posting for Bible-believing Christians. Established in 1974, Way of Life Literature is a fundamental Baptist preaching and publishing ministry based in Bethel Baptist Church, London, Ontario, of which Wilbert Unger is the founding Pastor. Brother Cloud lives in South Asia where he has been a church planting missionary since 1979. Our primary goal with the FBIS is to provide material to assist preachers in the edification and protection of the churches.

Offering: Offerings are welcome if you care to make one. If you have been helped and/or blessed by our material offerings can be mailed or made online with with Visa, Mastercard, Discover, or Paypal. For information see: www.wayoflife.org/about/makeanoffering.html.
Publisher of Bible Study Materials
Publisher of Bible Study Materials