Three Roads Out of Jerusalem
The following is excerpted from John Schmitt and J. Carl Laney,
Messiah's Coming Temple: Ezekiel's Prophetic Vision of the Future Temple
, Grand Rapids: Kregel, 1997, pp. 113, 114, 119, 120 --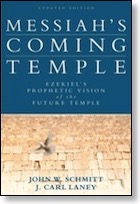 F
or many of our Jewish friends, Ezekiel's references to an altar and sacrifices raise some difficulty. The problem is that for nearly two thousand years the Jewish people have had no Temple, no altar, and no sacrifice.


In the year A.D. 70, the new Roman emperor, Vespasian, sent his son Titus and four legions of soldiers to bring the rebellious city of Jerusalem to submission. The Romans set up their main camp west of the city and a secondary camp on the Mount of Olives. After breaking through two outer walls of Jerusalem, the Romans launched an attack on Antonia Fortress and Herod's palace. On August 6, A.D. 70, Temple activities ceased. The Temple was destroyed by fire on August 28. According to the Jewish historian Josephus more than a million Jews perished in the Roman assault on the city. Survivors were taken captive to be sold as slaves and the city of Jerusalem was leveled.

There were three roads out of Jerusalem in A.D. 70.

One led to Masada, where a band of Jewish zealots continued their resistance against Rome for three years. When they realized that their capture was imminent, the 960 defenders of the fortress took their own lives rather than be enslaved by the Romans. For these zealots, the destruction of Jerusalem and the Temple meant that they could no longer live as Jewish people. Suicide seemed to be the only alternative.

But there was another way. The other road from Jerusalem led down to the coastal town of Yavneh. This was the city that a Galilean rabbi named Yohanan ben Zakkai entered when he escaped from the Roman siege of Jerusalem around A.D. 68. When the Jerusalem Temple was destroyed in A.D. 70, Yohanan was deep into the study of Scripture, trying to determine how to live as a Jew in a situation where there was no Temple, no altar, and no sacrifice.

In the years that followed. Yohanan ben Zakkai led a movement to modify and update Judaism. A verse that shed light on his way was Hosea 6:6, where God declares, 'For I desired mercy, and not sacrifice; and the knowledge of God more than burnt offerings.' Accordingly, it is believed by many Jews that God no longer desires blood sacrifices for sin but accepts in their place acts of repentance, charity, prayer, and fasting.

Another way of thinking about the problem of sin and the absence of blood sacrifice is reflected in an answer given by Rabbi Rose to a question he was asked on the Day of Atonement. A group of Christian seminary students was visiting a Shabbat service at Temple Beth Israel, a Reform synagogue in Portland, Oregon. ... After the Shabbat service had concluded, Rabbi Rose met with the students and offered to answer questions. After a time, one student raised the ultimate question for Jewish people. 'How can you celebrate a Day of Atonement when there is no altar or sacrifice for the sins of the people of Israel?' The rabbi paused. True, there was no altar. True, there was no sacrifice. What was the rabbi's solution to the problem of sin? Rabbi Rose responded with a rhetorical question, 'What is sin?'

It was obvious from his question that since he had no solution to the problem of sin, he had done away with the concept of sin. 'What is sin?' In the thinking of this rabbi, sin does not exist. ...

Yohanan ben Zakkai died in A.D. 80. In his last hours, his disciples found him weeping out loud. They asked him, 'Why are you weeping?' He said to them:

'Verily, I go to appear before the King of Kings of Kings, the Holy One, blessed be He, whose anger, if He should be angry with me, is of this world, and the world to come, and whom I cannot appease with words or bribe with money! Moreover I have before me two roads, one to Paradise and one to Gehenna, and I know not whether he will sentence me to Gehenna or admit me to Paradise. Should I not weep?' [quoted by Jacob Neusner,
First-Century Judaism in Crisis
, Nashville: Abingdon, 1975, p. 199]

Yohanan died not knowing whether his chosen pathway would lead him to heaven or hell.

There was another road that led from Jerusalem in the first century. It was the road traveled by a well-known rabbi who was a contemporary of Yohanan. He is known to us as the apostle Paul. As he approached the end of his life, he wrote his student Timothy these words:

'For I am now ready to be offered, and the time of my departure is at hand. I have fought a good fight, I have finished
my
course, I have kept the faith: Henceforth there is laid up for me a crown of righteousness, which the Lord, the righteous judge, shall give me at that day: and not to me only, but unto all them also that love his appearing' (2 Timothy 4:6-8).

What a difference when you compare these words with the last words of Yohanan ben Zakkai. The acceptance of Jesus' sacrifice makes all the difference in how death was viewed by these two men. It will make all the difference for you.

If you have not recognized that Jesus died for you, respond to His love and accept His redemptive work--a redemption that was anticipated by the old-covenant sacrifices and will be joyfully commemorated in the kingdom.


-- The previous is excerpted from John Schmitt and J. Carl Laney,
Messiah's Coming Temple: Ezekiel's Prophetic Vision of the Future Temple
, Grand Rapids: Kregel, 1997, pp. 113, 114, 119, 120.


- Receive these reports by email
- www.wayoflife.org

______________________


Sharing Policy: Much of our material is available for free, such as the hundreds of articles at the Way of Life web site. Other items we sell to help fund our expensive literature and foreign church planting ministries. Way of Life's content falls into two categories: sharable and non-sharable. Things that we encourage you to share include the audio sermons, O Timothy magazine, FBIS articles, and the free eVideos and free eBooks. You are welcome to make copies of these at your own expense and share them with friends and family. You may also post parts of reports and/or entire reports to websites, blogs, etc as long as you give proper credit (citation). A link to the original report is very much appreciated as the reports are frequently updated and/or expanded. Things we do not want copied and distributed are "Store" items like the Fundamental Baptist Digital Library, print editions of our books, electronic editions of the books that we sell, the videos that we sell, etc. The items have taken years to produce at enormous expense in time and money, and we use the income from sales to help fund the ministry. We trust that your Christian honesty will preserve the integrity of this policy. "For the scripture saith, Thou shalt not muzzle the ox that treadeth out the corn. And, The labourer is worthy of his reward" (1 Timothy 5:18). Questions? support@wayoflife.org
Goal:Distributed by Way of Life Literature Inc., the Fundamental Baptist Information Service is an e-mail posting for Bible-believing Christians. Established in 1974, Way of Life Literature is a fundamental Baptist preaching and publishing ministry based in Bethel Baptist Church, London, Ontario, of which Wilbert Unger is the founding Pastor. Brother Cloud lives in South Asia where he has been a church planting missionary since 1979. Our primary goal with the FBIS is to provide material to assist preachers in the edification and protection of the churches.

Offering: Offerings are welcome if you care to make one. If you have been helped and/or blessed by our material offerings can be mailed or made online with with Visa, Mastercard, Discover, or Paypal. For information see: www.wayoflife.org/about/makeanoffering.html.
Publisher of Bible Study Materials
Publisher of Bible Study Materials