Publisher of Bible Study Materials
Publisher of Bible Study Materials
David Cloud, Way of Life Literature, P.O. Box 610368, Port Huron, MI 48061
866-295-4143,
fbns@wayoflife.org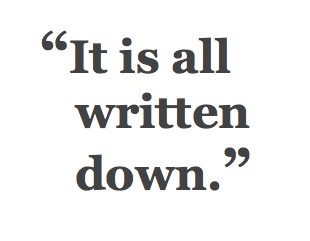 The following is from the commentary on the Minor Prophets in the
Way of Life Commentary Series.
Currently volumes are Isaiah, Jeremiah, Ezekiel, Daniel, Minor Prophets, Hebrews, and Revelation.

__________


"Then they that feared the LORD spake often one to another: and the LORD hearkened, and heard it, and a book of remembrance was written before him for them that feared the LORD, and that thought upon his name. And they shall be mine, saith the LORD of hosts, in that day when I make up my jewels; and I will spare them, as a man spareth his own son that serveth him" (Malachi 3:16-17).

The Lord hears their conversation. God listens in on every conversation, and as the Creator and Owner and Sustainer of all of life, He has every right to do so.

The Lord writes their conversation in a book of remembrance. God has books. In fact, God wrote a Book! God's books are mentioned in Da. 7:10; Re. 20:12. No incident--however small or seemingly insignificant--in all the long history of man's tenure of this planet, has escaped the all-seeing eye of God. It is all written down. Historians often miss significant facts or deliberately or unwittingly distort facts, but God misses nothing. ... The records they contain are detailed and complete: the place where, the time when, the manner how, the motives for, the consequences of. The books contain it all. Every thought, word, and deed of every man, woman, boy, and girl--everything is written down" (John Phillips).

The Lord will gather them as His jewels. God's jewels are not made of diamonds and gold. They are made of redeemed humanity. The world was made for man's pleasure, but man was made for God's pleasure.

The Lord will spare them as a man spares his own son that serves him. They will be the object of His fatherly blessing. Think of how a wealthy man blesses a loving, obedient son or daughter or grandchild. We think of Abraham's blessings on Isaac, how he sought a wife for Isaac and sent along jewels to bestow upon her (Ge. 24:53) and how he gave all his wealth to Isaac (Ge. 25:5). We think of George Washington, America's first president. He didn't have a child of his own, but he showered blessings on his step-granddaughter Eleanor, who was called Nelly. She was the daughter of his step-son John, his wife, Martha's, son by her first marriage. After John died, Nelly lived with George and Martha from age 10. George was a serious, generally quiet man, but Nelly could make him laugh with her antics and cheerful spirit. When she married, he gave her a 2,000-acre estate called Woodlawn. But George Washington's blessings on Nelly are as nothing compared to God's eternal blessings on those who fear Him! They are joint-heirs with the Christ who created worlds with His very word.


- Receive these reports by email
- www.wayoflife.org

______________________


Sharing Policy: Much of our material is available for free, such as the hundreds of articles at the Way of Life web site. Other items we sell to help fund our expensive literature and foreign church planting ministries. Way of Life's content falls into two categories: sharable and non-sharable. Things that we encourage you to share include the audio sermons, O Timothy magazine, FBIS articles, and the free eVideos and free eBooks. You are welcome to make copies of these at your own expense and share them with friends and family. You may also post parts of reports and/or entire reports to websites, blogs, etc as long as you give proper credit (citation). A link to the original report is very much appreciated as the reports are frequently updated and/or expanded. Things we do not want copied and distributed are "Store" items like the Fundamental Baptist Digital Library, print editions of our books, electronic editions of the books that we sell, the videos that we sell, etc. The items have taken years to produce at enormous expense in time and money, and we use the income from sales to help fund the ministry. We trust that your Christian honesty will preserve the integrity of this policy. "For the scripture saith, Thou shalt not muzzle the ox that treadeth out the corn. And, The labourer is worthy of his reward" (1 Timothy 5:18). Questions? support@wayoflife.org
Goal:Distributed by Way of Life Literature Inc., the Fundamental Baptist Information Service is an e-mail posting for Bible-believing Christians. Established in 1974, Way of Life Literature is a fundamental Baptist preaching and publishing ministry based in Bethel Baptist Church, London, Ontario, of which Wilbert Unger is the founding Pastor. Brother Cloud lives in South Asia where he has been a church planting missionary since 1979. Our primary goal with the FBIS is to provide material to assist preachers in the edification and protection of the churches.

Offering: Offerings are welcome if you care to make one. If you have been helped and/or blessed by our material offerings can be mailed or made online with with Visa, Mastercard, Discover, or Paypal. For information see: www.wayoflife.org/about/makeanoffering.html.