Observations on Infidelity
David Cloud, Way of Life Literature, P.O. Box 610368, Port Huron, MI 48061
866-295-4143,
fbns@wayoflife.org
The following is from
Governor Bob Taylor's Tales
(1896), by Robert L. Taylor, Governor of Tennessee 1887-1891. He was writing about his attendance at a lecture by the infamous American infidel Robert Ingersoll. [Pictured is Robert L. Taylor]

___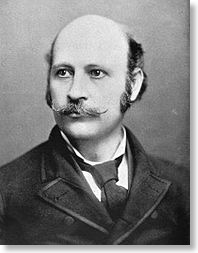 I
sat in a great theatre at the National Capital. It was thronged with youth, and beauty, old age, and wisdom. I saw a man, the image of his God, stand upon the stage, and I heard him speak. His gestures were the perfection of grace; his voice was music, and his language was more beautiful than I had ever heard from mortal lips. He painted picture after picture of the pleasures, and joys, and sympathies, of home. He enthroned love and preached the gospel of humanity like an angel. Then I saw him dip his brush in ink, and blot out the beautiful picture he had painted. I saw him stab love dead at his feet. I saw him blot out the stars and the sun, and leave humanity and the universe in eternal darkness, and eternal death. I saw him like the Serpent of old, worm himself into the paradise of human hearts, and by his seductive eloquence and the subtle devices of his sophistry, inject his fatal venom, under whose blight its flowers faded, its music was hushed, its sunshine was darkened, and the soul was left a desert waste, with only the new made graves of faith and hope. I saw him, like a lawless, erratic meteor without an orbit, sweep across the intellectual sky, brilliant only in his self-consuming fire, generated by friction with the indestructible and eternal truths of God.


That man was the archangel of modern infidelity; and I said: How true is holy writ which declares, "the fool hath said in his heart, there is no God."

Tell me not, O Infidel, there is no God, no Heaven, no Hell!

"A solemn murmur in the soul tells of a world to be, As travelers hear the billows roll before they reach the sea."

Tell me not, O Infidel, there is no risen Christ!

When every earthly hope hath fled, When angry seas their billows fling, How sweet to lean on what He said, How firmly to His cross we cling!

What intelligence less than God could fashion the human body? What motive power is it, if it is not God, that drives that throbbing engine, the human heart, with ceaseless, tireless stroke, sending the crimson streams of life bounding and circling through every vein and artery? Whence, and what, if not of God, is this mystery we call the mind? What is this mystery we call the soul? What is it that thinks and feels and knows and acts? Oh, who can comprehend, who can deny, the Divinity that stirs within us!

God is everywhere, and in everything. His mystery is in every bud, and blossom, and leaf, and tree; in every rock, and hill, and vale, and mountain; in every spring, and rivulet, and river. The rustle of His wing is in every zephyr; its might is in every tempest. He dwells in the dark pavilions of every storm cloud. The lightning is His messenger, and the thunder is His voice. His awful tread is in every earthquake and on every angry ocean; and the heavens above us teem with His myriads of shining witnesses. The universe of solar systems whose wheeling orbs course the crystal paths of space proclaim through the dread halls of eternity, the glory, and power, and dominion, of the all-wise, omnipotent, and eternal God.


- Receive these reports by email
- www.wayoflife.org

______________________


Sharing Policy: Much of our material is available for free, such as the hundreds of articles at the Way of Life web site. Other items we sell to help fund our expensive literature and foreign church planting ministries. Way of Life's content falls into two categories: sharable and non-sharable. Things that we encourage you to share include the audio sermons, O Timothy magazine, FBIS articles, and the free eVideos and free eBooks. You are welcome to make copies of these at your own expense and share them with friends and family. You may also post parts of reports and/or entire reports to websites, blogs, etc as long as you give proper credit (citation). A link to the original report is very much appreciated as the reports are frequently updated and/or expanded. Things we do not want copied and distributed are "Store" items like the Fundamental Baptist Digital Library, print editions of our books, electronic editions of the books that we sell, the videos that we sell, etc. The items have taken years to produce at enormous expense in time and money, and we use the income from sales to help fund the ministry. We trust that your Christian honesty will preserve the integrity of this policy. "For the scripture saith, Thou shalt not muzzle the ox that treadeth out the corn. And, The labourer is worthy of his reward" (1 Timothy 5:18). Questions? support@wayoflife.org
Goal:Distributed by Way of Life Literature Inc., the Fundamental Baptist Information Service is an e-mail posting for Bible-believing Christians. Established in 1974, Way of Life Literature is a fundamental Baptist preaching and publishing ministry based in Bethel Baptist Church, London, Ontario, of which Wilbert Unger is the founding Pastor. Brother Cloud lives in South Asia where he has been a church planting missionary since 1979. Our primary goal with the FBIS is to provide material to assist preachers in the edification and protection of the churches.

Offering: Offerings are welcome if you care to make one. If you have been helped and/or blessed by our material offerings can be mailed or made online with with Visa, Mastercard, Discover, or Paypal. For information see: www.wayoflife.org/about/makeanoffering.html.
Publisher of Bible Study Materials
Publisher of Bible Study Materials