John Paul II: Mary's in Life and in Death
David Cloud, Way of Life Literature, P.O. Box 610368, Port Huron, MI 48061
866-295-4143,
fbns@wayoflife.org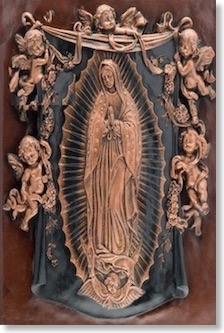 T
hough widely praised by evangelical Protestant and even Baptist leaders, the late Pope John Paul II lived and died for Rome's mythical Mary.


Engraved in his wooden coffin, viewed at what has been called "the world's largest funeral," was a large letter M for Mary (
The Evening Standard
, London, Apr. 8, 2005).

Thus his papal career ended as it began. When elected Pope in 1978, Karol Wojtyla of Poland dedicated his papacy to Mary, taking as his episcopal motto the Latin words "Totus Tuus," meaning "Totally Yours" ("John Paul II's Devotion to Mary,"
Inside the Vatican
, special insert, May 1996).

He had these words of devotion to Mary embroidered on his papal robes. In his 1994 autobiography
Crossing the Threshold of Faith
, which sold four million copies in the first year alone, he said: "
Totus
Tuus
. This phrase is not only an expression of piety, or simply an expression of devotion. It is more. During the Second World War, while I was employed as a factory worker, I came to be attracted to Marian devotion. ... Mary is the new Eve, placed by God in relation to Christ, the new Adam, beginning with the Annunciation, through the night of his birth in Bethlehem, through the wedding feast at Cana of Galilee, through the Cross of Calvary, and up to the gift of the Holy Spirit at Pentecost. The Mother of Christ the Redeemer is the Mother of the Church. ... the Mother of God shares in a unique way in the Resurrection and in the Glory of her own Son..."

John Paul II venerated Mary on every occasion, private and public. It was his custom to pray the Rosary before an image of Mary on the first Saturday of every month. The Madonna of the Immaculate Conception was brought from the Vatican collection for the occasion.

John Paul II worshipped at Marian shrines throughout the world, from the Black Madonna in Jasna Gora, Poland, to Our Lady of Fatima in Portugal, to Our Lady of Guadalupe, Mexico.

He continually exalted Mary in his sermons. We are told that on his trip to Latin America in 1996 he "ended every speech by exalting Mary" ("John Paul Woos Straying Flock,"
Christianity Today
, April 8, 1996, p. 94).

John Paul II dedicated papal encyclicals to Mary. In the one in March 1987, titled
Redemptoris Mater
, he stated that his objective was to awaken and deepen Marian devotion and he called on all Christians to look to "our common Mother" as "a way of bringing about unity between the divided churches of the world." In the encyclical
Evangelium Vitae
, published in March 1995, John Paul II said that Mary is the "mother of all who are reborn to life" and that by bringing forth Jesus into the world "she in some way brought to rebirth all those who were to live by that Life." He concluded by praying, "O Mary, bright dawn of the new world, Mother of the living, to you do we entrust the cause of life."

He consecrated nations and continents to Mary. In fact, in 1984, John Paul II was so thankful for surviving an attempted assassination that he dedicated the entire world to "the Immaculate Heart of Mary."

He also dedicated a year to her. The Year of Mary was kicked off on June 6, 1987, with a Global Prayer for Peace. It featured the Pope leading in an internationally televised Rosary in which he prayed to Mary in five languages. Witnessed by an estimated one billion people, the final shot was a satellite view of the earth with the narrator stating, "So as we see our world in an actual live picture from space, we can appreciate the power of technology to bring people together and the power of prayer to bring about one-world at peace under God."

John Paul II said that Mary was sinless all her life. In his general audience of June 19, 1996, he said: "Mary was free from personal sin and moral imperfection throughout her life" (Vatican Information Service, June 19, 1996).

He exalted Mary as MEDIATRIX and CO-REDEMPTRESS. In his general audience of December 13, 1995, he observed that the Vatican II Council applied the title of Mediatix to Mary and spoke of her "mediating role" and "her cooperation in a wholly singular way in the work of restoring supernatural life to souls" and "her exceptional role in the work of redemption" ("Council's Teaching on Mary Is Rich and Positive," Dec. 13, 1995,
L'Osservatore Romano
, English edition).

John Paul II even used the term "worship" to describe devotion to Mary. In his general audience of May 7, 1997, the Pope said that "MARIAN WORSHIP in the ecclesial community ... is based on the will of Christ" and "MARY IS THE PATH THAT LEADS TO CHRIST..." (Vatican Information Service, May 7, 1997). He concluded by urging all Christians to acknowledge Mary's "providential role in the path of salvation."


CONCLUSION


My dear friends, by any Scriptural standard, the late Pope John Paul II was a false teacher who taught "damnable heresies" (2 Peter 2:1). Damnable heresies are those that it is impossible to hold and be saved. They are heresies particularly touching on the Gospel, the Person of Jesus Christ, and the Holy Spirit (2 Cor. 11:4).

John Paul II's doctrine of Mary certainly falls into this category. By exalting Mary as he did he corrupted the gospel of Jesus Christ. The pope perverted the biblical doctrine of Christ by intertwining it with Mary, claiming that in honoring Mary one is allegedly honoring Christ, and that to honor Christ properly one must also honor Mary.

Compare John Paul II's doctrine of Mary with the doctrine of the Bible: (1) In Scripture, Mary is never called the "mother of God." While Mary was the mother of Jesus as a man; the eternal Son of God had no beginning (Mic. 5:2; Jn. 1:1). Mary cannot therefore be called the mother of God, and is never so called by Bible writers. (2) Mary had other children after she bore Jesus; she was not a perpetual virgin (Mt. 13:55-56). (3) Mary was not sinless; she had need of a Savior (Lk. 1:47; Rom. 3:23). (4) The Bible does not say that Mary ascended to Heaven; this is pure legend. (5) The only mention of Queen of Heaven in the Bible refers, not to Mary, but to a heathen idol (Jer. 44:18-19). (6) The Apostles and prophets did not exalt Mary. There is not one mention of Mary in the N.T. epistles from Romans to Revelation. Yes, Mary was blessed to have had the privilege of bringing the Savior into the world, but this establishes no foundation for calling Mary the Mother of God, Queen of Heaven, Mediatrix, etc. (7) Mary has absolutely no role in the work of redemption. JESUS CHRIST ALONE is Savior and Intercessor and Mediator. "For there is one God, and ONE mediator between God and men, the man Christ Jesus; Who gave himself a ransom for all, to be testified in due time" (1 Timothy 2:5-6). He purged our sins "by himself" (Heb. 1:3).

It is interesting that this late Pope, who is called by his own people "the most 'Marian' pope in history," is the Pope who was so highly honored by evangelical Christians. Roman Catholicism has not changed significantly. It is the same unscriptural abomination it always has been; but evangelicalism certainly has changed.

"Look to yourselves, that we lose not those things which we have wrought, but that we receive a full reward. Whosoever transgresseth, and abideth not in the doctrine of Christ, hath not God. He that abideth in the doctrine of Christ, he hath both the Father and the Son. If there come any unto you, and bring not this doctrine, receive him not into your house, neither bid him God speed: For he that biddeth him God speed is partaker of his evil deeds" (2 John 8-11).

"And I heard another voice from heaven, saying, Come out of her, my people, that ye be not partakers of her sins, and that ye receive not of her plagues" (Rev. 18:4).

"Be ye not unequally yoked together with unbelievers: for what fellowship hath righteousness with unrighteousness? and what communion hath light with darkness? And what concord hath Christ with Belial? or what part hath he that believeth with an infidel? And what agreement hath the temple of God with idols? for ye are the temple of the living God; as God hath said, I will dwell in them, and walk in them; and I will be their God, and they shall be my people. Wherefore come out from among them, and be ye separate, saith the Lord, and touch not the unclean thing; and I will receive you, and will be a Father unto you, and ye shall be my sons and daughters, saith the Lord Almighty" (2 Cor. 6:14-18).


- Receive these reports by email
- www.wayoflife.org

______________________


Sharing Policy: Much of our material is available for free, such as the hundreds of articles at the Way of Life web site. Other items we sell to help fund our expensive literature and foreign church planting ministries. Way of Life's content falls into two categories: sharable and non-sharable. Things that we encourage you to share include the audio sermons, O Timothy magazine, FBIS articles, and the free eVideos and free eBooks. You are welcome to make copies of these at your own expense and share them with friends and family. You may also post parts of reports and/or entire reports to websites, blogs, etc as long as you give proper credit (citation). A link to the original report is very much appreciated as the reports are frequently updated and/or expanded. Things we do not want copied and distributed are "Store" items like the Fundamental Baptist Digital Library, print editions of our books, electronic editions of the books that we sell, the videos that we sell, etc. The items have taken years to produce at enormous expense in time and money, and we use the income from sales to help fund the ministry. We trust that your Christian honesty will preserve the integrity of this policy. "For the scripture saith, Thou shalt not muzzle the ox that treadeth out the corn. And, The labourer is worthy of his reward" (1 Timothy 5:18). Questions? support@wayoflife.org
Goal:Distributed by Way of Life Literature Inc., the Fundamental Baptist Information Service is an e-mail posting for Bible-believing Christians. Established in 1974, Way of Life Literature is a fundamental Baptist preaching and publishing ministry based in Bethel Baptist Church, London, Ontario, of which Wilbert Unger is the founding Pastor. Brother Cloud lives in South Asia where he has been a church planting missionary since 1979. Our primary goal with the FBIS is to provide material to assist preachers in the edification and protection of the churches.

Offering: Offerings are welcome if you care to make one. If you have been helped and/or blessed by our material offerings can be mailed or made online with with Visa, Mastercard, Discover, or Paypal. For information see: www.wayoflife.org/about/makeanoffering.html.
Publisher of Bible Study Materials
Publisher of Bible Study Materials