Islamic Honor Killings in the West
Enlarged April 1, 2021 (first published September 1, 2010)
David Cloud, Way of Life Literature, P.O. Box 610368, Port Huron, MI 48061
866-295-4143,
fbns@wayoflife.org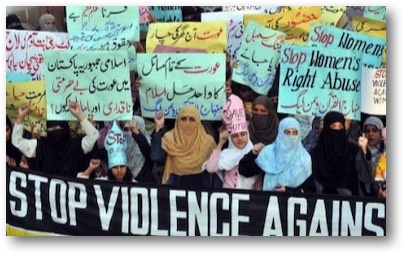 Honor killing is defined by the Human Rights Watch as "acts of violence, usually murder, committed by male family members against female family members, who are held to have brought dishonor upon the family." These are very common in the Middle East and Turkey. According to the United Nations, 5,000 females are murdered every year ("Murder in the Family," Fox News, July 26, 2008). The perpetrators usually get off scot free or with a light sentence. Islamic apologists pretend that honor killings are "cultural" rather than a product of Islam, but Jihad Watch reports that in 2003 the Jordanian Parliament voted down ON ISLAMIC GROUNDS a provision designed to stiffen penalties for honor killings, and Al-Jazeera reported that "Islamists and conservatives said the laws violated religious traditions and would destroy families and values" ("Muslim Ran Down Daughter," Jihad Watch, Oct. 22, 2009).

Honor killings are on the rise in the United States.

The first documented case was in November 1989, when Zein Isa, a Palestinian terrorist living in St. Louis, murdered his 16-year-old daughter, Tina, for having a boyfriend, going to a school dance, and applying to work at Wendy's restaurant. Her mother held her down while her father plunged a 9-inch knife into her chest 13 times, the mother shouting "Shut up!" in response to the girl's pleas for help (Ellen Harris, Guarding the Secrets: Palestinian Terrorism and a Father's Murder of His Too-American Daughter, 1995).

In April 2004, Ismail Peltek of Rochester, New York, murdered his wife and fractured the skulls of his daughters because he was "concerned that my family's honor was taken" (Rochester Democrat & Chronicle, April 24, 2004).

In January 2008, teenage sisters Amina and Sarah Said were shot to death in Irving, Texas, by their father, Yaser Abdel Said. Their great aunt, Gail Gartrell, told reporters, "This was an honor killing" ("Honor Killing in Texas," Human Events, Jan. 8, 2008). The mother says that Yaser killed them because they were dating non-Muslim boys ("Honor Killing Dad Secretly Taped Girls," Fox News, Aug. 6, 2010). Yaser Said vanished the night of the murders. In August 2020, he was captured in Texas and indicted on capital murder charges. Said's son, Islam, and his brother, Yassein, were charged with concealing a person from arrest and obstructing justice. Islam pleaded guilty in January 2021 and Yassein was found guilty by a jury in February. In August 2022, Yaser Said was convicted of capital murder and convicted to life in prison.

In July 2008, Chaudhry Rashid strangled his daughter to death in Jonesboro, Georgia, "to restore the family's honor" after she wanted to end her arranged marriage.

That same month, in upper state New York, 22-year-old Waheed Mohammad attempted to murder his sister for wearing western clothing. He explained the stabbing by saying that she was "a bad Muslim girl" ("An American Honor Killing," New York Post, July 23, 2008).

In February 2009, Muzzammil Hassan beheaded his wife, Aasiya, in upstate New York after she filed for divorce. Phyllis Chesler, author of "Are Honor Killings Simply Domestic Violence," said, "The fierce and gruesome nature of this murder signals it's an honor killing" ("Beheading Appears to Be Honor Killing, Experts Say," Fox News, Feb. 17, 2009).

In October 2009, police in Peoria, Arizona, reported that Faleh Hassan Almaleki ran over his daughter because she was becoming too "westernized" ("Police: Strict Iraqi Father Ran Daughter Down," myfoxphoenix.com, Oct. 22, 2009). Noor, the twenty-year-old woman, was hospitalized with life-threatening injuries and died a couple of weeks later. It had all of the appearances of an "honor killing."

In December 2020, Kabary Salem was charged with the murder of his daughter, Ola Salem, a Muslim women's rights activist who was found strangled to death on Oct. 24, 2019. It appears to be an honor killing. A source who knew the daughter told the New York Daily News that Ola "was becoming more Westernized and didn't want to wear her hijab" and "she was becoming very Americanized" ("Statin Island fugitive arraigned," Daily News, Dec. 22, 2020).

Recent honor killings in other Western nations include the following:

In August 2010, a Turkish man beat his 20-year-old daughter, Gulsum Semin, to death with a club in GERMANY. The assistant in the terrible deed was the girl's own twin brother ("Honour Killing: Father Beat Daughter in Face with Club," Sydney Morning Herald, Aug. 8, 2010). The young woman had recently had an abortion.

In 2009, Mohammad Shafia was charged with murdering his three teenage daughters (Zainab, Sahari, and Geeti) and his first wife, Rona, in Montreal, CANADA. Also charged was Mohammad's son. The women were found in a car submerged in a canal. Rona's brother and sister have testified that it was an honor killing ("More on the Canadian Honor Killings," Atlas Shrugged, July 24, 2009). When the case came to trial in October 2011, the National Post observed: "It's the Canadian Maple Leaf that flies high over the picturesque locks at Kingston Mills near this historic city, but on the night of June 30, 2009, it might just as well have been the black-red-and-green flag of Afghanistan, with its sacred line proclaiming the greatness of Allah. What happened at the locks that night, Crown prosecutors alleged in Ontario Superior Court Thursday, was a so-called 'honour killing'" ("Afghan Custom behind Canal Killings," Oct. 21, 2011).

In 2008 in AUSTRALIA, a Muslim man, assisted by his three brothers, shot his daughter to death. They first shot Pela Atroshi twice in the back in an upstairs room. Her mother and sister helped her down the stairs to the lower level, but the men pursued and while the severely wounded girl pled for her life her youngest uncle shot her in the head ("Honor Killing in Australia," Jihad Watch, April 2008).

In June 2007, a BRITISH court found Mahmod Mahmod guilty of murdering his 20-year-old daughter Banaz. She was strangled with a boot lace, stuffed into a suitcase, and buried in a garden. The killing stemmed from her father's hatred of her Western ways and non-approved boyfriend. An uncle assisted in the murder. Her life had been threatened since her teenage years. Once she ran away from home, but she agreed to come back after he father sent an audio tape warning that he would kill her sisters and mother if she did not return. More than 100 homicides are under investigation as potential honor killings in British ("British Court Finds Muslim Father Guilty," Fox News, June 11, 2007).

Because of an upsurge in Islamic murders in India, the nation's home minister proposed in August 2010 a new law "to provide specific, severe penalties to curb honour killings" ("India Proposes New Law," Yahoo, Aug. 5, 2010). A study found that as many as 900 honor killings are committed each year in the three northern Indian states of Haryana, Punjab, and Uttar Pradesh.

In Pakistan, about 1,000 honor killings are recorded annually, but the number is likely much higher ("Afzal Kohistani: 'Honour killing' whistleblower shot dead," BBC News, Mar. 7, 2019). Two families were nearly wiped out after a video was posted online in 2011 of two men dancing at a wedding as four women sing a song. A younger female member of the women's family is also in the scene. The five females were subsequently killed by male members of the family who believed that their "honor" had been breached. When Afzal Kohistani, the older brother of the two men in the video, broke with local tradition and brought the case to national attention in 2012, he and his family became a target. His house was firebombed, three of his brothers were murdered, and he lived in constant danger. In March 2019, Kohistani was shot to death in broad daylight in spite of widespread media attention. Though honor killing is illegal in Pakistan, the police and the courts cannot protect those who are targeted.

The Iranian and Kurdish Women's Rights Organization says, "We're seeing an increase around the world, due in part to the rise in Islamic fundamentalism."


- Receive these reports by email
- www.wayoflife.org

______________________


Sharing Policy: Much of our material is available for free, such as the hundreds of articles at the Way of Life web site. Other items we sell to help fund our expensive literature and foreign church planting ministries. Way of Life's content falls into two categories: sharable and non-sharable. Things that we encourage you to share include the audio sermons, O Timothy magazine, FBIS articles, and the free eVideos and free eBooks. You are welcome to make copies of these at your own expense and share them with friends and family. You may also post parts of reports and/or entire reports to websites, blogs, etc as long as you give proper credit (citation). A link to the original report is very much appreciated as the reports are frequently updated and/or expanded. Things we do not want copied and distributed are "Store" items like the Fundamental Baptist Digital Library, print editions of our books, electronic editions of the books that we sell, the videos that we sell, etc. The items have taken years to produce at enormous expense in time and money, and we use the income from sales to help fund the ministry. We trust that your Christian honesty will preserve the integrity of this policy. "For the scripture saith, Thou shalt not muzzle the ox that treadeth out the corn. And, The labourer is worthy of his reward" (1 Timothy 5:18). Questions? support@wayoflife.org
Goal:Distributed by Way of Life Literature Inc., the Fundamental Baptist Information Service is an e-mail posting for Bible-believing Christians. Established in 1974, Way of Life Literature is a fundamental Baptist preaching and publishing ministry based in Bethel Baptist Church, London, Ontario, of which Wilbert Unger is the founding Pastor. Brother Cloud lives in South Asia where he has been a church planting missionary since 1979. Our primary goal with the FBIS is to provide material to assist preachers in the edification and protection of the churches.

Offering: Offerings are welcome if you care to make one. If you have been helped and/or blessed by our material offerings can be mailed or made online with with Visa, Mastercard, Discover, or Paypal. For information see: www.wayoflife.org/about/makeanoffering.html.
Publisher of Bible Study Materials
Publisher of Bible Study Materials