Interview With the Apostle Paul About the Trump Election Loss
November 18, 2021 (first published March 2, 2021)
David Cloud, Way of Life Literature, P.O. Box 610368, Port Huron, MI 48061
866-295-4143,
fbns@wayoflife.org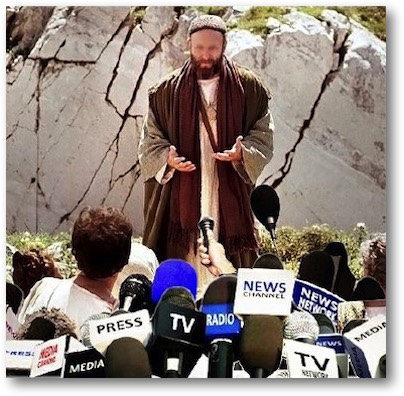 W
e appreciate
your willingness, Paul, to be interviewed about the recent American presidential election.

We believers are very thankful to God for how he has used you in all of our lives. You were a Christ hater, as you often testified, but God saved you, and you were called to be an apostle of Jesus Christ through the will of God. You were given mysteries that had been hidden in God throughout the previous ages of human history. You told of visiting heaven, which you called Paradise, and hearing things that were not lawful to speak at this time on earth. God gave you great grace to be a good example before us in every area of Christian living. In fact, you commanded us to follow you. You said, "Wherefore I beseech you, be ye followers of me," and, "Brethren, be followers together of me, and mark them which walk so as ye have us for an ensample."

You were a natural-born citizen of the Roman Empire and lived under its laws and the authority of the Caesars and their appointed governors. You preached the gospel and planted churches in that political context. We need your God-given wisdom about our situation in these present times.


QUESTION: Many Christians are very frustrated about the recent election in which President Trump lost to the Democrat Joe Biden. Some have told us that they have lost sleep over the matter. Many are angry, unable to get over it, frustrated with anyone who might disagree with their opinion of the election or of Trump. They are almost ready to break fellowship over this matter and even to reject Bible-believing preachers because of it. What do you have to say about this?

APOSTLE PAUL
: "If ye then be risen with Christ, seek those things which are above, where Christ sitteth on the right hand of God. Set your affection on things above, not on things on the earth. For ye are dead, and your life is hid with Christ in God. When Christ,
who is
our life, shall appear, then shall ye also appear with him in glory" (Colossians 3:1-4).

"
This
I say then, Walk in the Spirit, and ye shall not fulfil the lust of the flesh. For the flesh lusteth against the Spirit, and the Spirit against the flesh: and these are contrary the one to the other: so that ye cannot do the things that ye would. ... Now the works of the flesh are manifest, which are
these;
Adultery, fornication, uncleanness, lasciviousness, Idolatry, witchcraft, HATRED, VARIANCE, EMULATIONS, WRATH, STRIFE, SEDITIONS, heresies, envyings, murders, drunkenness, revellings, and such like: of the which I tell you before, as I have also told
you
in time past, that they which do such things shall not inherit the kingdom of God. But the fruit of the Spirit is love, joy, peace, longsuffering, gentleness, goodness, faith, Meekness, temperance: against such there is no law. And they that are Christ's have crucified the flesh with the affections and lusts. If we live in the Spirit, let us also walk in the Spirit" (Galatians 5:16-25).

"For I fear, lest, when I come, I shall not find you such as I would, and
that
I shall be found unto you such as ye would not: lest
there be
debates, envyings, wraths, strifes, backbitings, whisperings, swellings, tumults" (2 Corinthians 12:20).


QUESTION: Some Christians are saying it is time to become revolutionaries, yet the U.S. government today is not nearly as corrupt as the Roman government that you served under during your missionary journeys. What would you say to these?

APOSTLE PAUL
: "Let every soul be subject unto the higher powers. For there is no power but of God: the powers that be are ordained of God. Whosoever therefore resisteth the power, resisteth the ordinance of God: and they that resist shall receive to themselves damnation. For rulers are not a terror to good works, but to the evil. Wilt thou then not be afraid of the power? do that which is good, and thou shalt have praise of the same: For he is the minister of God to thee for good. But if thou do that which is evil, be afraid; for he beareth not the sword in vain: for he is the minister of God, a revenger to
execute
wrath upon him that doeth evil. Wherefore
ye
must needs be subject, not only for wrath, but also for conscience sake. For for this cause pay ye tribute also: for they are God's ministers, attending continually upon this very thing. Render therefore to all their dues: tribute to whom tribute
is due;
custom to whom custom; fear to whom fear; honour to whom honour" (Romans 13:1-4).

"Do all things without murmurings and disputings: That ye may be blameless and harmless, the sons of God, without rebuke, in the midst of a crooked and perverse nation, among whom ye shine as lights in the world; Holding forth the word of life; that I may rejoice in the day of Christ, that I have not run in vain, neither laboured in vain" (Philippians 2:14-16).

"Put them in mind to be subject to principalities and powers, to obey magistrates, to be ready to every good work, To speak evil of no man, to be no brawlers,
but
gentle, shewing all meekness unto all men" (Titus 3:1-2).


QUESTION: What would you say to professing Christians whose thinking is like secular and unregenerate religious political conservatives? One preacher told me some time back that he could "wear Rush Limbaugh's political views."

APOSTLE PAUL
: "And I, brethren, could not speak unto you as unto spiritual, but as unto carnal,
even
as unto babes in Christ. I have fed you with milk, and not with meat: for hitherto ye were not able
to bear it,
neither yet now are ye able. For ye are yet carnal: for whereas
there is
among you envying, and strife, and divisions, are ye not carnal, and WALK AS MEN?" (1 Corinthians 3:1-3).


QUESTION: A great number of professing Christians and churches have very little by way of effectual prayer lives. They admit it. What would you say to this?

APOSTLE PAUL
: "Wherefore lift up the hands which hang down, and the feeble knees;" (Hebrews 12:12).

"Pray without ceasing" (1 Thessalonians 5:17).

"continuing instant in prayer" (Romans 12:12).

"Praying always with all prayer and supplication in the Spirit, and watching thereunto with all perseverance and supplication for all saints" (Ephesians 6:18).

"Continue in prayer, and watch in the same with thanksgiving" (Colossians 4:2).

"I exhort therefore, that, first of all, supplications, prayers, intercessions,
and
giving of thanks, be made for all men; For kings, and
for
all that are in authority; that we may lead a quiet and peaceable life in all godliness and honesty" (1 Timothy 2:1-2).


QUESTION: Many Christians seem to be focused on the evils of politics, sin in high places of government, hidden cabals, secret confederacies. What would say to them?

APOSTLE PAUL
: "Put on the whole armour of God, that ye may be able to stand against the wiles of the devil. For we wrestle not against flesh and blood, but against principalities, against powers, against the rulers of the darkness of this world, against spiritual wickedness in high
places.
Wherefore take unto you the whole armour of God, that ye may be able to withstand in the evil day, and having done all, to stand" (Ephesians 6:11-13).


QUESTION: A lot of women are prominent in the conservative political movement. Some have neglected their families for this purpose. What would you say to believing women about this matter?

APOSTLE PAUL
: "In like manner also, that women adorn themselves in modest apparel, with shamefacedness and sobriety; not with broided hair, or gold, or pearls, or costly array; But (which becometh women professing godliness) with good works. Let the woman learn in silence with all subjection. But I suffer not a woman to teach, nor to usurp authority over the man, but to be in silence. For Adam was first formed, then Eve. And Adam was not deceived, but the woman being deceived was in the transgression" (1 Timothy 2:9-14)

"That they may teach the young women to be sober, to love their husbands, to love their children,
To be
discreet, chaste, keepers at home, good, obedient to their own husbands, that the word of God be not blasphemed" (Titus 2:4-5).


QUESTION: A lot of Christians seem to be more concerned about American citizenship than heavenly. What would you say to them?

APOSTLE PAUL
: "These all died in faith, not having received the promises, but having seen them afar off, and were persuaded of
them,
and embraced
them,
and confessed that they were strangers and pilgrims on the earth. For they that say such things declare plainly that they seek a country" (Hebrews 11:13-14).


QUESTION: What would you say to Christians who speak evil of those who are of different political persuasions and seem to want to be on the warpath against them?

APOSTLE PAUL
: "Bless them which persecute you: bless, and curse not. ... Dearly beloved, avenge not yourselves, but
rather
give place unto wrath: for it is written, Vengeance
is
mine; I will repay, saith the Lord. Therefore if thine enemy hunger, feed him; if he thirst, give him drink: for in so doing thou shalt heap coals of fire on his head. Be not overcome of evil, but overcome evil with good" (Romans 12:19-21).


QUESTION: What would you say to Christians who are focused on politics and other such things of this world?

APOSTLE PAUL
: "But let us, who are of the day, be sober, putting on the breastplate of faith and love; and for an helmet, the hope of salvation. For God hath not appointed us to wrath, but to obtain salvation by our Lord Jesus Christ, Who died for us, that, whether we wake or sleep, we should live together with him. Wherefore comfort yourselves together, and edify one another, even as also ye do" (1 Thessalonians 5:8-11).


QUESTION: What would you say to those Christians who have one foot in the world?

APOSTLE PAUL
: "And that, knowing the time, that now
it is
high time to awake out of sleep: for now
is
our salvation nearer than when we believed. The night is far spent, the day is at hand: let us therefore cast off the works of darkness, and let us put on the armour of light. Let us walk honestly, as in the day; not in rioting and drunkenness, not in chambering and wantonness, not in strife and envying. But put ye on the Lord Jesus Christ, and make not provision for the flesh, to
fulfil
the lusts
thereof"
(Romans 13:11-13).

"And be not conformed to this world: but be ye transformed by the renewing of your mind, that ye may prove what
is
that good, and acceptable, and perfect, will of God" (Romans 12:2).


QUESTION: What would you say to those Christians who think it is wise to join hands with unbelievers and unregenerate religionists for political purposes to "save America"?

APOSTLE PAUL
: "Now I beseech you, brethren, mark them which cause divisions and offences contrary to the doctrine which ye have learned; and avoid them. For they that are such serve not our Lord Jesus Christ, but their own belly; and by good words and fair speeches deceive the hearts of the simple" (Romans 16:17-18).

"Be ye not unequally yoked together with unbelievers: for what fellowship hath righteousness with unrighteousness? and what communion hath light with darkness? And what concord hath Christ with Belial? or what part hath he that believeth with an infidel? And what agreement hath the temple of God with idols? for ye are the temple of the living God; as God hath said, I will dwell in them, and walk in
them;
and I will be their God, and they shall be my people. Wherefore come out from among them, and be ye separate, saith the Lord, and touch not the unclean
thing;
and I will receive you, And will be a Father unto you, and ye shall be my sons and daughters, saith the Lord Almighty" (2 Corinthians 6:14-18).


QUESTION: What would you say to Christians who fill their minds with political conversation of every type, even listening to corrupt language and the world's music, and who spend a lot of time browsing web sites that feature sensual things?

APOSTLE PAUL
: "Be not deceived: evil communications corrupt good manners" (1 Corinthians 15:33).

"Having therefore these promises, dearly beloved, let us cleanse ourselves from all filthiness of the flesh and spirit, perfecting holiness in the fear of God" (2 Corinthians 7:1).

"Casting down imaginations, and every high thing that exalteth itself against the knowledge of God, and bringing into captivity every thought to the obedience of Christ" (2 Corinthians 10:5).

"And have no fellowship with the unfruitful works of darkness, but rather reprove
them"
(Ephesians 5:11).

"Finally, brethren, whatsoever things are true, whatsoever things
are
honest, whatsoever things
are
just, whatsoever things
are
pure, whatsoever things
are
lovely, whatsoever things
are
of good report; if
there be
any virtue, and if
there be
any praise, think on these things. Those things, which ye have both learned, and received, and heard, and seen in me, do: and the God of peace shall be with you" (Philippians 4:8-9).

"But now ye also put off all these; anger, wrath, malice, blasphemy, filthy communication out of your mouth" (Colossians 3:8).


QUESTION: Some Christians are surprised and shocked at the evil that characterizes these present times. What do you say to them?


"This know also, that in the last days perilous times shall come. For men shall be lovers of their own selves, covetous, boasters, proud, blasphemers, disobedient to parents, unthankful, unholy, Without natural affection, trucebreakers, false accusers, incontinent, fierce, despisers of those that are good, Traitors, heady, highminded, lovers of pleasures more than lovers of God; Having a form of godliness, but denying the power thereof: from such turn away. ... But evil men and seducers shall wax worse and worse, deceiving, and being deceived" (2 Timothy 3:1-5, 13).


QUESTION: Christians in America have not suffered much for many generations. They have lived soft, comfortable lives. They seem to think that the loss of religious liberty and persecution is a strange thing. What would you say to them?

"That no man should be moved by these afflictions: for yourselves know that we are appointed thereunto. For verily, when we were with you, we told you before that we should suffer tribulation; even as it came to pass, and ye know" (1 Thessalonians 3:3-4).

"Thou therefore endure hardness, as a good soldier of Jesus Christ" (1 Timothy 2:3).

"But thou hast fully known my doctrine, manner of life, purpose, faith, longsuffering, charity, patience, Persecutions, afflictions, which came unto me at Antioch, at Iconium, at Lystra; what persecutions I endured: but out of
them
all the Lord delivered me. Yea, and all that will live godly in Christ Jesus shall suffer persecution" (2 Timothy 3:10-12).

"But watch thou in all things, endure afflictions" (2 Timothy 4:5).


QUESTION: Do you have any final counsel for us?

APOSTLE PAUL
: "Behold, I shew you a mystery; We shall not all sleep, but we shall all be changed, In a moment, in the twinkling of an eye, at the last trump: for the trumpet shall sound, and the dead shall be raised incorruptible, and we shall be changed. For this corruptible must put on incorruption, and this mortal
must
put on immortality. So when this corruptible shall have put on incorruption, and this mortal shall have put on immortality, then shall be brought to pass the saying that is written, Death is swallowed up in victory. O death, where
is
thy sting? O grave, where
is
thy victory? The sting of death
is
sin; and the strength of sin
is
the law.
But thanks
be
to God, which giveth us the victory through our Lord Jesus Christ.
Therefore, my beloved brethren, be ye stedfast, unmoveable, always abounding in the work of the Lord, forasmuch as ye know that your labour is not in vain in the Lord
" (1 Corinthians 15:51-58).


- Receive these reports by email
- www.wayoflife.org

______________________


Sharing Policy: Much of our material is available for free, such as the hundreds of articles at the Way of Life web site. Other items we sell to help fund our expensive literature and foreign church planting ministries. Way of Life's content falls into two categories: sharable and non-sharable. Things that we encourage you to share include the audio sermons, O Timothy magazine, FBIS articles, and the free eVideos and free eBooks. You are welcome to make copies of these at your own expense and share them with friends and family. You may also post parts of reports and/or entire reports to websites, blogs, etc as long as you give proper credit (citation). A link to the original report is very much appreciated as the reports are frequently updated and/or expanded. Things we do not want copied and distributed are "Store" items like the Fundamental Baptist Digital Library, print editions of our books, electronic editions of the books that we sell, the videos that we sell, etc. The items have taken years to produce at enormous expense in time and money, and we use the income from sales to help fund the ministry. We trust that your Christian honesty will preserve the integrity of this policy. "For the scripture saith, Thou shalt not muzzle the ox that treadeth out the corn. And, The labourer is worthy of his reward" (1 Timothy 5:18). Questions? support@wayoflife.org
Goal:Distributed by Way of Life Literature Inc., the Fundamental Baptist Information Service is an e-mail posting for Bible-believing Christians. Established in 1974, Way of Life Literature is a fundamental Baptist preaching and publishing ministry based in Bethel Baptist Church, London, Ontario, of which Wilbert Unger is the founding Pastor. Brother Cloud lives in South Asia where he has been a church planting missionary since 1979. Our primary goal with the FBIS is to provide material to assist preachers in the edification and protection of the churches.

Offering: Offerings are welcome if you care to make one. If you have been helped and/or blessed by our material offerings can be mailed or made online with with Visa, Mastercard, Discover, or Paypal. For information see: www.wayoflife.org/about/makeanoffering.html.
Publisher of Bible Study Materials
Publisher of Bible Study Materials