Depression and the Child of God
David Cloud, Way of Life Literature, P.O. Box 610368, Port Huron, MI 48061
866-295-4143,
fbns@wayoflife.org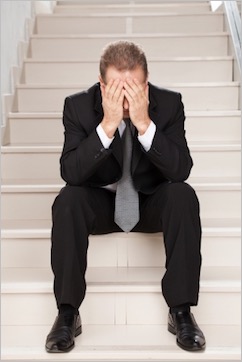 F
ollowing are some biblical truths
that we must understand about depression and emotional melancholy. The quotes from Charles Spurgeon are from
Lectures to My Students
unless otherwise noted. We quote him because he described his depression so plainly and gave some excellent instruction about it.

We must understand that depression is part of this fallen life and its reason will not always be known (Psa. 119:28; Rom. 8:22-23; 9:2; Phil. 2:26; 1 Pet. 1:6).


"I note that some whom I greatly love and esteem, who are, in my judgment, among the very choicest of God's people, nevertheless, travel most of the way to heaven by night" (Spurgeon)

"I am the subject of depression so fearful that I hope none of you ever get to such extremes of wretchedness as I go to" (Spurgeon).

"Hours after, I have been myself depressed, and I have felt an inability to shake it off" (Spurgeon).

"I could weep by the hour like a child, and yet I knew not what I wept for" (Spurgeon)

"... I need something which shall cheer my heart, why I cannot tell, wherefore I do not know, but I have a thorn in the flesh, a messenger of Satan to buffet me; my soul is cast down within me; I feel as if I had rather die than live; all that God hath done by me seems to be forgotten, and my spirit flags and my courage breaks down. I need your prayers" (Spurgeon).

"We have our times of natural sadness; we have, too, our times of depression, when we
cannot do otherwise than hang our heads. Seasons of lethargy will also befall us from
changes in our natural frame, or from weariness, or the rebound of over excitement.
The trees are not always green, the sap sleeps in them in the winter; and we have
winters too. Life cannot always be at flood tide: the fulness of the blessing is not upon
the most gracious at all times" (Spurgeon).

"Causeless depression is not to be reasoned with, nor can David's harp charm it away by sweet discoursings. As well fight with the mist as with this shapeless, undefinable, yet all-beclouding hopelessness. One affords himself no pity when in this case, because it seems so unreasonable, and even sinful to be troubled without manifest cause; and yet troubled the man is, even in the very depths of his spirit. If those who laugh at such melancholy did but feel the grief of it for one hour, their laughter would he sobered into compassion. Resolution might, perhaps, shake it off, but where are we to find the resolution when the whole man is unstrung? The physician and the divine may unite their skill in such cases, and both find their hands full, and more than full. The iron bolt which so mysteriously fastens the door of hope and holds our spirits in gloomy prison, needs a heavenly hand to push it back" (Spurgeon).


We must understand that some people are more prone to depression and gloominess than others.


"As to mental maladies, is any man altogether sane? Are we not all a little off the balance? Some minds appear to have a gloomy tinge essential to their very individuality; of them it may be said, 'Melancholy marked them for her own;' fine minds withal, and ruled by noblest principles, but yet most prone to forget the silver lining, and to remember only the cloud" (Spurgeon, "The Minister's Fainting Fits,"
Lectures to My Students
).


We must trust the sovereignty and goodness of God (Romans 8:28).


"It would be a very sharp and trying experience to me to think that I have an affliction which God never sent me, that the bitter cup was never filled by his hand, that my trials were never measured out by him, nor sent to me by his arrangement of their weight and quantity" (Spurgeon).

"If you drink of the river of affliction near its outfall, it is brackish and offensive to the taste, but if you will trace it to its source, where it rises at the foot of the throne of God, you will find its waters to be sweet and health-giving" (Spurgeon).

"As long as I trace my pain to accident, my bereavement to mistake, my loss to another's wrong, my discomfort to an enemy, and so on, I am of the earth, earthy, and shall break my teeth with gravel stones; but when I rise to my God and see his hand at work, I grow calm, I have not a word of repining" (Spurgeon).


We must understand that there can be divine purposes for depression.


To prepare us to help others (2 Cor. 1:4)

"One Sabbath morning, I preached from the text, 'My God, My God, why has Thou forsaken Me?' and though I did not say so, yet I preached my own experience. I heard my own chains clank while I tried to preach to my fellow-prisoners in the dark; but I could not tell why I was brought into such an awful horror of darkness, for which I condemned myself. On the following Monday evening, a man came to see me who bore all the marks of despair upon his countenance. His hair seemed to stand up right, and his eyes were ready to start from their sockets. He said to me, after a little parleying, 'I never before, in my life, heard any man speak who seemed to know my heart. Mine is a terrible case; but on Sunday morning you painted me to the life, and preached as if you had been inside my soul.' By God's grace I saved that man from suicide, and led him into gospel light and liberty; but I know I could not have done it if I had not myself been confined in the dungeon in which he lay. I tell you the story, brethren, because you sometimes may not understand your own experience, and the perfect people may condemn you for having it; but what know they of God's servants? You and I have to suffer much for the sake of the people of our charge ... You may be in Egyptian darkness, and you may wonder why such a horror chills your marrow; but you may be altogether in the pursuit of your calling, and be led of the Spirit to a position of sympathy with desponding minds" (Spurgeon,
An All Round Ministry
, pp. 221-222).

"I often feel very grateful to God that I have undergone fearful depression of spirits. I know the borders of despair, and the horrible brink of that gulf of darkness into which my feet have almost gone; but hundreds of times I have been able to give a helpful grip to brethren and sisters who have come into that same condition, which grip I could never have given if I had not known their deep despondency. So I believe that the darkest and most dreadful experience of a child of God will help him to be a fisher of men if he will but follow Christ" (Spurgeon,
The Soul Winner
, chapter 14).

To humble us (2 Cor. 12:7-10)

"Those who are honoured of their Lord in public have usually to endure a secret chastening, or to carry a peculiar cross, lest by any means they exalt themselves, and fall into the snare of the devil" (Spurgeon)

For spiritual growth (Rom. 5:3-5)

"I am afraid that all the grace that I have got of my comfortable and easy times and happy hours, might almost lie on a penny. But the good that I have received from my sorrows, and pains, and griefs, is altogether incalculable ... Affliction is the best bit of furniture in my house. It is the best book in a minister's library" (Spurgeon).


We must understand that the ministry brings special cares and sorrows (2 Cor. 7:5; 11:28).


"Passionate longings after men's conversion, if not fully satisfied (and when are they?), consume the soul with anxiety and disappointment. To see the hopeful turn aside, the godly grow cold, professors abusing their privileges, and sinners waxing more bold in sin—are not these sights enough to crush us to the earth? The kingdom comes not as we would, the reverend name is not hallowed as we desire, and for this we must weep. How can we be otherwise than sorrowful, while men believe not our report, and the divine arm is not revealed? All mental work tends to weary and to depress, for much study is a weariness of the flesh; but ours is more than mental work—it is heart work, the labour of our inmost soul. How often, on Lord's-day evenings, do we feel as if life were completely washed out of us! After pouring out our souls over our congregations, we feel like empty earthen pitchers which a child might break" (Spurgeon).


We must understand spiritual warfare (Eph. 6:10-12).


Depression can precede times of victory. Many times the devil will fight hardest and send dark times prior to great spiritual breakthroughs and victory.

"This depression comes over me whenever the Lord is preparing a larger blessing for my ministry; the cloud is black before it breaks, and overshadows before it yields its deluge of mercy. Depression has now become to me as a prophet in rough clothing, a John the Baptist, heralding the nearer coming of my Lord's richer benison" (Spurgeon).

Depression can also follow times of victory, as with Elijah who was so downcast after his great victory at Mt. Carmel that he wanted to die (1 Kings 19:2-4).


We must look to our spiritual health (2 Pet. 1).


If you are not growing, you are going backwards, and backsliding can cause depression

Don't neglect the daily quiet time with God in serious Bible study and prayer, walking in communion with Christ, yielding to the Holy Spirit (Eph. 5:18), putting off the old man and putting on the new (Eph. 4:22-24).

Sin can cause depression. Though not all depression is caused by sin (e.g., Christ in Psalm 69:20), much of it is. We all have a fallen nature, and a deceitful, wicked heart, and we all live under the curse of death because of sin, so there is no such thing as perfect health as God originally intended it. Paul spoke of "the body of this death" (Rom. 7:24), and life in that body is the reality even for born again Christians.

Sin grieves the Holy Spirit (Eph. 4:30) and brings divine chastening (Heb. 12:6). Sin can even lead to premature death if not repented of (1 John 5:16-17).

A great many cases today that are diagnosed as clinical depression are doubtless the products of sin and false doctrine, though such things are rarely acknowledged.

In modern psychology, sin is typically dismissed as a
result of
depression, rather than the
cause of
depression. One drinks, abuses drugs, and commits adultery
because
he is depressed. Depression is treated as a disease, never an effect of one's sinful lifestyle. The depressed is a hapless victim of circumstances.

Tina Campbell of the black gospel duo Mary Mary contemplated murder and suicide in 2013 after her husband committed adultery. She said, "I'm sad; I'm broken, I'm insecure. ... I considered taking my life. I considered taking me, my children. I was just like, 'I don't want to leave a legacy of suicide to them, so maybe I should just take all of them.' ... I was like, 'Maybe I should take out these people who did me wrong and then take us out, and leave my husband here to figure it out, so that he can realize, 'look what you did'" ("Mary Mary's Tina Campbell," TheGrio.com, Mar. 3, 2016). The violence was not limited to her thoughts. She used a hammer and scissors to destroy her husband's car. In public testimony, Tina never acknowledges her worldly "after your own lusts," 2 Timothy 3:3-4 lifestyle and her false charismatic theology as a possible factor in her depression. She was a victim.

CCM artist Sheila Walsh, then co-host of Pat Robertson's
700 Club
, was hospitalized in 1992 and underwent psychiatric therapy, including drug treatment, because she was "wrestling with a disease of the mind." She says that it is wrong to assume that "your behavior or a perverse lack of faith brought it on" ("Sheila Walsh Escapes the Darkness of Depression,"
The 700 Club
, n.d). She says that we should always say to those suffering from depression, "It's not your fault" ("Sheila Walsh Thanks God Every Day for Her Mental Health Treatment," Assist News Service, Oct. 21, 2015). She was diagnosed with severe clinical depression and post-traumatic stress disorder, as if she had been in fierce military combat, and more than 20 years later, Walsh continues on medication. Again, in her public testimonies there was no acknowledgement of the possibility that her non-judgmental ecumenical philosophy and worldly lifestyle, including her disobedient marriage to an immoral, divorced man, had anything to do with her mental condition.

I don't know what really caused these women's mental problems and depression, but I do know that it is wrong to leave out the possibility that sin and false teaching had anything to do with it.

Depression is often the result of alcohol and drug abuse. This was true in my case.

Depression can also be caused by the sin of other people who effect me (Prov. 10:1).


We must look to our physical health.


Bad health can cause depression. "Has it not often happened that dyspepsia has been mistaken for backsliding, and bad digestion has been set down as a hard heart?" (Spurgeon).

Spurgeon suffered terribly from gout, sometimes suffering in bed for weeks at a time, racked in pain. He said, "I have been brought very low. My flesh has been tortured with pain and my spirit has been prostrate with depression. ... With some difficulty I write these lines in my bed, mingling them with the groans of pain and the songs of hope."

Lack of sleep can cause depression. When I am tired, I am much more subject to depression. I have learned not to make decisions late at night. I know that things will look much darker then

Lack of rest can cause depression. Some people need more rest and "down time" than others. We need to understand ourselves and be wise with our lives, but we must be careful not to pamper ourselves.

"It is wisdom to take occasional furlough. In the long run, we shall do more by sometimes doing less. On, on, on for ever, without recreation may suit spirits emancipated from this 'heavy clay', but while we are in this tabernacle, we must every now and then cry halt, and serve the Lord by holy inaction and consecrated leisure. Let no tender conscience doubt the lawfulness of going out of harness for a while" (Spurgeon).

Lack of physical exercise can cause depression. It is important to get regular physical exercise to keep the body healthy.

David Brainerd, famous missionary to the American Indians, tended toward great emotional extremes, sometimes feeling spiritual passion and love for God, but often being afflicted with dark depression. At least 22 times in his diary he expressed a wish for death. At the beginning of his
Journal
he wrote, "I was, I think, from my youth ... inclined rather to melancholy than the other extreme." In 1865, Thomas Brainerd, a descendant of David, wrote, "In the whole Brainerd family for two hundred years there has been a tendency to a morbid depression" (biography of John Brainerd).

Brainerd expressed confusion about the frequent deadness of his affections and compassion. This is an example from his
Journal
: "About noon, rode up to the Indians; and while going, could feel no desires for them, and even dreaded to say anything to 'em." We see this same experience expressed by the Psalmists, such as in Psalm 119:25, 28, 83. Romans 8 describes the present Christian life as one of groaning (Rom. 8:23).

Doubtless Brainerd's tuberculosis, which took his life at age 29, contributed much to his depression.

I recall a preacher friend who had kidney failure, and it brought him into a deep spiritual depression. He told me that whereas the Bible had been his delight, it now mocked him. When he had a successful kidney transplant, this condition was healed.


We must cry out to God for help (Psa. 138:3; 1 Pet. 5:9).


"When I was racked some months ago with pain, to an extreme degree, so that I could no longer bear it without crying out, I asked all to go from the room, and leave me alone; and then I had nothing I could say to God but this, 'Thou are my Father, and I am thy child; and thou, as a Father art tender and full of mercy. I could not bear to see my child suffer as thou makest me suffer, and if I saw him tormented as I am now, I would do what I could to help him, and put my arms under him to sustain him. Wilt thou hide thy face from me, my Father? Wilt thou still lay on a heavy hand, and not give me a smile from thy countenance?' ... So I pleaded, and I ventured to say, when I was quiet, and they came back who watched me: 'I shall never have such pain again from this moment, for God has heard my prayer.' I bless God that ease came and the racking pain never returned" (Spurgeon).


We must have the upward look (Col. 3:1-4).

We must have the long look (2 Cor. 4:17; Rom. 8:18).

We must understand that heaviness can be spiritually beneficial (Jam. 4:9).

We must keep our eyes upon God and our faith in His promises (Job 13:15).


"I am the subject of depression so fearful that I hope none of you ever get to such extremes of wretchedness as I go to. But I always get back again by this–I know that I trust Christ. I have no reliance but in Him, and if He falls, I shall fall with Him. But if He does not, I shall not. Because He lives, I shall live also, and I spring to my legs again and fight with my depressions of spirit and get the victory through it. And so may you do, and so you must, for there is no other way of escaping from it" (Spurgeon).


- Receive these reports by email
- www.wayoflife.org

______________________


Sharing Policy: Much of our material is available for free, such as the hundreds of articles at the Way of Life web site. Other items we sell to help fund our expensive literature and foreign church planting ministries. Way of Life's content falls into two categories: sharable and non-sharable. Things that we encourage you to share include the audio sermons, O Timothy magazine, FBIS articles, and the free eVideos and free eBooks. You are welcome to make copies of these at your own expense and share them with friends and family. You may also post parts of reports and/or entire reports to websites, blogs, etc as long as you give proper credit (citation). A link to the original report is very much appreciated as the reports are frequently updated and/or expanded. Things we do not want copied and distributed are "Store" items like the Fundamental Baptist Digital Library, print editions of our books, electronic editions of the books that we sell, the videos that we sell, etc. The items have taken years to produce at enormous expense in time and money, and we use the income from sales to help fund the ministry. We trust that your Christian honesty will preserve the integrity of this policy. "For the scripture saith, Thou shalt not muzzle the ox that treadeth out the corn. And, The labourer is worthy of his reward" (1 Timothy 5:18). Questions? support@wayoflife.org
Goal:Distributed by Way of Life Literature Inc., the Fundamental Baptist Information Service is an e-mail posting for Bible-believing Christians. Established in 1974, Way of Life Literature is a fundamental Baptist preaching and publishing ministry based in Bethel Baptist Church, London, Ontario, of which Wilbert Unger is the founding Pastor. Brother Cloud lives in South Asia where he has been a church planting missionary since 1979. Our primary goal with the FBIS is to provide material to assist preachers in the edification and protection of the churches.

Offering: We take up a quarterly offering to fund this ministry, and those who use the materials are expected to participate (Galatians 6:6) if they can. We do not solicit funds from those who do not agree with our preaching and who are not helped by these publications. We seek offerings only from those who are helped. OFFERINGS can be mailed or made online with with Visa, Mastercard, Discover, or Paypal. For information see: www.wayoflife.org/about/makeanoffering.html.
Publisher of Bible Study Materials