David Cloud, Way of Life Literature, P.O. Box 610368, Port Huron, MI 48061
866-295-4143,
fbns@wayoflife.org
C
hristlikeness is compassion and gentleness and patience
, but it is also firmness, even toughness, in regard to God's holy laws. The Lord said, "As many as I love, I rebuke and chasten: be zealous therefore, and repent" (Revelation 3:19).


Consider how forceful Christ can be in reproof to His own people (not to speak of His millennial rod of iron and the issue of eternal judgment for the unbeliever):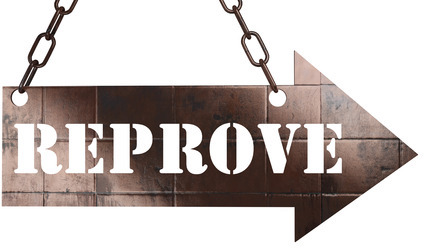 "But when he had turned about and looked on his disciples, he rebuked Peter, saying, GET THEE BEHIND ME, SATAN: for thou savourest not the things that be of God, but the things that be of men" (Mark 8:33).


"Afterward he appeared unto the eleven as they sat at meat, and
UPBRAIDED THEM
with their unbelief and hardness of heart, because they believed not them which had seen him" (Mark 16:14).

"But he turned, and
REBUKED THEM
, and said, Ye know not what manner of spirit ye are of" (Luke 9:55).

"Then he said unto them,
O FOOLS
and slow of heart to believe all that the prophets have spoken" (Luke 24:25).

"Remember therefore from whence thou art fallen, and repent, and do the first works; or else
I WILL COME UNTO THEE QUICKLY, AND WILL REMOVE THY CANDLESTICK
out of his place, except thou repent" (Revelation 2:5).

"But this thou hast, that thou hatest the deeds of the Nicolaitans,
WHICH I ALSO HATE
" (Revelation 2:6).

"So hast thou also them that hold the doctrine of the Nicolaitans, which thing I hate. Repent; or else I will come unto thee quickly, and
WILL FIGHT AGAINST THEM WITH THE SWORD OF MY MOUTH
" (Revelation 2:15-16).

"Behold, I will cast her into a bed, and them that commit adultery with her into great tribulation, except they repent of their deeds. And
I WILL KILL HER CHILDREN WITH DEATH
; and all the churches shall know that I am he which searcheth the reins and hearts: and I will give unto every one of you according to your works" (Revelation 2:22-23).

"Remember therefore how thou hast received and heard, and hold fast, and repent. If therefore thou shalt not watch,
I WILL COME ON THEE AS A THIEF
, and thou shalt not know what hour I will come upon thee" (Revelation 3:3).

"I know thy works, that thou art neither cold nor hot: I would thou wert cold or hot. So then because thou art lukewarm, and neither cold nor hot,
I WILL SPUE THEE OUT OF MY MOUTH
" (Revelation 3:15-16).

Five times in the Gospels, Christ expressed disappointment and reproof by saying that the disciples were of little faith (Mat. 6:30; 8:26; 14:31; 16:8; Lk. 12:28).

Christ also "looked round about on them with anger" (Mark 3:5); called Israel a "generation of vipers" (Ma. 12:34) and a "faithless and perverse generation (Mat. 17:17); called the Jewish leaders "hypocrites ... blind guides ... fools and blind ... serpents" (Mat. 23:13-33); sharply, fearfully upbraided the cities in which He did mighty works (Mat. 11:20-24). He called Herod a fox (Lk. 13:32). He twice made a whip and drove the moneychangers and sellers out of the temple (Jn. 2:15-17; Mk. 11:15-17). He commanded that holy things not be given to dogs and pigs (Mat. 7:6). He will smite the nations (Rev. 19:15).

Under grace the following things are true that pertain to a strong disciplinary ministry and environment:

- John warned about a sin unto death (1 John 5:16-17).
- Ananias and Sapphira were killed by God (Acts 5).
- Many church members were sick and died at Corinth (1 Cor. 11:30).
- A church member was turned over to Satan for the destruction of the flesh (1 Cor. 5:5).
- Paul feared being cast away or rejected and put on a shelf in regard to service (1 Cor. 9:27).
- Paul taught Timothy to keep God's commands without spot (1 Tim. 6:14).
- Jude instructed saints to
earnestly contend
for the faith (Jude 3).
- Paul taught the saints to separate from disobedient brethren (2 Thess. 3:6).
- Hebrews teaches that we are to serve God with godly fear because He is a consuming fire (Heb. 12:28-29).
- Paul taught the brethren to deny ungodliness and worldly lusts (Titus 2:11-12).
- Paul taught the brethren to reject heretics after only the first and second admonition (Titus 3:10-11).
- John taught the brethren to love not the world (1 John 2:15-17).
- James called the brethren adulterers and adulteresses for loving the world (Jam. 4:4).
- Paul warned that every believer will be judged by Christ (1 Cor. 3:12-15).

Paul exemplifies the right "balance" in ministry. He said, "Brethren, be followers together of me, and mark them which walk so as ye have us for an ensample" (Phil. 3:17). See also 1 Corinthians 4:16; 11:1. On the one hand he was as gentle as a nurse with the believers (1 Thess. 2:7). On the other hand, he was firm and unyielding about discipline (1 Cor. 5; 2 The. 3:6-14). He was a strong reprover (e.g., 1 Cor. 6:5; 15:33-36; Gal. 3:1), and he taught the preachers under his watchcare to be the same (2 Tim. 4:2; Titus 1:13; 2:15).

Paul's ministry of reproof to the carnal church at Corinth worked repentance and change (2 Cor. 7:8-11). A sound ministry of reproof and discipline has the same power today.



- Receive these reports by email
- www.wayoflife.org

______________________


Sharing Policy: Much of our material is available for free, such as the hundreds of articles at the Way of Life web site. Other items we sell to help fund our expensive literature and foreign church planting ministries. Way of Life's content falls into two categories: sharable and non-sharable. Things that we encourage you to share include the audio sermons, O Timothy magazine, FBIS articles, and the free eVideos and free eBooks. You are welcome to make copies of these at your own expense and share them with friends and family. You may also post parts of reports and/or entire reports to websites, blogs, etc as long as you give proper credit (citation). A link to the original report is very much appreciated as the reports are frequently updated and/or expanded. Things we do not want copied and distributed are "Store" items like the Fundamental Baptist Digital Library, print editions of our books, electronic editions of the books that we sell, the videos that we sell, etc. The items have taken years to produce at enormous expense in time and money, and we use the income from sales to help fund the ministry. We trust that your Christian honesty will preserve the integrity of this policy. "For the scripture saith, Thou shalt not muzzle the ox that treadeth out the corn. And, The labourer is worthy of his reward" (1 Timothy 5:18). Questions? support@wayoflife.org
Goal:Distributed by Way of Life Literature Inc., the Fundamental Baptist Information Service is an e-mail posting for Bible-believing Christians. Established in 1974, Way of Life Literature is a fundamental Baptist preaching and publishing ministry based in Bethel Baptist Church, London, Ontario, of which Wilbert Unger is the founding Pastor. Brother Cloud lives in South Asia where he has been a church planting missionary since 1979. Our primary goal with the FBIS is to provide material to assist preachers in the edification and protection of the churches.

Offering: Offerings are welcome if you care to make one. If you have been helped and/or blessed by our material offerings can be mailed or made online with with Visa, Mastercard, Discover, or Paypal. For information see: www.wayoflife.org/about/makeanoffering.html.
Publisher of Bible Study Materials
Publisher of Bible Study Materials